Disneyland has several reception options to choose from, and I am going to post a few pictures here as well as describe our site visit with our Disney Fairy Tale Weddings consultant, Traci!
Just a quick aside to explain the timeline of planning a Disneyland Resort wedding:
1.  Call Anaheim's Disneyland Fairy Tale Wedding (DFTW) offices at 714-520-7005.  You will speak with an assistant who will e-mail you their Fairy Tale Weddings brochure with basic packages and pricing information,


2.  Once you read over the brochure and have determined a DFTW may be right for you, you call back and request to speak with a Sales Consultant.  For me, they took my name and number and told me someone will call me back within 48 hours.  In a few minutes I got a call back from our consultant, Traci!


3.  The next step is to visit Disneyland Resort for a site visit.  During the site visit, you will meet your consultant and tour possible ceremony and reception locations.


4.  Once you have chosen a date as well as ceremony and reception locations, you sign a contract, pay a $2,000 deposit, and you are officially locked in!  WOOHOO!


5.  Six-to-eight months before your wedding date, you return to Disneyland Resort for your Planning Session.  This is where you meet with your consultant and discuss the many options available for your ceremony and reception, such as (but not limited to) decor, floral, food, and cake.


6.  Two-to-three months before your wedding date, you will have your food and cake tasting at the Disneyland Resort.  Yum!


7.  WEDDING!!!!!!




Back in January 2011, I visited Disneyland Resort for our site visit.  Sadly Tim had to work, so my friend Valerie came along with me.  Even though I was late to our appointment due to nasty traffic, our consultant Traci was SO SWEET and took her time showing us around to different areas and answered all our questions, even though I caused her to be late picking her kids up from daycare (Sorry Traci!).


At this point, we still were not sure if we were going to have the Escape wedding package or the Wishes wedding package, so Traci showed me options for both.  


At the DFTW offices, Traci showed us pictures of the different ceremony options for the Escape package: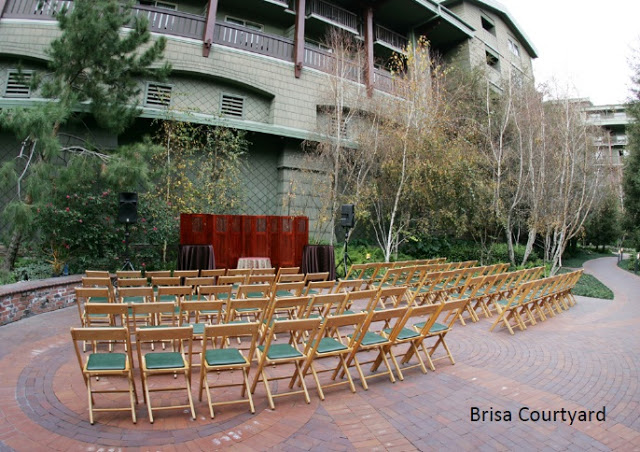 These three options are located at the Grand Californian Hotel.  They are all fairly private locations, except for the Wedding Garden, which is adjacent to a pedestrian walkway that leads from the lobby of the hotel to guest rooms, so I'm not sure if they can redirect traffic while a wedding is going on.




This is the smaller gazebo located near the Rose Court Garden at the Disneyland Hotel.  It used to be known as the Dreams Gazebo (named after the hotel tower it is adjacent to), but it is now known as the Adventure Gazebo.  This is a very pretty location.




Pier Side Pavilion is located at Paradise Pier Hotel, and unfortunately I didn't get to see this one in person due to time constraints, but it looks perfect for couples who want that beachy feel for their wedding.
After viewing these pictures at the offices, Traci took us on a golf cart tour to see some of the Wishes venues.  Our first stop was the Rose Court Garden.
(Our wedding will be during the daytime, but isn't it so pretty at night?)
I knew that if we ended up going with a Wishes wedding this would be our venue, so I told Traci I didn't need to see any other options for ceremony locations.  So, we moved on to reception locations – to be continued in Part II!