Photo from Disney Weddings dream boards
Disney Bride Alexis is planning a Disneyland wedding at the Rose Court Garden and Sleeping Beauty Pavilion for October 2017.
For Garrett and I, it was a no brainer to have a brunch wedding. Most of our first dates involved having brunch and it is still something we enjoy doing on most Sundays before hitting up the parks!
Like most people, I am OBSESSED with Mickey waffles, so one of the first questions that I asked our wedding planner was "CAN WE PLEAAAASSE HAVE A MICKEY WAFFLE BAR?!". I was pleasantly surprised to learn that this was not only an option, but you can choose to have the waffles presented one of two ways! You can either have the waffles served traditionally in your buffet and there will be butter and syrup right next to them so guests can dress them to their liking…OR, you can add a gourmet chef station (in the package it's called Mickey Handful of Waffle), and have an attendant serve them to the your wedding guests. We opted to just have the waffles as is, since they are perfect just like that.
When it was time to book our tasting we were surprised to see how much food was included in our package! Our wedding planner mentioned that she loved brunch wedding because the options were endless (AND more cost effective). I want to talk about our brunch food tasting, what was involved, and how much delicious food we ate that day!
When we arrived to meet up with our planner, she told us that she had a special location set up for our tasting. Food tastings are usually in one of the banquet rooms at the Disneyland Hotel, but they had set up the "Oak Room" at Steakhouse 55 for ours! It was a nice surprise and made both my mom and my mother-in-law-to-be feel extra special.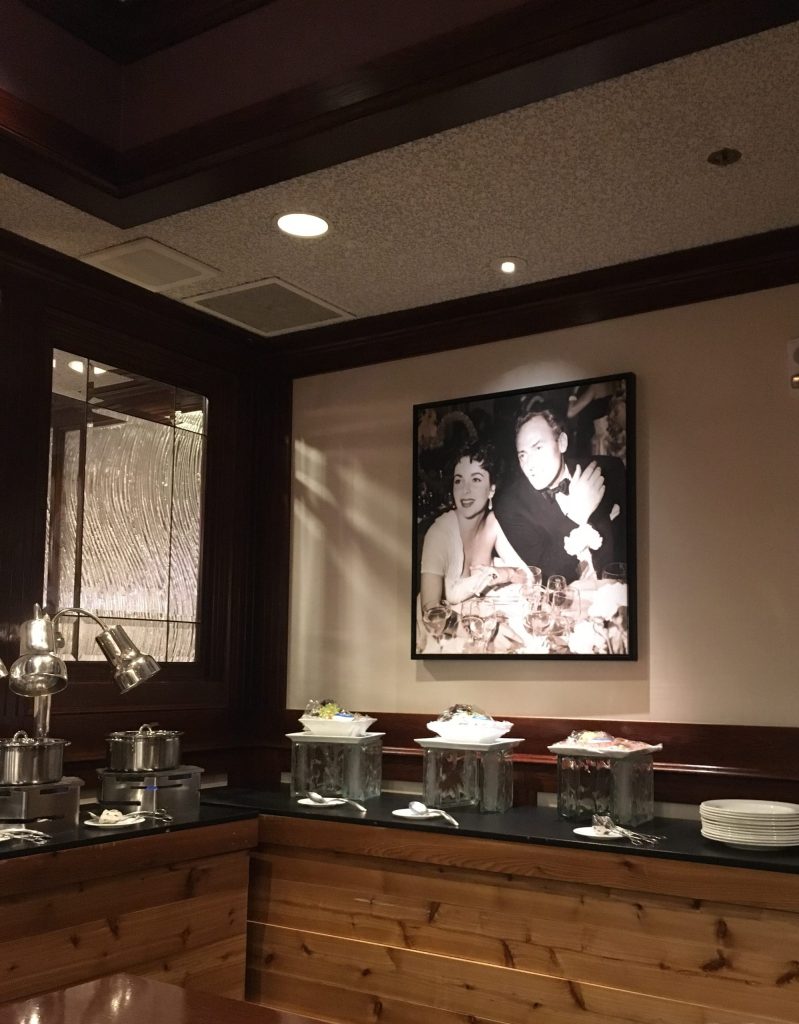 The first thing that we did when we sat down is chose how we wanted our napkins to be folded. There were three different options to choose from. Once we made our selection, our wedding planner went over our BEO's (banquet orders), our wedding party rehearsal the day before, and DJ information. She let us know that we had the opportunity to have one more phone appointment with her and our Disney DJ to be able to talk about the vibe of our wedding and what kind of music we wanted to be played.
After all of that was done, we were introduced to our banquet captain and one of the banquet chefs from The Disneyland Hotel. They told us what their jobs were during our wedding and what we were to expect. Then the chef uncovered all of our food selections and went into detail about each one (the moment I was waiting for!). Since our brunch wedding is a buffet, we got to choose three hot entree items and three cold sides to try. We chose the chicken, beef, and salmon entrees as our hot items and the Greek salad, penne pasta salad, and bagels with smoked salmon and accompaniments. Everything was so tasty! We told our wedding planner that we were having a hard time deciding, and she quickly let us know that ALL of the items were going to be in our set up and we didn't have to choose! On top of all that we tried, she let us know that there was going to be an additional salad option, bread rolls, and the usual breakfast fare, including eggs, bacon, sausage, potatoes and of course, our Mickey waffles!
Just when I thought that I couldn't possibly eat any more, one of my bridesmaids (who happens to be one of the Head Bakers for the Disneyland Central Bakery AND was one of the faces in the Disney's Fairy Tale Weddings TV special) popped her head in and let us know that we still had to try our dessert options and cake! Whaaaaat?! She presented us each with a plate of four assorted mini desserts. They were a cassis macaron, a pear almond tart, pumpkin pie, and a spiced apple pie flight with Chantilly cream. We got to choose three of those items to add to our buffet. After those plates were cleared, she presented us with four cake options to try. The four options we chose were plain vanilla cake with buttercream, the "sweet memories" cake (which was one of my personal favorites to make when I worked there) which is chocolate cake with a praline filling, and of course, the churro AND Dole Whip cakes!
We got to choose three of those four options for the three tiers of our cake. After we made our selections, we talked about our wedding cake design and she had us confirm our design choice and colors.
We were now at the end of our tasting! We walked out with our wedding planner, hugged, and parted ways. In all, this meeting took two hours and was by far the most informative planning meeting to date. Looking back at the meal options that we were offered we realized that we definitely get more food and more bang for our buck by going with a buffet, and it is going to fit in perfectly with our brunch theme!