Thank you Breton for sponsoring this post. Make everyday entertaining better with Breton!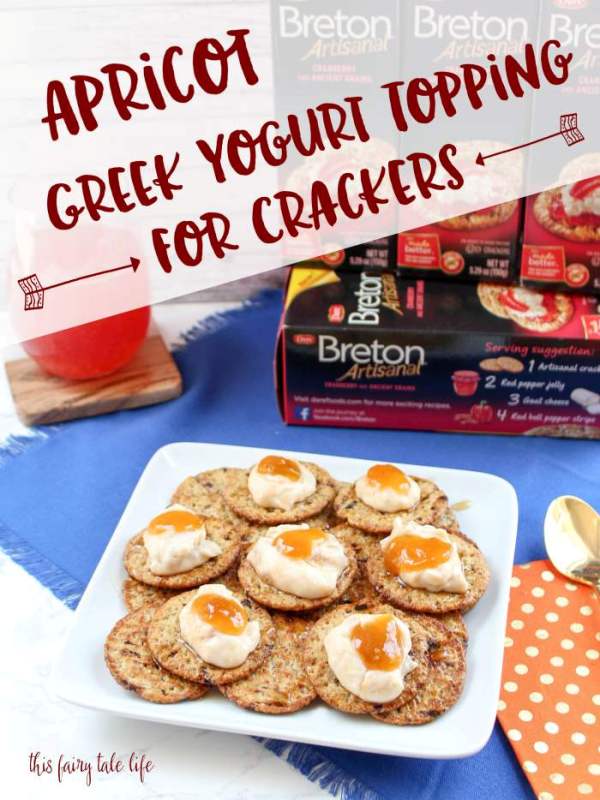 When I was growing up, my grandparents lived down the street from us and they had a HUGE apricot tree in their backyard. Every year in the summer the tree would produce the yummiest, juiciest apricots. And so many of them! We took them home by the bagful – way more than we could ever consume although it didn't stop me from trying!
And such my love affair for apricots began, and it hasn't let up. But especially during the summer I can't get enough. Which is why I included apricots when I experimented with this cracker topping. And, holy moly, I stumbled upon something truly amazing.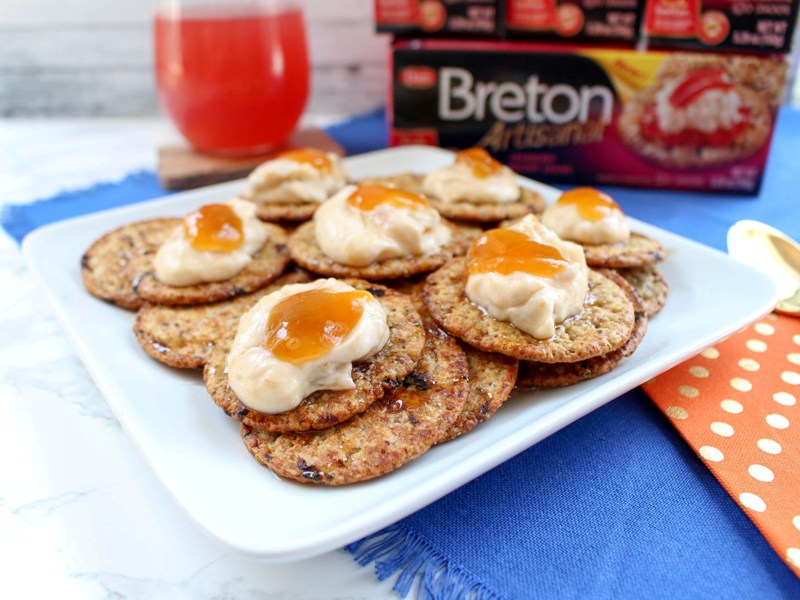 This dip makes a great snack for yourself, or whip up a big batch for when you have people over. And it's so easy – just three ingredients! Greek yogurt, apricot jam, and the secret ingredient … a drizzle of maple syrup. Oh wow yes. My friend Karly is a food blogger and she says every food is better with a little drizzle. I think I'm going to have to adopt this as my new food motto.
And you guys know I'm all about the simple recipes. Ain't nobody got time for tons of ingredients or complicated dishes, especially when I need a snack, QUICK. This dip is so incredibly easy to make and pairs perfectly with the new Breton Artisanal Cranberry and Ancient Grains crackers. I'm obsessed with these new crackers because they are so delicious and safe for my food intolerances because they are made with wholesome ingredients such as whole wheat and coconut oil. The cranberry and apricot is a perfect blend – SO delicious! And it satisfies the sweet tooth craving, even without the maple syrup (but I highly recommend adding the drizzle).
Apricot Greek Yogurt Dip
Ingredients:
Greek yogurt
Apricot jam or preserves
Maple syrup
In a separate bowl, mix together equal parts of the Greek yogurt and apricot jam. THAT'S IT!
As a cracker topping, place a small spoonful of the yogurt/jam dip on top of each cracker. Top that with a small dollop of jam, then drizzle with maple syrup.
So. Incredibly Easy.
With Breton's variety of flavors and textures, there are endless ways to enjoy them for any occasion – from simple appetizers to a delicious crust, or simply eating them right out of the box, there's a perfect Breton cracker for everyone. Learn more about Breton artisanal crackers here.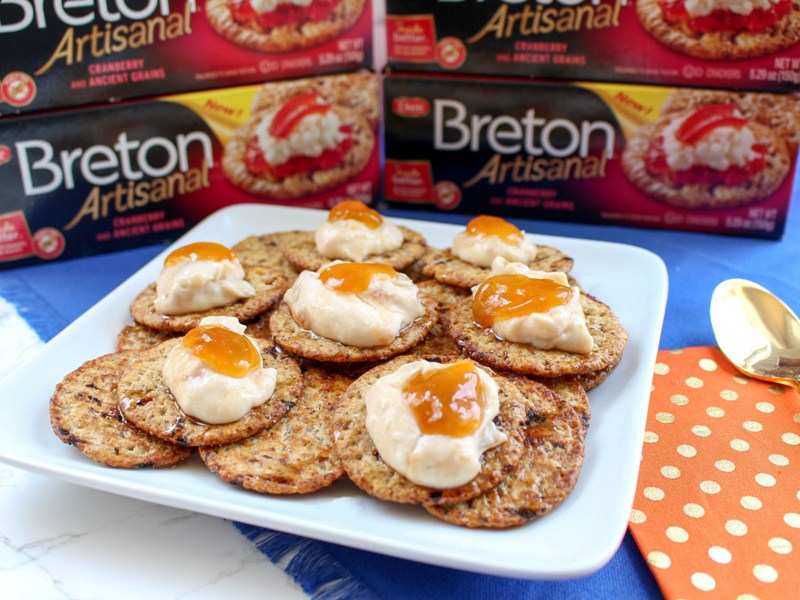 I was selected for this opportunity as a member of CLEVER and the content and opinions expressed here are all my own.
What's your favorite quick snack?