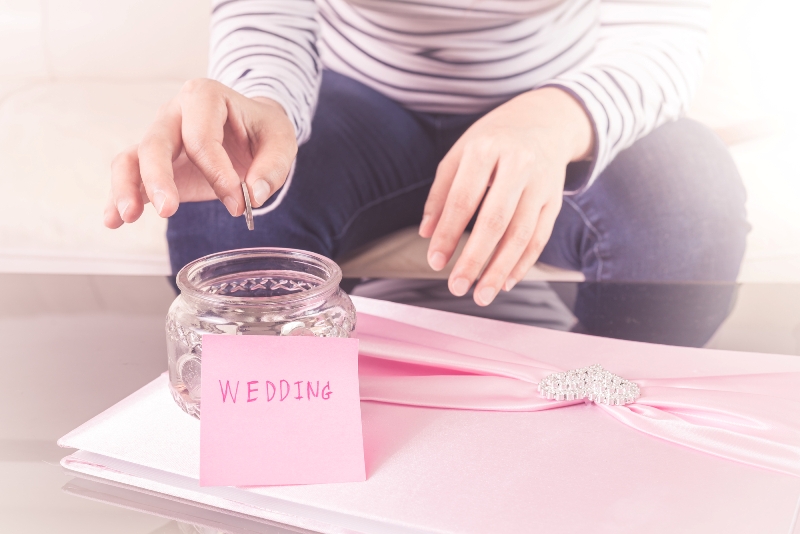 Disney Bride Alexis is planning a Disneyland wedding at the Rose Court Garden and Sleeping Beauty Pavilion for October 2017.
The first thing that comes to most couple's minds when they are considering Disneyland as an option for their wedding is "it's going to be too expensive." That is the first thing Garrett and I thought when we were throwing wedding venue ideas out there, too … so I know. When you look at the breakdowns of some of the costs, it can be a little intimidating at first! But when you start shopping around for venues you will find that your dream Disney wedding is pretty comparable in price to some other venues. Weddings can be expensive, but a lot of the costs also have to do with adding on things that you really don't need. Do you REALLY need colored napkins? Come to find out, we didn't. Let me tell you how we were able to have our dream wedding fit around OUR budget!
Making a Disney Wedding Fit Your Budget
Consider Lunch or Brunch Instead of Dinner
I have mentioned before that Garrett and I chose to have a brunch wedding. It was a win for us because not only do we get to celebrate our day with our favorite meal of the day, but it is also a cheaper option at Disney (about $25 less a person). This was great because our guest list is over 100, so that helped with the cost a bit.
Choose a Specialty Drink or Limit the Hosted Bar
Another thing to consider is only hosting a few hours for the bar, and having the rest of the time be a cash bar. You cannot have brunch without mimosas, so we asked our wedding planner if we were allowed to bring our own champagne. The answer is YES! There is an $16 dollar corkage fee per bottle, and since juice is included in the price of the brunch package, you end up saving quite a bit of money! Now we realized that not everyone likes or wants mimosas, so that is why we decided to factor in two hours of hosted bar into our budget. No big deal!
Go with the Standard Table Set Up
Garrett and I attended the Disney Fairy Tale Wedding open house to see what we were getting ourselves into with linens, florals and extras. Of course they had decked out, super extravagant floral centerpieces and name cards on some of the tables and though it was a little intimidating at first, we kept looking! We finally made our way around the room and got to the last table. The "standard" table that is included with your wedding package. And you know what? It's beautiful! We decided to go that route because I wanted the centerpieces and the other elements on the tables to be the main focus.
Ask Your Florist for Other Options
We asked our floral and linens planner if it weren't possible to work a little bit of floral around the centerpieces that I was making, and she was super excited to do it! So, instead of paying $120 per table for floral centerpieces, we ended up only paying $70 – almost HALF THE PRICE!
Forgo "Extra" Decor
Lastly, almost everyone has seen the Sleeping Beauty Pavilion at the Disneyland Hotel, so a lot of people know how beautiful it is even before being set up! When we got to this point of planning with our wedding and floral and linen planners, we knew exactly what we wanted. Simple. Our reception is at 10:30 in the morning, so we did not need ceiling draping with uplights (you probably wouldn't be able to see it with all of the natural lighting that comes into that room at that time, anyway). Just cutting that from our wedding saved us $2,500! Saving all of that money allowed us to be able to splurge in other areas (adding a few hosted bar hours and pay for our honeymoon!).
The Sleeping Beauty Pavilion is just as lovely without any extra decor.
So don't think that you cannot have your dream Disney wedding on a budget because you definitely can if you remember to not be afraid to ask questions and that you have options!