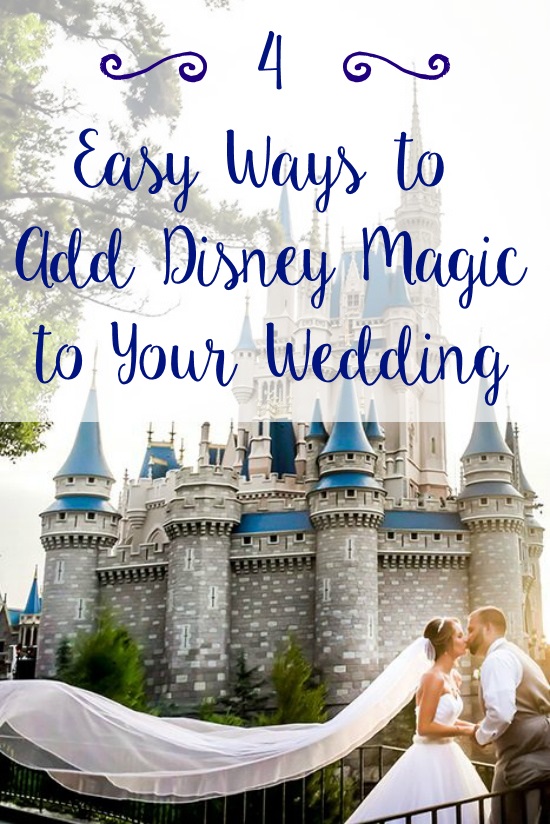 Photo credit: Disney Wedding Inspiration Gallery
Disney Bride Lauren is planning a Walt Disney World "Mini Wishes" wedding at the Wedding Pavilion and The Attic for December 2016.
When my fiancé and I got engaged, one of the first things we decided (before we even committed to a wedding at Disney) was that we wanted to incorporate lots of Disney touches into our wedding day. Some couples decide that having their wedding at one of the Disney parks or resorts is a big enough detail for their day, but I'm here to share some of the more subtle and not-so-subtle ways to incorporate Disney details into your big day.
4 Easy Ways to Add Disney Details to Your Wedding
Attire
Some of the most fun ways to include Disney details into your wedding day is through your bridal and groom's attire. From small touches like hidden Mickeys on the bottom of your shoes to some custom bridal Minnie ears, the options are endless! Instead of carrying traditional bouquets, my bridesmaids and I will be carrying park map bouquets made from recycled Magic Kingdom park maps and the groom and groomsmen will be wearing park map boutonnieres with Mickey-shaped crystals. My fiancé will also be wearing some Stormtrooper cufflinks and I plan on getting hidden Mickeys painted on my nails. These details may not be over the top but Disney fans will get it.
Décor
One of the biggest ways that we plan to incorporate the Disney details into our wedding day is through the reception décor. Since our wedding is a vintage Disney/Boardwalk theme, our table numbers are going to be vintage Disney attraction posters that we have shrunk down and framed. We are also going to have multi-colored Mickey balloons throughout our reception venue to add to our whimsical theme. On top of that, we also have tons of other smaller Disney details that we are incorporating into our reception such as a Vinylmation guestbook, custom "I'm Celebrating" buttons for our wedding favors, Mickey and Minnie toasting flutes, Mickey and Minnie silhouette cake topper, and our "Once Upon a Time" card box.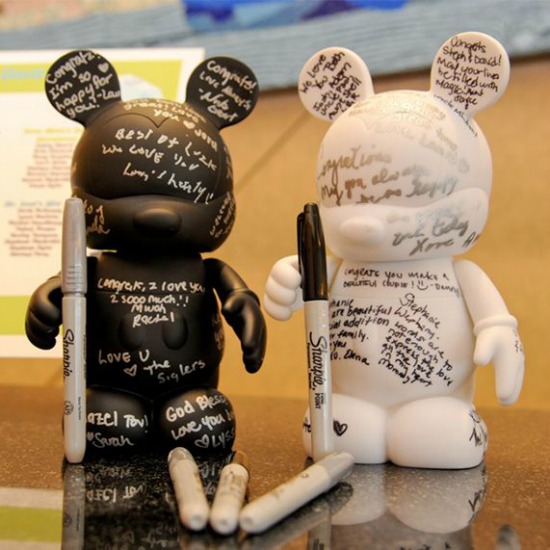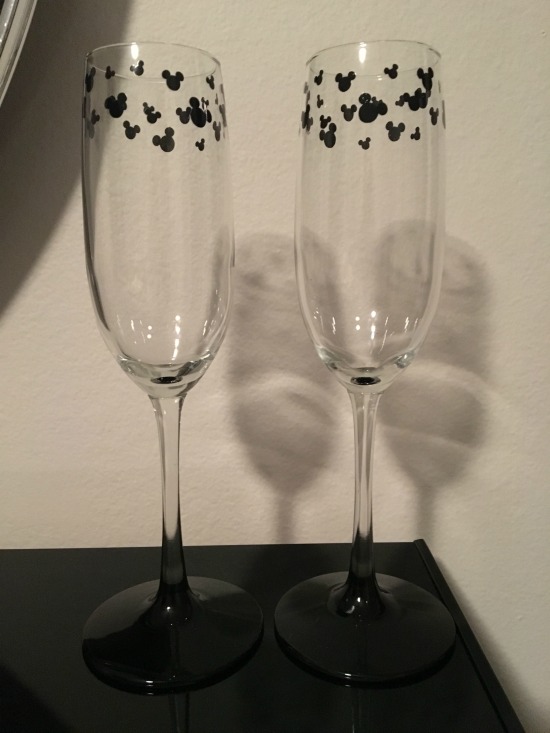 Music
One of the easiest and most subtle ways to incorporate Disney details into your wedding is through music. Whether you plan to dance to your favorite Disney love ballad, or simply have some instrumental Disney music playing in the background during your cocktail hour, this is one detail that everyone included in your day will love. Since we are having a pretty small and relaxed lunch reception for our wedding, we opted out of hiring a DJ and instead are making an iPod playlist with all of our favorite film scores (many of which will be Disney). My fiancé will also be walking down the aisle to his favorite film score, Star Wars, to really get the party started!
Disney Extras
Perhaps the biggest (and not very subtle) way to incorporate Disney into your wedding is by adding on some of the unique Disney touches that you can't get anywhere else. I'm talking park shoots, having characters at your event, and dessert parties! The truly unique Disney entertainment options that you can add on to your event are unlike anything you'll get outside of Disney. Not only can you arrive to your ceremony in Cinderella's carriage, but you can also have Major Domo announce you and your new husband as you enter the reception, have Mickey and Minnie help you cut your wedding cake, and end your magical day with a private fireworks dessert party. I also can't wait to have the Magic Kingdom all to ourselves for our bridal portrait session!
Whether you have your wedding on or off Disney property, the possibilities for including Disney details into your day are endless. So go crazy, or just include a few subtle hints to make your day truly special.
What are some ways you are incorporating Disney into your wedding day?
Disney images copyright Disney.