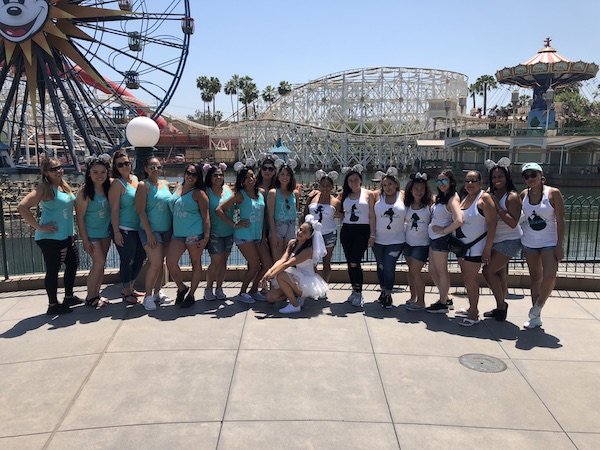 Disney Bride Erica planned a Disneyland wedding at Rose Court Garden and Sleeping Beauty Pavilion in June 2018.
When Disneyland is the Happiest Place on Earth and the place where you always have the most fun, there are no doubts in your mind about where you decide to throw your bachelorette celebration. Of course there will be people that disagree and think a bachelorette celebration should be somewhere more wild and crazy, or on a beach for a tropical getaway. For me, I could not imagine my bachelorette celebration being anywhere else. Disneyland holds so much special meaning to me and I just wanted to share that with all of the girls that mean the most to me.
One thing that also mattered most to me was being sure I planned a celebration that our Junior Bridesmaids could take part in as well. It is so important that they feel and know they are a big part of your bridal party and wedding. I planned out an entire itinerary for my bachelorette celebration at Disneyland in which everyone could be included and have a great time. (Spoiler Alert- I did NOT end up making it through the whole itinerary as I was running on ZERO sleep and LOTS of champagne).
I decided to start the morning off at Disneyland and then make our way to Disney California Adventure for the afternoon. We had a pretty large group of us so we finally made it into the parks with everyone all together around 10 AM. We got some Fast Passes and hit up as many rides as we could, as it was INSANELY crowded at the parks that day! We then had lunch at Disney California Adventure and the adults grabbed some margarita's at Rita's Baja Blenders. Again, at this point we were still able to have a good age-friendly time at the parks while the adults still got their drinks fix!
Next up, we planned for Happy Hour at Bubba Gump Shrimp on Katella Ave which is by far my FAVORITE place for food and drinks during Happy Hour, and is always a must when Diogo and I have our Disneyland trips. We ended up having their entire outdoor patio area for our party, and the groom, groomsmen, and my family met up with us there. It was so good to have everyone together for that one part of the day and pretty cool to have the bachelorette celebration combine with the bachelor celebration. At this point we had the entire bridal party there, including our two junior bridesmaids aged 12, our junior groomsmen aged 9, and our flower girl aged 1-1/2, and we were all having such an amazing fun time!
Our next plan was to go to our bachelorette suite at the Grand Legacy at the Park for some bachelorette games and drinks. We had a two-bedroom suite so the younger ones could hang out in the bedroom while the adults had their fun in the living room area. My bridesmaids had the entire suite decorated, and also had some beautiful unicorn cupcakes for me! Our original plan was to eventually get back to the parks for the fireworks and Paint the Night parade, and end our night at the new Splitsville Luxury Lanes bowling alley in Downtown Disney. Unfortunately, as mentioned before, I was running on three hours of sleep in three days and barely had much to eat that day so I fell asleep around 10 PM!
Even though we did not complete what was planned out in our itinerary, that day was still one of the best days of my entire life. Having all of my best friends and family together at my favorite place in the world is something I will never forget. Having the kids take part in that day was also so special and meaningful to me. I wouldn't have had it any other way!
To my amazing bridal party, friends, and family, thank you for everything and thank you for a day I will keep in my heart forever and ever. I promise next time – We will make it through our entire itinerary!