This is a sponsored post. The company who sponsored it compensated me via a cash payment, gift, or something else of value to write this. I only recommend products or services I use personally and/or believe will be good fit for my readers. This post also contains affiliate links. All opinions are my own.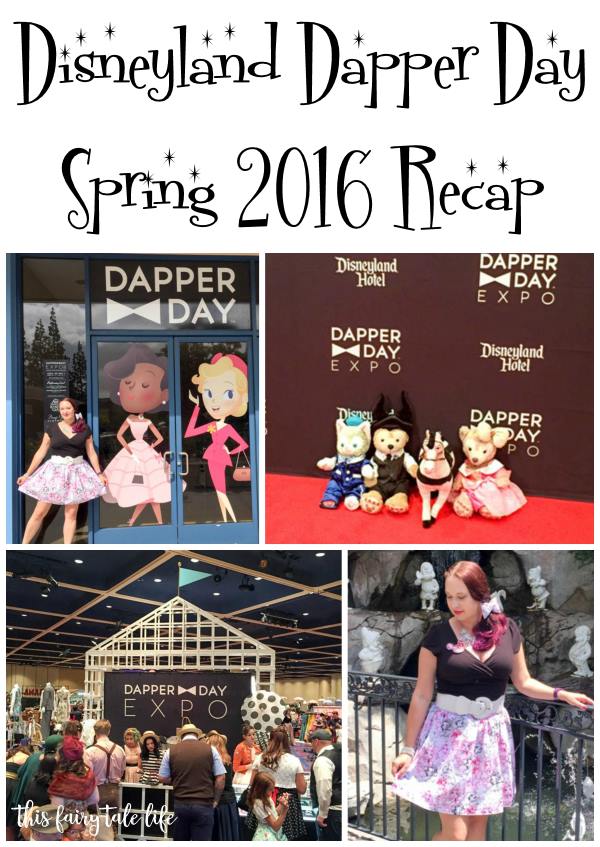 This past weekend was another lovely Dapper Day celebration at Disneyland! For 2016 the Dapper Day committee is trying some new dates for their events. Instead of February and September like last year, this year Dapper Day lands in May and November. I'm not sure of the official reason for the date changes, but I am hoping the change brings better weather for the events. February last year was a very rainy day, and September was way too hot. So far, so good, because we had perfect weather this past weekend! Usually I'm taking a lot of breaks in the shade and reapplying my makeup every five seconds. Dapper Day Spring 2016 was a major success!
I had so much fun walking around with my friends and seeing everyone's beautiful outfits. This was my favorite group of the day – Star Wars: The Force Awakens Dapper 'Bounding!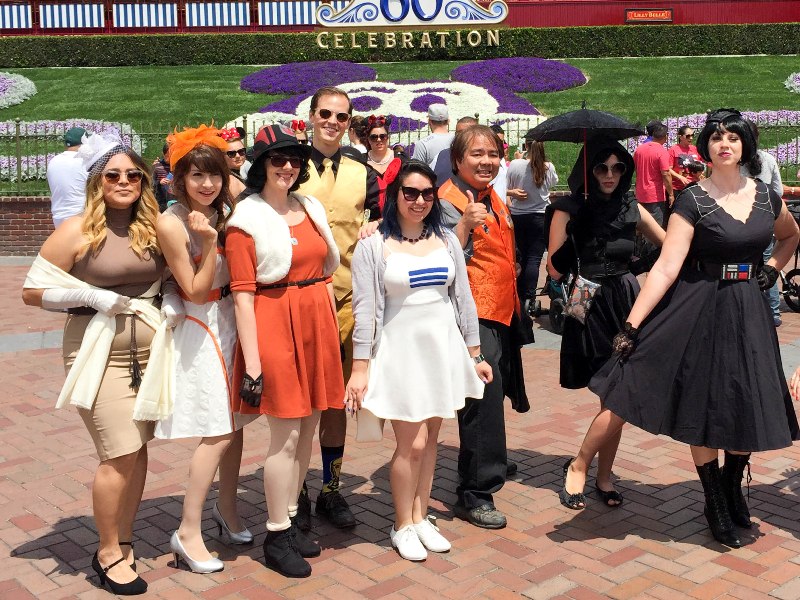 We also had a Disneyland Brides and Grooms lunch meetup, and it's always great to chat with old friends and meet new ones.
I have to give a shout out to Ena's Bazaar, who custom made this wonderful Disney Princesses skirt for me! I got so many compliments on it, and since it was custom made to my waist, it was SUPER comfortable all day. AND it also came with a matching pillow bow for my hair!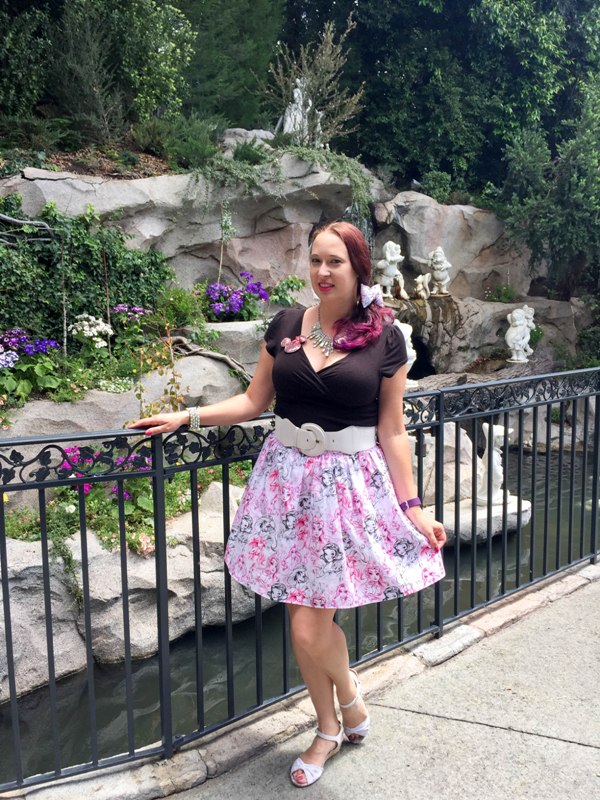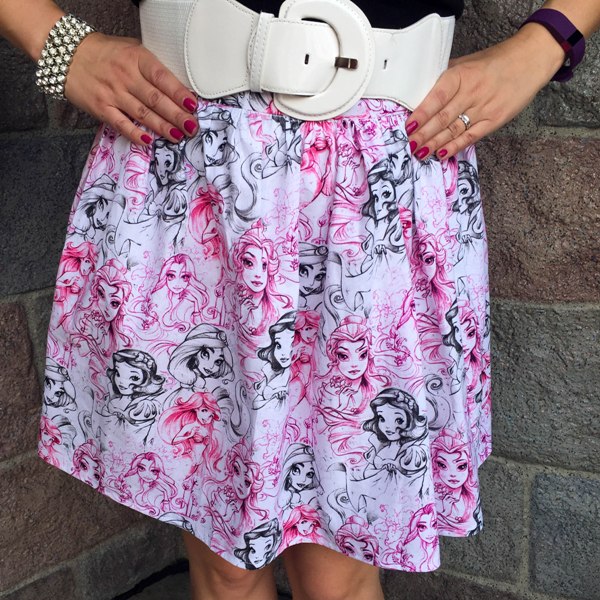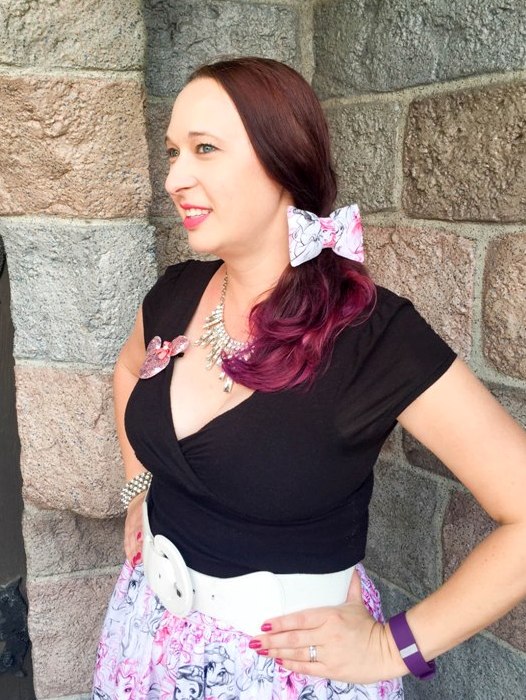 I paired the skirt with a black top I already owned, a blingy crystal necklace and bracelet from Vivi Jewelry, and white sandals. The fact that my recently dyed purple hair matched the skirt was a happy coincidence! Of course I'm also wearing my FitBit … can't let all those steps you take at Disneyland go to waste!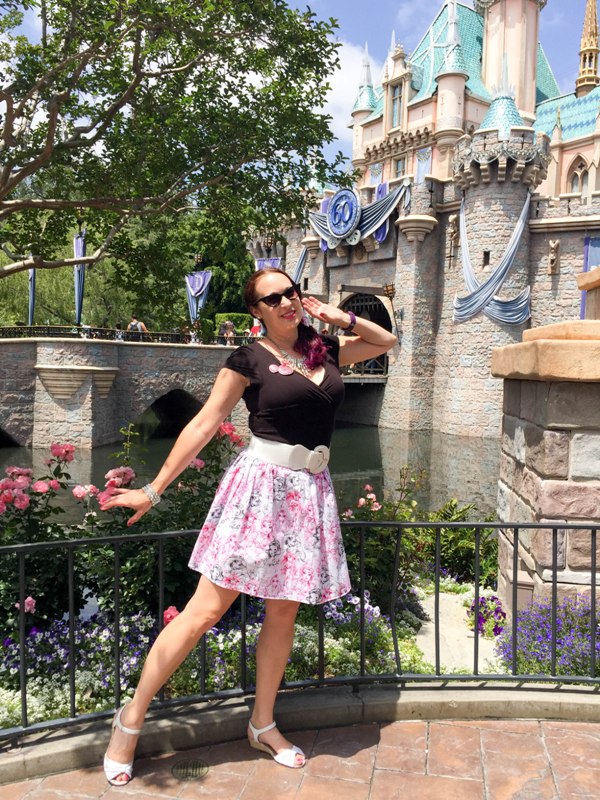 I admit this was probably my most "comfortable" Dapper Day yet! Thank you, Ena's Bazaar! Keep reading because I'm partnering with Ena's Bazaar to give away a skirt in this same fabric to one lucky reader! Details are a the bottom of this article.
The Dapper Day Expo was at The Disneyland Hotel again this year. There were lots of fun vendors and photo ops, as well as a stage and dance floor. After 12 noon there was a bar selling adult beverages. With the shopping, photo ops, and dancing, it's very easy to spend a couple hours at the expo, so plan ahead! I like to get there right when it opens for maximum shopping time. This year I was very good to my wallet and only bought a few small items (verses the TWO Pinup Girl Clothing dresses I bought last year):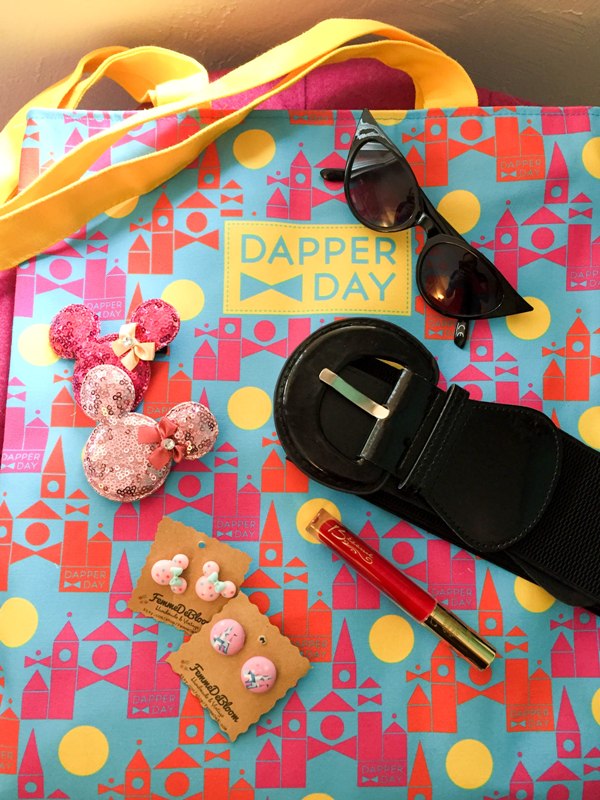 – Sunglasses and belt (missed the vendor name and I can't find a list of expo exhibitors online!)
– Earrings by FemmeDeBloom
– Sequin Mickey hair clips by Meteor Jewelry Company
– Lip Glaze in Cherry from Besame Cosmetics (I actually won this by answering their Instagram trivia!)
– Palace Print Dapper Day tote bag available on the Dapper Day website
Speaking of Pinup Girl Clothing, for this expo they sponsored a shuttle that ran between the expo at The Disneyland Hotel and Disney's Grand Californian Hotel. This saved us a lot of precious time walking around in heels! It was a wonderful idea – thank you, Pinup Girl Clothing!!
Disney Princess Sketch Cotton Skirt by Ena's Bazaar Giveaway!
Ena's Bazaar is run by Jessica, a Walt Disney World Bride and stay-at-home mom. Jessica has been running her Etsy shop for a few years and I've ordered several items from her. Her best sellers are these cute baby rompers and harem shorts in all kinds of adorable Disney fabrics! She also makes detailed costumes for toddlers and kids, and running costumes for adults.
Now she's venturing into stylish skirts for women that are perfect for Dapper Day, bridal showers, or any other special event! To celebrate this recent product addition to her shop, Ena's Bazaar has graciously agreed to give away one of their Disney Princess Sketch Cotton Skirts (the same fabric and print as the skirt I'm wearing here) to one of my readers! I'm so excited for whoever wins this one because I love this skirt so much (and we'll be twinsies)! The skirt will be custom made to your waist measurement (up to a size 18) and here are the additional product details:
Disney Princess Sketch Cotton Skirt
*rouched skirt
*1.5 inch waistband
*1/2 hem
*all interior seams finished
*center back zipper
*hook & eye tab
*length of skirt 18.5 inches (including waistband)
Skirt is a $70 value. (The hair bow is NOT included.)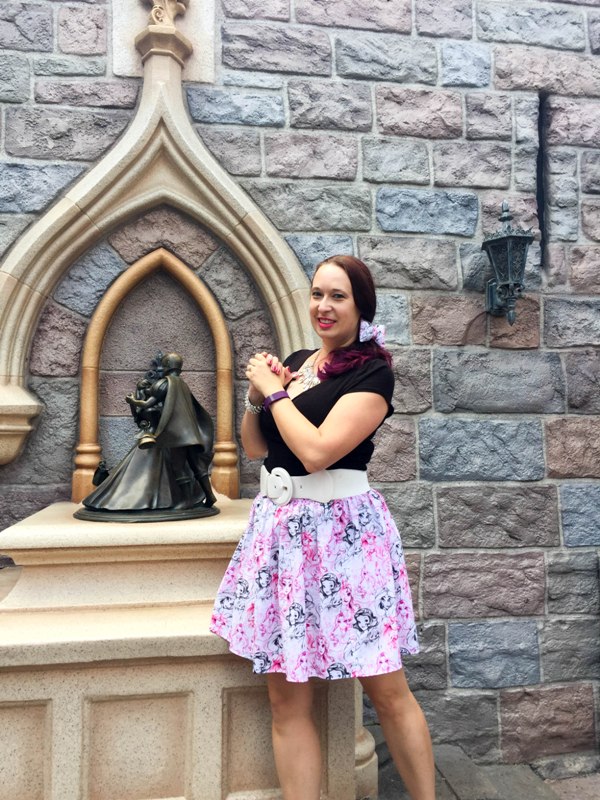 The sweepstakes will run from May 5, 2016 to May 12, 2016, with a winner being announced on May 13, 2016. Please use the Rafflecopter widget below to enter. Be sure to read and understand the Terms & Conditions before entering. Good luck!
NO PURCHASE NECESSARY. Sweepstakes ends Thursday, May 12, 2016 at 11:59pm Pacific time. Open to Legal Residents (18 years of age or older) of the US only. Prizes cannot be shipped to AK or HI. Prizes cannot be substituted or exchanged for cash value. Prize is non-transferable. Winner will be selected by Random.org via Rafflecopter and be notified by email on Friday, May 13, 2016. The odds of winning depend on the number of entries. Winner will have 48 hours to respond before a new winner is selected. Please note that This Fairy Tale Life and Mindy Joy Media are not responsible for sponsors that do not fulfill their prizes. I have represented each sponsor with the expectation they will fulfill their prize and in a timely manner. I will contact the sponsor regarding your prize(s). I will make every effort to assist you in obtaining your prize. If there is an issue with a sponsor, please notify the blog you won a prize from within 30 days for assistance, after that we may be unable to assist you. Mindy Joy Media is not responsible for lost/undelivered email, typographical errors, technical failures, etc. The product offered for the sweepstakes is free of charge, no purchase necessary. My opinions are my own and were not influenced by any form of compensation. Facebook and Instagram are in no way associated with this sweepstakes. By providing your information in this form, you are providing your information to me and me alone. I do not share or sell information and will use any information only for the purpose of contacting the winner and facilitating communication between the winner and the sponsor. By providing your name, you agree your name will be mentioned in a blog post announcing the winner. No other information aside from your name will be shared. Prizes not claimed will be retained by the sponsor. VOID WHERE PROHIBITED.
See you at the Disneyland Fall Dapper Day!