What can I say about Coco, Disney/Pixar's latest film?
To be honest, I thought this was not going to be the movie for me. It doesn't depict my culture and the hero of the story is not my gender (very Eastern European super white girl here), so I thought I wouldn't be able to relate. I knew I'd enjoy it, like I enjoy all the Disney animated movies. But I thought I wouldn't enjoy it as much as Brave or your standard Princess Disney movie. Also skeletons creep me out a little bit.
So I was completely thrown off guard when I left the theater deeply moved by the film I just witnessed, and was also surprised when I couldn't stop thinking about it the next day. But then also, not surprised because, duh, it's Pixar. Pixar made me fall in love with toys and fish and robots and emotions.
No matter who you are, or what your background or culture is, you can't help but be moved by Coco. Trust me on this one!
COCO Movie Review
About the Movie:
Despite his family's baffling generations-old ban on music, Miguel (voice of newcomer Anthony Gonzalez) dreams of becoming an accomplished musician like his idol, Ernesto de la Cruz (voice of Benjamin Bratt). Desperate to prove his talent, Miguel finds himself in the stunning and colorful Land of the Dead following a mysterious chain of events. Along the way, he meets charming trickster Hector (voice of Gael García Bernal), and together, they set off on an extraordinary journey to unlock the real story behind Miguel's family history.
Watch the trailer:
Coco
does a great job of transporting you to Mexico, straight into the tight-knit family of young Miguel. Miguel loves to play guitar and wants to be a musician but his family forbids it. Even still, he sneaks away to watch old videos of his idol Ernesto de la Cruz and copies his every move on the guitar. After a fight with his family, Miguel and his dog Dante are transported to the Land of the Dead, where he comes face to skull with some of his relatives and even meets his idol Ernesto.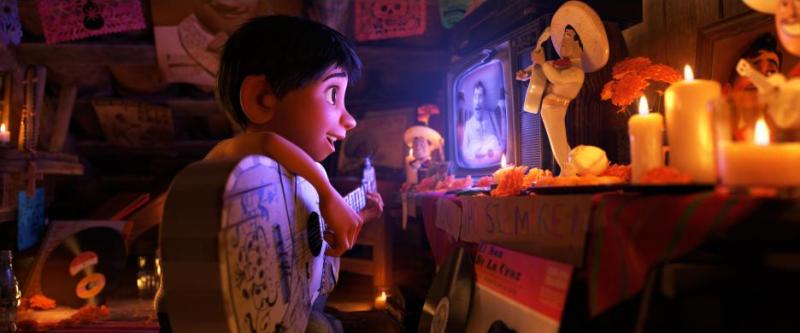 I'll be honest here – there are some dark themes in this movie. Death can be an uncomfortable subject for many, including me. My family never really talks about it and as a society I don't think we really embrace death as a natural part of the life cycle. Sorry to get super deep with you, but this movie goes there.
The way the Mexican culture celebrates Dia de los Muertos – the Day of the Dead – has always been fascinating to me, and I was thrilled for the opportunity to learn more about this beautiful celebration of life and death. It made me look at death, and making the most of my life, in a way I've never embraced before now.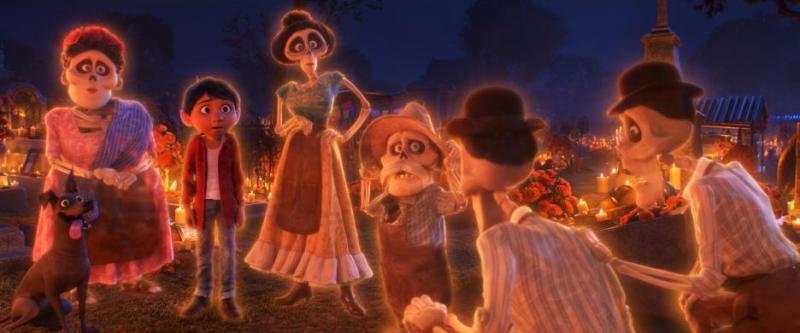 Yeah, there's some serious stuff in this movie.
But there's some light, fun stuff, too. One thing I really loved about this movie was the music. The music is reeeeeally good in this one, guys. 13-year-old Gonzalez (who was only 10 when he auditioned!) has the vocal emotional range of someone twice his young age. Some songs are catchy, some are funny, some are deeply emotional. I think you're going to love every one of them!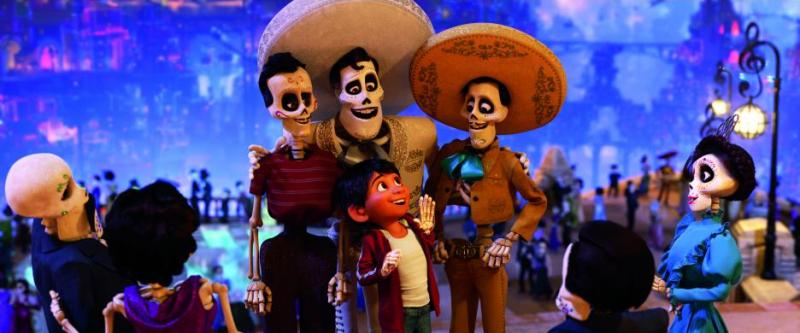 As with all Pixar movies the animation just gets better and better. This movie is so rich with detail and color it was simply mesmerizing. The detail in the Land of the Dead is fascinating; I'm anxious to get my hands on the DVD so I can slow down some of the scenes and really take it all in.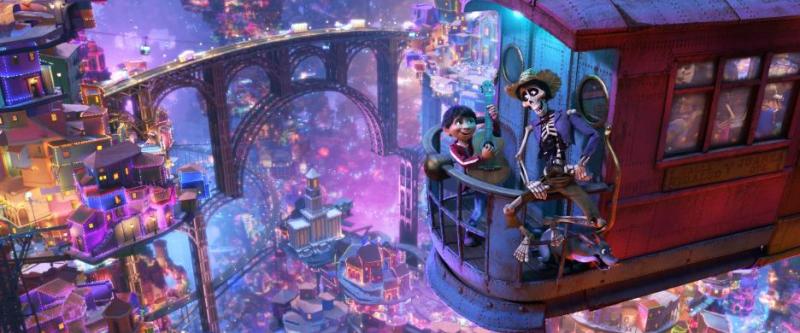 I also pride myself on the fact that I don't really cry at movies. But this one? I was sobbing through the end of the movie all the way through the credits and even during the walk home. The ending is a real punch to the gut in the best way. The last 10 minutes of Coco are basically like the first 10 minutes of UP. So don't just bring your tissues. Bring the whole box.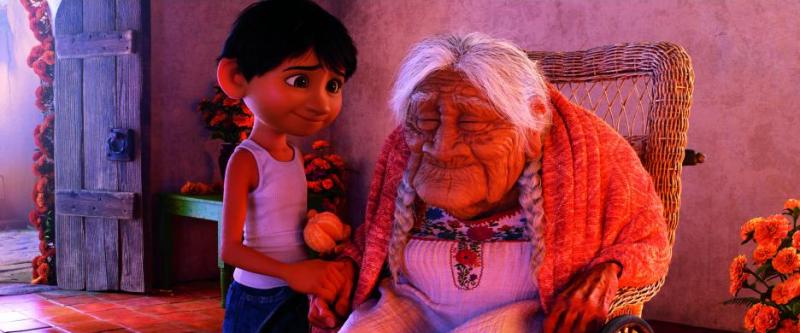 Coco is another Disney Pixar masterpiece that that you're gonna love. It's absolutely gorgeous and I simply cannot say enough good things about it. See it as soon as possible!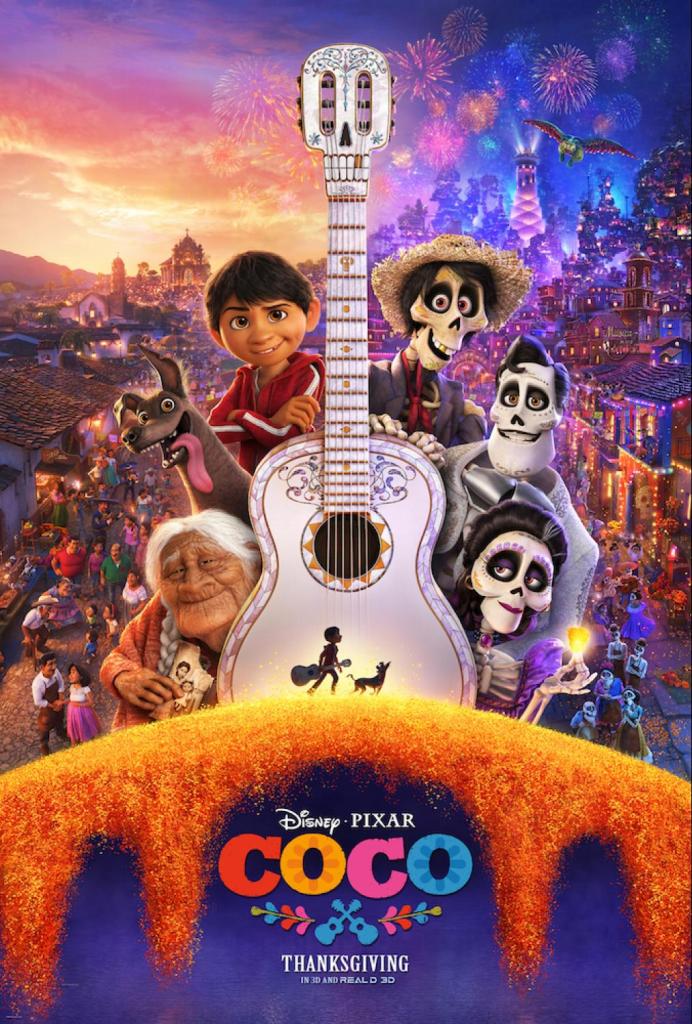 COCO is rated PG and opens in theatres everywhere on November 22nd!
Like COCO on Facebook: https://www.facebook.com/PixarCoco
Follow COCO on Twitter: https://twitter.com/pixarcoco
Follow COCO on Instagram: https://www.instagram.com/pixarcoco/
Visit the official COCO website here: http://movies.disney.com/coco