Disney Bride Nicole P is planning a Walt Disney World wedding at the Wedding Pavilion and Disney's Grand Floridan Ballroom for December 2017.
When you have twelve bridesmaids, finding the perfect bridesmaid dress for everybody can seem like a daunting task. Here's how we settled on dresses that not only I loved, but all the girls felt comfortable with as well!
Tips for Bridesmaid Dress Shopping with a Large Bridal Party
Tip 1 – Make things as simple as possible by choosing a single color.
As soon as I became engaged I started to comb through magazines and look online to get ideas for what I wanted my wedding party to look like. I knew I wanted the dresses to be long and have a flowy princess type feel. Knowing that I was getting married in December and that I wanted to have a Frozen themed reception, I decided an ice blue color would perfectly fit the mood I was trying to create.
I collected photos of all the dresses that I thought would work with that theme and ordered fabric swatches. My sister and maid of honor is a public relations/ event planner for Free People. I asked her to look at companies that she could get a discount from. I finally decided on an ice blue dress from Amsale.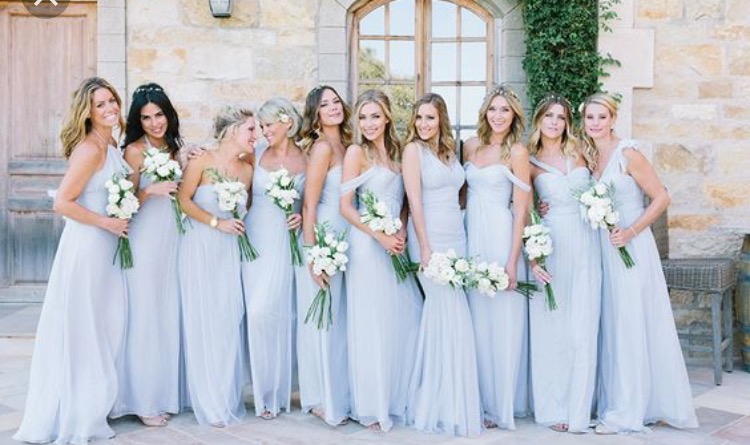 Photo from Amsale
Tip 2 – Choose a bridal boutique that is central to as many bridesmaids as possible and make a day of it.
I made an appointment a month before the actual fitting at Bridal Garden, a bridal boutique that is local for the majority of my bridesmaids. Since Disney's live action Beauty and the Beast was being released a few weeks before the shopping date, I asked each girl if she would like to go and see the movie after we tried on dresses. My very generous fiancé bought all of our movie tickets. We wanted all the girls to know how much we appreciated their being a part of our wedding.
Tip 3 – Let each bridesmaid choose a dress style that suits their body type.
Although all of my friends are beautiful, they certainly are not the same size. What looked great on one girl may not look so good on another. I decided to allow each girl to get the dress in which she felt most comfortable. This worked put well because Amsale has several variations of basically the same dress. A few girls opted for off the shoulder, a few for spaghetti straps, and others for a variation with more coverage. It definitely felt great when I left the bridal shop knowing each girl ordered a dress they really loved.
Afterwards we all drove over to the local movie theater, bought our snacks and got to watch the visually stunning Beauty and the Beast movie together. It was the perfect way to end our day!