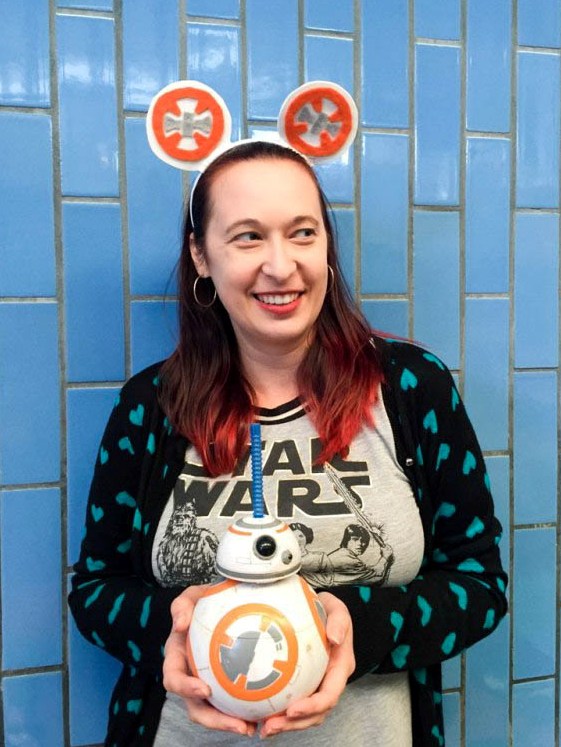 Have you seen STAR WARS: THE FORCE AWAKENS yet? With the highest grossing weekend in movie history, chances are you have. But don't worry, this post is spoiler free … mostly. The only thing I am going to give away is: BB-8 IS ADORABLE!!! He was a sensation even before the movie opened, but he was even cuter than I could have hoped for and imagined. (And, for those of you who were wondering about the gender of BB-8, the novelization refers to the droid as a "he," so I'm going with that.) I made these BB-8 Mickey ears to wear to opening day of Season of the Force at Disneyland, where BB-8's presence was already strong. These ears are super easy to make (and much easier than my classic Star Wars ears). When you're reading the project steps below it may not sound easy, so take a look at my visual guide because I think seeing all the tiny shapes will be a lot easier to understand than my directions.
DIY STAR WARS BB-8 Mickey Ears
Supplies
Orange and grey felt
Scissors
Steps
Step 1 – Cut your mickey ears from foam and glue them to the headband using the hot glue. See this post for detailed instructions and ears template.
Step 2 – With a pencil, trace a circle a little smaller than an ear on the orange felt. I used a vitamin bottle as a template; a can of food would probably work well, too. Cut out the circle. Repeat 4 times so you have 4 orange felt circles.
Step 3 – Fold the felt circle in half, then freehand draw a half moon shape about 1/2 inch from the edge. With the felt still folded, cut along the pencil mark. You should end up with a donut shape, an orange felt circle with a hole in the center. Repeat with all the orange circles.
Step 4 – Now you have to cut out all the little pieces that go in the center. This is the toughest part for sure! I did all of this by freehand. On the orange felt, cut out 4 tiny pieces of felt in a trapezoid shape, about 1/2 inch long. I found the easiest way to do this was to cut out a 1/2 inch square, then use the scissors to taper the square into a trapezoid. With the grey felt, cut out a rectangle shape about 3/4 inch long and 1/4 inch wide. Also from the grey felt, cut out two shapes that look like funnels.
You will need to cut out enough of the above pieces for 4 ears (2 sides, front and back). So in total you will need:
4 orange donut shapes (from Step 3)
16 orange trapezoid shapes
4 grey rectangle shapes
8 grey funnel shapes
Are you still with me?
Step 5 – Now that we have all the felt pieces cut out, it's time to start gluing! First glue down the orange donut shaped felt pieces, followed by the orange trapezoid pieces, with the larger side going alongside the orange donut. They should be arranged equal distance from each other, in the center of the circle. However, they do not have to be in the exact same spot on each ear; in fact, they should be spaced differently so it looks more interesting! Next, glue down the grey rectangle in the center of the circle. Finally, glue down the two grey funnel shapes on either side of the wide side of the rectangle, in between the orange trapezoid pictures.
Repeat Step 5 for each ear, front and back (4 total).
Hooray, you're done! Wear your adorable BB-8 Mickey ears with pride. And may the Force be with you!