The first panel I sat in on at Alt Summit this year was called Overcoming Overwhelm. And, oh wow, I sure needed this advice.
The panel was led by Whitney English and Hilary Rushford, but poor Hilary's flight was cancelled and she couldn't make it out of NYC in time for her panel! But she contributed through Skype (technology!) and everything turned out a-okay!
The panel started with Hilary explaining the main principles behind her new online book and toolkit, The 4-Part Entrepreneur Cocktail: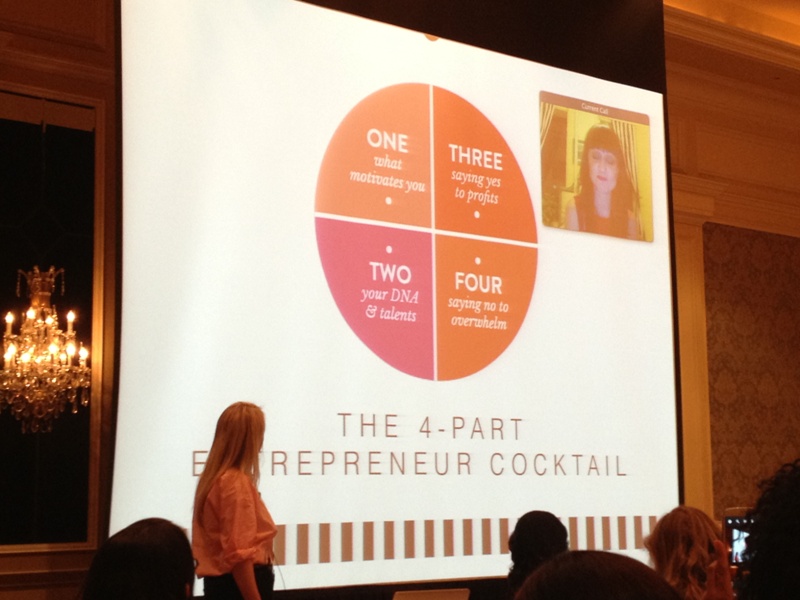 1. What motivates you
2. Your DNA and talents
3. Saying yes to profits
4. Saying no to overwhelm
Basically if we work by these four principles, we will feel more in control and feel less overwhelmed. The trick is to structure our lives so we feel less "busy."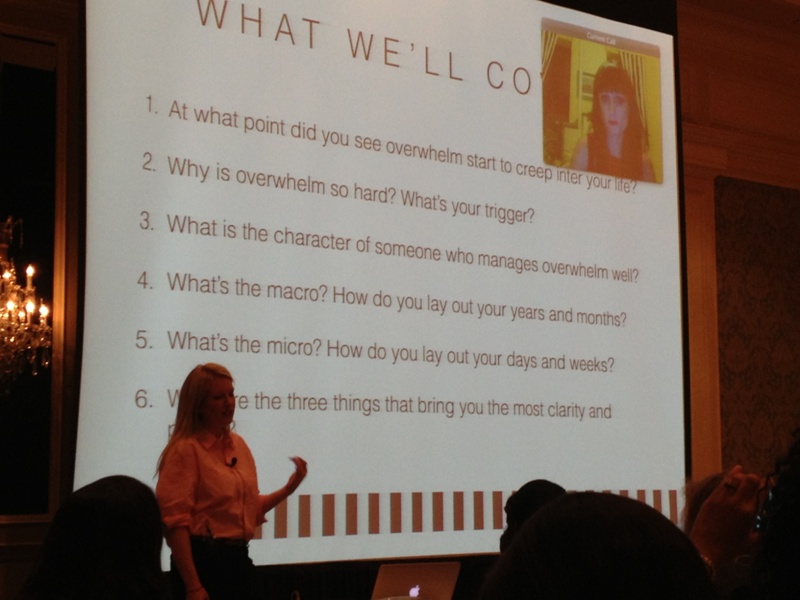 The hosts addressed the following questions:
1. At what point did you see overwhelm start to creep into your life?
Both hosts answered this question based on their own experience growing their blogs and businesses. I didn't write down too many notes but you can read all about Hilary's and Whitney's stories on their respective blogs. The main takeaway for me was that it's very easy to become overwhelmed with all the things there are to do as an entreprenuer, and the endless possibilities laid out before you.
2. Why is overwhelm so hard? What is your trigger?
Reasons you might feel overwhelmed:
You feel guilty saying "no," so you don't.
You don't say "no" because you don't want to disappoint others.
We have to find the maturity to decline things.
3. What is the character of someone who manages overwhelm so well?
Courage – to say "no"
Wisdom – knowing what to say "no" to
Balance – between work and play
Knowing yourself – and your strengths and weaknesses and limitations
Align your actions – your strengths, values, and passions are your core. Hilary provided this diagram, which looks horrible in my picture so I'll try to explain it below.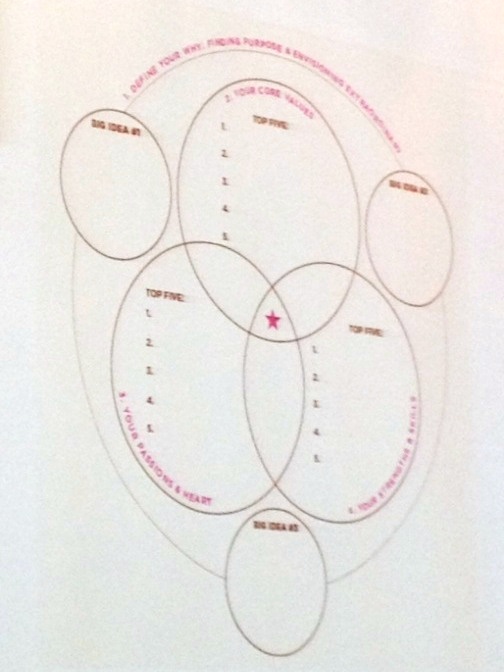 The top reads, "Define your why: Finding purpose and envisioning … something something."
The big circles are your top five:
1. Core Values
2. Strengths
3. Passions
The three small circles are to write down your top 3 goals.
4. What is the macro? How do you lay out your years and months?
Set deadlines
Give yourself "seasons" – schedule to take long (days/weeks) breaks to avoid burnout
Hilary compared this to Airplane Mode on your iPhone. What do you do when you're on a plane and you can't access your email, internet, etc? Go into "Airplane Mode" now and then.
Three year vision – Write down all the things you want to do in the next three years. It can be business goals, personal projects, vacations, self improvement, etc.
Hilary also shared this template, again, not the best picture so I'll try to decipher it below.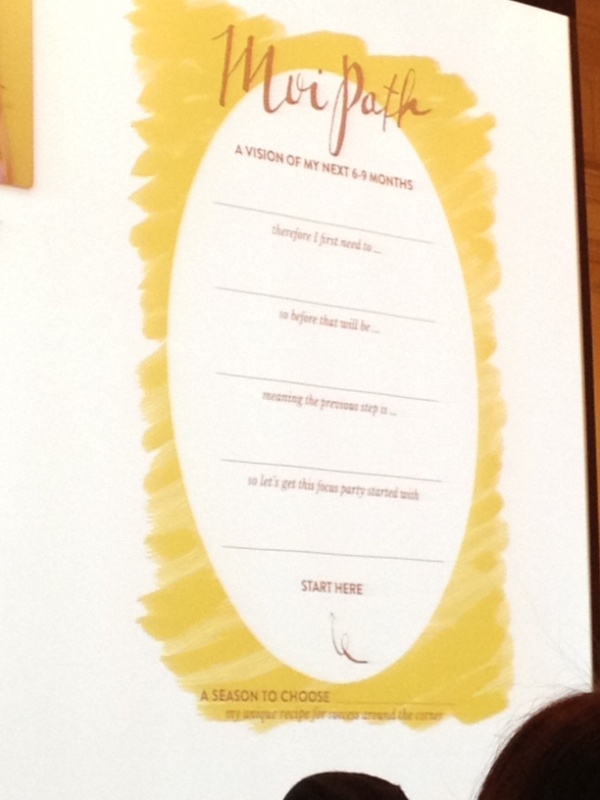 Moi Plan
A vision of my next 6-9 months

_____________________________

therefore I first need to …

_____________________________

so before that I will be …

_____________________________

meaning the previous step is …

_____________________________

so let's get this focus party started with

_____________________________

START HERE

A season to choose __________________
My unique recipe for success around the corner.
Taking the StrengthFinder 2.0 test was strongly recommended. It is $9.99 to find your Top 5 strengths. (I haven't done it yet but it's on my list of things to do if I come into some extra money. I also found a free allegedly similar test here.)
5. What is the micro? How do you lay out your days and weeks?
The Hilary recommended the following productivity tools for her micro planning:
1. Trello – Organizational app
2. Dropbox – Easily share files across your devices or with others
3. Team (I wrote this down but can't figure out the details – sorry! If you know, please leave a comment.)
4. Morning Four – Four priority items to work on that day.
5. Penzu.com – a private online journal to write down events of the day or record those random thoughts.
Whitney shared a breakdown of how she micro plans:
Plan to plan weekly, and plan to plan daily. This means, set aside a few minutes to plan your day in the morning, and plan your week on Sunday.
First things first. Take care of yourself, your family, and then the rest.
Every day, pick a top three. Three things that will be your main focus that day. Don't try to do more.
Streamline decision making. Decisions take up valuable time.
File, don't pile. (This is a tough one for me!)
Manage your weaknesses by delegating.
6. What are the three things that bring you the most clarity and peace?
Hilary and Whitney recommended focusing on your end goal and passions. Evaluate your business and drop anything that's not making you money.
The best quote of the panel was, "Your purpose is what you're best at, plus helping others." Focus on your purpose.
This was a really great panel to kick off Alt Summit, and Whitney and Hilary were really engaging and relatable. I learned a lot; now the tough part is applying these principles to my daily routine.