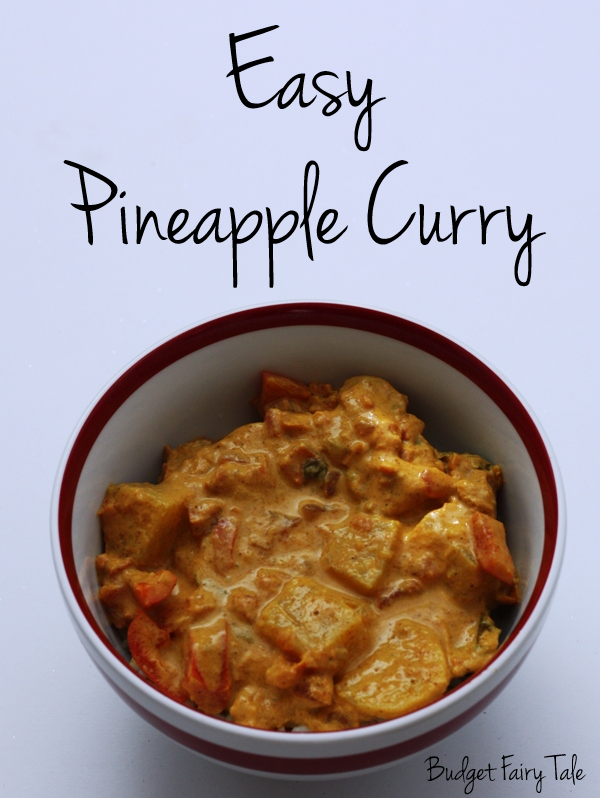 It has been freakishly cold across the country, even here in Southern California, where the daytime highs dipped down into the 60s. THE SIXTIES, PEOPLE. *waves arms wildly* And when it gets chilly, I always get in the mood for some curry. I developed this recipe a couple years ago when I became obsessed with a Pineapple Curry at a nearby Thai restaurant. I was spending way too much money having that curry delivered, so I set out to recreate it. I didn't succeed, actually (I'm pretty sure the restaurant curry is loaded with sugar and sodium) but mine was delicious in a different way! To make my recipe I basically looked at three or four pineapple curry recipes on the internet, got the gist of it and set out to do my own thing.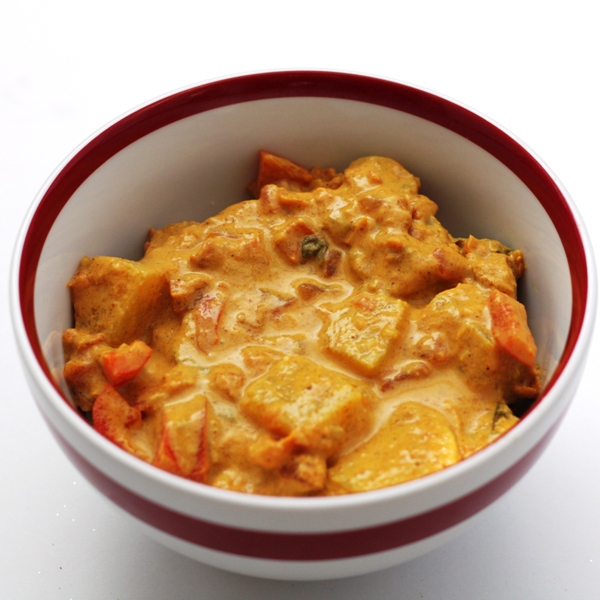 Mindy's Pineapple Curry
Ingredients (serves 5-6 if paired with rice):
1/2 cup red curry paste (or to taste – depending on your tolerance for spicy).
1 can (~14 oz) coconut milk
1 large can (~20 oz) pineapple chunks
1/4 cup pineapple juice (from the canned pineapple)
1 can (~14 oz) diced tomatoes
1 red pepper (cut up)
3 tablespoons brown sugar
2 tablespoons soy sauce
1 vegetable bullion cube*
1 can (~8 oz) sliced water chestnuts
5-10 basil leaves, depending on how much you like basil!
*My recipe calls for a bullion cube but I've recently stopped using them, mostly because they are corn starch based (you may remember I'm allergic to corn) but also they are filled with processed crap. I now substitute another 2 tablespoons of soy sauce (for a total of 1/4 cup) and 1/4 cup vegetable or olive or coconut oil.
Step 1: Combine half cup of coconut milk with the curry paste over low heat. Simmer for about five minutes until fragrant. Stir in the remaining coconut milk and bring to a boil. Reduce heat to low.
At this point you may want to test the flavor (remove with a spoon and let cool before tasting). I recommend experimenting with a low amount of curry paste and you can always add more – but you can't take it away if it's too spicy.
Step 2: Add the rest of the ingredients except the basil and red peppers. I add in this order: soy sauce, oil or veggie bullion, pineapple juice, brown sugar – stir until melted – then pineapple chunks, tomatoes, and water chestnuts. [The great thing about curry is that it's kind of like a soup or stew in the way you can add whatever ingredients you want. So if there's a veggie you like – potato, peas, corn – you are welcome to try that.] Simmer for about 10 minutes or until the water chestnuts (or other vegetables you want to add) are soft.
Step 3: Stir in the red peppers and basil. Simmer for another minute or so and remove from heat.
Serve over rice while the curry is still warm. Traditionally curry is served with Jasmine rice, but we usually use boring old brown rice and it still tastes great!