UPDATE: Sadly, Alfresco Tasting Terrace has gone to "Yesterland." This location is now called Magic Key Terrace, and has a completely different menu.
***
The Alfresco Tasting Terrace, located in the Golden Vine Winery area of Disney California Adventure, used to be my little secret hiding place. The second floor lounge area was my favorite quiet spot to take a break from the bustling theme park and enjoy a tasty adult beverage, either with friends or alone with a good book. Now Alfresco Tasting Terrace is still my favorite place in DCA but for different reasons. This small corner of the theme park has been transformed into a wine lovers' and foodies' paradise!
Last week I visited the newly revamped Alfresco Tasting Terrace with a group of friends. Gone are the days where you seat yourself at any of the available tables (remember, this spot was my best kept secret). Instead a maître d' greets you and adds your name to a list. If there's an available spot, you are seated right away. But on busy days, expect a wait! Luckily when we visited it wasn't too busy, but it was much more crowded than I have ever seen it before!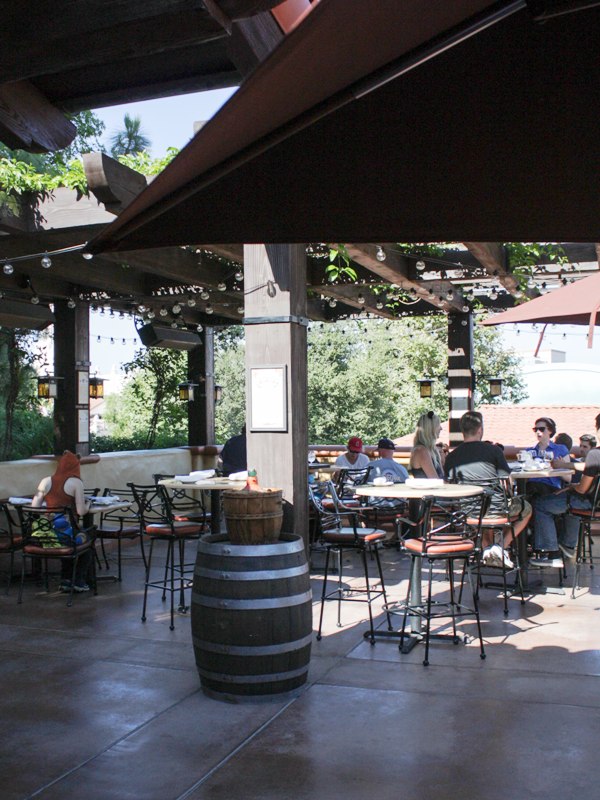 The sofa-style table and chairs have been relocated towards the entrance of the Terrace, to make more room for tables and chairs. You can see one set in this photo, and there's a second set right next to it.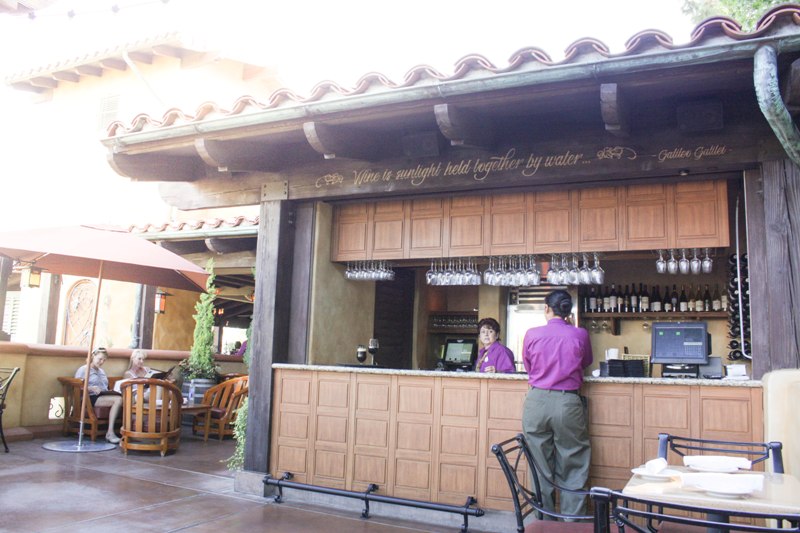 We were shown to our table and provided with very extensive menus. The menus now showcase the "Disney's Family of Wines." The collection of wines served at Alfresco Tasting Terrace all come from vineyards with some connection to the Disney corporation. I noticed all around the Terrace were signs describing each of the vineyards. Here are pictures of just a few.
Silverado Vineyards – "As one of the daughters of Walt and Lillian Disney, the connection of Diane and Silverado Vineyards to The Disney Family of Wines is innate and obvious." Silverado Winery was founded by Diane and her husband Ron Miller in 1980.
Fess Parker Winery & Vineyards – "An overnight sensation in the 1950's, Fess Parker's resolute characterization of legendary hero Davy Crockett gave The Walt Disney Studio a bona fide superstar." Fess Parker Winery was founded by Parker in 1989 and is celebrating its 25th anniversary this year. Fess passed away in 2010 but it is still being operated by the Parker Family.
Frank Family Vineyards – "Widely known as a visionary in the entertainment industry, Richard Frank brought his capacity for insight to the making of fine wine in the Napa Valley." Frank was the president of The Walt Disney Studios from 1985 to 1994. Frank purchased his first vineyard in Napa Valley in 1992.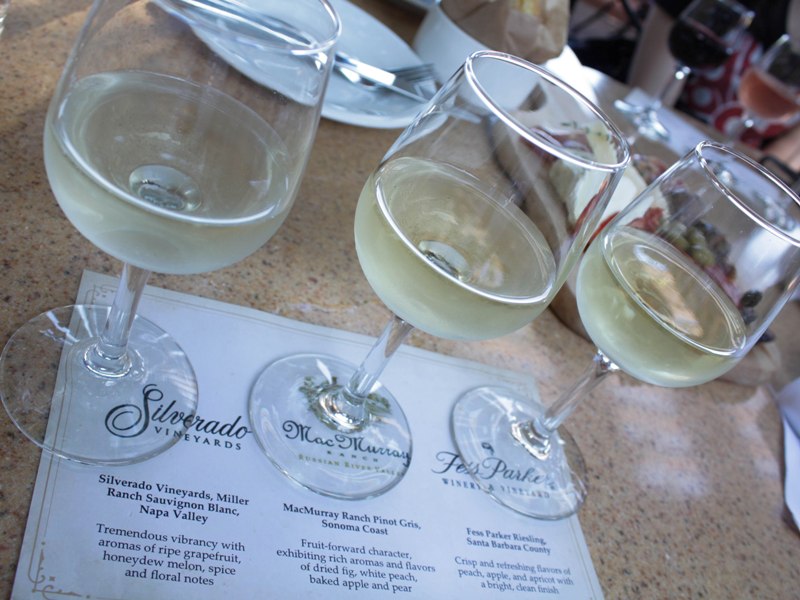 Just like in Napa wine country, the area of California which inspired the Golden Vine Winery, you can order a "tasting flight" of three different wines. I ordered the Light Whites flight, which included the Miller Ranch Sauvignon Blanc from Silverado Vineyards, a Pinot Gris from MacMurray Ranch, and a Riesling from Fess Parker (coincidentally, a few days later I had this same Riesling at the actual Fess Parker vineyard in Santa Barbara County!). Light white wines are my favorite wines, so I was in heaven with this flight. This flight (three good pours) was $16.
A couple of my friends ordered the Red, White, and Rosé flight, which included Goldie Chardonnay from Kurt Russell's GoGi, Enjoué Rosé from Lasseter Family Winery, and a Cabernet Sauvignon from Frank Family Vineyards. This flight cost $20. My friends let me have a couple sips (that's how you know they are good friends) and everything I tasted was also delightful.
There's a wide variety of flights, ranging from whites, to reds, to a mixture of both. The flights range from $16 to $25, at the time this post was written. Here's the current flight menu:
As our wine flights were brought out, an expert sommelier gave a rundown of the different wines and also a history of the vineyards, and how they tie to Disney. It was really interesting and I think a lot of people will appreciate the Disney connection with these vineyards. It's a very cool idea! The menu also provides a history of the Disney's Family of Wine vineyards. Here's a sample wine menu page:
Perhaps even more exciting than the wine (if possible) are the new food options! The Disneyland Resort has really stepped up the foodie game recently and I couldn't be happier, even if my wallet is crying a little. Included on the new Alfresco Tasting Terrace menu:
Aged Cheddar Risotto Bites – Roasted Garlic Herb Aïoli and Marinara Sauce
Charcuterie and Cheese Board – Prosciutto di Parma, Spanish-style Chorizo, Gorgonzola Blue Cheese, Fontina, Green Olives, Marinated Mushrooms, Walnuts, and Dry Cured Black Beldi Olives
Fritto Misto – Calamari, Mussels, Green Beans, and Artichoke Hearts lightly breaded with Pepperonicni Aïoli
Trio of Beef Tenderloin Sliders – Horseradish-Caramelized Onion Aïoli
Grilled Shrimp and Spanish Chorizo – Caramelized Onions and Crostini
Classic Bruschetta – Tomatoes, Basil, Garlic, and Parmesan
Flatbread Two Ways – Seasonal Flavors
You can view the entire wine and food menu here. Prices range from $7.49 to $12.49 at the time this post was written.
So many amazing items to choose from! I personally ordered the Charcuterie and Cheese Board and the Flatbread Two Ways.
The Cheese Board was overflowing with tons of yummy options, and I'm so glad they included a little honey with the cheese. Because cheese drenched in honey is possibly my favorite thing ever.
I found out the Flatbread Two Ways is actually one flatbread with different ingredients on each half. The ingredients are seasonal so they aren't listed on the menu. From memory, one side included arugula, mozzarella, figs, and a vinaigrette, and was a little sweeter. The other half was more savory, with olives, tomato, and prosciutto (I believe). This Flatbread was amazing and I'm already dreaming of my next visit so I can enjoy it again!
My friends also ordered the Classic Bruschetta, Beef Tenderloin Sliders, and Cheddar Risotto Bites. I had one or two of the Risotto Bites and I can assure you they are incredible, especially paired with the Roasted Garlic Herb Aïoli. Everyone at the table agreed everything was delicious!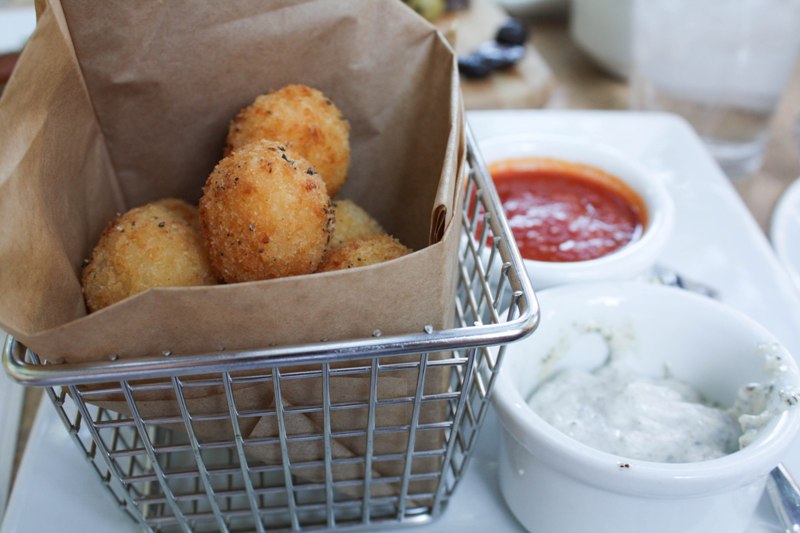 I think my favorite aspect of the Alfresco Tasting Terrace is the atmosphere. It does feel like you've slipped away to Wine Country. But you can still see Cars Land and Carthay Circle, so you know you're still at Disney!