If you are new to planning your Disneyland wedding, you may have not realized that it would involve learning a whole new language. RCG, SBP … WTH???
Today I've compiled a great big list of acronyms to help you out – the ABCs of Disney weddings, if you will. So next time you speak with your Sales Coordinator or assigned planner you can be all like "Oh hey DFTW PS DOC, NBD!!!"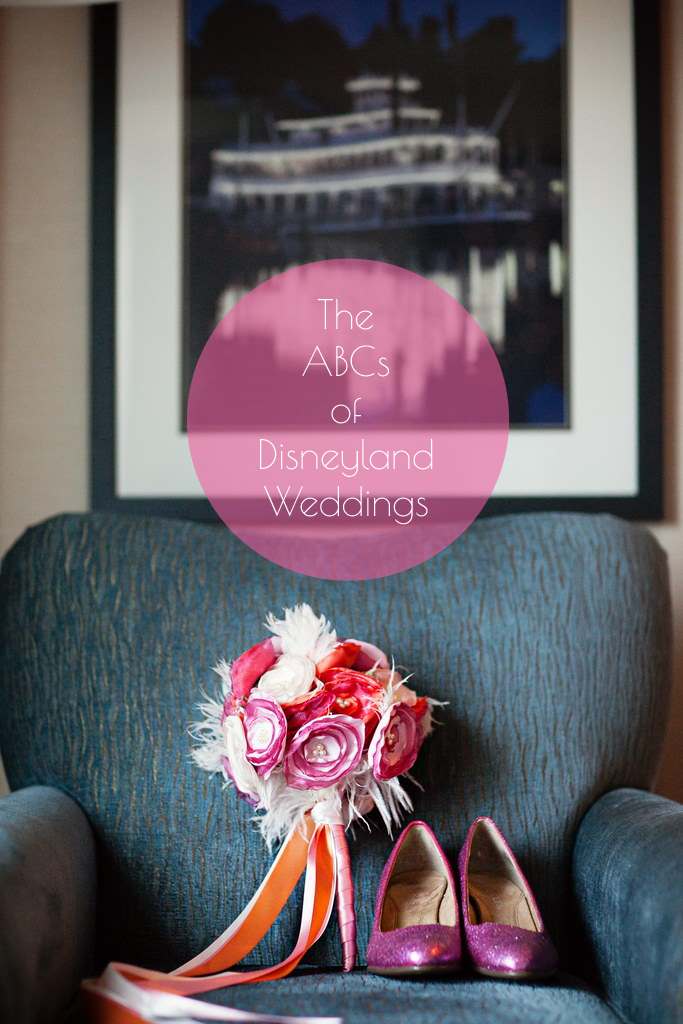 The Big List of Disney Wedding Acronyms
Specific to Disney Weddings
DFTW – Disney's Fairy Tale Weddings
PS – Planning Session
DOC – Day-of Coordinator
++ – Tax and service charge
PP – Per person
BOC – Bill on Consumption (for drinks/bar)
BEO – Banquet Event Order (your budget)
M&M – Mickey and Minnie
Fab 5 – Mickey, Minnie, Pluto, Goofy, Donald
Disneyland Venues & Other Locations
DLR – The Disneyland Resort
DL – Disneyland
DCA – Disney California Adventure
DLH – The Disneyland Hotel
GCH – Disney's Grand California Hotel
PPH – Paradise Pier Hotel
GNH – Good Neighbor Hotel
RCG – Rose Court Garden
SBP – Sleeping Beauty Pavilion
ALG – Adventure Lawn Gazebo
MKB – Magic Kingdom Ballroom
GB – Grand Ballroom
WG – Wedding Garden (at Disney's Grand Californian Hotel)
DTD – Downtown Disney
RBJK/RB/JK – Ralph Brennan's Jazz Kitchen/Ralph Brennan's/Jazz Kitchen
TJ – Tortilla Jo's
TS – Trader Sam's
BOB or DRC – Big Orange Building/Disney Resort Center. This is the building that houses the DFTW department, located behind the Frontier Tower at the Disneyland Hotel.
Popular Vendors
BHP – Beverly Hills Photography
WRPB or WR – White Rabbit Photo Boutique
FTHM or FHM – Fairytale Hair and Makeup
FF – Flawless Faces
General Wedding Terms (these aren't Disney specific but may come up a lot)
VR – Vow Renewal
DF – Dear Fiance (or Disney Fiance)
DH – Dear Husband (or Disney Husband)
DW – Dear Wife (or Disney Wife)
BM – Bridesmaid
GM – Groomsman
MOH – Maid of Honor
MIL/FIL – Mother/Father in Law
BIL/SIL – Brother/Sister In Law
FG – flower girl
RB – ring bearer
NWR – Not Wedding Related (for those times when you need to talk about things other than your wedding … it could happen.)
MUA – Makeup Artist
MUAH – Makeup and Hair
STD – Save the Date (you will learn to type this without giggling)
RSVP – Répondez S'il Vous Plait aka "please send back this card before the response date, it's stamped and addressed for you and everything, what else do I have to do to make you please send this card back on time"
WIC – Wedding Industry Complex (The societal and bridal industry pressure to have the best wedding ever.)
Miscellaneous
WDW – Walt Disney World
WP – Wedding Pavilion located at Disney's Grand Floridian Hotel
DB – Disney Bride
DISbrides – Disney Brides
AP or APH – Annual Pass or Annual Passholder
ADR – Advance Dining Reservation
CM – Cast Member
DCL – Disney Cruise Line
DLP – Disneyland Paris
TDL – Tokyo Disneyland
HKDL – Hong Kong Disneyland
SDL/SDR – Shanghai Disneyland/Shanghai Disney Resort
DVC – Disney Vacation Club
FB – Facebook
IG – Instagram
E-pic(s) – Engagement picture(s)
CC – Credit Card
DIY – Do it Yourself
TFTL – This Fairy Tale Life (unofficial Disneyland wedding blog) (hey, that's me!)
DWP – Disney Wedding Podcast (unofficial Disney wedding podcast)
Whew, did I get them all? If I left anything out, please add it to the comments! I hope you find this list helpful when navigating the wonderful online world of Disneyland weddings.
Photo by Root Photography