July 17, 2015 marks Disneyland's 60th anniversary! Disneyland opened for a media and VIP preview 60 years ago on this day, and opened its gates to the general public the following day. I'm excited to be spending the day at Disneyland to celebrate (although a little terrified of crowds)! Be sure to follow me on Instagram and Periscope (both @mindyjoym) for live updates.
This year, a few of my Disney blogger friends came together to share a comprehensive history of Disneyland. 60 bloggers, to be exact, headed by my friend Didi of DisTherapy. For 60 days, each blogger wrote about a year of Disneyland's history, and the results were engaging and fascinating. While I encourage everyone to read through all of the posts, I wanted to take little snippets of facts and information to create this quick overview of Disneyland's past – 60 years of Disneyland history in a nutshell! I also included a little bit of my own personal Disneyland history when appropriate. I hope you enjoy reading through this as much as I enjoyed writing it!
60 Years of Disneyland History in a Nutshell
1955 – Disneyland officially opens to the public on July 18, 1955 with a ticket price of $1. The only thing you can buy at Disneyland for under $1 now is a pressed penny. (Disney Gals)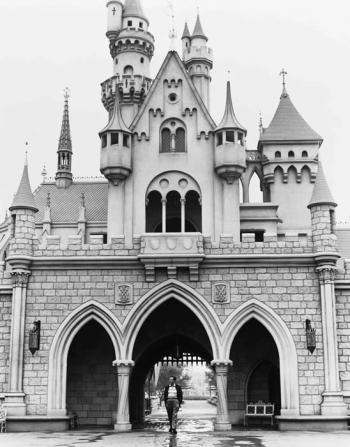 Image Source: Disney Gals
1956
– Disneyland welcomes nearly 4 million guests during its first year of operation, way more than anyone could have dreamed. Additions to the Park in 1956 included the Skyway, the Rainbow Caverns Mine Train, the Indian Village, Storybook Land, and Tom Sawyer's Island. (Guru Donna Kay)
1957 – Since Disneyland had become a popular date night location for local adults and teens, Disney introduced "Date Nite At Disneyland" or "Disneyland After Dark," which included a live band for dancing after the sun went down. Also introduced in 1957 was the Monsanto's House of the Future, showcasing what everyone expected life to be like in far-off 1986, when we would all be living in houses made entirely of plastic. (Disney Running Mama)
1958 – In this year, the Alice in Wonderland dark ride opened in Fantasyland and the first Candlelight Processional debuted. (Focused on the Magic)
1959 – The Matterhorn was built, the Monorail system started up, and the Submarine Voyage set sail. In June 1959, the "E" ticket was introduced. "E" ticket rides included the three new attractions, the Railroad, and the Jungle Cruise. A ticket book cost $3 for children and $3.50 for adults … less than the price of a churro today. (I am a Mommy Nerd)
1960 – Disneyland celebrates its 5th anniversary, and introduces the Main Train Thru Nature's Wonderland and pack mules. The Peter Pan themed Skull Rock and Pirates Cove play area also opened, roughly in the spot where Dumbo is today. (Babes in Disneyland)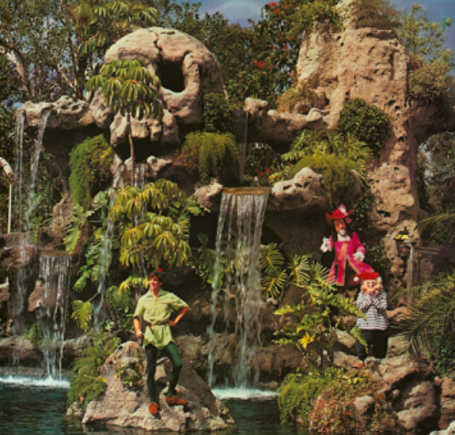 Image Source: Babes in Disneyland
1961
– The ill-fated but never forgotten Flying Saucers opened in 1961, lasting for just five years. The Flying Saucers left such an imprint on a young John Lasseter, that he tried to bring the technology to Luigi's Flying Tires in Carsland in 2012 (which closed three years later). Popular proposal spot Snow White's Grotto also made its debut and dedication in this year. Finally, the first "Grad Nite" took place on June 15, 1961. The admission for Grad Nite cost $6 and included unlimited attractions, different from the standard ticket system used during normal operating hours. (Love our Crazy Life)
1962 – Adventureland saw a massive expansion with an addition to the Jungle Cruise, the Tahitian Terrace Restaurant (that would last over 30 years), and the Big Game Safari Shooting Gallery. 1962 also saw the beginning of construction on New Orleans Square. (Inspired by Dis)
1963 – The Enchanted Tiki Room opens, the first attraction to use the three-dimensional Audio-Animatronic technology that Disney would become so famous for. Fun Fact: The Tiki Room was originally developed as a restaurant where the birds and flowers would sing above guests' heads, but in the end the restaurant idea was shuttered due to low seating capacity. (Flowers Croon)
1964 – Disney plays a large part in the New York World's Fair, introducing Carousel of Progress, Great Moments with Mr Lincoln, Magic Skyway, and It's a Small World. (Fans of Mickey Mouse)
1965 – Disneyland celebrates 10 years by opening Pirates of the Caribbean and Haunted Mansion. Great Moments with Mr Lincoln also took its current place on Main Street USA, and the still popular spot for fried chicken, Plaza Inn, opens. (Maker, Mother, Marathon Runner)
1966 – The much beloved and now iconic It's a Small World opens in May 1966, with a dedication by Walt that included children from 16 different regions of the world. Sadly, just a few months later in December, Walt passed away from lung cancer. (Delightful Life)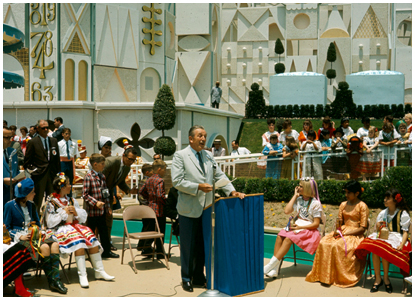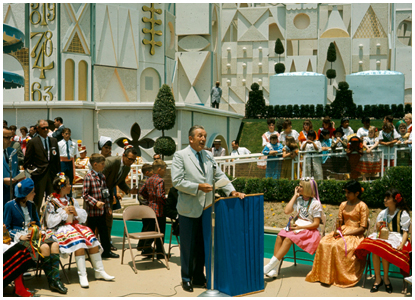 Image Source: Delightful Life
1967
– While he was not able to see it, Walt's vision of New Orleans Square, complete with a large apartment built above Pirates of the Caribbean meant for Walt and his family, came to fruition in March 1967. Blue Bayou restaurant and the members-only Club 33 also opened. Despite the tragedy of losing Walt so suddenly, his dream of a thriving Disneyland continued on. (Frontierland Station)
1968 – I'm going to be honest with you … it doesn't seem like much happened in 1968. I mean, they added a major attraction and an entirely new land the year before, so they deserve a little break. (Plus the Magic)
1969 – Guests watched the construction for six years, and finally Haunted Mansion opened to the public. (My Adventures in Disneyland)
1970 – Vacationland, an RV park adjacent to the Disneyland Hotel, opened, giving Disneyland guests another option for staying the night near the theme park. Vacationland lasted until 1997, when it was shuttered to build the enormous Mickey and Friends parking structure. (Disney Gals)
1971 – The spotlight was on the opening of "that other Disney park" this year, but Disneyland still managed to welcome its 100 MILLIONTH guest. Also, the current incarnation of River Belle Terrace and the Canoes debuted this year. (Mostly Mommyhood)
1972 – June saw the start of the very popular Main Street Electrical Parade. Fun fact: When this parade first started, all the floats were one dimensional! They were flat, but still impressive. The 3D floats we are more familiar with today didn't debut until 1977. (Superheroes and Teacups)
1973 – In 1973, an adult ticket book cost $5.50, and a book of five "E" tickets cost $3. (Disney Gals)
1974 – The Carousel of Progress is revamped into America Sings, a personal favorite of young Mindy's. I loved that little weasel. (Saving Up for Disney)
1975 – Disneyland not only celebrated 20 years, but geared up for a huge celebration of all things America for the 1976 Bicentennial. A new parade, America on Parade, debuted in the summer. It featured 50 floats depicting scenes from American history. Disneyland also debuted a new fireworks show called "Fantasy in the Sky." (DisTherapy)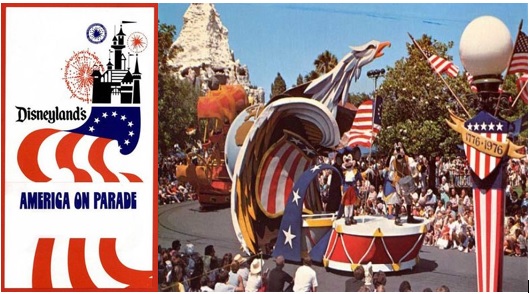 Image Source: DisTherapy
1976
– Disneyland welcomes its 150 millionth guest, and the Jungle Cruise gets yet another expansion. (
SquareFunk
)
1977 – Already a huge success over at Walt Disney World, Space Mountain opens in Tomorrowland at Disneyland. It continues to be one of the most thrilling and popular attractions. (What's the Point?)
1978 – Not necessarily Disneyland related, but Mickey Mouse celebrated his 50th birthday, and that's worth celebrating, don'tcha think? (Reporting from Disney World)
1979 – Big Thunder Mountain Railroad replaced the Mine Train and pack mules in Frontierland. In other news, Disneyland's biggest fan is born just a few miles away in Northridge, CA. (It's me!) (Jane's Magical Memories)
1980 – Disneyland celebrated its Silver Anniversary in 1980. To celebrate the park stayed open for 25 hours straight (putting the current 24 hour parties to shame)! (Just Me and My Running Shoes)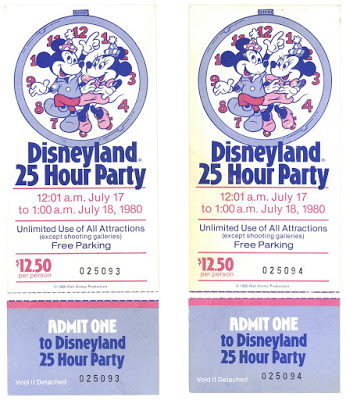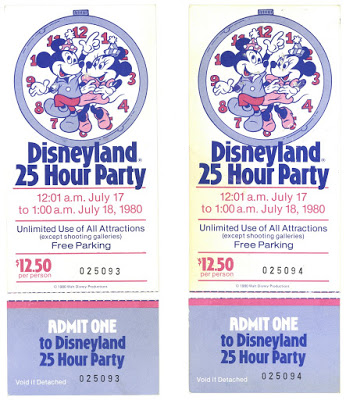 Source: Vintage Disneyland Tickets
1981
– Disneyland welcomes its 200 millionth visitor! 1981 was also the beginning of a major overhaul in Fantasyland. (
Minnesota Girl in the World
)
1982 – Disneyland ditches the ticket system and moves to the one-price, all-inclusive pass we know today. The cost is $12. Little Mindy also made her Disneyland debut in 1982. (The Disney Kids)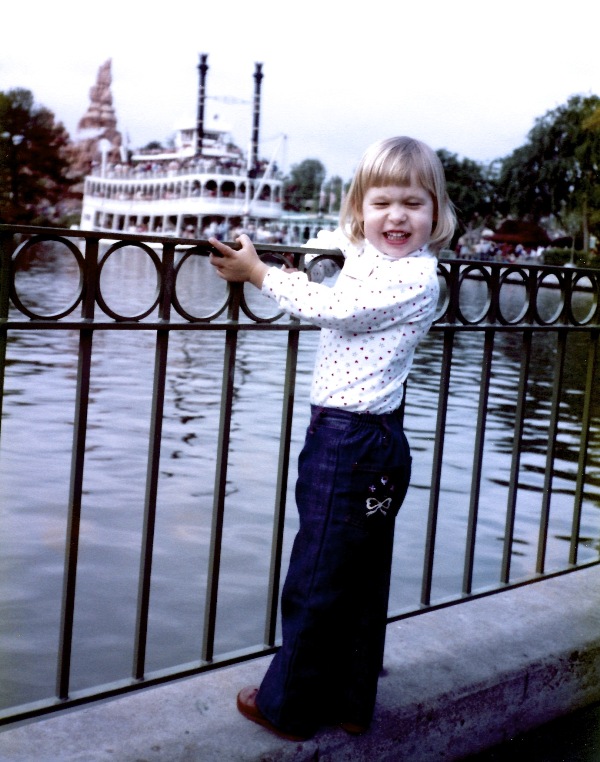 1983 – "New" Fantasyland re-opens with a complete facelift, a re-arranged layout, and new attractions including Pinnochio's Daring Journey and the Village Haus restaurant. Little Mindy makes a triumphant return to Disneyland for her second visit and gets this Jazzercise inspired sweatband, which I still have. (Trips with Tykes)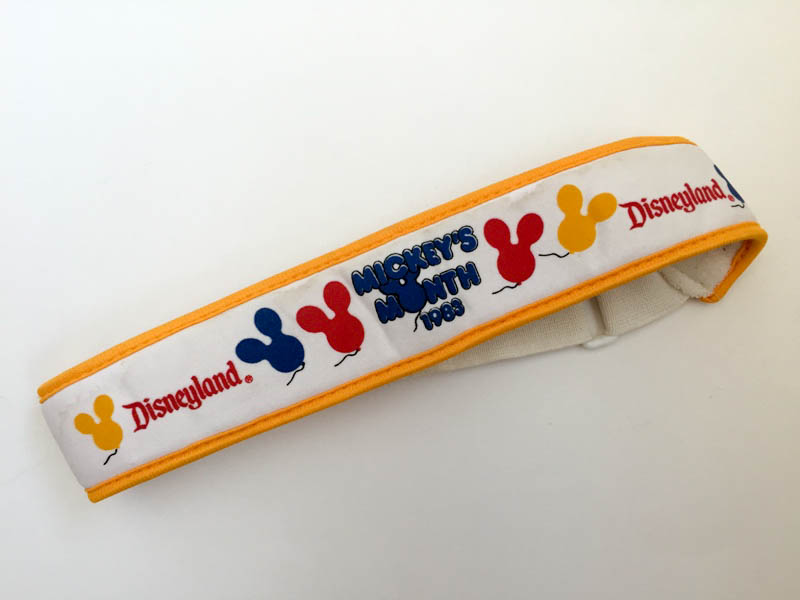 1984 – Annual Passports are made available for the first time. The cost is $65 for adults and $45 for children. That was painful to type out. The Country Bear Jamboree Christmas show also debuts this year. (4 well Rules)
1985 – Popular attraction Adventures Thru Inner Space closes, to ultimately make space for Star Tours. To celebrate its 30th anniversary, Disneyland stays open for 24 hours on July 17. The 24 hour ticket costs $30. I recall every 30th person to enter the turnstiles won a prize. I remember going into a large room with exclusive 30th anniversary merchandise. I chose a sweatshirt. And for some reason I still have that pin. Answer the phone, Mindy, Hoarders is calling. (Can Do It Mom)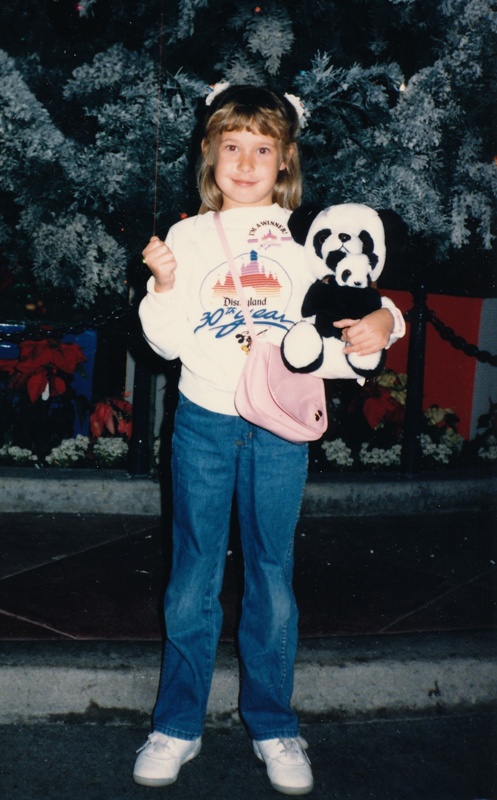 1986 – Big Thunder Ranch restaurant and petting zoo opens in Frontierland, and Captain EO and its ~amazing~ 3D effects debut in Tomorrowland. (Disney Gals)
1987
– Star Tours opens in January. I totally dig Mickey's 80s spacesuit. The Disney Gallery also opens in the underutilized space above Pirates of the Caribbean. Also in 1987, Disney Dollars are made available. As a kid I looked forward to Disney Dollars in my Christmas stocking every year. (Mousekatools)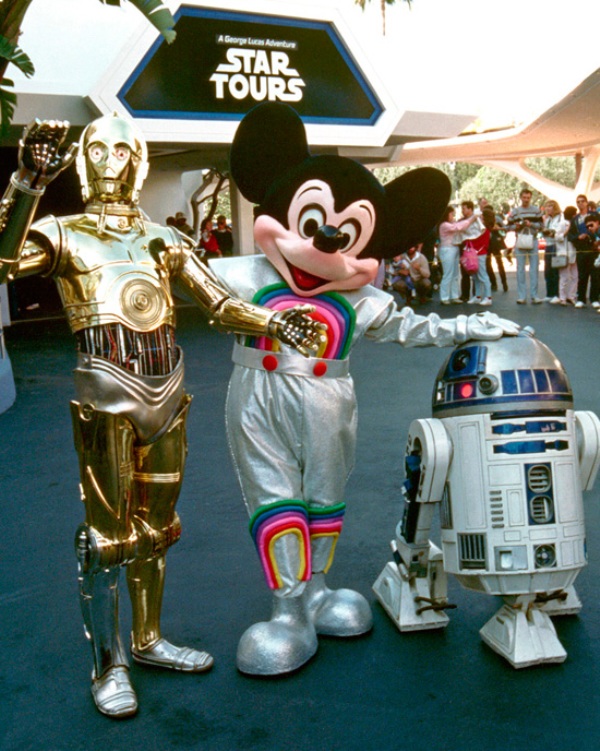 Image Source: Mousekatools
1988
– It's Mickey's 60th birthday and Disneyland celebrates with a new parade called … Mickey's 60th Birthday. Also, in anticipation of a new big attraction the following year, Bear Country is renamed Critter Country. (
The Real Up House
)
1989 – Disneyland's fourth mountain, Splash Mountain, opens in July, just in time for So Cal's famous 100+ degree summer days. Disneyland also welcomes its 300 millionth guest. (Sparks of Magic)
1990 – Disneyland celebrates its 35th anniversary. Michael Eisner also announces plans for a major Disneyland expansion over the next 10 years. Ultimately this expansion ends up being a second theme park and new hotel. I got a balloon and an extreme 90s makeover. (Run All the Races)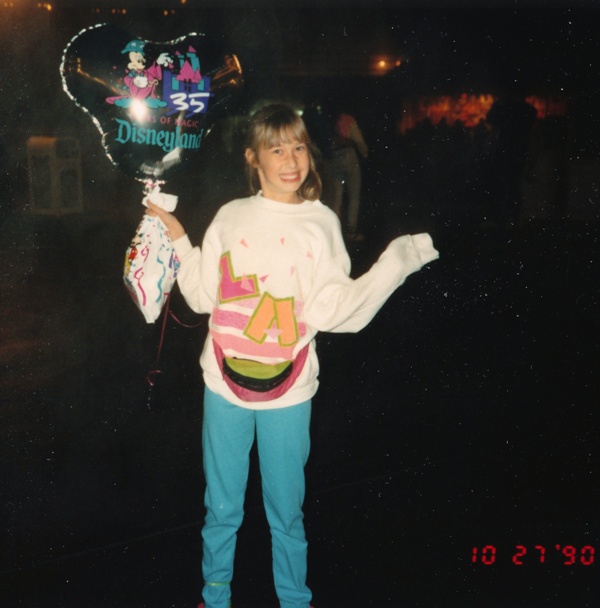 1991 – Disney Afternoon is all the rage, and Disneyland accommodates raving fans such as myself by adding overlays to some popular attractions. For a short time, Autopia became "Rescue Rangers Raceway" and the motor boats were Gummi Bears themed. There was also a Tale Spin live show in Tomorrowland. I own this awesome The Little Mermaid sweater even though I won't see the movie for a couple years. I think I just liked her hair. (Dawn's Dorky Diary)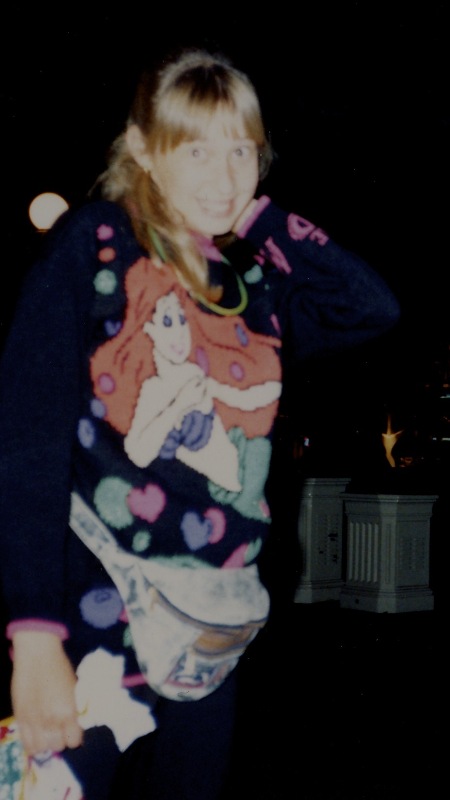 1992 – FANTASMIC! debuts and is the greatest thing to happen to Disneyland since Mickey's rainbow spacesuit. (Tiny Bits of Magic)
1993 – Toontown is unveiled and is the first new "land" since New Orleans Square back in the 1960s and is the first major expansion of Disneyland ever. The Partners statue of Mickey and Walt also takes its spot in the central hub. (Babes in Disneyland)
1994 – Roger Rabbit's Car Toon Spin opens in Toontown, a fun combination of a dark ride and the Teacups. Disney closes the Skyway after nearly 40 years of operation. (Babes in Disneyland)
1995 – Disneyland celebrates its 40th anniversary with a time capsule in the central hub. It is scheduled to be opened in 20 years – at Disneyland's 80th anniversary. Indiana Jones Adventure, a revolutionary and thrilling attraction, also opens. I wait in a three hour queue to ride it. In horrifically sad news, my beloved PeopleMover closes in anticipation of a major overhaul of Tomorrowland. (Disney Gals)
1996 – Festival of Fools opens in Big Thunder Ranch. The Main Street Electrical Parade makes its final parade run. My high school choir takes first place in the Heritage Concerts awards show that took place in the Festival of Fools arena. We always came in first because we were awesome like that. (Debbie's RunDisney Challenge)
1997 – 1997 was a busy year for The Disneyland Resort. Construction starts on Disney California Adventure. As someone who just started driving, I can tell you parking and navigating the streets around Disneyland is a minor nightmare for a couple years. The Rocket Jets close, again to make way for a new Tomorrowland. I never rode them because I was scared of heights. Captain EO closed to make way for Honey I Shrunk the Audience and its 4D technology. I remember dancing in the last row with my friend Melinda during one of Captain EO's final performances. The Light Magic parade debuts and disappears quickly, we won't talk about it. But most importantly, I visit Disneyland for Grad night. My date ditches me 20 minutes after we arrive when he sees his cousin and her friends. (Cute Kids – Heather)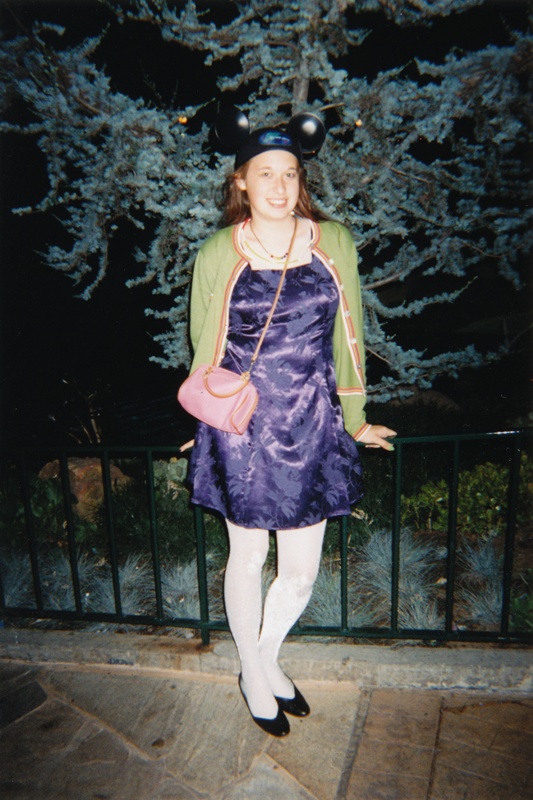 1998 – A new, bronzer Tomorrowland debuts. My all time favorite parade, the Mulan parade, also shows up in 1998. I become an Annual Passholder on my 19th birthday, 9/15/1998. The cost of the Premium pass is $199, a small fortune to me at the time. This is also the year I discover you can get married at Disneyland when I see a bride and groom getting off the monorail. I make my roommate go with me to the DFTW offices to pose as my fiance so I can get information about Disneyland weddings. I still have my information packet. (Disney Day By Day)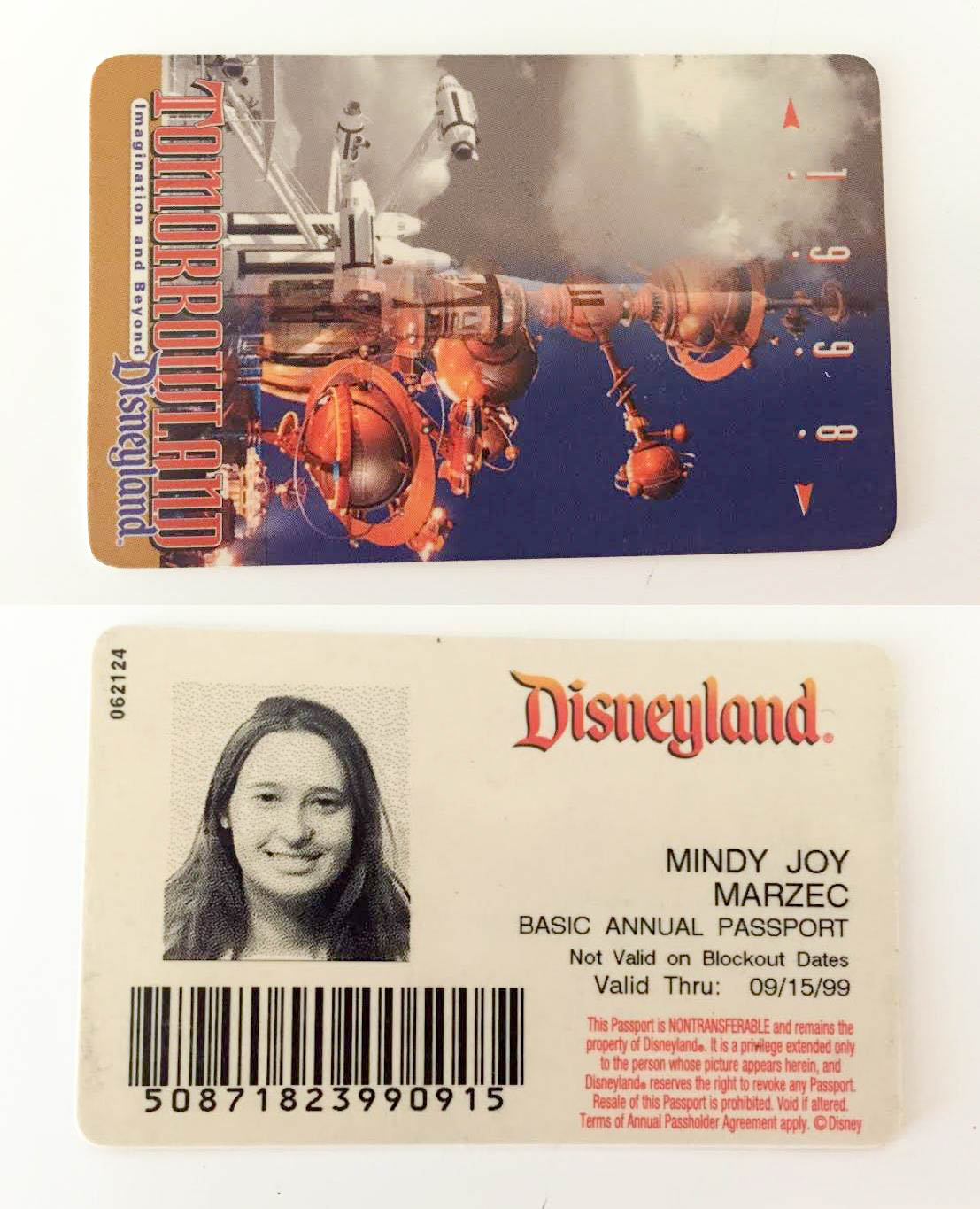 1999
– FASTPASS debuts on a few select attractions. Autopia goes down for a massive refurbishment. My friends and I wait several hours to ride the Rocket Rods and take bets as to how many times it will break down while we are waiting. Or riding. "Believe … there's Magic in the Stars" fireworks show debuts and runs for five years. (
DisTherapy
)
2000 – Disneyland closes a few attractions right before midnight due to Y2K. As the computers switched from 1999 to 2000, literally nothing happened, and rides were re-opened. Also in 2000, Pin Trading becomes a thing. I turn 21 and have my first (legal) adult beverage at Storytellers Cafe. I legit cry when Rocket Rods closes for good. (The Joys of Boys)
2001 – BIG THINGS, PEOPLE! Disney California Adventure (back then called 'Disney's California Adventure') opens its gate. I attend an Annual Passholder preview night, my first AP perk. The Haunted Mansion Holiday overlay first appears in October 2001. Country Bear Jamboree closes. I was there on its final day, and found out later my then boyfriend went back to the park without me to watch the final show. I get mad. (My No-Guilt Life)
2002 – I visit Club 33 for the first time, thanks to my boss Terri. Bugs Land opens at DCA; I become obsessed with Heimlich's Chew Chew Train. Around Christimetime I get brutally dumped right outside of Adventureland. I cry to my best friend that I can "never visit Disneyland again, because it's OUR place!" My friend tells me, "No, ever since we were kids, Disneyland has been YOUR place, and it will always be your place." Thank you, Adam. (A Little Bit of Life)
2003 – The Many Adventures of Winnie the Pooh opens in the old Country Bear Jamboree spot. I refuse to ride it for years, out of principle. (Idahome)
2004 – The Hollywood Tower of Terror attraction opens at DCA to try to boost attendance for the fledgling theme park. Disney begins preparations for Disneyland's Golden Anniversary the following year. (ENMNetwork)
2005 – Disneyland celebrates 50 years! This is the first anniversary celebration I remember vividly. Sleeping Beauty's Castle receives a gold overlay, and 50 Mickey Medallions are placed throughout the parks. The "legacy" rides received one golden vehicle each, and you were very lucky if you got to have it. I believe I elbowed some kid to sit in this golden Dumbo. You can read more about the anniversary and see more pics here. Also, my husband visits Disneyland for the first time (with me, duh). (Park Talk Podcast)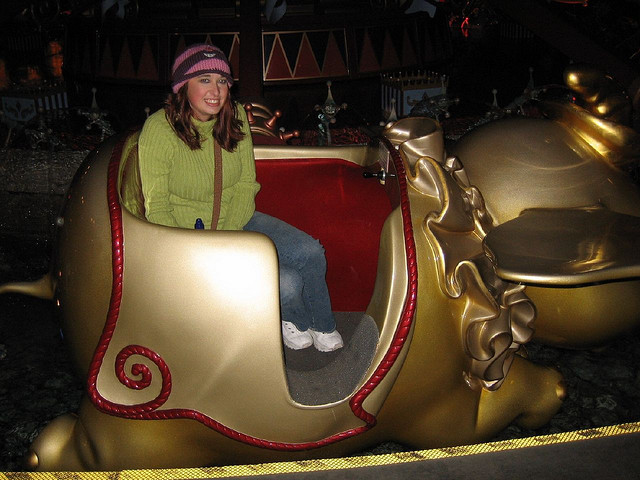 2006 – Jedi Training Academy debuts in Tomorrowland. I am bummed when I learn it's just for kids. Monster's Inc. replaces the Hollywood Limo ride at DCA. The Year of a Million Dreams (that turned into two years of a million dreams) starts up. I win nothing. I try being blond for a while, but I don't like it. (Plugged In Family)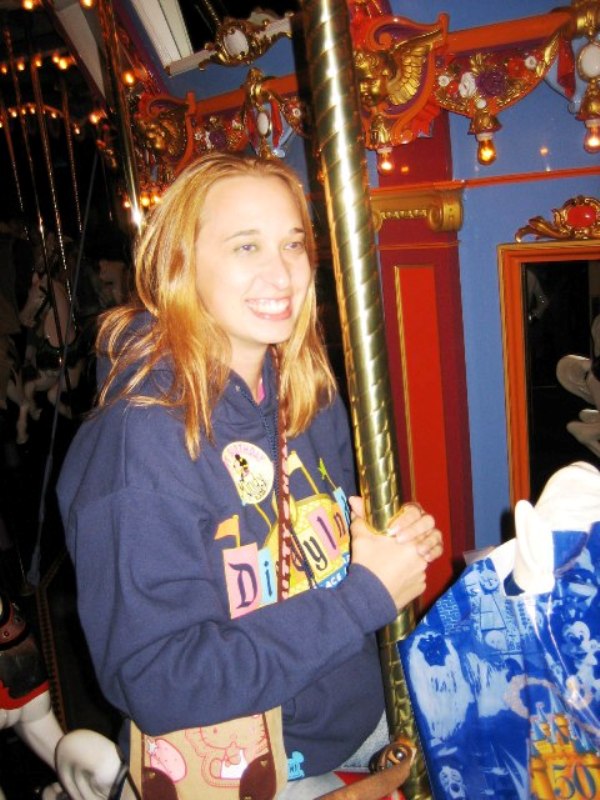 2007 – The long-closed Submarine Voyage re-opens as the Finding Nemo Submarine Voyage. (Babes in Disneyland)
2008 – Toy Story Midway Mania opens at DCA, replacing my favorite place to get chicken fingers. Oh, well. Good trade off, I guess. (Babes in Disneyland)
2009 – Disneyland offers free admission to guests on their birthdays. APs get a gift card for the value of a ticket. Those were the days. (Bibbidi Bobbidi Booze)
2010 – Captain EO makes a triumphant return after Michael Jackson's tragic death. World of Color debuts at DCA. My husband proposes to me on Main Street with a pink Mickey shaped rhinestone ring. I immediately start planning our Disneyland wedding in my head. (The Diaper Bag Confessions)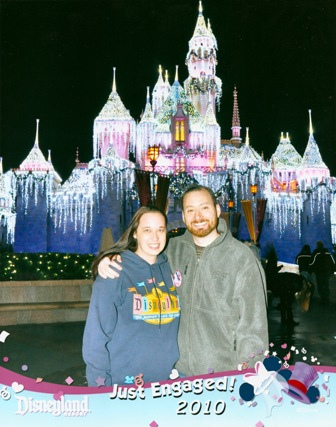 2011 – Star Tours reopens after a lengthy refurb as 'Star Wars: The Adventure Continues.' We meet with the Disney's Fairy Tale Wedding teams and sign a contract. (This Roller Coaster Called Life)
2012 – Perhaps the greatest event in Disneyland's history – our wedding! And Cars Land opens at DCA. (Home is Where the Mouse Is)

Photo credit: White Rabbit Photo Boutique
2013
– This is the year of Limited Time Magic, offering special throwback experiences and rare character appearances. In October, I get laid off from my job and the first thing I do is head to Disneyland. (
Rolling with the Magic
)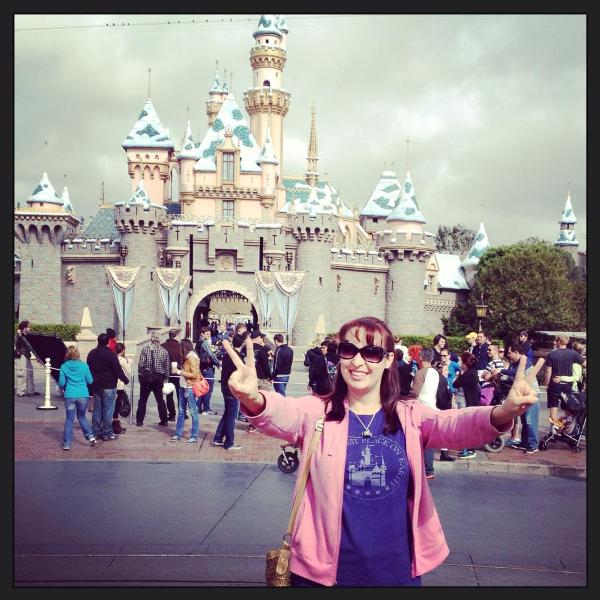 2014 – Big Thunder Mountain Railroad and Alice in Wonderland both reopen after a long refurbishments. The Court of Angels, my favorite little corner of Disneyland, closes to the public as part of the Club 33 overhaul and expansion. (DavelandBlog)
2015 – (Predicted) Disneyland celebrates 60 years with massive, sweaty crowds. My phone battery dies halfway through the day due to too many Periscope broadcasts. I get a tummy ache after eating too many cupcakes and fall asleep while waiting for the Disneyland Fireworks show because I'm old, you guys. So old.