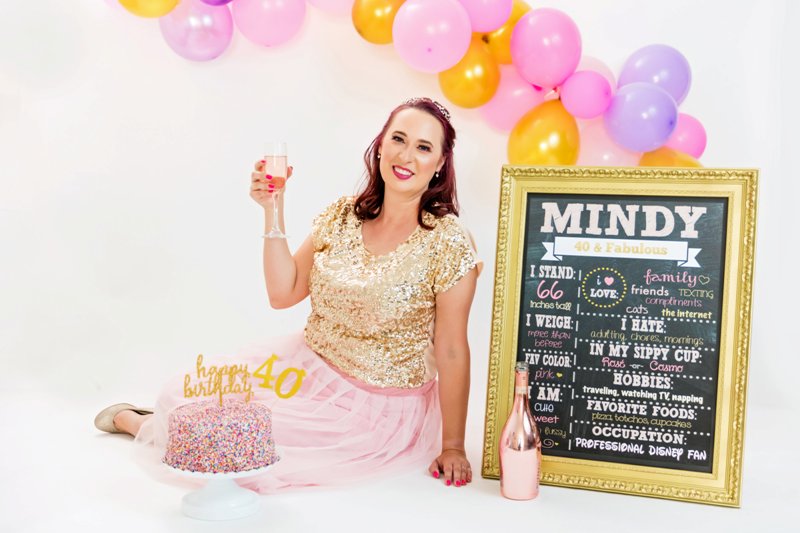 Growing older is not something most women like to talk about. But, this month I turned 40 and I actually couldn't be happier about it!
Let's flash back to 10 years ago … when I turned 30 I felt so depressed. I didn't even want to acknowledge it. No parties, no celebrations. I was working full time and going to school full time and felt exhausted always. I wouldn't say I hated my job but I also wasn't happy with the idea of working in a cubical for the rest of my life. I was in a relationship but after four years I wasn't sure what our future held. I felt like I was going through the motions of life but didn't know what I wanted or where I was truly meant to be.
And now today … I'm working a job I love, I have amazing friends, I get to travel a lot with my wonderful husband, and I'm the happiest I've ever been. Just 10 years later I feel more comfortable in my skin and more in control of the direction of my life.
So with my 40th birthday sneaking up, I wanted to do something special to celebrate and document this milestone. The adult cake smash trend is a few years old but I thought it looked like a lot of fun, so I set out to plan it!
My 40th Birthday Cake Smash Photo Shoot
This article contains affiliate links and I earn commission from purchases.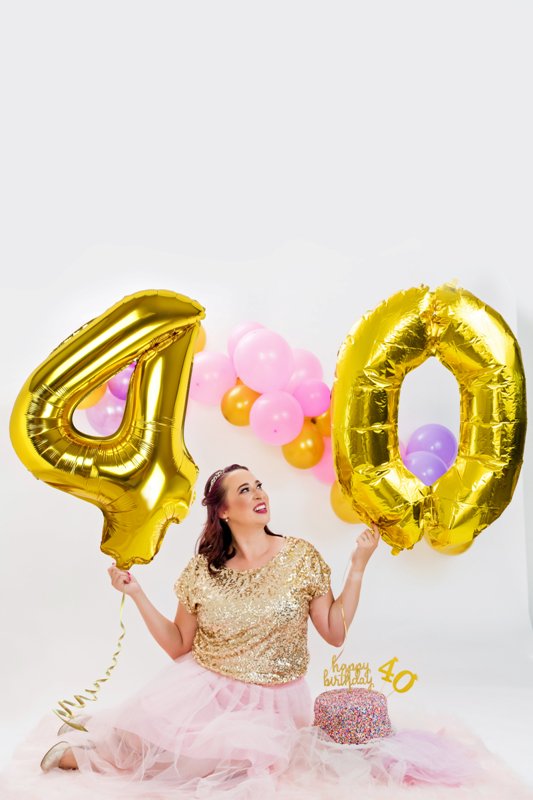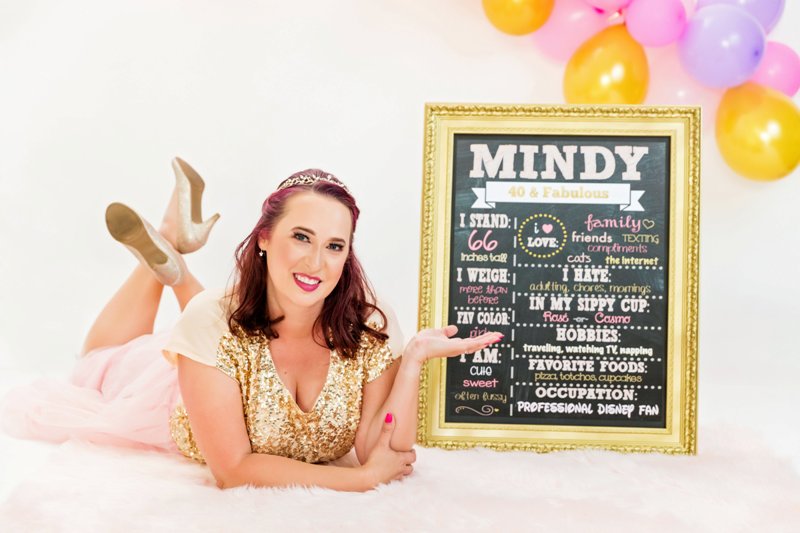 I knew I wanted to have my friend Jenna of White Rabbit Photo Boutique take the photos, and about six months before my birthday she got her own studio in Santa Ana, CA so that was perfect! I told her my idea and she loved it and offered her own suggestions to make it special. She did such an amazing job and I can't imagine doing this shoot with anyone else!
I also hired my friend Dusty from Diamond Beauty Hair and Makeup to make me glam. She also did my makeup for our 5th anniversary Fairy Tale Suite photos, but I asked her to make this look a little more dramatic. She did such a good job and I'm so happy with my look! I wish Dusty could do my makeup every day.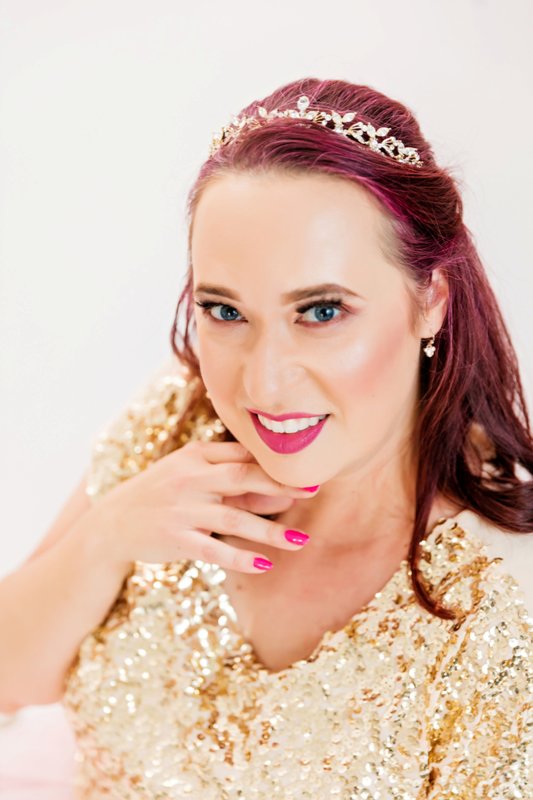 For my outfit, I knew I wanted to wear a pink tulle skirt and gold top. I ordered a ton of different styles on Amazon before settling on this look (thank goodness for Prime shipping and free returns). I've owned the gold glitter heels for a while and I believe they were from Payless. And I decided to wear my tiara from our wedding day because, why not.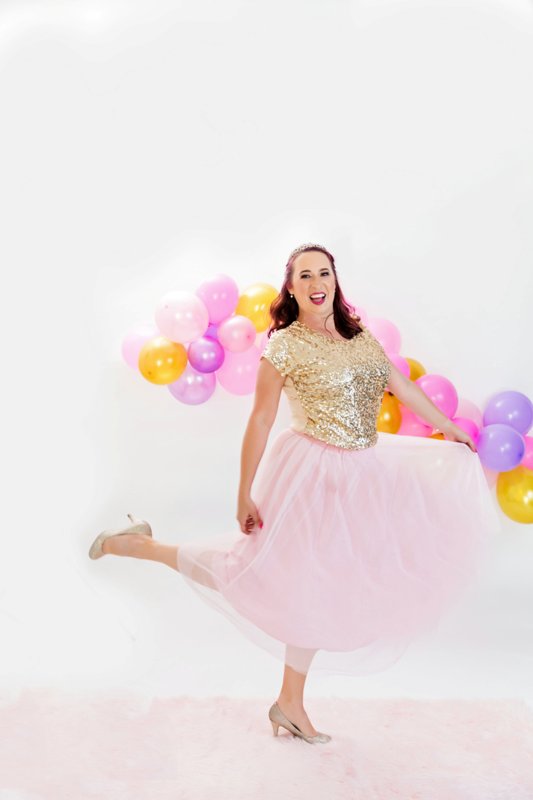 Outfit details:
Shirt: Amazon (size M)
Skirt: Amazon (size XL)
Shoes: Payless (similar here)
Tiara: R Mine Bridal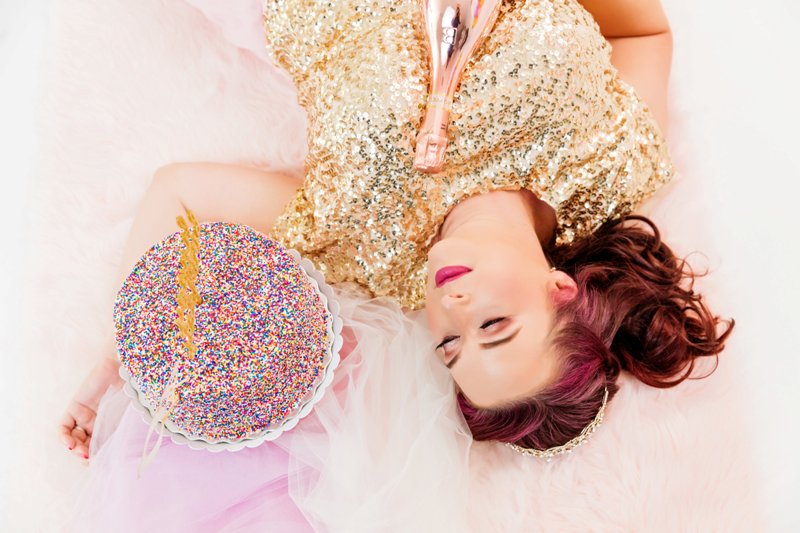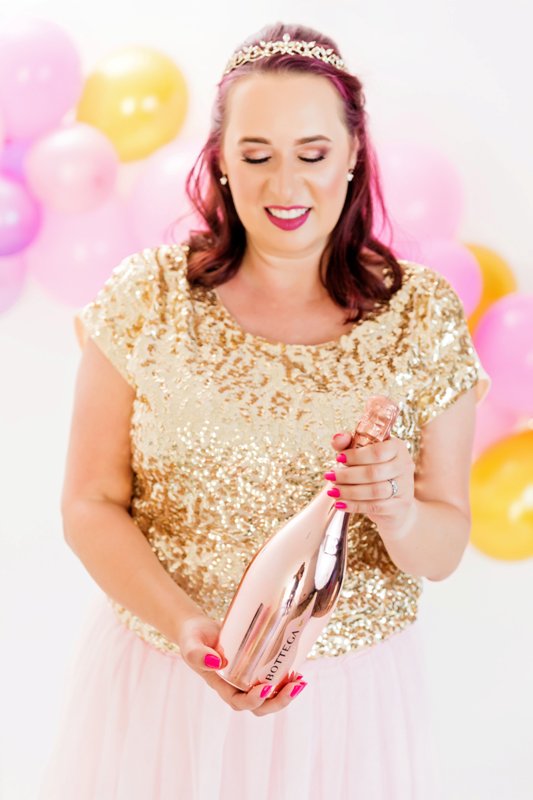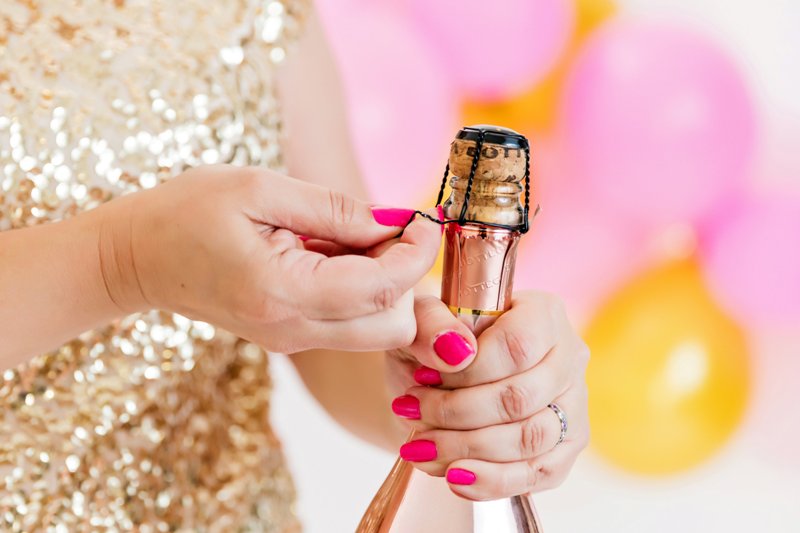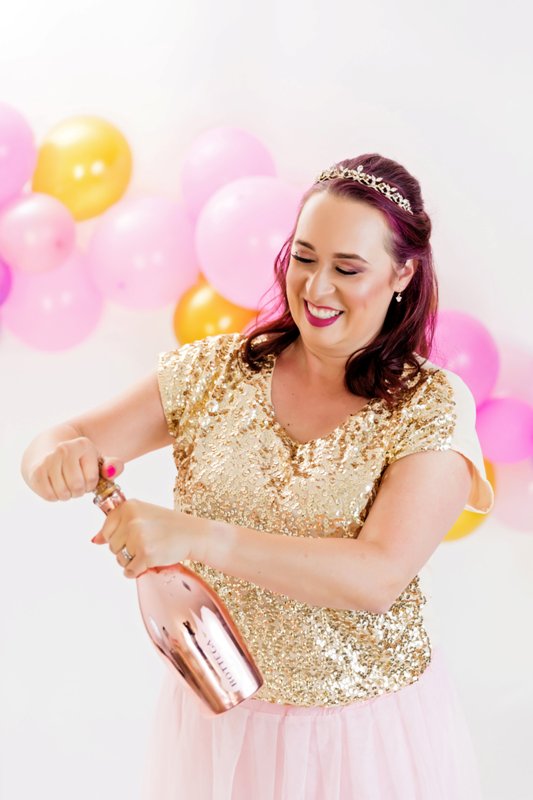 I looked at a lot of adult cake smash photos via Google to get ideas. Of course I needed a cake, which I ended up ordering from my local Pavilions, and it was only $20! I talked to their pastry chef and showed photos of the rainbow cake I wanted. They told me they couldn't do rainbow colored cake but could make the frosted rainbow colored, which was good enough for me. And they agreed to cover it with rainbow nonpareils. It ended up being perfect and a great bargain! The cake stand belongs to Jenna's studio and I highly recommend making sure you have one!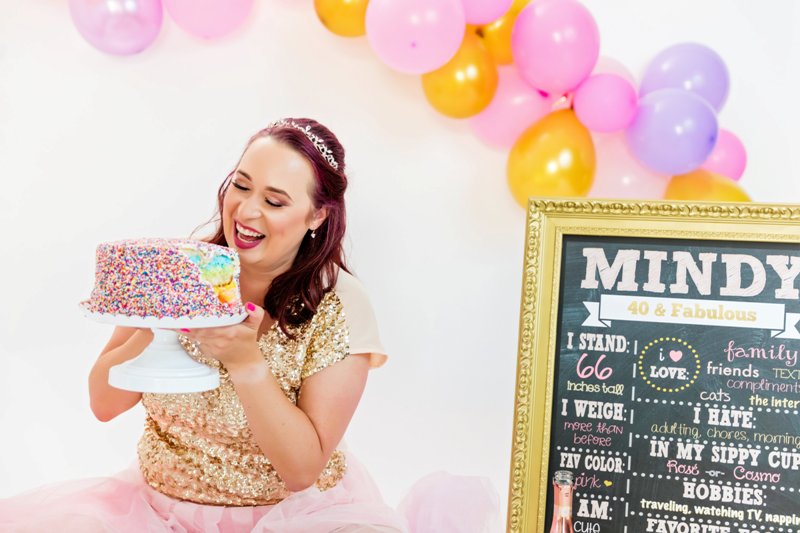 For props, I knew I wanted a few different things. Pink champagne was one, and I found the perfect rose gold mirrored bottle at Pavilions. The Happy Birthday cake topper and balloons are from Party City, and the numbers with crowns are from Amazon. I had purchased a Happy Birthday banner but Jenna had the idea to make the balloon arch as a backdrop and I love that so much more!
I also wanted one of those large chalkboard signs but have zero artistic talent, so I turned to Etsy! Etsy has lots of options for these, but I loved the layout and colors of this one from LaineyBugsDesigns. She was great at customizing everything for me and we went back and fourth a couple times to make it perfect!
I ordered the 18×24 size because I already owned a frame for that size and I'm all about efficiency. Once the shop sent me the digital file I had it printed through Staples online which was so easy. (Hint – make sure you use matte poster paper, or at least not glossy, or else the poster will have a glare in photos.) I bought a 18×24 foam board from Michael's and taped the posted to the board and it fit in the frame perfectly.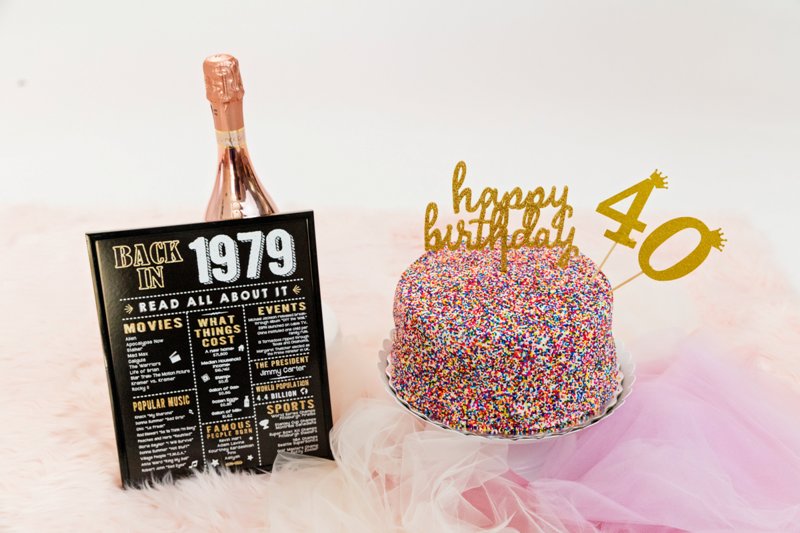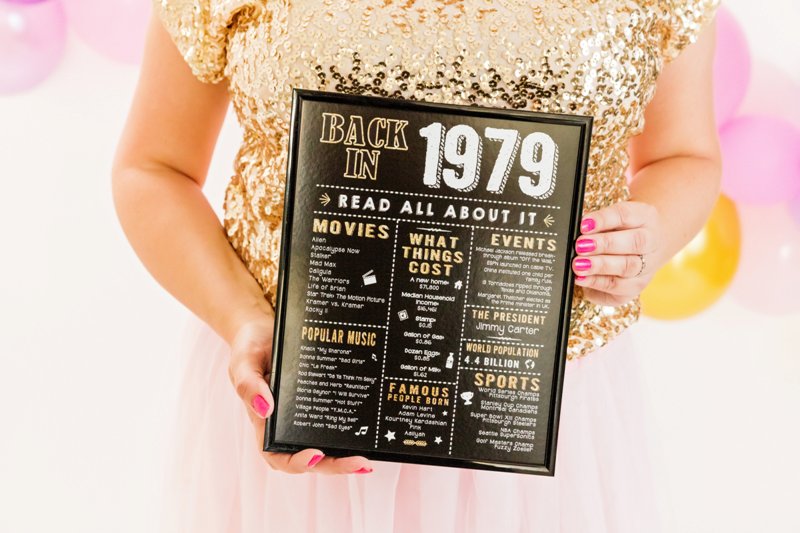 The 1979 infographic was not something I set out to purchase, but after I searched Amazon for "40th birthday decorations" it came up as a recommended item. I think it made for a nice prop!
My final recommendation is not pictured, but make sure you have baby wipes or makeup cleanser wipes to clean the frosting off your hands and face. This was not something I even thought of but luckily Jenna had some in the studio.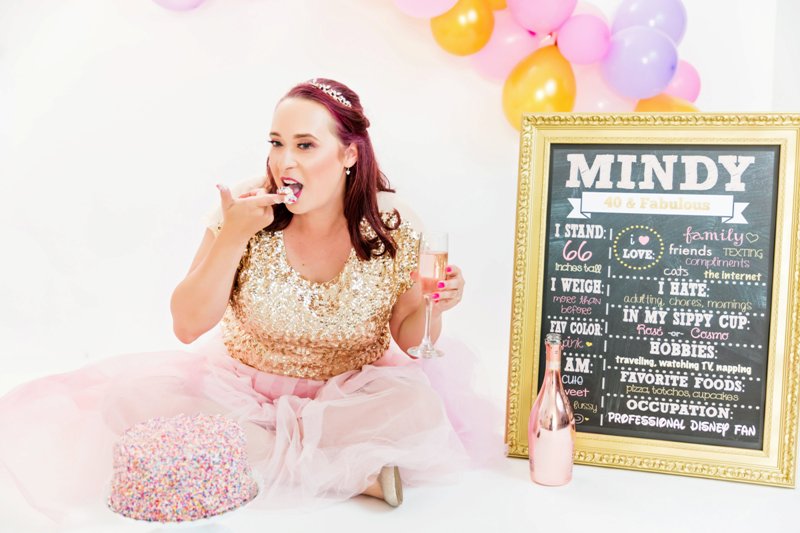 Props:
Cake: Pavilions
Champagne: Pavilions
Chalkboard sign: Etsy
1979 sign: Amazon
Balloons: Party City (similar pink and gold balloons here and large number balloons here)
Happy Birthday cake topper: Party City (similar here)
40 cake topper: Amazon
Baby wipes: Amazon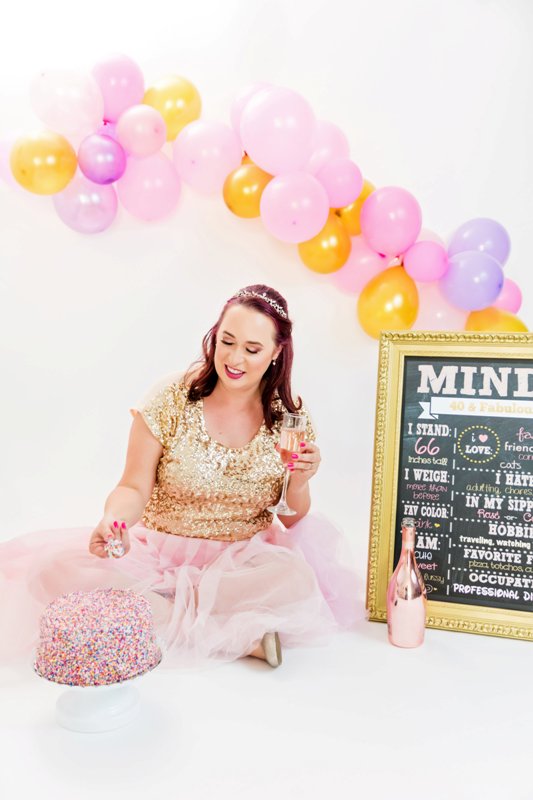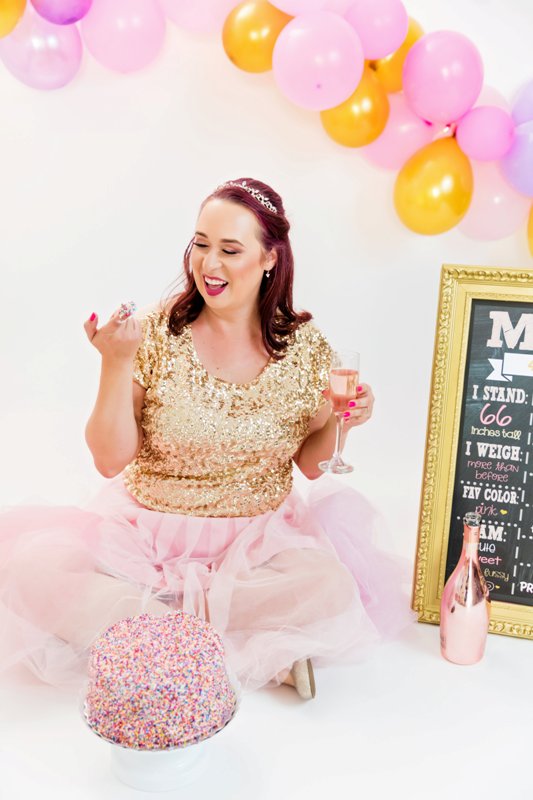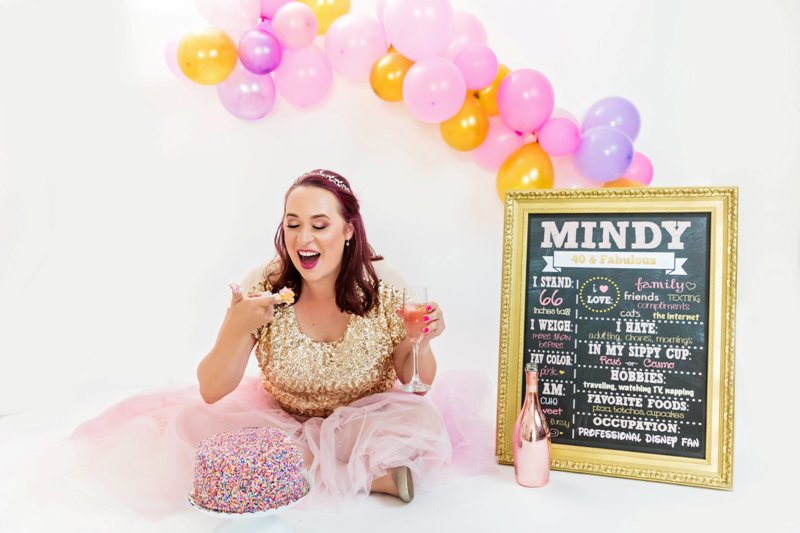 Jenna did a great job with guiding me through poses and we laughed so hard when I started digging into the cake. I was so anxious to grab a big handful of cake but she had me just do a finger swipe over and over again; I think she did it on purpose to build anticipation, lol. Making a mess at the end was as fun as I expected it to be. We really did laugh and laugh. It was the best experience!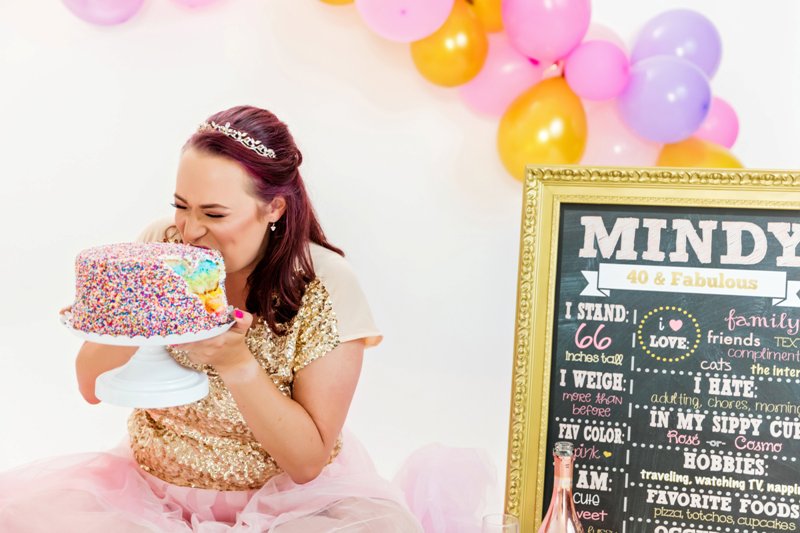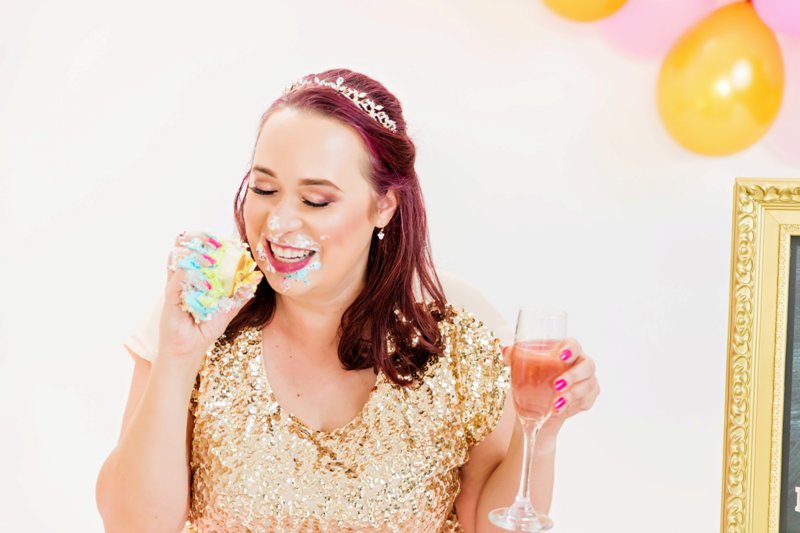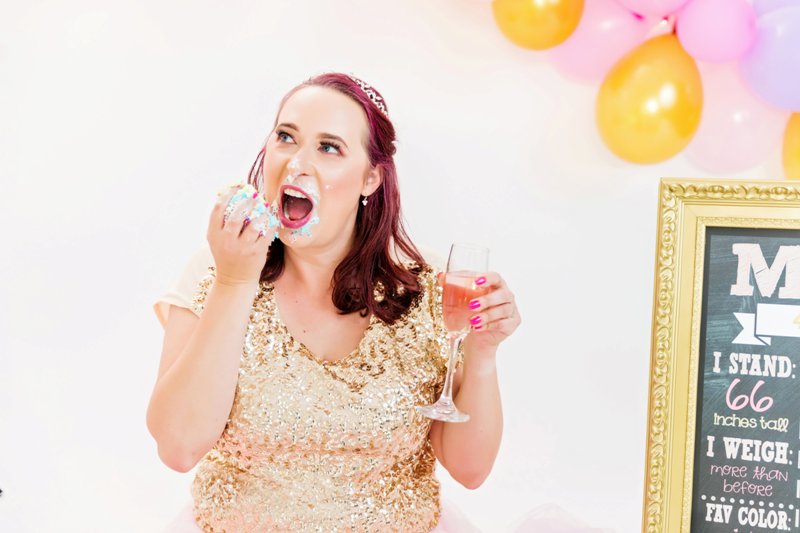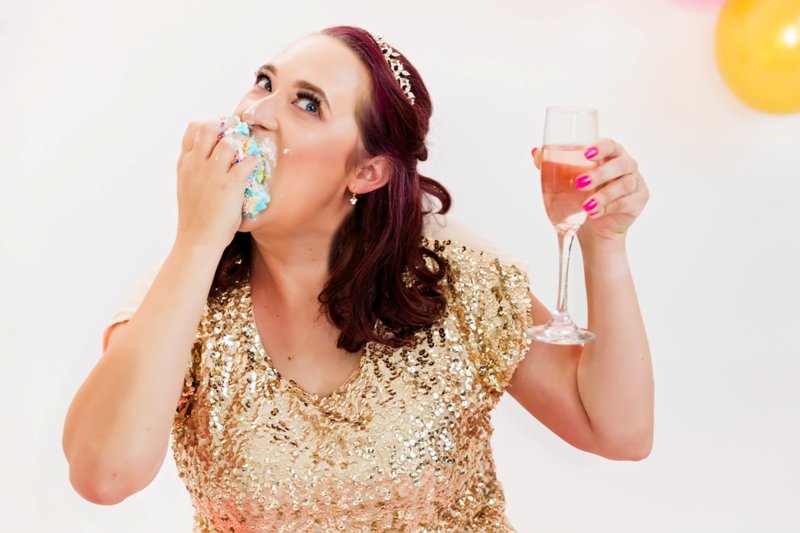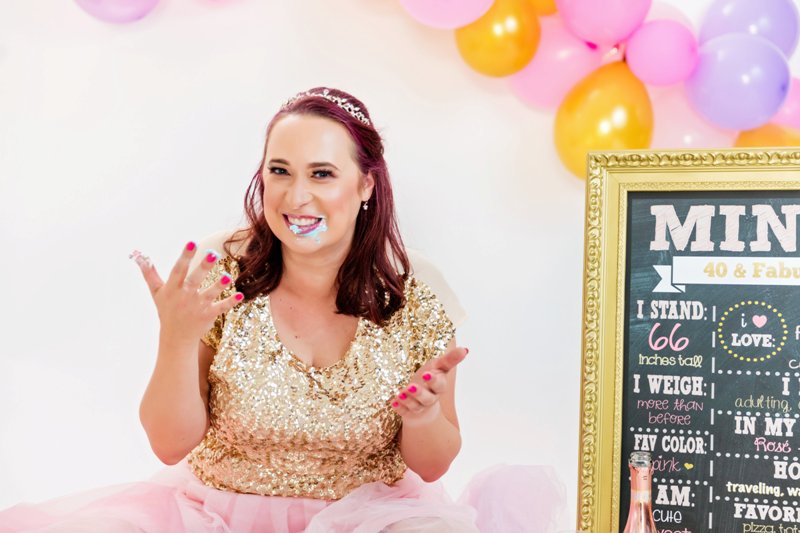 It may seem a little silly but I'm so glad I did something fun to document my fortieth birthday. I'm glad we took some "normal" photos before the cake smash which I can also use as headshots. But obviously putting my face into the cake was the best part. I hope you get a kick out of these, and love them as much as I do!
Also – thank you so much for all the kind birthday messages on Facebook and Instagram! I had a wonderful weekend celebrating and all the social media love made it extra special. I'm truly so lucky to have all of you in my life!