Thanks to Kia Motors and DriveShop for allowing me to test drive the 2017 Kia Soul. All opinions are my own.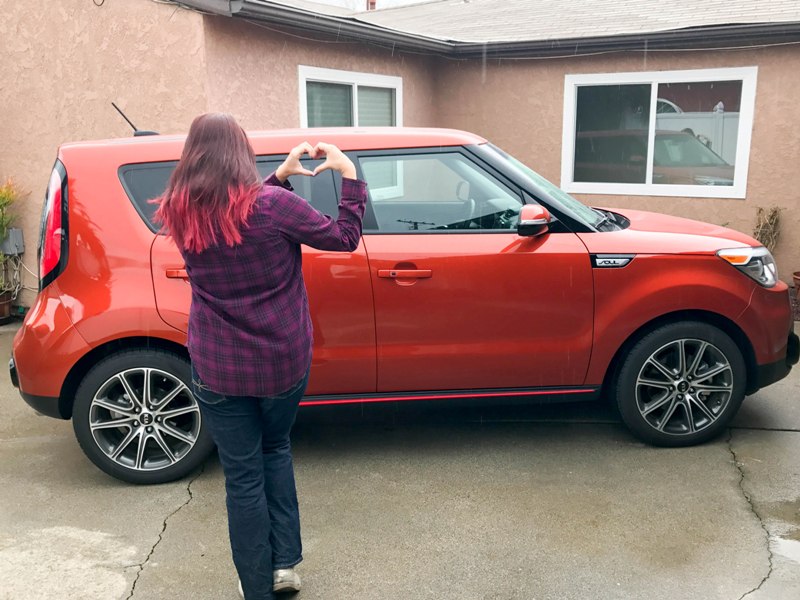 I recently had an opportunity to test drive the new 2017 Kia Soul !. And yes, the ! is part of the name. This is the "exclaim" model of the popular Kia Soul. At first I thought it was a typo on my paperwork so I checked the Kia website, and sure enough …
The trims are nearly identical but you can differentiate the ! model from the rest with the red detailing that surrounds the bottom of the car (easily seen in the photo below).
The Kia Soul is a really cute crossover vehicle, with the looks of an SUV but the spunk of a sedan. This car was really fun to drive around town (and to Disneyland and back) and the gas mileage is excellent – 26 MPG (slightly better than the base model's 24 MPG). I didn't even use up half a tank of gas during the week I was testing it. What I loved most about the Kia Soul was the size. The Soul is not much wider or longer than my current sedan, but the height makes it seem bigger and roomier inside.
The color is Wild Orange, which is a new color for 2017. The orange seemed striking at first but I grew to love and appreciate it. The unique hue made spotting it much easier among the sea of black, white, and silver cars in the Disneyland parking lot.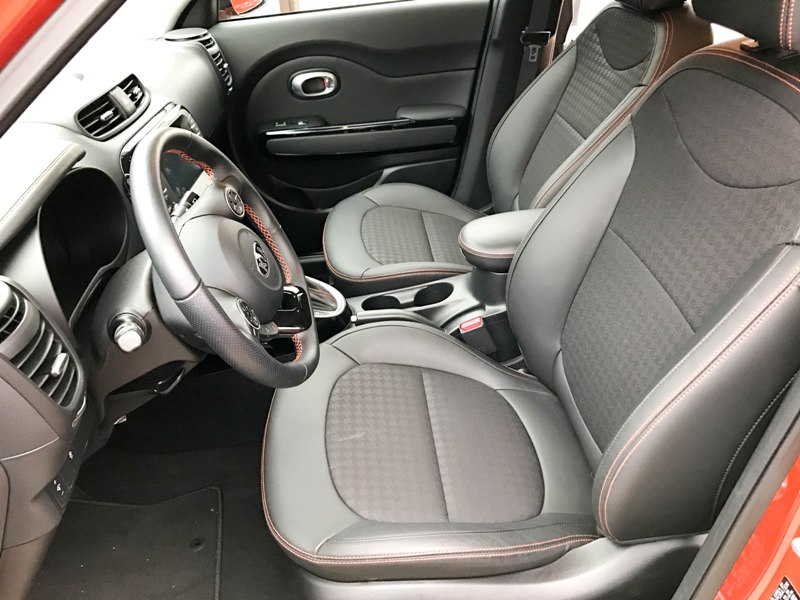 The interior was roomy; the leather/cloth seats were comfortable and the orange stitching and detailing gave the basic-black interior a bit of personality. The dashboard was easy to read and the touchscreen easy to navigate. The backup camera is a great feature I always appreciate having, and I severely miss it when I'm back in my old car.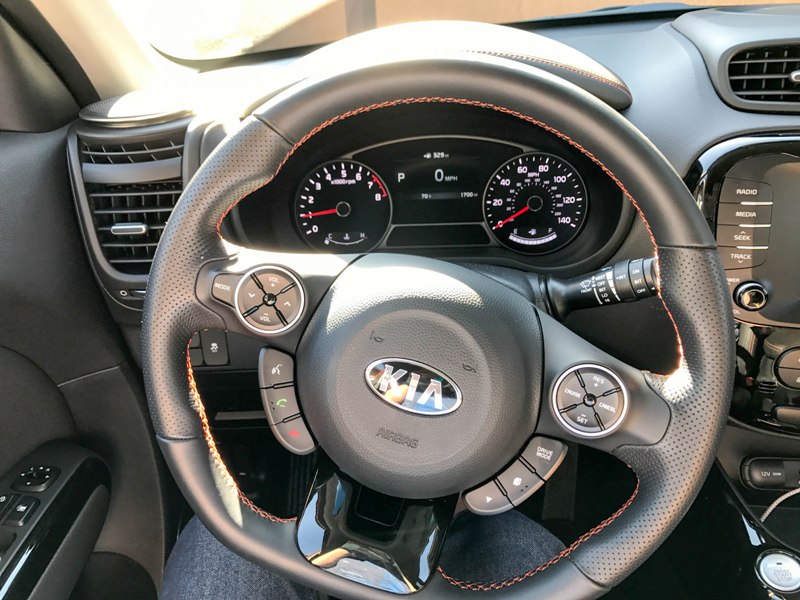 Driving the car, it has a lot of pep … perhaps a little more pep than I'm used to and it took me a while to adjust to how quickly the car accelerates. I will also say this model was missing some of the other luxury features I've experienced in other Kias, like the heated seats, blind-spot detection, and my beloved sunroof. But at a base MSRP of $16,100, you get A LOT for your money (and these features can certainly be added on for an additional fee).
Overall I loved driving the Kia Soul! If you're searching for a crossover without the high price tag, this is the car for you. Test drive it for yourself and let me know what you think!
Vehicle pictured is the 2017 Kia Soul ! in Wild Orange; as pictured $22,770.