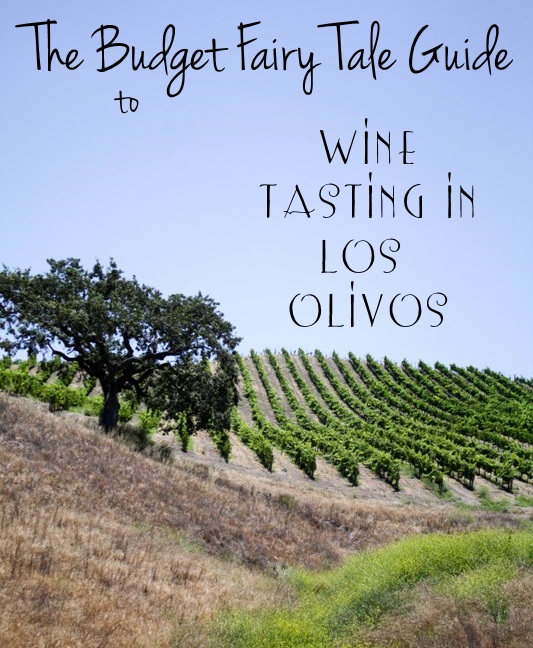 This is Part 2 of a trip report detailing a weekend getaway in Santa Barbara wine country.
Leaving off from my Solvang trip report, we woke up at our hotel, Santa Ynez Marriott in Buellton, had a quick Starbucks breakfast at the hotel, and then headed out for wine tasting adventures. Our plan was to go to three or four wineries, depending on how we were feeling and how late it got. We didn't want to rush through our tastings and we certainly didn't want to drive buzzed. We made our only reservations for the day at Demetria for 11am as our first stop, so we wouldn't constantly be checking our watches.
Budget Fairy Tale Tip: If you visit a reservation-only winery, make that the first stop of the day so you're not planning your entire day around your one reservation.
In our research we found that Demetria winery is a little different from the rest, which is probably why it's so popular. Most wineries you stand or sit at a bar counter, but at Demetria there are tables and chairs set up on a patio overlooking the gorgeous grounds. Because of this, most people bring a picnic snack to enjoy during their tasting. A friend gave us a tip to stop at the El Rancho Market on Mission Drive in Solvang to buy goodies for our picnic, so that was the first stop of the day.
I'll just say that El Rancho is an awesome store but it's not a "budget" situation. El Rancho has a large deli selection of imported cheeses, as well as salami, olives, crackers, nuts, etc. We spent around $40 on foods for our picnic, but we chose some high quality and unique items and we snacked on them all day as well as taking home leftovers. We picked up peppered salami, two cheeses (blue and cheddar), water crackers, almonds, dried apricots, mixed pitted olives, and honey sticks. We enjoyed our picnic and felt it was well worth the money.
Budget Fairy Tale Tip: If El Rancho is out of your budget, you can also stop at the Solvang Market, also on Mission Drive, or the Albertson's in Buellton to stock up for your picnic.
After leaving El Rancho we made the 15 minute drive north towards Los Olivios and Foxen Canyon. I used my GPS which led me right to the gate of Demetria, which is good because the sign is pretty tiny. We used to call box to confirm our reservation and the gate rolled back to let us in. From here we went about another two miles on a very windy and very scenic road through the rolling hills. It's a narrow two-lane road so go slow and watch for oncoming traffic! Park when you reach the first sign of civilization.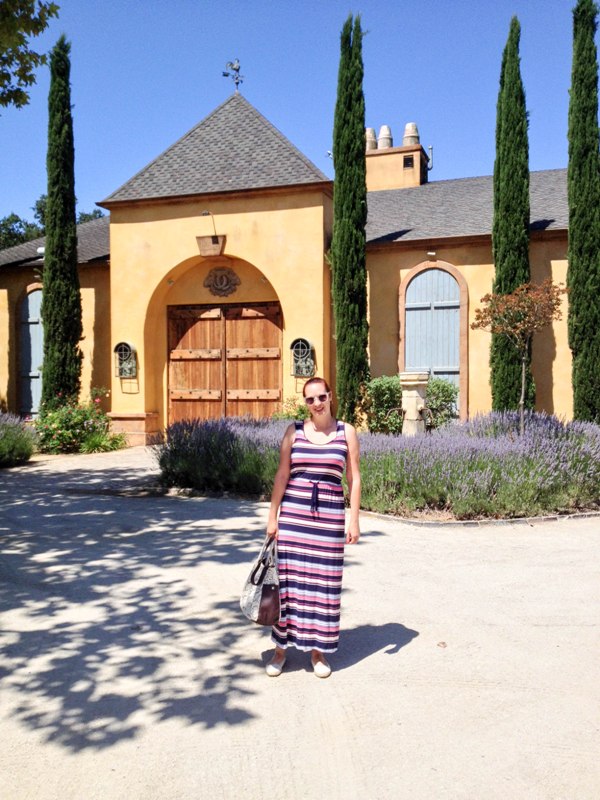 Since we had the first reservation of the day, we pretty much had our pick of tables, and we chose a shady table under an oak tree. A Demetria employee brought out a menu as well as two glasses, and shortly after that he poured our first tasting. We got all our picnic supplies out and just enjoyed the good weather, good food, and good wine. We stayed at Demetria probably around an hour. We also went for a short walk on the path around their grounds; you can walk right up to the vineyards but it's about a two mile walk and the sun was too hot for us that day. We only made it about half a mile, maybe.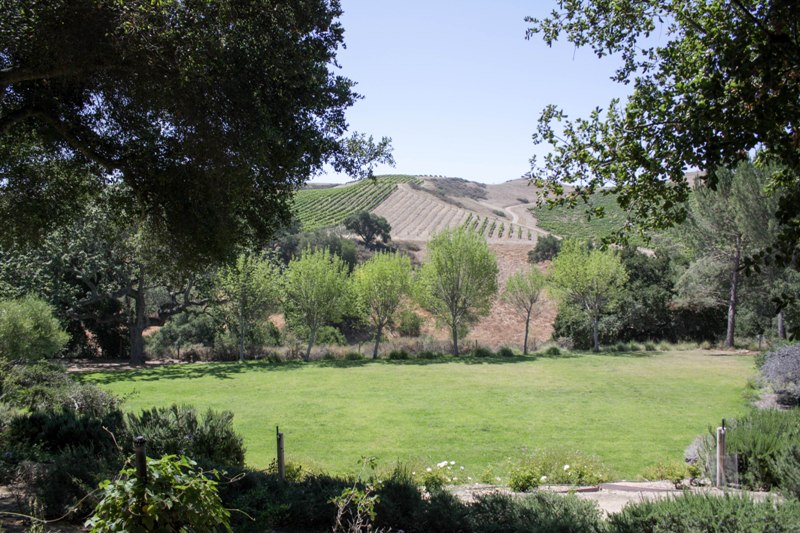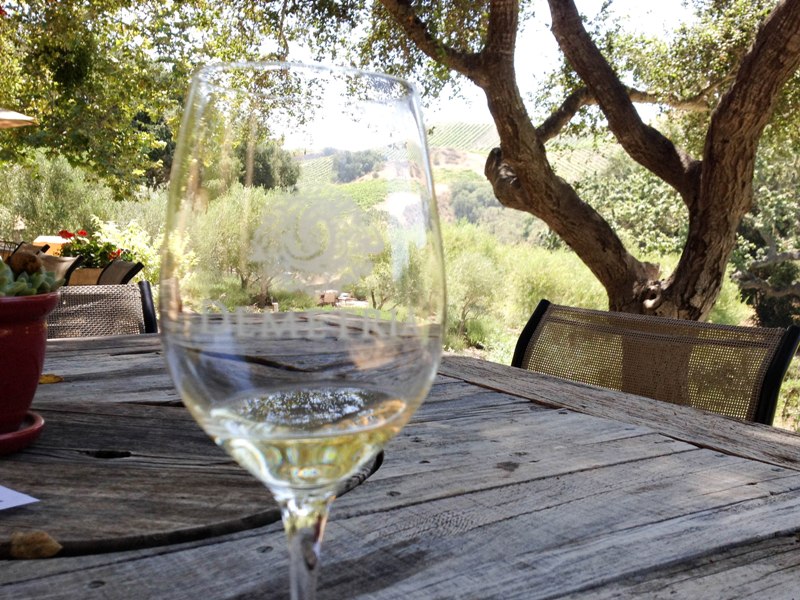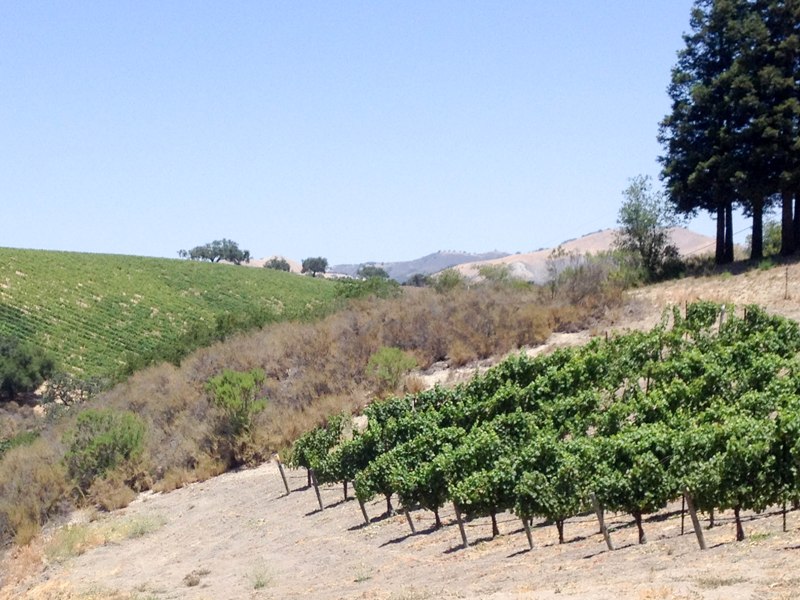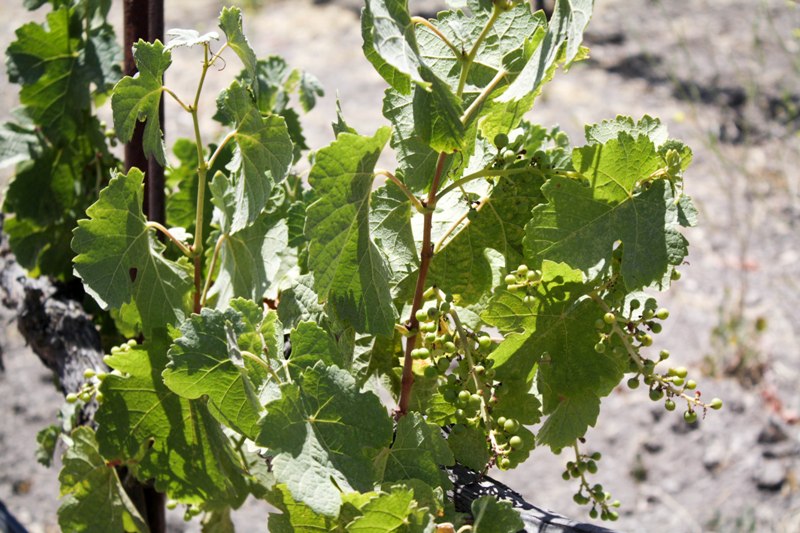 I should note that Demetria's tastings are $20 per person for five tastings, twice as much as every other winery we visited. I wasn't extremely impressed with their wines but you are certainly paying for atmosphere.
After leaving Demetria and driving back along that white-knuckle road, we went further up Foxen Canyon to Zaca Mesa winery. Zaca Mesa was having some sort of luau BBQ on their main lawn so it was very crowded; a very different scene and atmosphere from Demetria. We went inside and had a tasting at the bar. For $10 we each had six tastings which was probably the best value of the day! None of the wines at Zaca Mesa blew me away but we had a nice time sitting under the AC and talking with our server.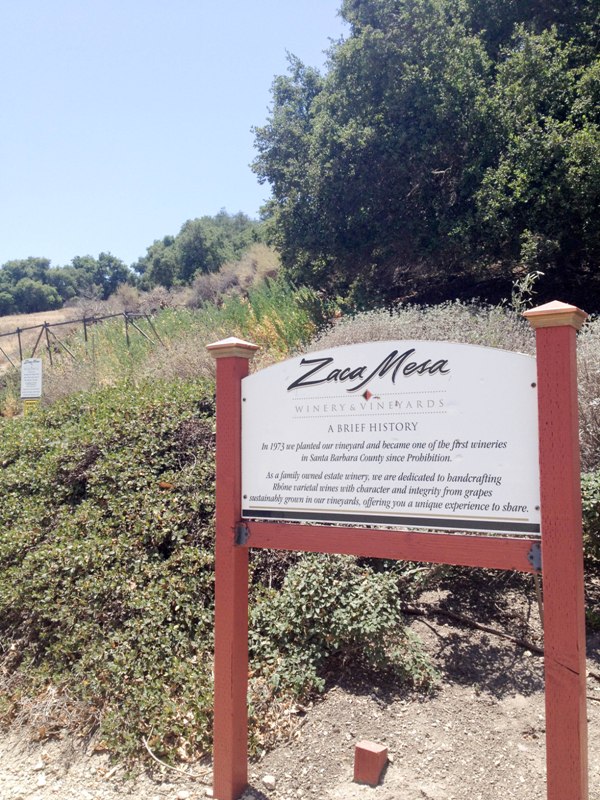 After about an hour at Zaca Mesa we headed back south on Foxen Canyon to Fess Parker. Fess Parker was the only winery I really wanted to stop at, because of the Disney connection. Fess Parker portrayed Davy Crockett in the 1950s. The Fess Parker Winery is gorgeous, and it's the only winery I saw that was completely surrounded by rose bushes along the main road. It's very big inside, with two bars plus a third bar outside adjacent to a large grassy area. If Demetria isn't in the cards for you, this would be another great place to bring a picnic and a blanket and sit on the grass under a shady tree. We stood at a bar inside and were asked if we each wanted a tasting or if we wanted to share one tasting. We weren't aware of this option and we decided to just share a tasting.
Budget Fairy Tale Tip: If there are two of you, and you don't mind sharing, ask if you can share a tasting. This will save you around $10 as well as help you remain sober.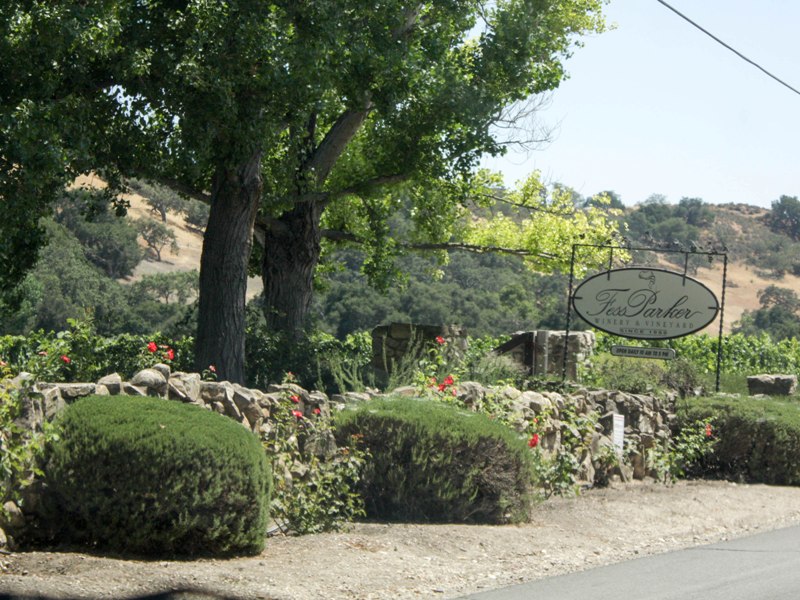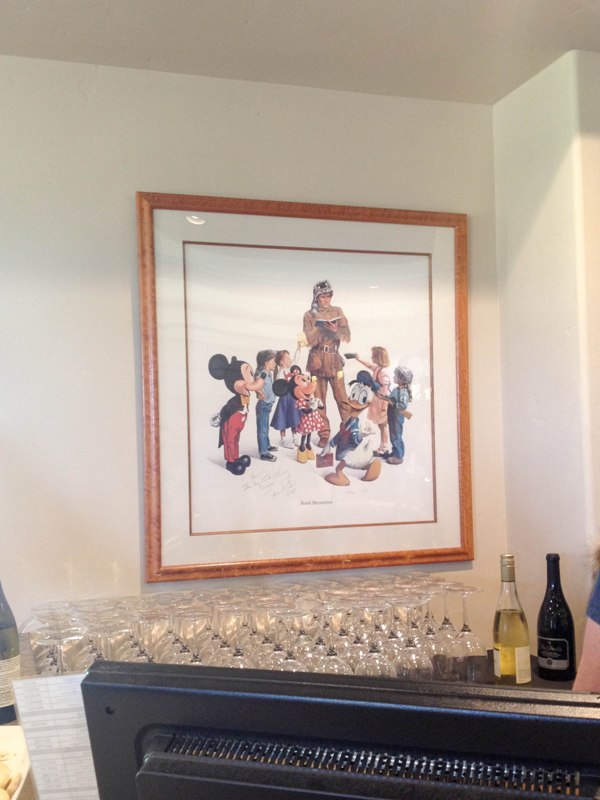 At Fess Parker we shared six tastings for $12. We actually both really enjoyed the Riesling so we purchased a bottle and sat outside on the grass for a little bit. Actually, we both took naps! It was getting late in the day and there was a band playing. Then suddenly I woke up and the band was gone and we were the only ones left on the grass! Oops! Fess Parker Winery also has some tables set up along the outside wall so you can bring a picnic and enjoy your wine there, if you like.
At this point it was late afternoon and the wineries would be closing soon. We decided we wanted to try one more winery before heading back to the hotel. We drove by Curtis Winery and knew nothing about it, but we pulled in and went inside. The Curtis Winery grounds are smaller than Fess Parker Winery but they also have a grassy area and a couple tables to sit at outside. Inside we shared five tastings for $10 (although we were given a sixth pour because the guy next to us was raving about the Riesling and insisted we try it). This winery was more modern than the rest, and we weren't super impressed by the wines (although the Riesling guy bought three cases of it so our server was somewhat distracted while we were there). I'm happy we stopped in but honestly this was our least favorite stop of the day. I didn't take any pictures outside, but I did wander through some of the vineyards growing on the grounds.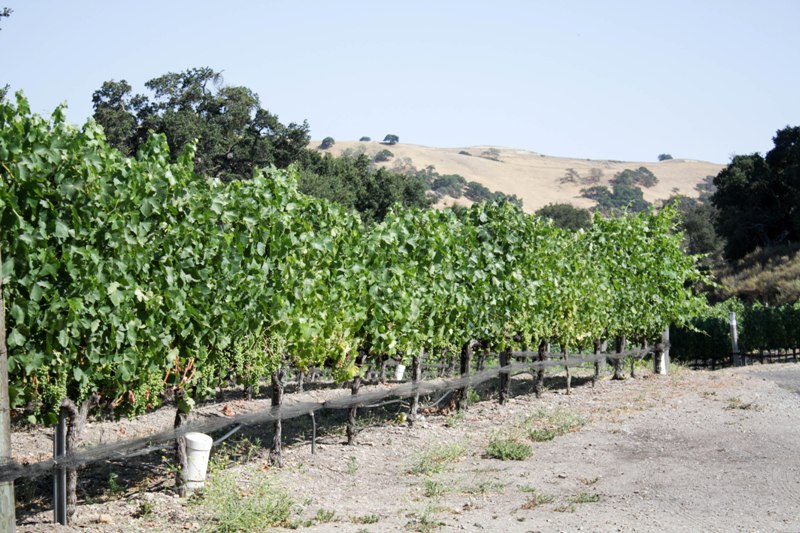 After sitting outside for a bit and drinking lots of water, we jumped in the car and headed back to our hotel.
We had about three hours before our dinner reservations at Hitching Post II, so we had a lazy hotel evening flipping through the TV channels and taking short naps. The weather was nice and the area seemed safe so we decided to walk to Hitching Post II from our hotel, which was about a 15-20 minute walk.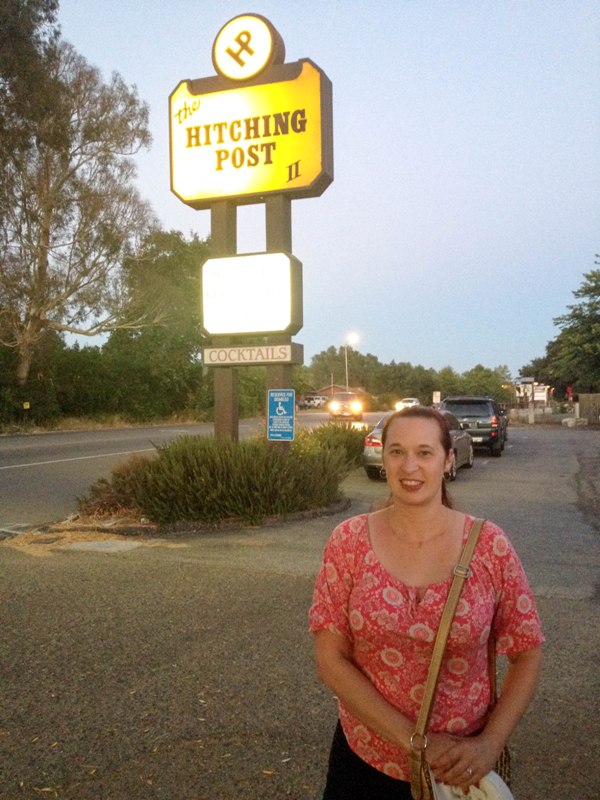 When we arrived at Hitching Post II, we couldn't believe how crowded it was! The waiting room was overflowing and the bar area was barely standing room only. We managed to order two drinks and stood around a bit before two seats at the bar opened up. My glass of wine wasn't very good (I think I ordered the Pinot Grigio but now I can't remember for sure) so I resigned to buying a different glass. I explained to the bartender that I didn't like it and if they could recommend a different white in the same price range. They gave me something else at no charge, which I thought was really nice. We sat and watch the bartenders for about 10 minutes before our name was called for our table – I have never seen a busier bar! The deft of the bartenders was seriously impressive, and I've sat at a lot of bars in my day.

Bar area AFTER our meal, as the restaurant was closing.
We were taken to our table and were overjoyed to find they put us right outside the MEAT WINDOW into the kitchen. All the meat is cooked right there for everyone to enjoy. It's a lot of meat and it's on a pulley system so now and then the chef lowers it down into the fire. It was awesome.
When you're at a steakhouse known for its steak and Pinot Noir, you pretty much have to order the steak and Pinot Noir, which is what we did. I ordered the 7 oz Top Sirloin with house salad and Mr. BFT had the Filet Mignon. We tasted each other's meats (haha) and they both pretty much tasted the same to us. They were both delicious. I asked for the rice pilaf instead of mashed potatoes and I'm glad I did because it was very yummy. The Pinot Noir was good, but I am not a huge red wine drinker so I guess the power of the Pinot Noir was lost on me. We also took home a bag of their special seasoning called "Magic Dust" after I made sure there was no corn in it. We already have used it on some sauteed vegetables – it really does make everything taste magical!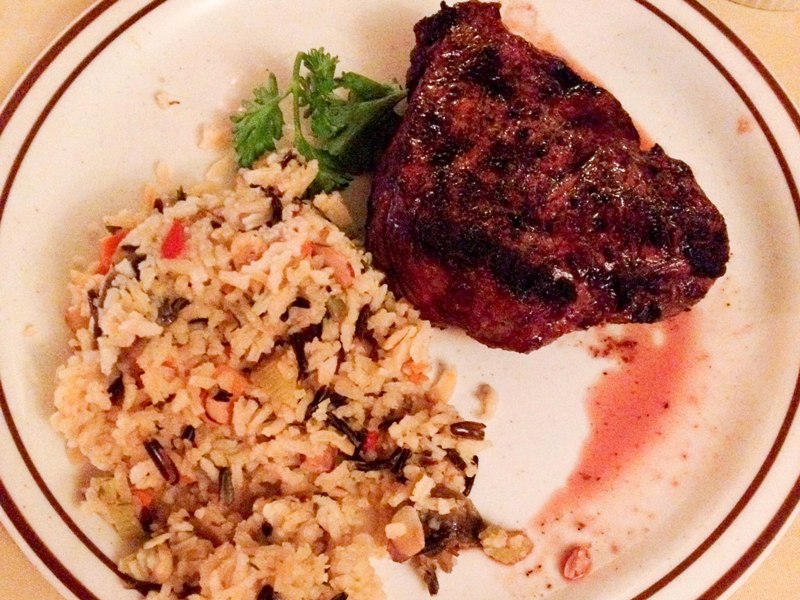 Budget Fairy Tale Tip: The cheapest steak on the menu at Hitching Post II is the 7 oz Top Sirloin. Get it, it's really good!
We were so full, and at that point very glad we walked so we could walk off some of our meal. We had an uneventful walk back to the hotel where we collapsed into bed, and not in the sexy way. In the I-ate-way-too-much-steak way.
And thus concludes our visit to Los Olivos and our weekend in wine country. The next day we stopped in Solvang for breakfast at Paula's Pancakes, bought some more macarons at Olsen's Bakery, and then sat in awful Fourth of July weekend traffic back to L.A. I can't wait to go back to this lovely part of California!