Photo credit: White Rabbit Photo Boutique
Disney Bride Erica planned a Disneyland wedding at Rose Court Garden and Sleeping Beauty Pavilion in June 2018.
Wedding planning was definitely one of the most exciting parts of this whole getting married process. It is likely that at some point in your life, you daydream about your Wedding day – how you want things to look and how you imagine the day going.
Wedding planning can also be one of the most overwhelming and stressful things you experience. We started to plan our wedding details in the summer of 2016 which gave us almost two years to get everything together and finalized. Our first step was choosing wedding colors and an overall theme, which was the easy part. After that was finalized, we began to search online for our décor such as the table linens and reception accessories, centerpieces, etc. Since we had about two years to plan, we decided the sooner we get everything together and ordered, the better. I also started to keep a "brainstorm notebook" where I would write down any visions I would have or any other ideas that came to mind regarding set up, music, and our venues.
Next thing we knew, time had flown by and it was January 2018 – six months until our wedding! By this point, everything was already chosen and ordered and we were able to relax a little more. It felt amazing to done with everything so early on, and all we had left to focus on was finalizing the minor details such as the final seating chart arrangements and choosing our food and cake flavors!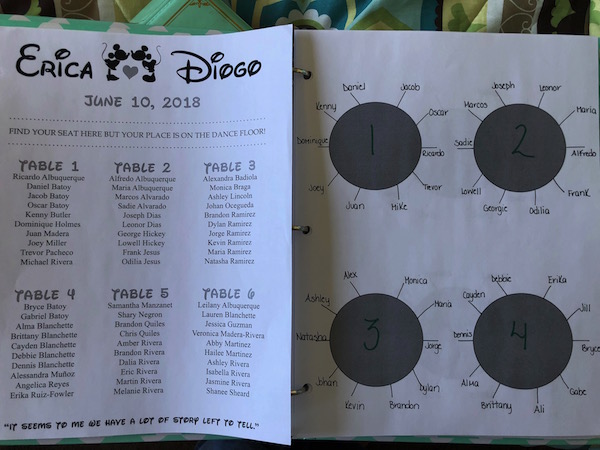 Ironically, one thing I stressed about the most was just THINKING about being extremely stressed on our wedding day. We did a lot of DIY, which means we or someone in our party would be responsible for getting those things set up before the ceremony began. We live about six hours from Disneyland so I had to also make sure we had a way of being as organized as possible to ensure nothing was forgotten or left behind. Approximately 6-8 months before the wedding I started working on checklists, timelines, and diagrams. Our diagrams showed our six tables for the reception and where each guest would be seated at the table, and the timeline was detailed as to what was happening from the morning of the wedding through the start of the ceremony. The checklists helped us make sure everything was packed up and organized. We reviewed the checklists when we packed everything in boxes for our trip down to Disneyland, and we reviewed it again as we loaded up the cars. All of the charts, diagrams, and checklists really made everything go as smoothly as possible!
We were also extremely blessed to have an amazing support system from our family and friends on our big day, as well as the days leading up to it! I suffer from pretty bad anxiety and I also get really overwhelmed and sick as a result of it. Our family and bridal party really stepped in to make sure I was as calm and relaxed as possible on our wedding morning. Family and friends helped get our table linens ironed and ready to go, and they also helped set up our items for the reception and ceremony. If you need help from friends and family on the day of the wedding, I highly recommend asking them ahead of time and coming up a with a task list for everyone involved.
We also had a great team from Disney's Fairy Tale Weddings! Our wedding planner Michiel and our Day-of Coordinator Julie were literally our Fairy Godmothers and I cannot thank them enough for everything they did for us on our special day! I would have been absolutely lost without them! We also had a music playlist made for the dressing room to keep us singing and having a good time while we got ready that morning, and also had some fun photos taken with our photographer.
Of course, even with a lot of planning no wedding day is absolutely perfect. There are things I regret, like skipping lunch that day (bad idea), and not getting enough sleep the night before (also a bad idea), but I was so happy for how wonderful everything turned out. Planning everything so far ahead of time and keeping things as organized as possible really made things easy for us when the day finally came. As busy as we were for almost two years and as worried as I was about the wedding weekend and getting everything set up, it was truly a dream come true and I would do it all over again in a heartbeat!