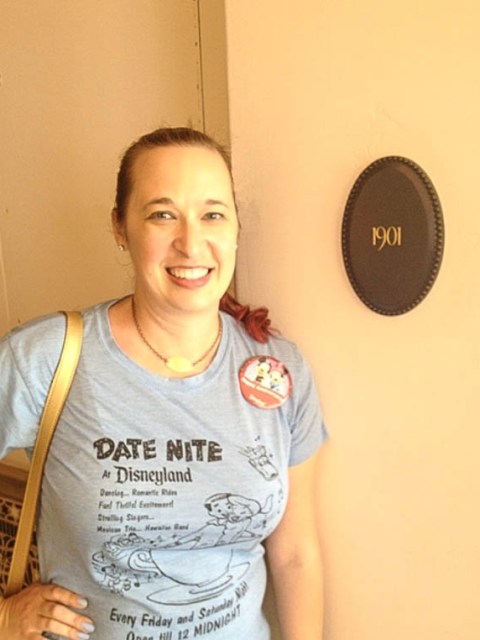 Last weekend I was lucky enough to get a chance for a peek inside Club 1901, the exclusive club inside Disney California Adventure.
If you didn't know, there are secret clubs inside both Disneyland and Disney California Adventure. Pretty much every Disneyland fan knows of Club 33, the members only club located above the shops and restaurants of New Orleans Square. You have to either buy into the membership, work for a company that has a corporate membership, or be invited by someone with a membership. I am grateful to have visited Club 33 four times (it helps to be well known as a crazy Disneyland fanatic). Right now Club 33 is under extensive refurbishment, which makes me a little sad, but I'm also curious to see what it will look like after the renovations. I hope someone is kind enough to invite me!
Lesser known is Club 1901 in Disney California Adventure. Club 1901 was built as part of the Carthay Circle building on Buena Vista Street in 2012. I will always remember the year it opened because the construction fence came down around Carthay Circle the last day of our wedding trip! The official grand opening of the "new" DCA was a month later.
I was politely asked not to take photos inside the Club, so all the images below are from White Rabbit Photo Boutique and used with permission. Click here to see her full post and more pictures!
As you may know, Club 33 is named so because it's the address – 33 Royal Street. Club 1901 is named because Walt Disney was born on December 5, 1901.
When you step in you are immediately greeted by a host or hostess who confirms the member's identification (there's always someone standing outside the Club to check membership, also). When you walk in you are immediately taken back to a classier time. Club 1901 has the same 1930s decor and atmosphere of Carthay Circle (they also share a kitchen so the food is similar, if not exactly the same).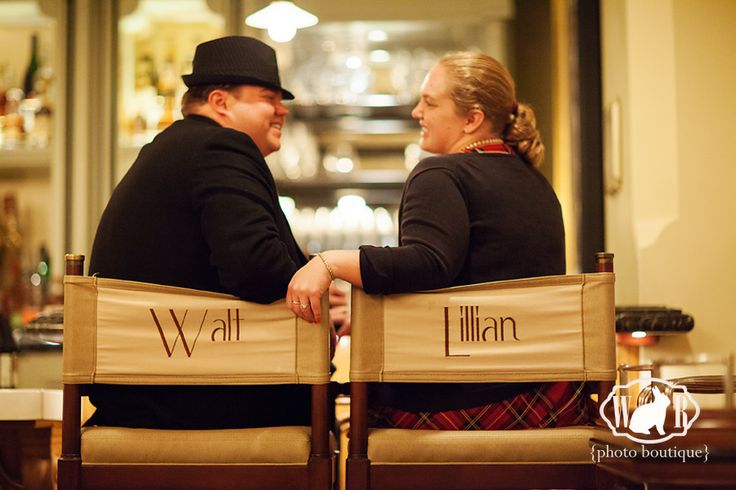 At the marble bar there are directors chairs with some familiar names. I would love a picture of Mr. BFT and I in the Walt and Lillian chairs, although I would sit in the Walt one since I'm a bigger Disney fan. Roy and Edna also have chairs on the other end of the bar. You can just picture Walt and Roy sitting at the bar and discussing future ideas, dreams, and plans.
What struck me about 1901 was how small it is, compared to Club 33. It could be an illusion since Club 33 is a restaurant and Club 1901 is a Lounge, but Club 33 seems much grander and bigger. Club 1901 feels more intimate and casual (you don't have to "dress up" like you do when you're visiting Club 33). The rooms boast cozy love seats and overstuffed leather chairs that seem to be well worn even though the Club is relatively new. The walls are covered with personal photos of Walt's childhood and early career, photos of the early days of the studio, and lots of decor and mementos to fit the time period. Honestly I could have spent hours slowly walking around, studying every picture and looking at every trinket. But alas my time in Club 1901 was short, too short to even enjoy a drink! Just a quick peek inside. When you get the opportunity to peek inside Club 1901, you don't pass it up!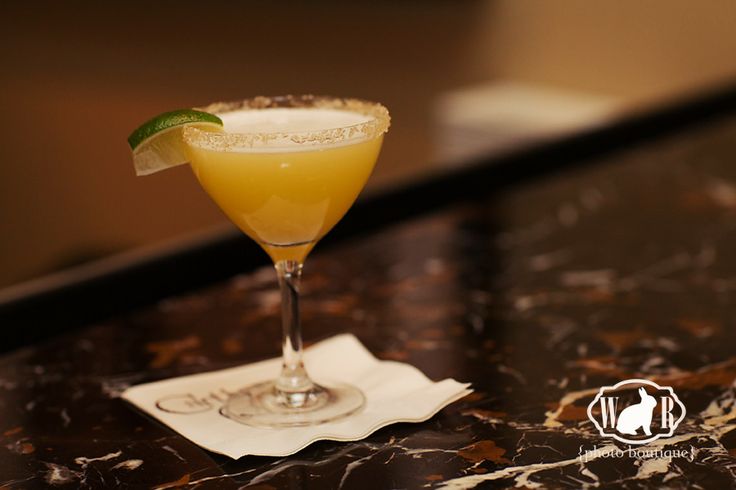 A yummy drink that I didn't get to try this time around … hopefully I will get another chance!
For the short time I was there, this is the corner I sat in. Look at all the stuff! It was overwhelming. So much to look at and soak in. All the little details are really incredible. One fun thing you can do OUTSIDE Club 1901 is look for the hidden Mickey! Here's a close up but I'm not going to give away the whole secret …..
I hope I get to go back inside Club 1901 someday. It's a quiet little sanctuary in the middle of a bustling theme park. I'd love to have a tour guide of sorts show me around and give me the history behind each picture and item in the Club.
Have you been inside Club 1901?