This is a sponsored post. All opinions are my own. Please drink responsibly.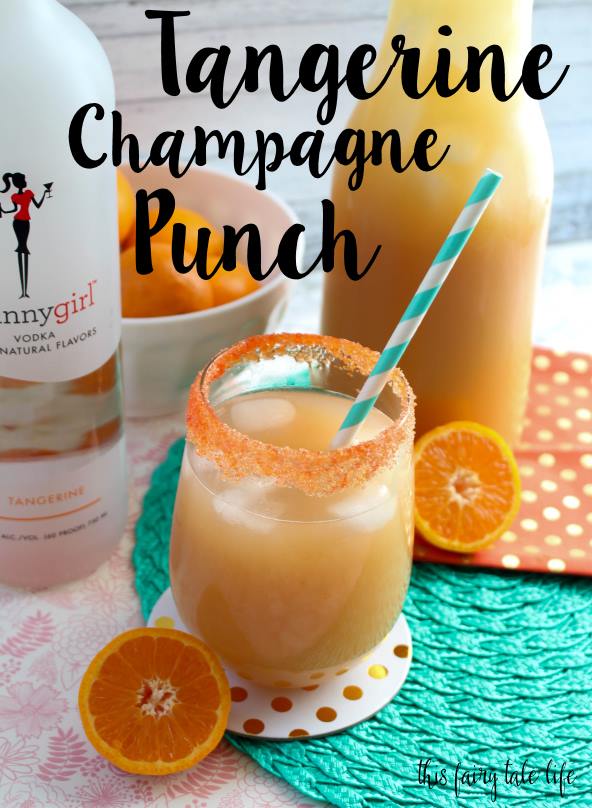 What's the best thing about bridal showers? Okay, after the cake. And the presents. The best thing is … the champagne punch! Oh man, I am such a sucker for a good sparkling punch. When I first saw the Skinnygirl® Tangerine Vodka, I knew it would be perfect to add to a yummy punch for a bridal shower brunch. Brunch punch? Yes, please.
Truth be told, I've tried many a flavored vodka in my day but this was the first time I've had tangerine flavored vodka. The Skinnygirl® Tangerine Vodka is really crisp and refreshing, and smells so good as soon as you open the bottle. I was really pleasantly surprised by how authentic it smells and tastes – just like real tangerines (which I've been getting in my weekly farm box lately and they are SO GOOD). And with 77 calories per 1.5 ounces, you can consume with less guilt. (But don't think this statement means you need to lose weight for your wedding – of course you don't, beautiful.)
This is a super simple recipe and I've listed a couple of variations below, depending on your tastes. Let me know how you like it!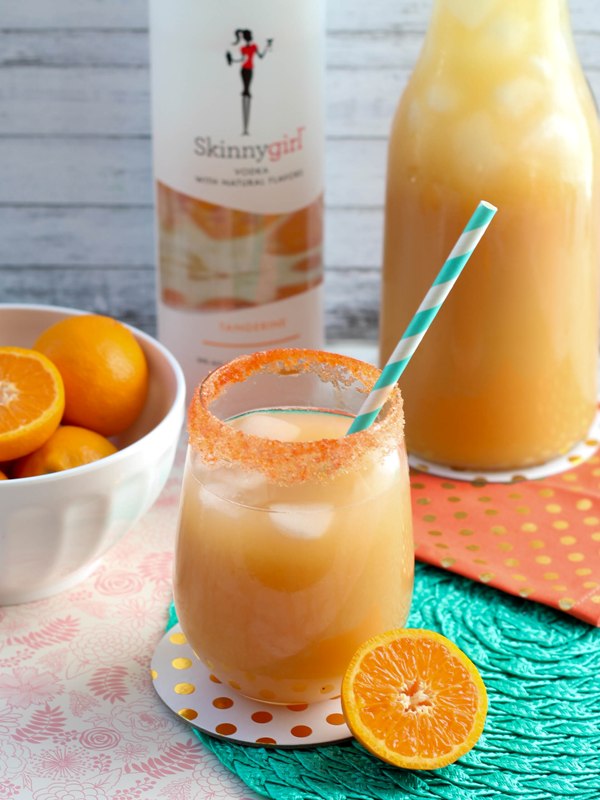 Tangerine Champagne Punch Recipe
Serves 8
2 cups (16 ounces) Skinnygirl® Tangerine Vodka
4 cups (32 ounces) orange juice
2 cups (16 ounces) cranberry juice
1 cup (8 ounces) champagne or sparkling wine
2 limes – optional
If you are using a punch bowl, prepare the bowl with an ice ring or regular ice. Combine all ingredients except the limes in a large pitcher and pour into the punch bowl over ice. (If you don't have a punch bowl, simply serve the drink over ice.)
Optional – Cut the limes into four wedges and squeeze one wedge of lime juice into the drink after it is poured in the glass. The lime juice will just give the drink a little kick. You can then use the lime wedge as garnish or toss.
To make the orange sugar, simply put a couple tablespoons of sugar into a wide shallow bowl and mix with 1 drop of yellow food coloring and 1 drop of red food coloring. Stir well until the sugar is orange! Wet the rim of your glass with a lime wedge and then dip the glass into the sugar.
Variations:
If you are seeking a super low-cal option, you can purchase lower calorie or "no sugar added" juices.
You can lower the alcohol content by swapping club soda for the champagne. Your drink may taste a little watered down so I would recommend adding only 1/2 cup of club soda if you go this route.
Cheers!