This article contains affiliate links.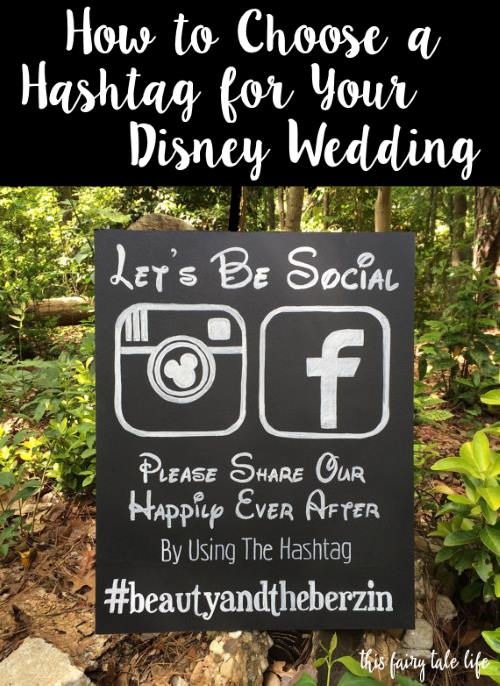 In this day and age of social media it's not uncommon for guests to share wedding photos online. The tricky part is collecting them all, and that's where your wedding hashtag comes in. You can create a unique hashtag just for your wedding, and spread the word so guests know to use it.
A lot of people get hung up on choosing their wedding hashtag, but it doesn't have to be overly difficult! An easy option is to use both of your first names, and maybe add the date (especially if you have very common first names):
#MindyAndTim
#TimAndMindyWed
#MindyAndTimWedding
#MindyTim5192012
#TimMindy2012
Here are a few additional easy suggestions:
#MindyAndTimGetMarried
#MindyAndTimTieTheKnot
#TimAndMindyGetHitched
#MeetTheSaccarzecs
#TimLovesMindy
#MindyAndTimSayIDo
#SaccarzecWedding2012
A popular choice for Disney weddings is to incorporate "Happily Ever After":
#SaccarzecEverAfter
#HappilyEverSaccarzec
And you could also try to tie in your venue:
#SaccarzecsInDisneyland
#TimAndMindyLand/TimAndMindyWorld
#IDoAtDisney5192012
#GoingToTheCastle5192012
#HappiestWeddingOnEarth2012
If you have a name that's fitting, you can choose to do some type of word play. Look for puns, rhyming words, or alliteration within your names to come up with something clever.
#ToHaveAndToHolton
#HoweSweetItIs
#newLEEweds
#OneHaleOfaWedding
#KnightsTieTheKnot
#DavisDisneyWedding
If you're still completely stuck, you can use a random hashtag generator to kick off some ideas.

Wedding hashtag wood sign by Mimiskiiscreations on Etsy.
Remember you don't want to make your hashtag too long, too complicated, or too convoluted. You want your guests to be able to easily remember your hashtag so they are more likely to use it. And don't forget to do a search for your hashtag on Instagram before you settle on it, to make sure it's not in heavy rotation already.
You'll also want to make sure you're spreading the word about your hashtag to your guests. I recommend coming up with your hashtag towards the beginning of your wedding planning, so you can add it to all your social media posts about the wedding. This will get your guests used to it, and by the time the wedding comes around, they will be excited to contribute to it. It's also a great way to look back and reminisce about your wedding planning.
I also suggest putting your hashtag somewhere on your invitation, and also on your wedding website.
On the wedding day you have a couple options for spreading the word about your hashtag. I recommend creating some kind of sign and displaying it within a frame on your welcome table before the ceremony. The sign should be moved, along with your card box and guestbook, to a table at the pre-reception and reception. If you're not talented in graphic design (I can totally relate), Basic Invite has some cute printable options available for only $10. Download, type in your unique hashtag, then print as many 8″ x 10″ signs as you need.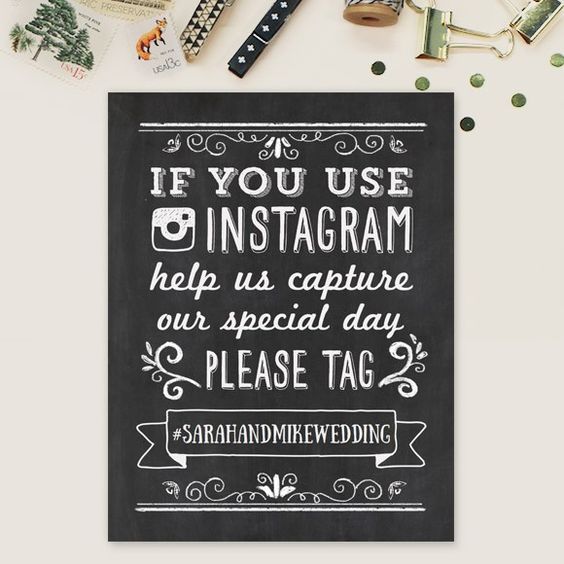 CHALKBOARD INSTAGRAM SIGN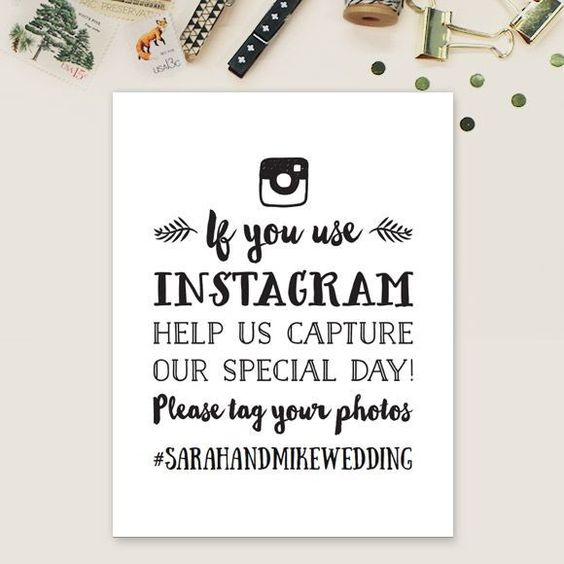 HAND DRAWN INSTAGRAM SIGN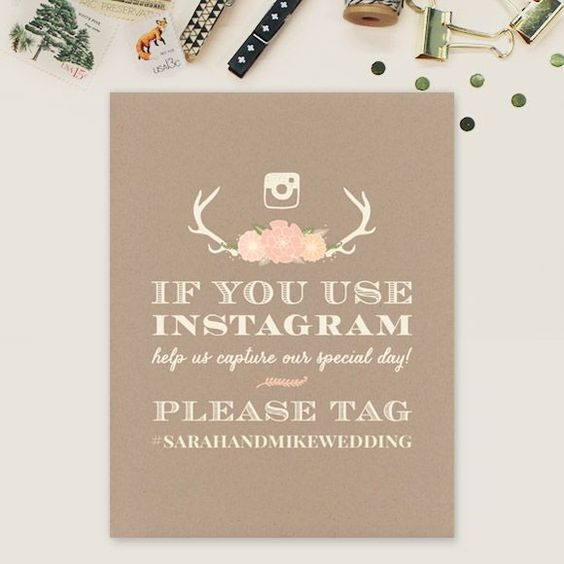 BLOOMING ANTLERS INSTAGRAM SIGN
There are a ton of cute options on Etsy, too.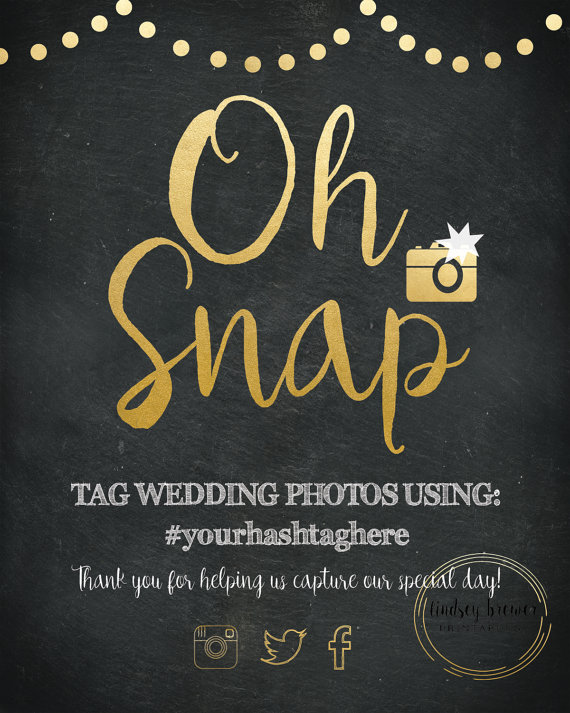 Oh Snap Wedding Hashtag Sign from LindseyBrewerPrints
PRINTABLE Wedding Hashtag Sign from SmittenPaperCo
You could also put individual smaller signs at every table, or even put a small card at every place setting. This is actually what we did for our wedding. We ordered what were essentially business cards, with one of our engagement photos on one side and our hashtag information on the other side. Here are some smaller sign options from Etsy.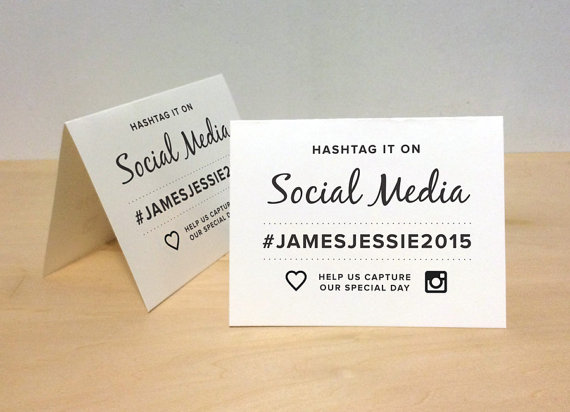 Wedding Hashtag Tent Card from RockPaperUnicornCo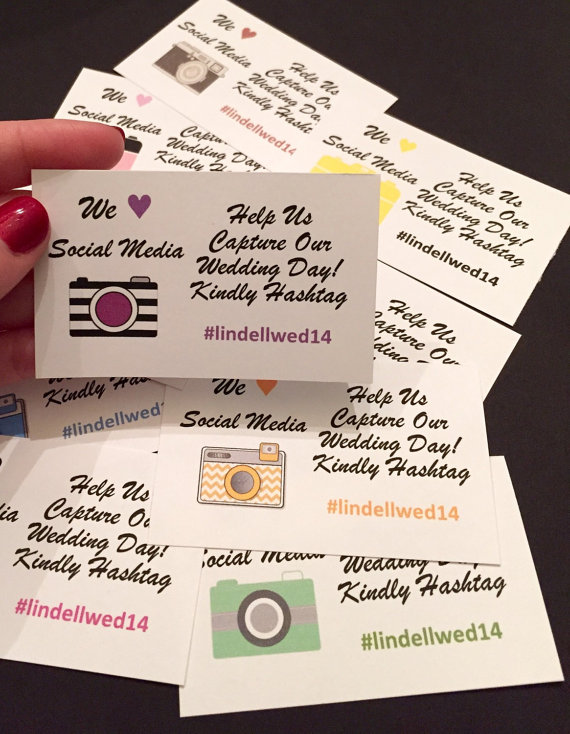 Wedding Hashtag Cards from BeforeTheRings
And if you want to get fancy-schmancy, check out this large wooden sign from Z Create Design: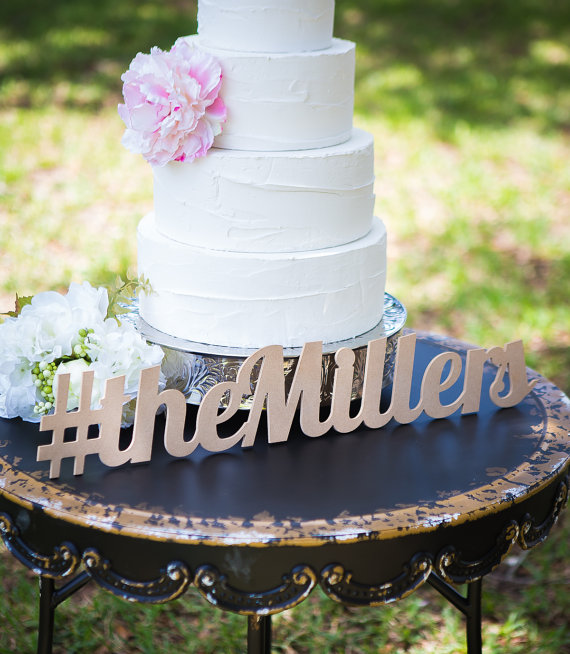 Or this Disney Wedding Hashtag Chalkboard Sign from MamaCottenCrafts:
Finally, be sure to tell all your vendors about your hashtag and encourage them to use it as well, and also ask your DJ/MC to announce your hashtag a couple times during the reception to remind guests to post their pictures.
Do you have a clever Disney wedding hashtag suggestion? Please leave it in the comments!