Disney Bride Teresa planned an At-Home wedding with a Haunted Mansion theme for October 2016.
Venue and Caterer: Bear Mountain Inn, Bear Mountain, NY
Photographer: The Ramsdens
Wedding Dress: Wedding Dress Fantasy
Florist: Dark and Diamond
Hair and Makeup: Hair by Jamie Boo
DJ: Dave from JTD Productions
Decor: DIY!
When it comes to the vast majority of wedding advice out in the wonderful world of the Internet, I am here to tell you that the only piece of advice you need to really listen to is the importance of being yourself and honoring your personalities as a couple. Once you sit down together and figure out what you want for your wedding day as a couple, everything else will fall into place.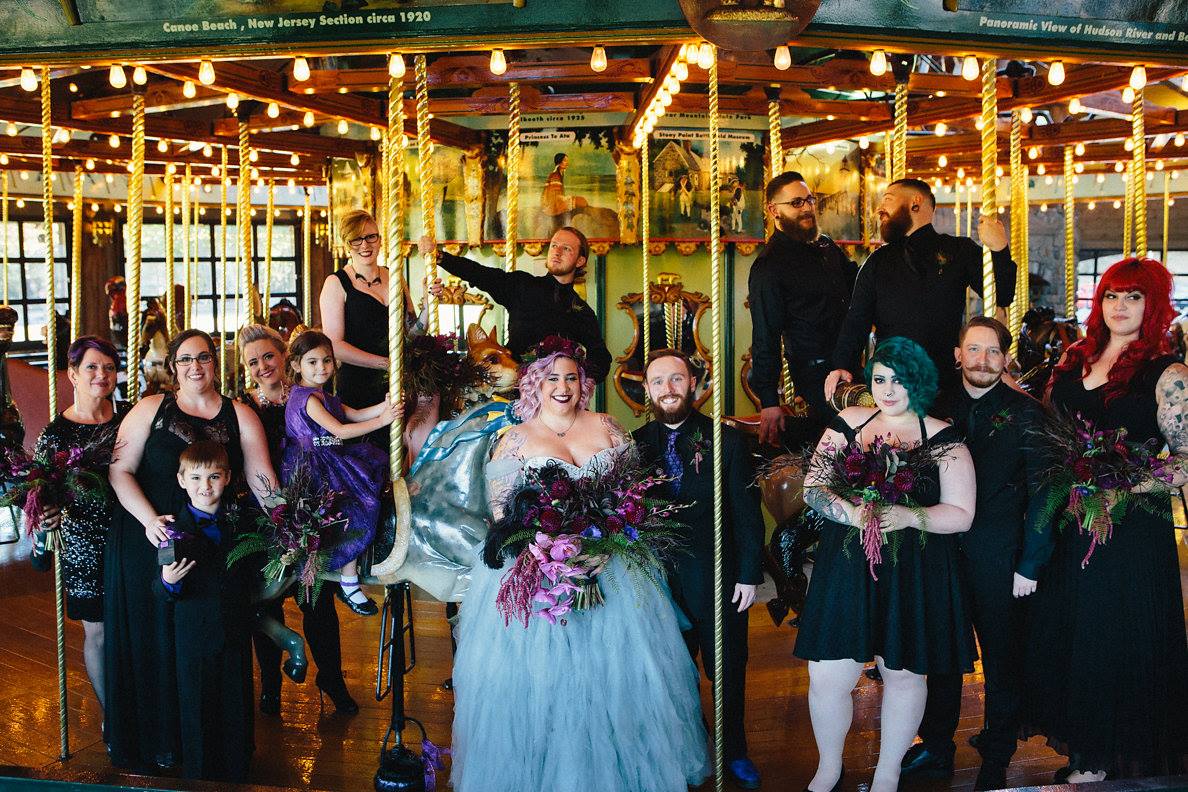 I was lucky enough to be the type of person that has asserted herself as someone who is going to do whatever she wants, no matter what, since the day I was born, so when it came to planning our Haunted Mansion inspired wedding, thankfully it was smooth sailing. I know not everyone is in that same position and it can get a little tricky when other people might be helping you out monetarily, but staying firm to your vision and what you and your partner want is totally worth it, trust me!
Peter and I had our whimsically spooky Haunted Mansion inspired wedding at the Merry-Go-Round Pavilion at Bear Mountain Inn on October 14. Everything we did was 100% how we wanted it and we just let our guests ride the magical unicorn that was our wedding to the end.
Guests were greeted with a mini graveyard as they walked up to the building and inside they were treated to spooky black and purple details that even Master Gracey would have been pleased with. We used the music from The Haunted Mansion attraction throughout our ceremony and also for our reception introductions, and our cake looked like something that would be served at "Mickey's Not-So-Scary Halloween Party." Below are some pics of my favorite details.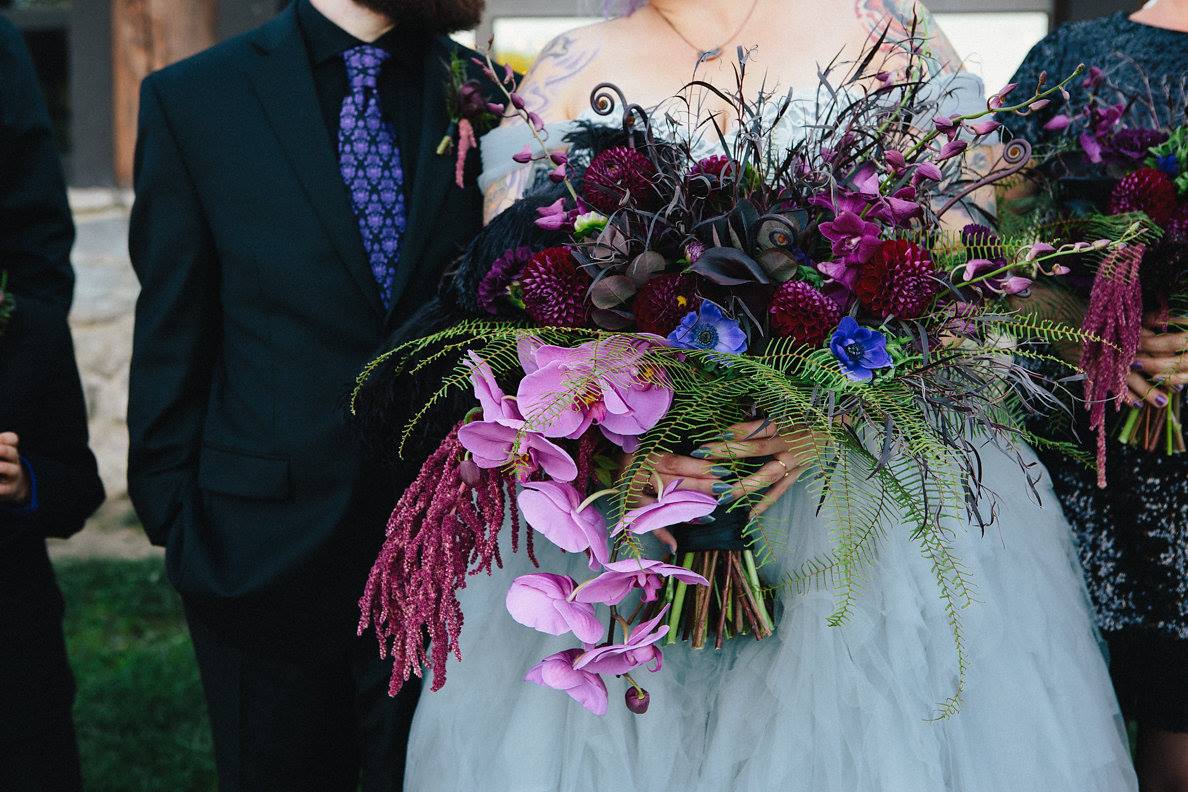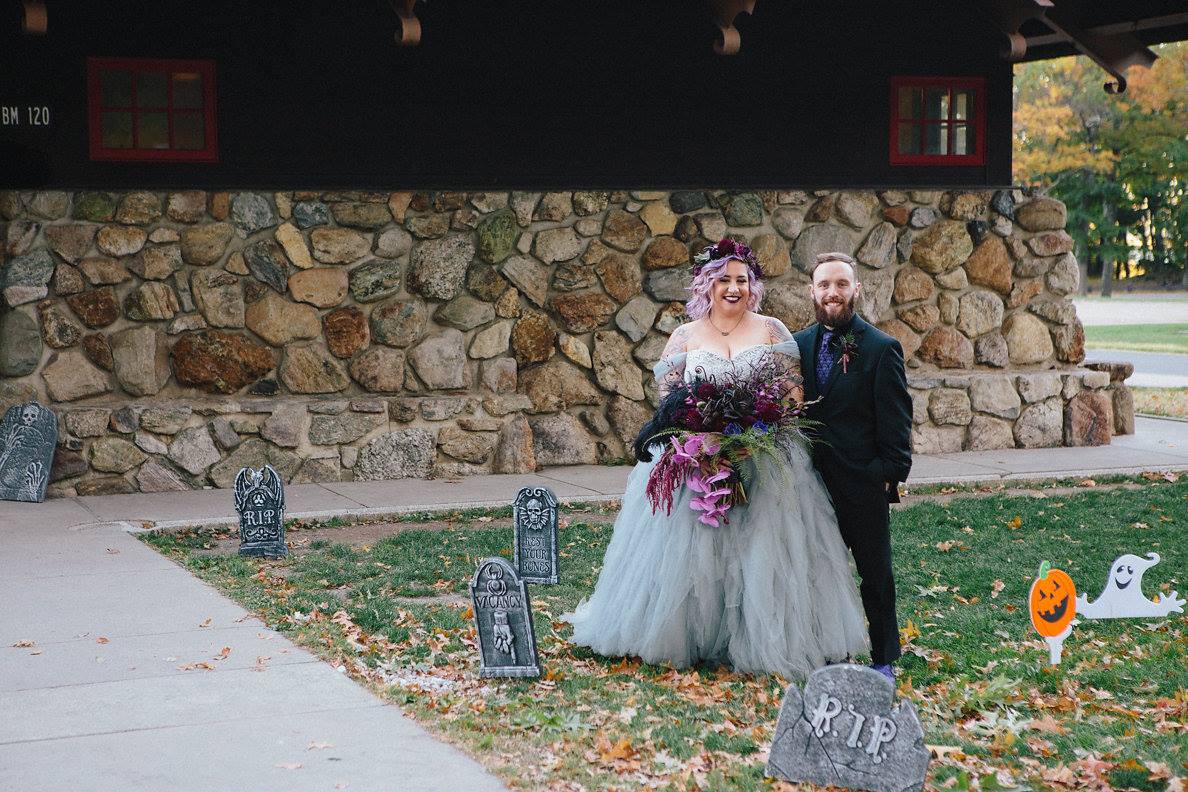 After talking to people about our wedding, I have come to realize a lot of couples feel pressured to conform to what they think their guests might be expecting. Regardless of whether or not you choose to have a bouquet toss, or if your ceremony is filled with Disney references (like ours was!), your family and friends are going to have a great time. Family I never thought would embrace the theme came dressed up in little witch hats and rode the merry-go-round all night long. Guests are still talking about my crazy bouquet, and how they got to dance all night to Halloween music and pop punk instead of the standard wedding songs. The lesson is that no matter how offbeat your wedding vision may be, it's okay to do you.