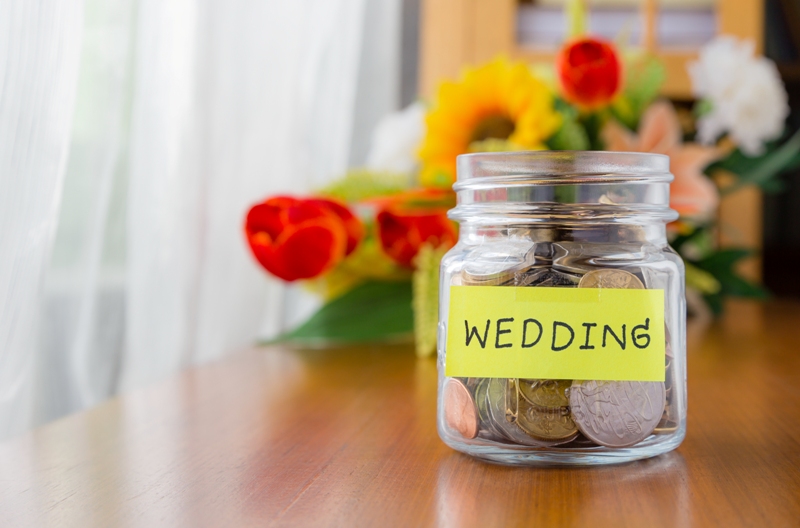 Disney Bride Sara is planning a Disneyland wedding at Disney's Grand Californian Hotel for March 2019.
In American tradition the bride's parents are responsible for the majority of the costs associated with a wedding, but in modern marriages many couples are footing the bill for their own celebration. What happens with a two groom or two bride wedding? What about a second wedding? And with the rising costs surrounding the big day, many parents who set money aside find it's not enough. So how should a couple determine a wedding budget and know what type of celebration they can afford when they are left with the bill?
My fiancée and I are paying for our own wedding event. We are a two bride couple and neither of our families have extra money to contribute to our union. We knew from the beginning that were we to get married we would be responsible for the financial burden. Until we decided on a Disneyland wedding I was dead-set on a bare-bones event. Once Disney became an option we needed to start thinking big picture and find out how we would come up with a lot more money! I am the nerd in the relationship so I got my spreadsheets going and we did some projections. Here is how we established our budget.
7 Tips for Setting A Wedding Budget When You're Paying for Everything
Before you start planning your budget I would advise drawing a metaphorical line in the sand. This line is the dollar amount you will not cross. It's not based exactly on what you can save, it's more about principle. Each couple has to determine that on their own, but finding this number before you start will eliminate some choices from your plate. Our DO NOT CROSS number eliminated any in-park ceremony or reception, unfortunately. If you know you aren't willing to spend over $80,000 on a wedding take Sleeping Beauty Castle off your list now. Luckily Disney's Fairy Tale Weddings has options for pretty much every budget, so even if you are paying on your own it doesn't mean your Disney wedding dreams can't come true!
1) Determine Your Priorities
What do you dream of for your wedding? Do you need every aunt, uncle, cousin, and grade school teacher in attendance or just your best friends? DJ or iPod playlist? Spring wedding or whatever works with your savings timeline? Do you need that in-park wedding no matter the cost? We made a list of everything we could think of and we each rated the importance of these items separately before combining them to find a shared vision. With a Disney's Fairy Tale Wedding there may be priorities that differ from a standard event, like character attendance or arrival via coach. Decide which of these special things made you chose DFTW and incorporate them into your vision. We found that as much as we would love an in-park wedding we loved the idea of getting married in the next two years more. We found our key budgeting items were Food, Guest Experience, and Photography. Here are our lists; 1 was our highest ranking, 3 the lowest.
2) Estimate the Expense
Based off of your needs and wants, come up with a rough estimate for the total cost of your wedding. The DFTW website has a basic cost estimate calculator but you will also need to factor in items not included in their figure like travel expenses, hotel accommodations, the cost of attire, and photography/videography if it isn't included in the package. Disneyland does not provide these options so we had to factor them in as additional expenses. If you love spreadsheets this is your chance to shine. Look to other online resources such as checklists and budget calculators to make sure you aren't forgetting something when you create this rough budget. Remember to add in some extra money to go to travel to your planning meeting and don't forget to tip your service providers!
3) Estimate Your Saving Potential
Now figure out a rough estimate of your savings potential. We each committed to a certain monthly figure to our savings account. There would be some months we could do extra but we knew that baring emergency we would be able to save at least a certain amount each month. If you have any seed money or any money contributed by a relative subtract that from your rough total cost. Now divide the remaining rough total by the rough monthly savings estimate. It will probably be disappointing. We would have needed to save for three years to make our first plans work. Maybe you are willing to do that? But most likely you'll want to get married sooner than later!
4) Make Cuts to Your Wedding Plans
Now go back to your wedding plan and see what you can cut. I said I would spend less than $1000 total on my dress, including alterations. Amanda said she could live without videography. We hacked away until we got the number a bit lower, moving items we really wanted but didn't need to a list we could pull from closer to the wedding if we exceeded our savings plan.
5) Adjust Your Lifestyle
Then go back to your personal finances and make some lifestyle cuts. What can you eliminate without being miserable? Can you dine out less or bring lunch to work? Can you cut out luxury services like manicures or internet subscription services? We did many of these things and also changed our phone plan, got rid of cable, and eliminated frivolous spending. One of the biggest things we did was commit to paying off our interest accruing debt as fast as possible before saving for our wedding. These were all debts that would have been paid off by the time we got married but would have been collecting interest (of over $1500 total) by that time. By attacking them fast we stalled a little on our saving plan but we saved all that money in interest and increased the monthly amount we were able to save once those credit cards were eliminated. Make sure to leave yourself a little money each month for fun. Amanda made me do this because at first I was putting every cent into the wedding. That is not sustainable if you are saving for over a year and it will make you resentful if you see your fiancé spending money.
6) Find Ways to Make Money
The other thing you might want to do is try to make more money. Easier said than done I know, but if you are creative you can increase your revenue. I own my own business so I worked to build my client load by tapping new markets to fill in my downtime. Amanda has a regular 9-5 job so she has been picking up pet sitting jobs to bring in extra money. It is hard work but it isn't forever and this extra effort will help us to have those little touches that will make our wedding really magical!
7) Revisit Your Budget and Timeline and Adjust as Needed
Now revise all your figures and see if your timeline is realistic with your life. We knew we could wait a little under two years to get married if it meant we got the time of year we really wanted and some of the special priority items we didn't want to give up. If your date is your top need you might have to sacrifice guest count or enhancements to make that work. We also want to stress that our goal is to not go into debt for our wedding. We want to have the cash to pay for everything up front, but we do have some credit cards available for unforeseen expenses and we really recommend that. We don't plan on needing them but it sure feels good to know that we have a safety net in place in case something comes up.
Hopefully this helps you to put together your budget. It is scary to commit to such a large number but we have found that it's made us stronger as a team and given us confidence that when we are ready to start saving for a house we will be able to do it.
What money saving tips would you add to this list?