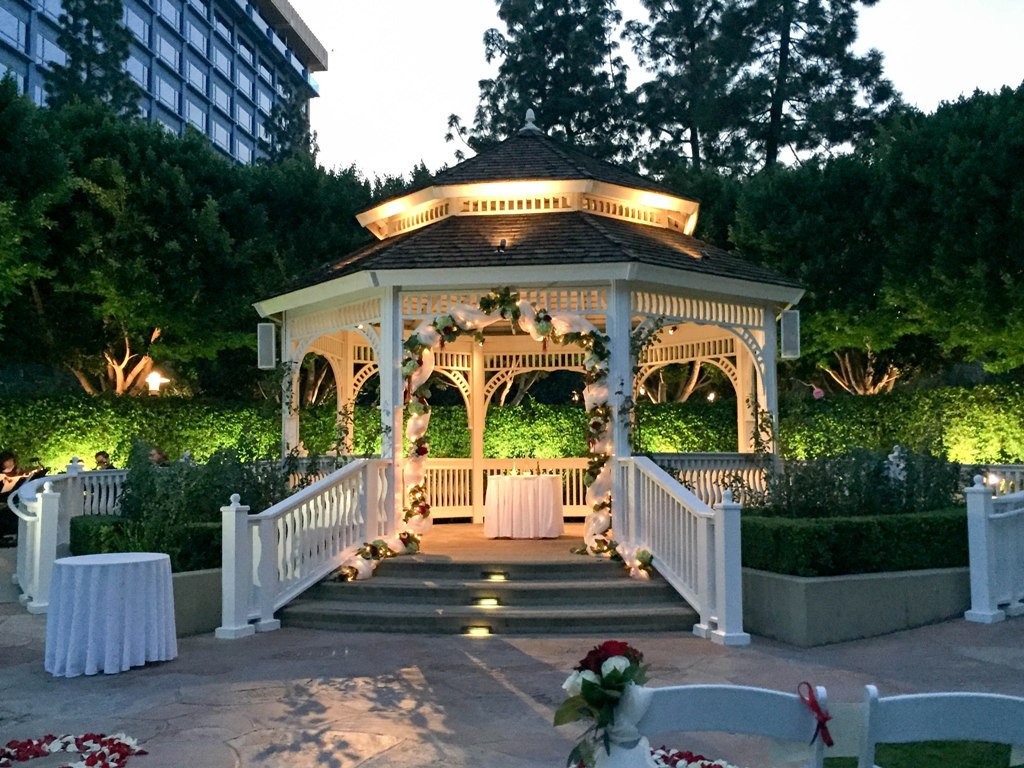 This weekend I had the great privilege to be present at the Disneyland wedding for my friends Renee and Diana! They had a beautiful very subtle Beauty and the Beast themed wedding, with red roses everywhere and books in their centerpieces. Their ceremony at the Rose Court Garden at The Disneyland Hotel took place right as dusk was falling, and the gazebo archway was decorated with tiny lights, tulle, and red and white flowers. The aisle was also decorated with red and white rose petals and varying heights of (battery) candles. I was also pleased to see the couple had utilized my "reserved seating" printables! As guests were being seated, we were serenaded by a string quartet. They sounded beautiful.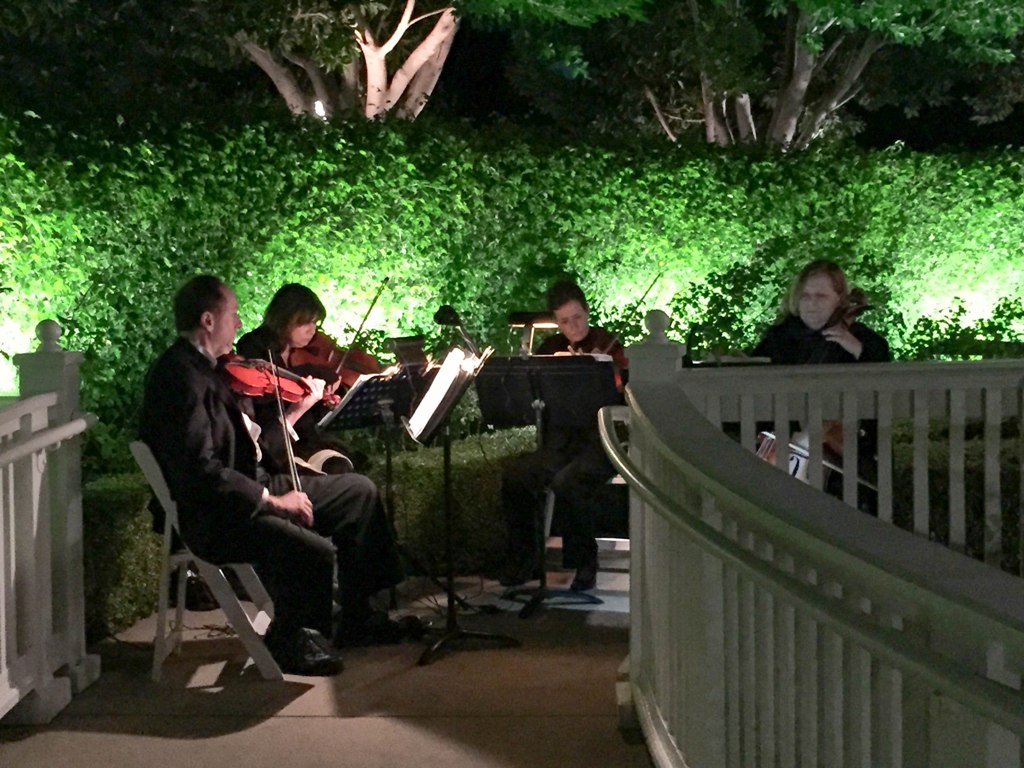 Their ceremony was very sweet. The couple walked out to "Kiss the Girl" from The Little Mermaid, and after exchanging their vows and rings, the officiant pronounced them "wifeys for lifeys." Diana and Renee requested an unplugged ceremony so I don't have any photos of the actual ceremony to share at this time! Hopefully their photographers will let me share a few photos when they are ready. I was able to grab a photo of their ring pillows – Marie and Pluto Tsum Tsums as a nod to their pets!
It was a bit chilly outside that night, so the pre-reception was moved to the foyer of the Magic Kingdom Ballroom, right outside of the Sleeping Beauty Pavilion. The first thing I noticed was a fancy new bar set up! I think it's LED and maybe they can change the colors to match the event's theming? That would be so cool! The couple chose the standard cheese spread, and also some passed appetizers I had never even heard of before! They included tiny chicken drumsticks with a cinnamon citrus glaze, artichoke with tomato salsa, and potato fritters with Gruyere sauce. The string quartet also moved upstairs and played fun Disney tunes while guests mingled.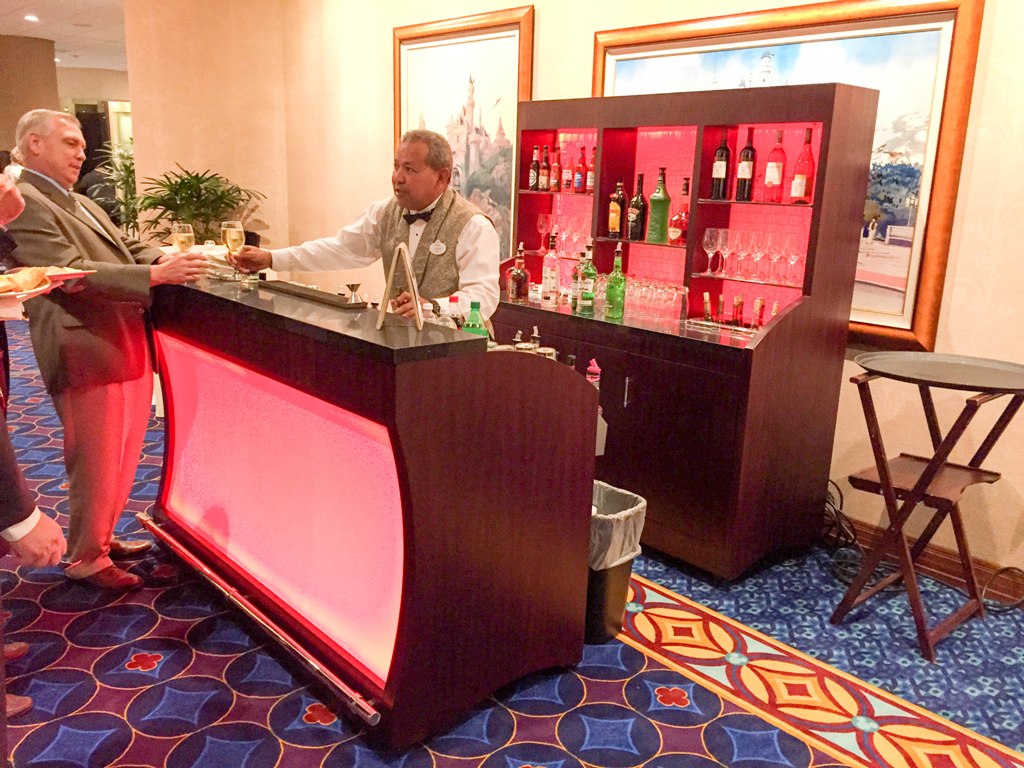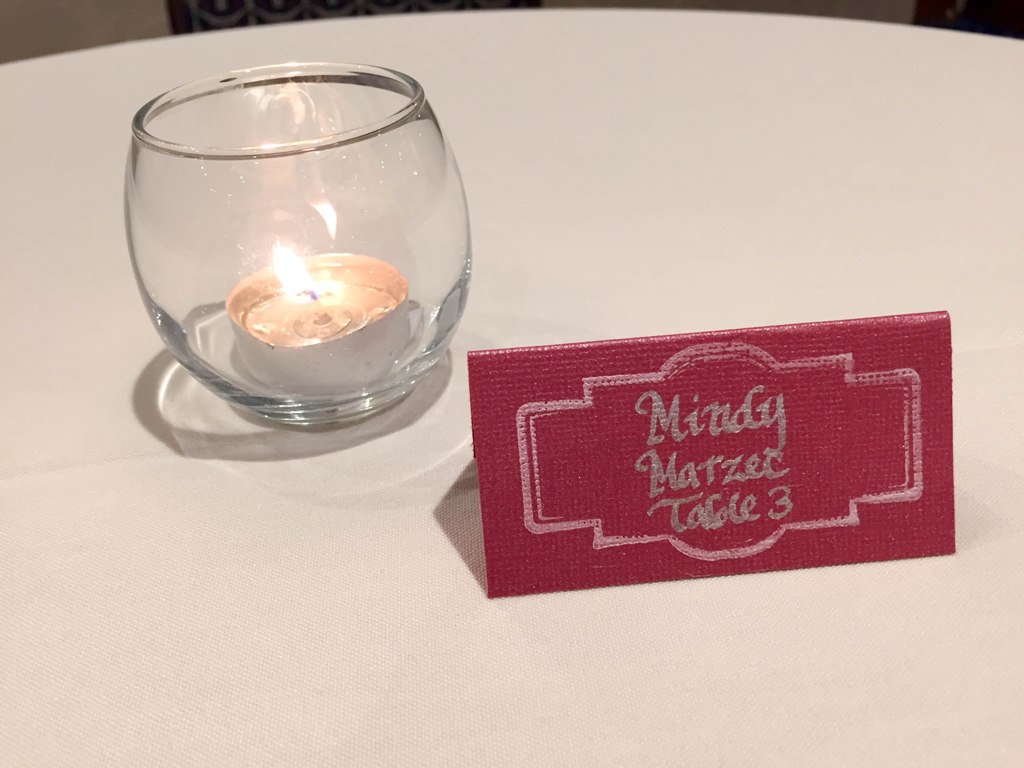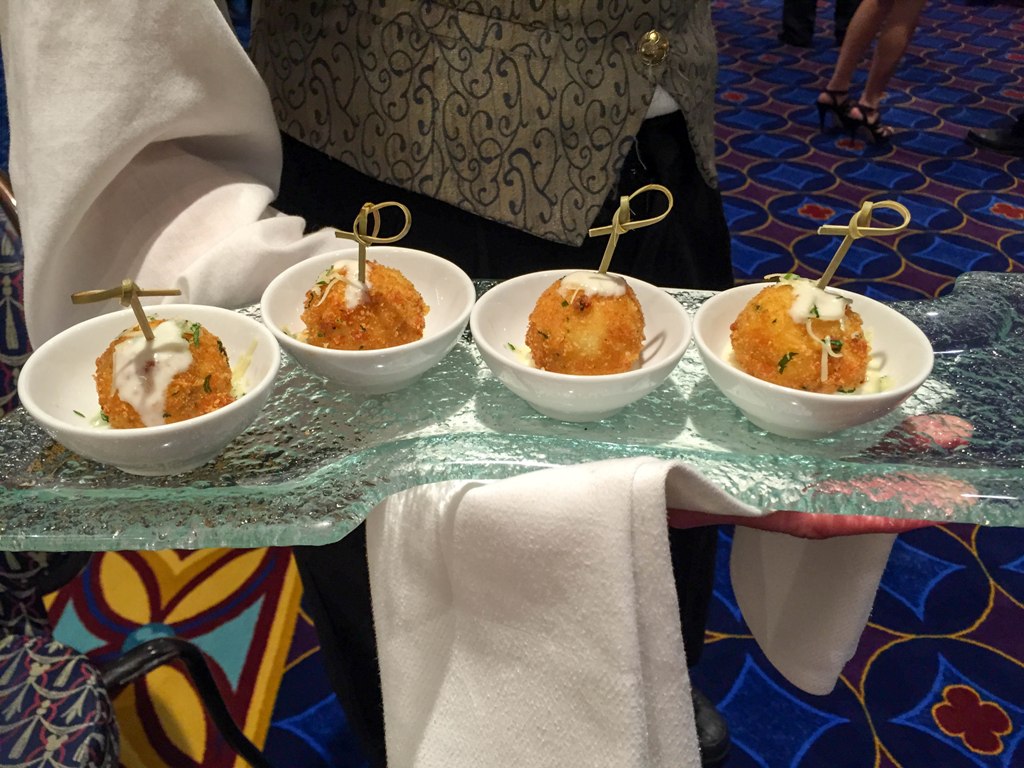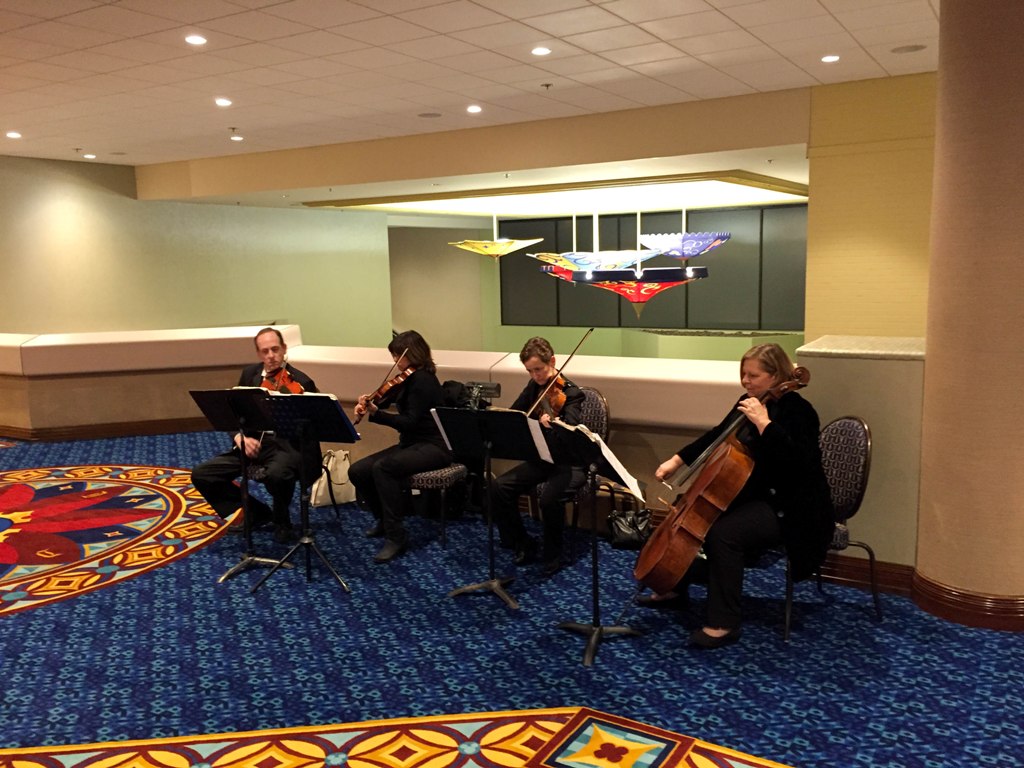 Once inside the Sleeping Beauty Pavilion, we saw a twinkling scene of red and white, with red tablecloths, red roses with floating candles, and stacks of vintage Disney books. At each place setting was a chocolate Mickey favor to take home! This was just an indication of how much food there was to come!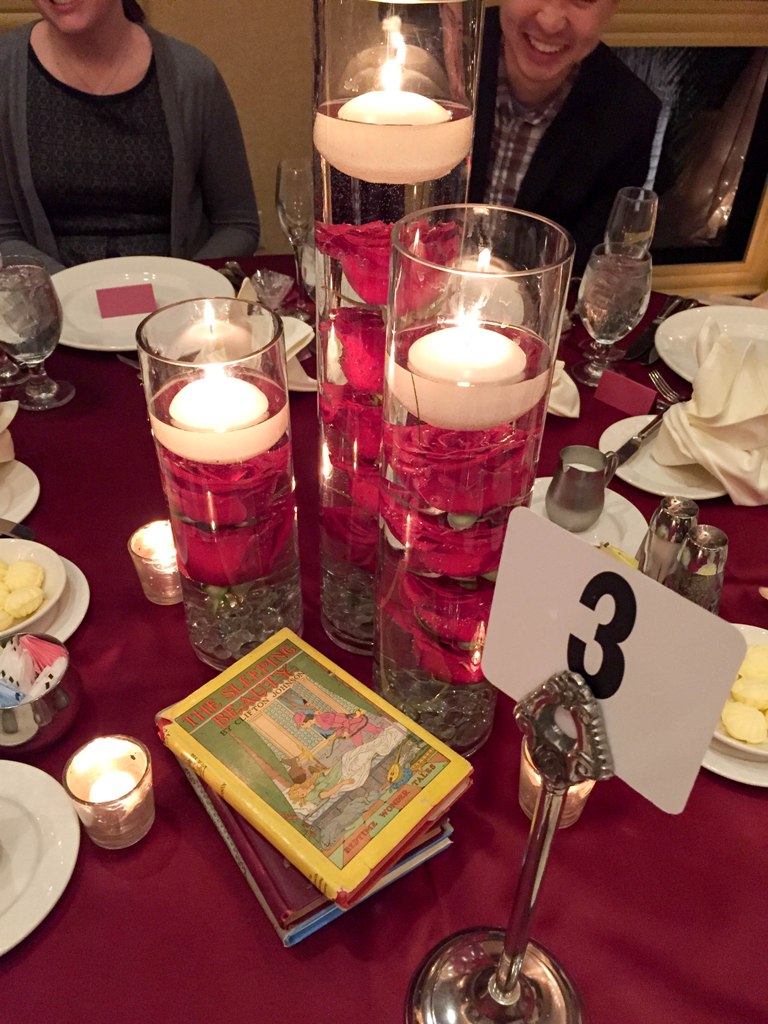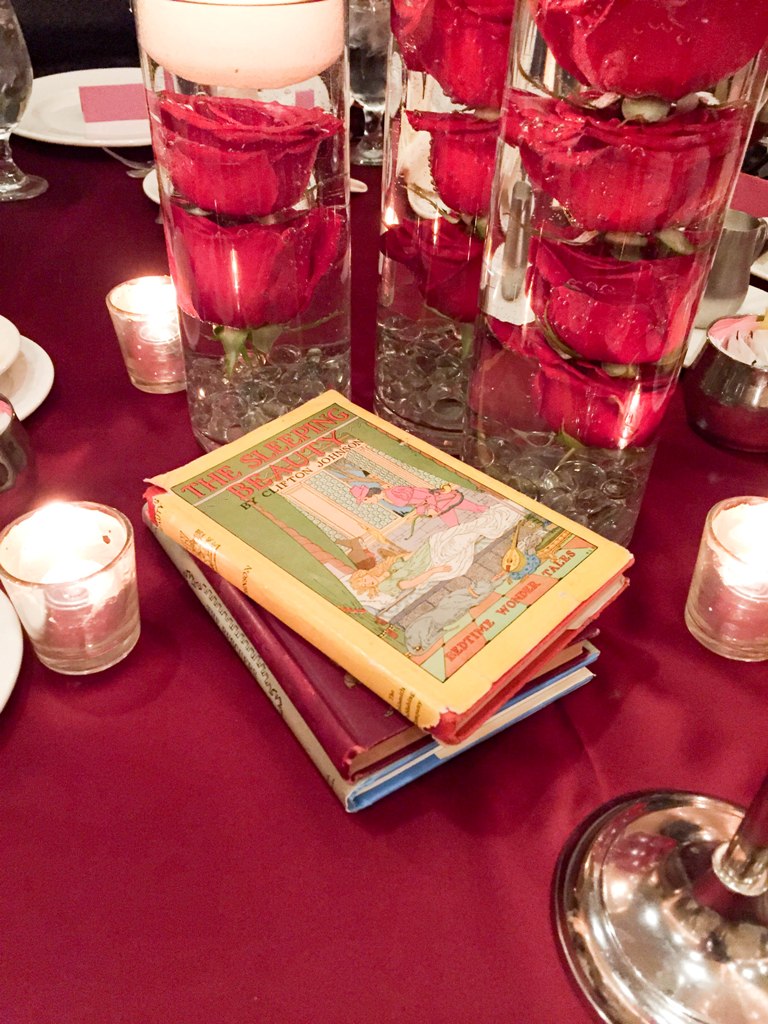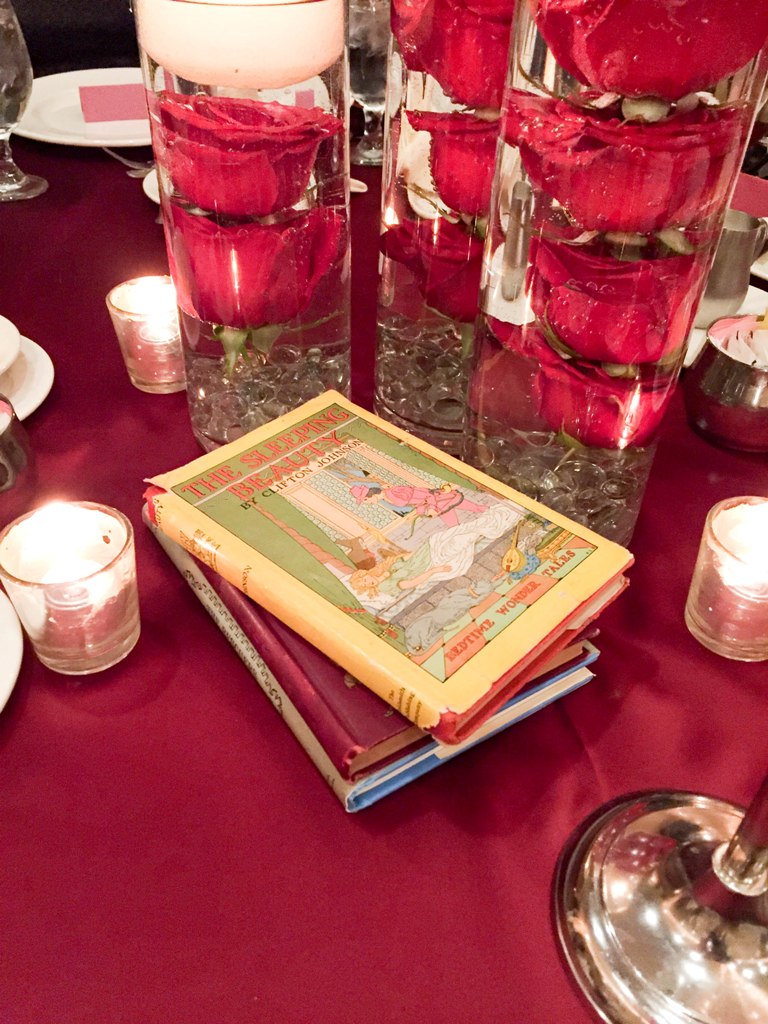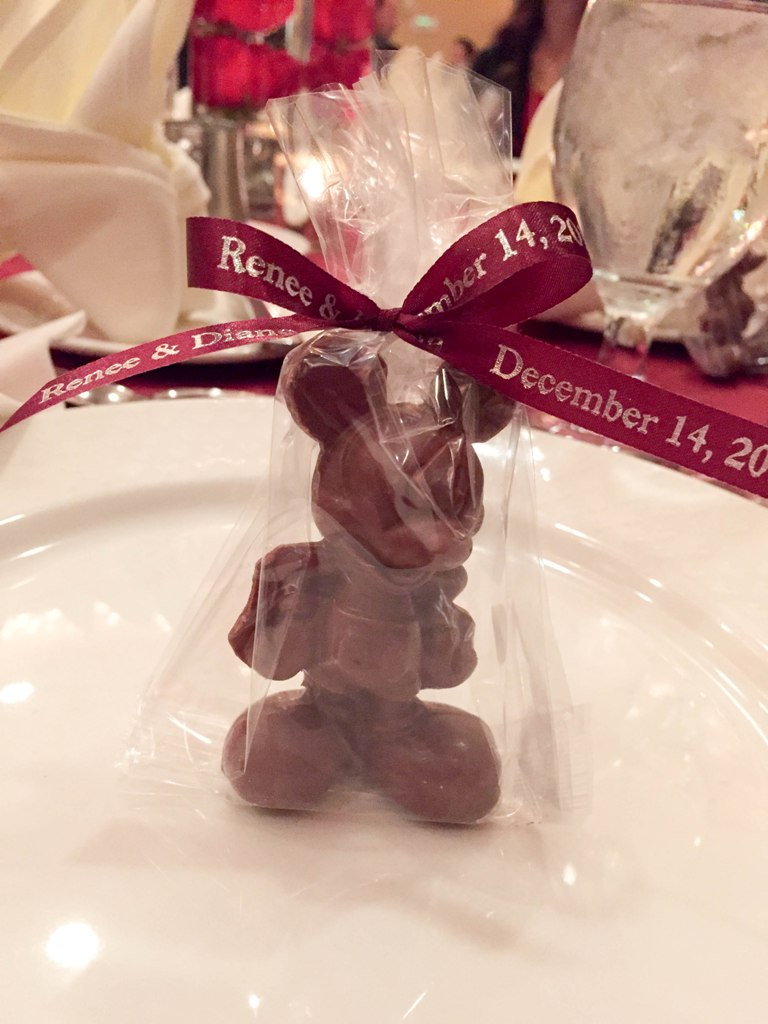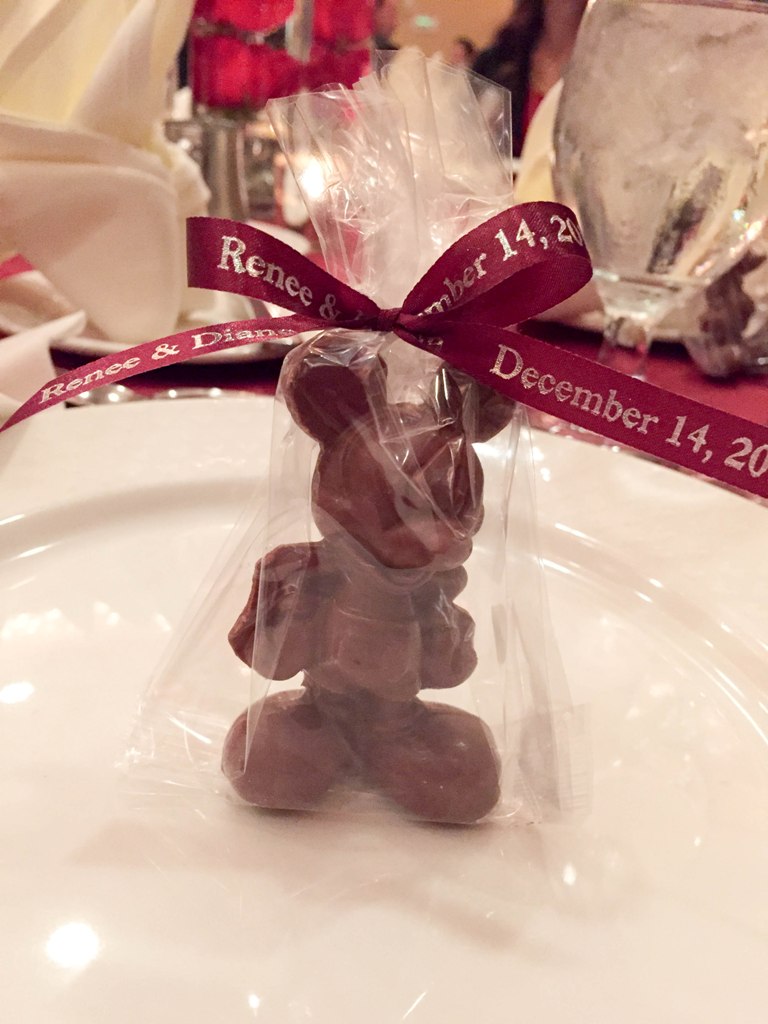 Renee and Diana were introduced and started their first dance. Now, this was a total first for probably everyone in the room … but a bee landed on Diana's face during their dance! We couldn't quite tell what was happening at first … I thought maybe it was a spider, and Diana told me she thought a leaf fell on her at first! The bee jumped down to her chest and then Diana swiped it off and stomped on it, and everyone cheered and applauded. It was quite amazing! I hear that having a bee land on you during your first dance is good luck … let's just go with that! The rest of the dance went smoothly and was beautiful to watch.
After the first dance, the meal service started! To start we had the Cesar salad with lemon dressing – so good!
The main course was a filet mignon and salmon duo, with mashed potatoes and steamed veggies. Mmmmm! The vegetarian dish was a portobello mushroom veggie stack, and my friend said it was very good!
After dinner we were treated to a special surprise – Donald showed up to help cut the cake! The cake looked wonderful! It was movie themed, decorated with chocolate film strips showing Disney movie scenes, and a light-up marquee as the topper!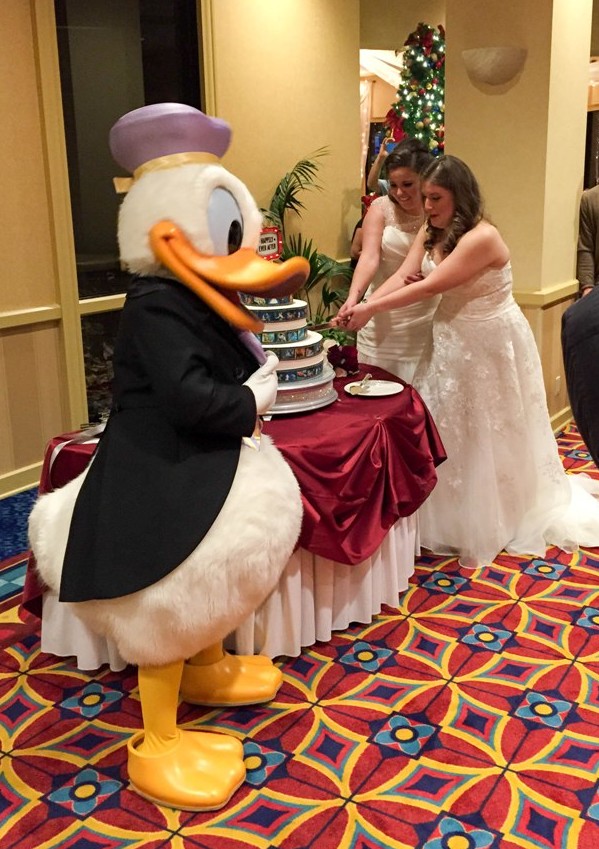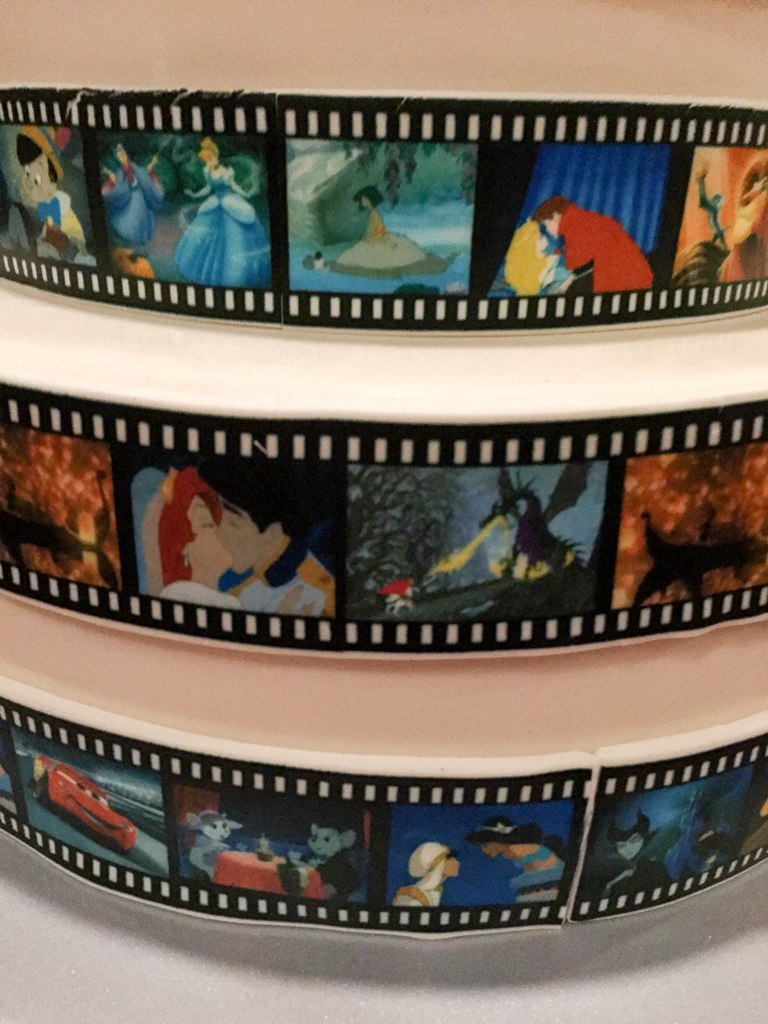 After posing for a couple pictures with the couple, Donald left and the dance floor opened while cake was being served. We received a slice of vanilla cake with chocolate chips. So good! I guess I was excited because I forgot to take a picture of it!
After a little more dancing, the DJ made another announcement, this time introducing Mickey and Minnie! They were there for a special "meet and greet" with guests. There was a backdrop set up near the entrance to the Sleeping Beauty Pavilion. First Mickey and Minnie took a few photos with the brides, then some with families and special requests of the brides. Then guests were able to meet and take pictures with Mickey and Minnie. It was so fun! I had never experienced this "meet and greet" set up before, and I think it works really well.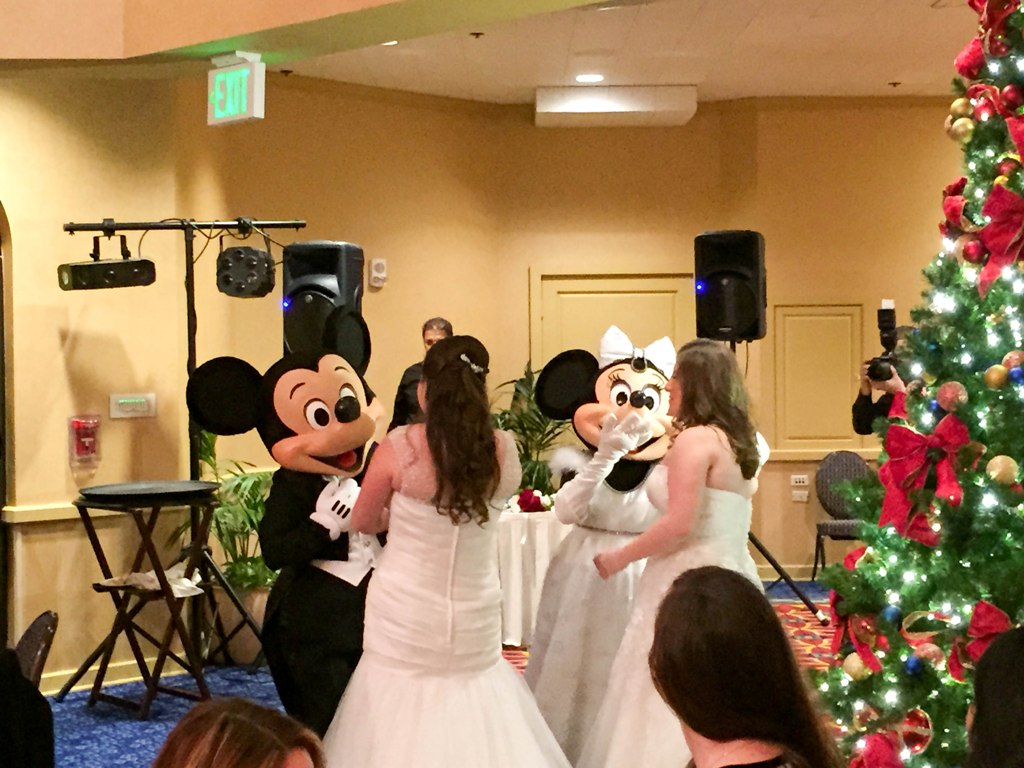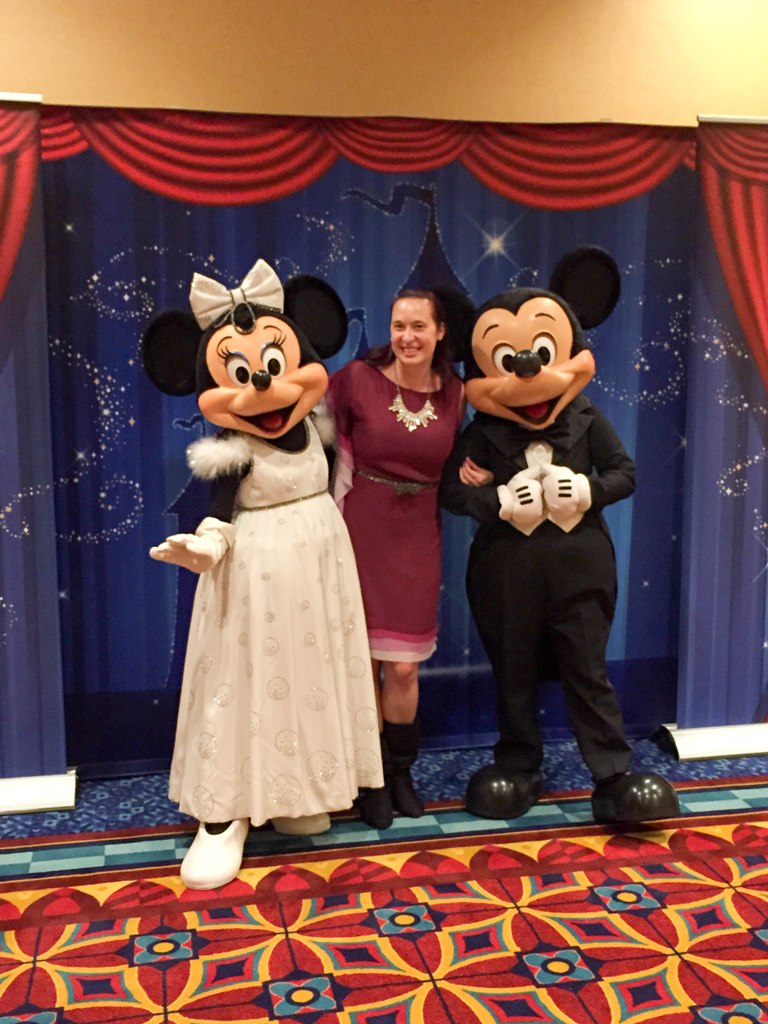 After Mickey and Minnie said good-bye, we were treated to a late night dessert … by this time I was pretty full but I couldn't pass up this chocolate and caramel bite-size piece of heaven. And the little salted caramel macaron on top was so cute. They even had mini chocolate film strips to match their cake.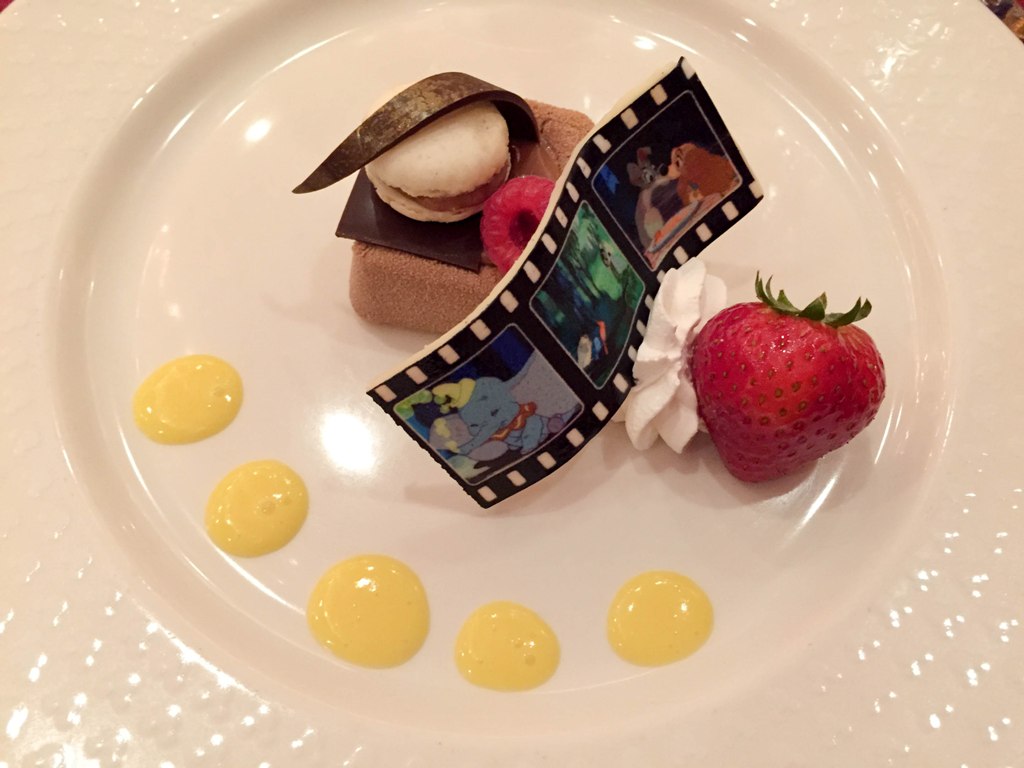 I danced a little more to work off all that food before saying good night to the beautiful couple. What a fun and beautiful wedding! Thank you to Diana and Renee for inviting me to witness the start of your happily ever after.