This post contains affiliate links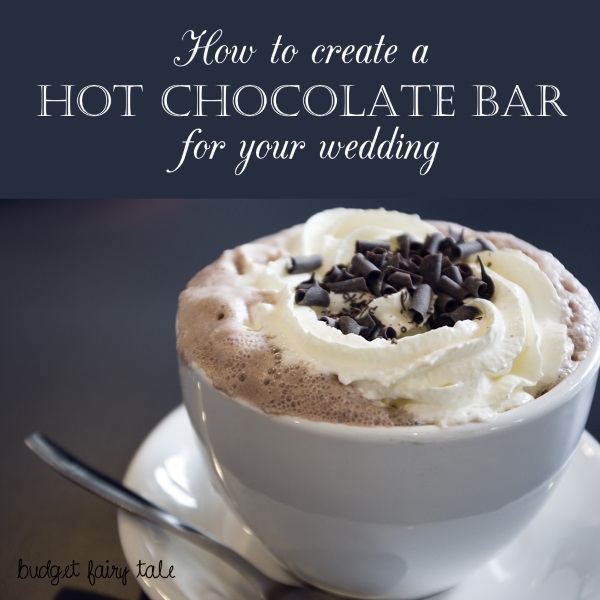 When the weather outside is frightful, there's nothing better than a nice warm cup of hot chocolate … you might even say it's delightful! I super love the idea of a hot chocolate bar at a wedding reception. I love it so much that we almost had one! Well, at our dessert party, technically. Have you had the hot chocolate at Disney's Grand Californian Hotel? It's next-level insanely good. Like drinking a bar of chocolate.
Hot Chocolate from Disney's Grand Californian Hotel. Personal photo.
Ultimately we cut the hot chocolate to save money (we felt the ice cream sundaes, churros, cotton candy, and champagne was plenty, and we were right). But I think an end-of-reception hot chocolate bar at a wedding is one of the best ideas ever. If you're having a Disney themed wedding, how cute would it be to set out Disney mugs all the guests can take home as a favor?
I've compiled some topping ideas and supplies you may need/want for your hot chocolate bar. Try not to drool on your keyboard while you scroll through it!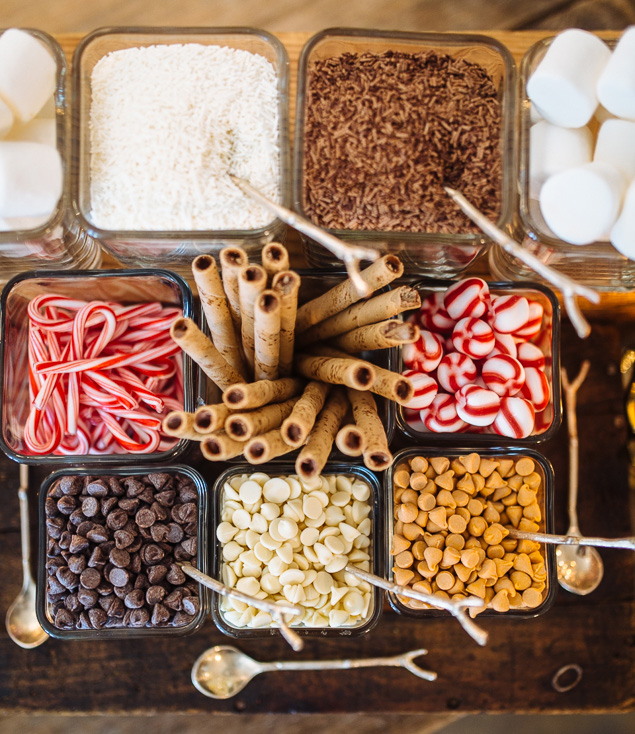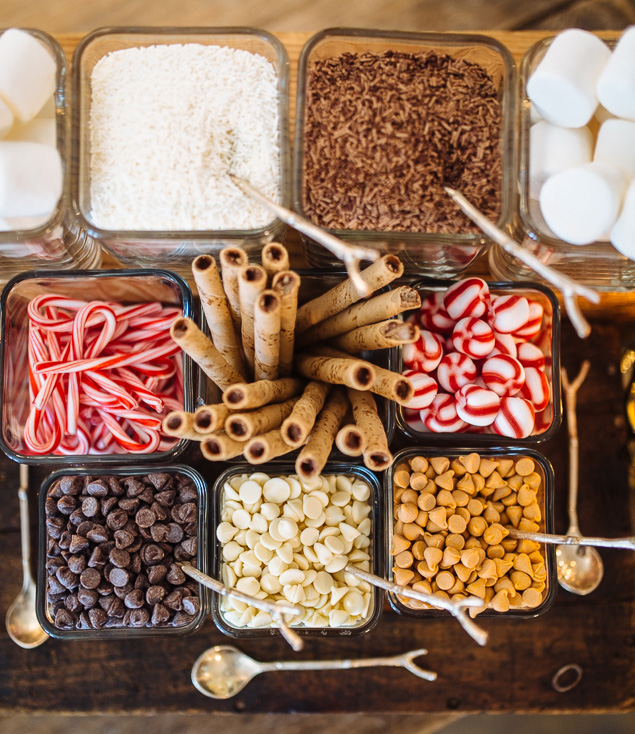 MANDATORY
Obviously you'll need the hot chocolate itself. If your venue or your caterer cannot provide it, see if they can provide the hot water and mugs, and you can provide hot chocolate packets.
If your venue cannot provide the mugs, I recommend ordering some insulated coffee cups with lids.
[lasso ref="swiss-miss-hot-cocoa-mix-regular-50-packets-box-one-box-of-50-envelopes-each" id="44430″ link_id="28426″]
[lasso amazon_url="https://www.amazon.com/gp/product/B08LF3RN88?tag=budfaital-20&ref_=as_li_ss_tl" ref="100-sets-12-oz-insulated-rippled-double-wall-paper-hot-coffee-cups-with-lids-burgundy" id="44436″ link_id="28695″]
MIX-INS:
A selection of milk (nonfat, whole, half and half, non-dairy) or flavored coffee creamers
Creme de Menthe syrup
Peppermint syrup
Chocolate or Vanilla powder
Hot fudge
Caramel sauce
Chocolate dipped spoons (swirl your chocolate-covered spoon in the hot chocolate and let it melt!)
[lasso type="grid" category="hot-chocolate-bar" link_id="28427″]
MIX-INS FOR THE ADULTS:
Baileys
Kahlua
Grand Marnier
Amaretto
Frangelico
Peppermint Schnapps
TOPPINGS:
Whipped cream
Marshmallows (or peppermint-flavored marshmallows!)
Chocolate chips
Orange zest
Cinnamon
Crushed graham crackers
Crushed chocolate cookies
Peanut butter chips
White chocolate chips
Butterscotch chips
Rainbow or chocolate sprinkles
Coconut shavings
Sea salt
Toffee
Crushed up candy bars
Marachino cherries
Cinnamon sticks (double as stir sticks)
Candy canes (double as stir sticks)
SUPPLIES
Spoons
Stir sticks
Straws
Printable "hot chocolate bar" sign
If you're planning a Disneyland wedding, here's what you need to know about having a hot chocolate bar:
– I haven't spoken with any Disney wedding couple who has actually had a hot chocolate bar set up with all the toppings and add-ins and such. It doesn't mean they can't do it, I just can't confirm it.
– I can confirm Disney's Grand Californian Hotel has amazing hot chocolate and yes, you can have it for your wedding reception (or possibly pre-reception, or rehearsal dinner, or welcome party, or dessert party, or farewell brunch?).
– I haven't been able to confirm if receptions at the other two hotels, The Disneyland Hotel and Disney's Paradise Pier Hotel, can serve hot chocolate.
– I know Disney's Grand Californian Hotel and The Disneyland Hotel offer ice cream sundae bars, with various toppings such as rainbow sprinkles, whipped cream, and hot fudge, just to name a few. I suspect they could perhaps pull out these toppings for a hot cocoa bar also, but I don't know for sure! You would have to check with your DFTW planner.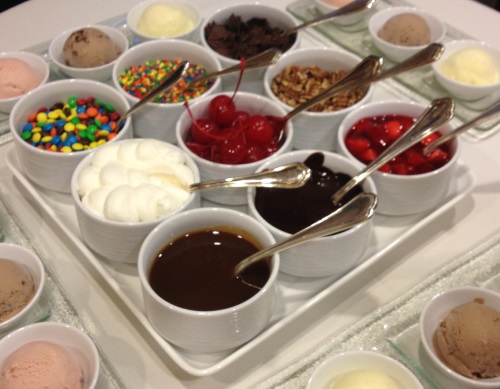 Sample toppings for ice cream sundae bar. Personal photo.
If the hot chocolate bar is a total no-go for you, consider sending guests home with "hot chocolate in a jar!" Fill a sealed mason jar with hot chocolate powder and marshmallows, and tie a chocolate & peppermint dipped spoon around each one!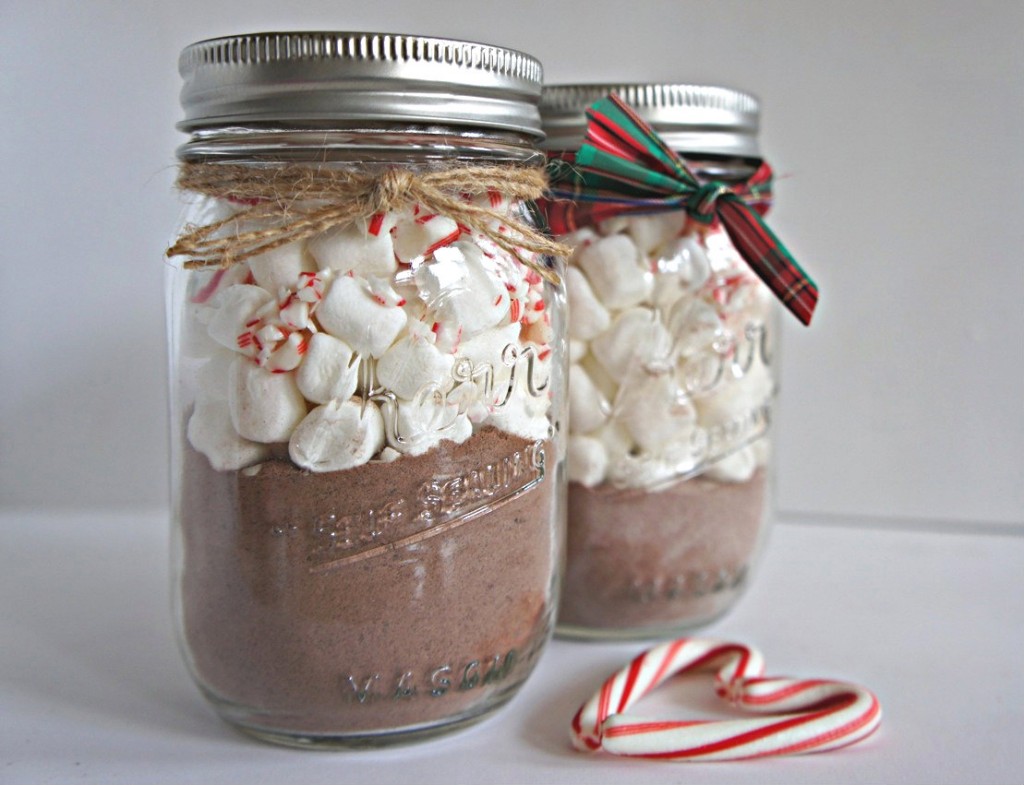 Have you ever been to a wedding with a hot chocolate bar? What toppings would you pick for your mug?
Top image by David Dewitt
Toppings image from Chef Kelly's Kitchen
Bottom image from Seeking Shade