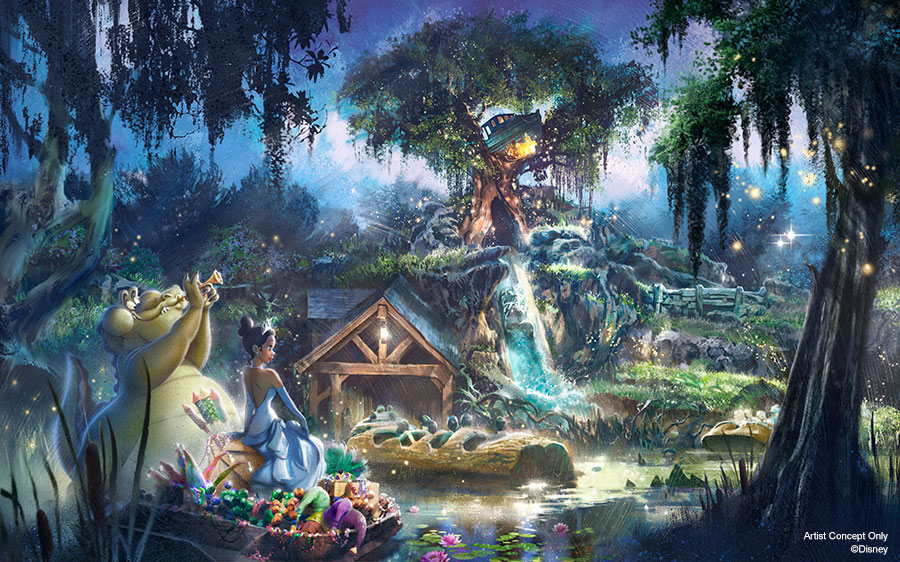 Disney made a major announcement today – they are reimagining Splash Mountain at Disneyland and Magic Kingdom Park! The new theme will be inspired by the animated movie "The Princess and the Frog."
While I personally love the thrills of Splash Mountain, the theme from "Song of the South" has always been problematic and I don't mind seeing it go off into Yesterland. I know the Imagineers will do a fabulous job with the retheming and I'm happy to see Disney's only Black princess receive better representation in the Parks.
While we only have some very basic information right now, I want to point out five important facts about Splash Mountain's retheming.
5 Things to Know About "The Princess and the Frog" Reimagining for Splash Mountain
1. The retheming will take place at both Disneyland and Walt Disney World. For now, Splash Mountain at Tokyo Disneyland will not be changed. There is currently no announced dates for when the current Splash Mountain will close for the reimagining. (Personal note – if I had to bet, we will hear about a reopening date for the new Splash Mountain at D23 Expo in summer 2021.)
2. The new Splash Mountain theme has been in the works for many months. Even though there has been recent demands from Disney fans to replace Splash Mountain's "Song of the South" theme with "The Princess and the Frog" as a result of the civil rights protests in June 2020, Imagineers had already begun working on this in 2019.
3. The senior creative producer leading this project is a Black female Imagineer. According to her LinkedIn profile, Charita Carter has been with the Walt Disney Company for over 20 years and in her current position for 10 years. She most recently worked on developing Mickey and Minnie's Runaway Railway, which opened at Disney's Hollywood Studios in early 2020 and is currently in development for Disneyland's Toontown. There's a great recent interview with Ms. Carter on Black Girl Nerds.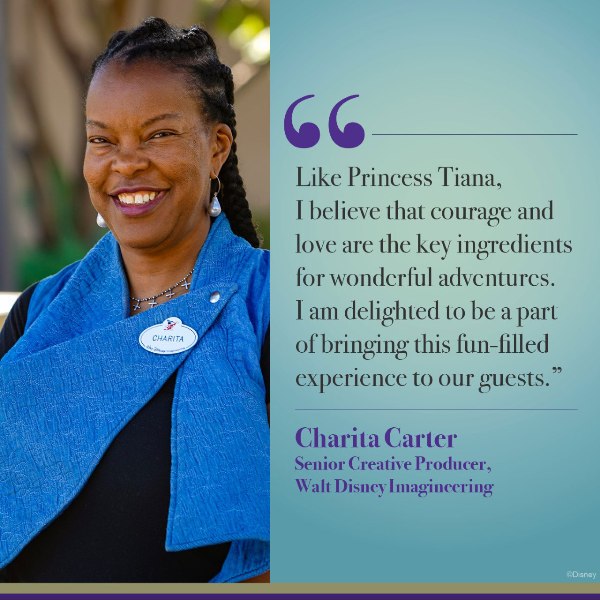 4. The story in the re-imagined attraction will take place after "The Princess and the Frog." Disney tells us, "We pick up this story after the final kiss, and join Princess Tiana and Louis on a musical adventure – featuring some of the powerful music from the film – as they prepare for their first-ever Mardi Gras performance."
5. The retheming of Splash Mountain in Disneyland will expand New Orleans Square. Right now Splash Mountain is part of Critter Country, but is next to Haunted Mansion which is part of New Orleans Square. Retheming Splash Mountain to "The Princess and the Frog," which takes place in New Orleans, is a natural fit for Disneyland and will effectively expand the area of New Orleans Square!
You can read the full announcement here on Disney Parks Blog.
How do you feel about the Splash Mountain changes?