Disney Bride Teresa is planning an At-Home wedding with a Haunted Mansion theme for October 2016.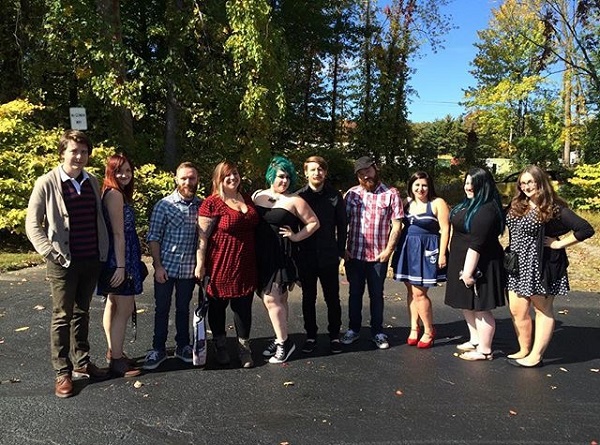 Before I got engaged I was convinced I was going to be getting married at Walt Disney World. I would have bet a million dollars on it and ultimately I would have lost that bet. I always said I didn't care about who ended up coming as long as my wedding was at Walt Disney World. Once I actually got engaged (in Walt Disney World) things became a lot more real. Peter and I consider our friends to be a big part of our family and the thought of not having a good portion of them there and not being able to celebrate with them was heartbreaking. There was also no way our budget would allow us to do both a wedding at WDW and a celebration at home, so in the end we realized we would regret not being around our loved ones more than not having our wedding at Walt Disney World (there are always vow renewals!) and came to the decision to have the wedding close to home.
It was super important to still incorporate Disney into our wedding but the biggest question was how? Do we have a generic Disney wedding? Do we base it off our favorite Disney movies? Different lands in Magic Kingdom? It was really important to me to not have it look like just a bunch of Disney thrown together but for the wedding to have a cohesive theme and feel from start to finish. My goal is to even have the guests who aren't so much into Disney still have a great experience and enjoy the theme. After a bit of brainstorming and discussions, we settled upon having a Haunted Mansion themed wedding.  Our wedding is in October and we both absolutely love Halloween. I'm one of those people who doesn't understand why it isn't Halloween every day. The Haunted Mansion is also one of our absolute favorite rides so the decision seemed quite easy and natural for us.
The biggest issue with picking such a specific theme is sticking to it completely. To keep things cohesive, nothing else is allowed to sneak in to the wedding, which is pretty hard to do considering our love for all things Disney as well as other fandoms. The conversation with Peter about no lightsabers being allowed during our reception entrance was a hard one to have. I've had to really turn our wedding into a brand and become the brand marketing manager of our wedding. The last thing I want is for some guests to whisper that our wedding is only "sort of themed" or for guests to be confused as to what we are going for. The question I ask to myself or to others when it comes to making decisions about our wedding is, "How can I relate it back to Haunted Mansion?"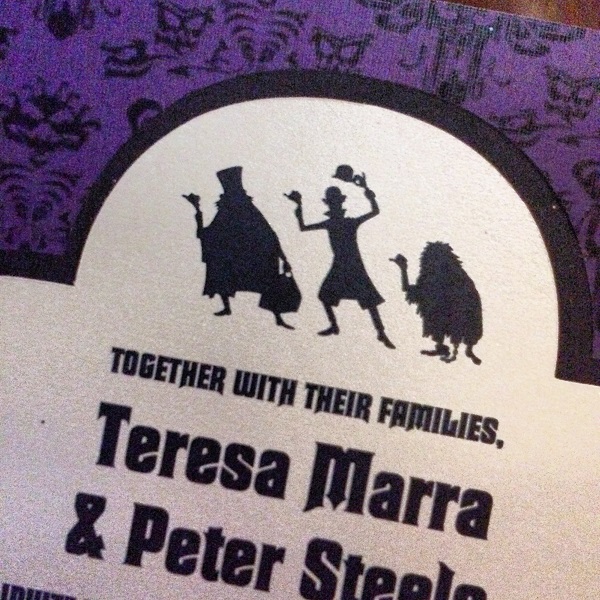 If you want to have an immersive and specific theme wedding, you definitely have to keep yourself on track because it's very easy to sway. A few things I did from the start was make a list of all the things that would pop into my head first when I thought about the Haunted Mansion, which included colors, mood, tone, and items. I also did a ton of research, including finding a transcript of the ride so that I could pull out various parts for our invitation and actual ceremony.  My theme was also the first thing I spoke about when I was talking to vendors; if they didn't seem into it or just didn't "get it" it meant they weren't the right vendor for us. It also really helps if you are crafty (or have really crafty bridesmaids, shout out to my bridesmaid Melissa for being an invitation wizard!) and can DIY a lot of your wedding items. I am making my own centerpieces, creating most of my decor, working with my best friend to create perfectly themed invitations, and found an officiant that would create a totally custom ceremony just for us. It has been a little extra work but seeing the vision of a complete Haunted Mansion wedding come to life is definitely going to be worth it.
Thank you Teresa for sharing this great advice! Also, a note from the Editor … I think you can get away with having lightsabers. Lightsabers are always a good idea.

Related Posts:
Attraction Inspiration – Haunted Mansion
A Haunted Mansion Proposal
Jackie's Haunted Mansion Ring Box
A Nightmare Before Christmas Disneyland Proposal at the Haunted Mansion
Real Disney Weddings – Nadia and Danny's Halloween Disneyland Wedding