This post contains affiliate links.
Okay, I'm taking some major deep breaths with this post.
For those of you who know me personally, or maybe even if you just follow me online, you may realize I'm a really modest person. I've always been that way. I've never been a fan of tight clothing or showing a lot of skin. When it comes to swimwear, bikinis have always been out for me. Even in high school, when I was rail thin, I felt too shy and uncomfortable to wear a bikini.
Aside from being modest, I've always felt like I didn't have the body for a bikini. I'm self conscious about several aspects of my body that I'm sure no one else really notices, but in the end I'm generally happier being covered up. So the fact that I'm posting pictures of myself in a bikini on here is giving me minor heart palpitations. But this bikini is so good, I feel like I need to share the news for anyone who is body conscious like me. Ladies, I swear this is the PERFECT bikini.
The problem with bikinis has always been the cut of the briefs. For me, my lower body holds all of my trouble spots and I've never felt comfortable with how skimpy bikini briefs can be. In my younger years I would often wear bikini tops with swim shorts, and often they were mismatched because I couldn't find a complete set I was totally happy with.
I actually first spotted this bikini on Instagram, although I'm sad to say I can't remember where now. But I loved it because it reminded me of vintage swimsuits – plenty of coverage but still feminine and sexy. The search was on, and it actually didn't take long for me to find the same bikini – conveniently on Amazon! The reviews were stellar and the price was right, so I took a gamble and ordered a couple suits.
And I'm so glad I did. I'm convinced this is not only the best bikini for modest curvy girls like me, but the best bikini for ALL body types.
I'll start with the top. The bikini top is a halter that ties in the back and ties behind the neck for a perfect fit. The cups provide full coverage. Let's just say I run into the problem of … uh … "spillage" with most bikini tops. Not a problem with this one. The cups are padded for modesty and they have a bit of a push-up … okay, a lot of push-up. Let's just say for us ladies who are getting older, it helps keeps everything in place.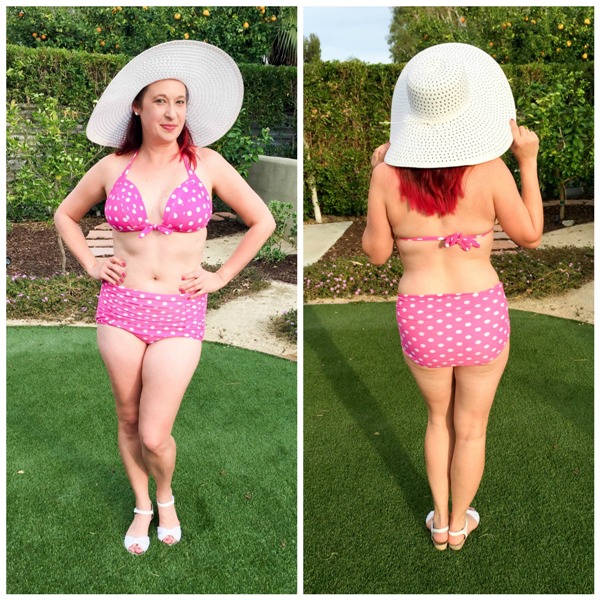 And as for the bikini bottoms, they are literally perfect for me. EXACTLY the kind of coverage I like (aka – full coverage). There is ruching on the front which is really flattering for the tummy. They can be pulled up past the belly button to your natural waist, if you want. Or you can adjust them so they sit lower. OPTIONS! As for the rear, everything is covered, nothing is hanging out (thank goodness – no one wants to see that). You can splash around in the pool with no fear of wedgies.
The bikini is the Cocoship Vintage High Waisted Bikini on Amazon. This is the brand I ordered. There are a couple other brands with near identical styles at similar prices. The only one I can vouch for is the Cocoship brand since that's what I own.
The sizing is a little weird. They are sized as follows:
S:US2-4
M:US6
L:US8
XL:US10
XXL:US12
XXXL:US14
XXXXL:US16-18
The size labels are a little unfortunate. I'm a size 10 and in the real world, generally I'm a Medium or Large. But based on their size chart I ordered the XL and it does fit perfectly. The suits do have a lot of reviews where women share their measurements and what size they ordered, so there's lots of help out there if you're concerned on what size to order. I also read a lot of reviews where the bottoms fit perfectly but the top did not, or vice versa. Luckily at around $25 these suits are inexpensive enough that you can mix and match sizes (or even colors!) if you need to. So don't focus on all those Xs and just order whatever corresponds to your number size.
And it does bum me out a little that they only go up to size 18. I realize that's better than a lot of department stores but I wish they made some more sizes. Maybe if enough people write to them and request more sizes, they will accommodate.
For me, I bought the plain black bikini and the pink polka dot bikini (which it appears is sadly unavailable now), with the intention of mixing and matching. I actually fell in love with this striped bikini top from Target and it works perfectly with my Cocoship bikini bottoms. So feel free to order a Cocoship bikini in a solid color and mix and match with separates from other stores!
They do also offer some cute prints … I actually just ordered a third Cocoship bikini in a floral print because it seems perfect for Hawaii.
I'm stepping out of my comfort zone and sharing this post (and pictures) because I feel all women deserve to feel comfortable in a swimsuit. I know it's difficult for a lot of us … myself included … to step out and show a lot of skin. This retro style bikini is so flattering and so comfortable, AND inexpensive, that I simply didn't want to keep this secret to myself.
So if you're gearing up for summer and dreading swimsuit shopping, order one of these Cocoship bikinis and see if you like it. They are a small investment and you can always return it if you don't love the fit.