Disney's annual conference for social media influencers is currently underway at Walt Disney World, which means we can always expect some good announcements!
This year attendees learned about Toy Story Land at Disney's Hollywood Studios and Shanghai Disneyland, new hotels coming to Walt Disney World and Disneyland Paris, and exciting itineraries for Disney Cruise Line.
But what I'm really interested in is what's happening at Disneyland!
We got two big announcements this week, and they both have to do with my favorite Disneyland attraction: food.
We knew Cove Bar was being renovated and rebranded along with the entire Paradise Pier area at Disney California Adventure. We now know it will be called Lamplight Lounge and will officially open on June 23, 2018. And, yes, lobster nachos will still be on the menu!
From the Disney Parks Blog:
Lamplight Lounge will serve California casual gastro-pub cuisine that is playfully presented along with unique signature cocktails. This seaside lounge contains a full bar with picturesque waterfront views from both upstairs and downstairs. At night, outdoor seating provides views of the illuminated Pixar Pier and "World of Color."
Renovated from an old warehouse factory, the location has kept many features of the original two-story building. The steel structural elements as well as concrete and brick walls were exposed and repaired to tell the story of its past. The original wood boards from the factory were refinished and given new life as ceiling panels and floors. The furniture style echoes a relaxed feel and the end result is an open, airy and bright place that is organic yet sophisticated.
Lamplight Lounge celebrates the creativity, inspirations and personalities of the artists and storytellers who have brought Pixar stories to life. Guests will discover the artistic marks that the Pixar "regulars" have left throughout the lounge: concept art, a quick sketch on a napkin, knick-knacks and collectable toys of beloved Pixar characters will adorn the space.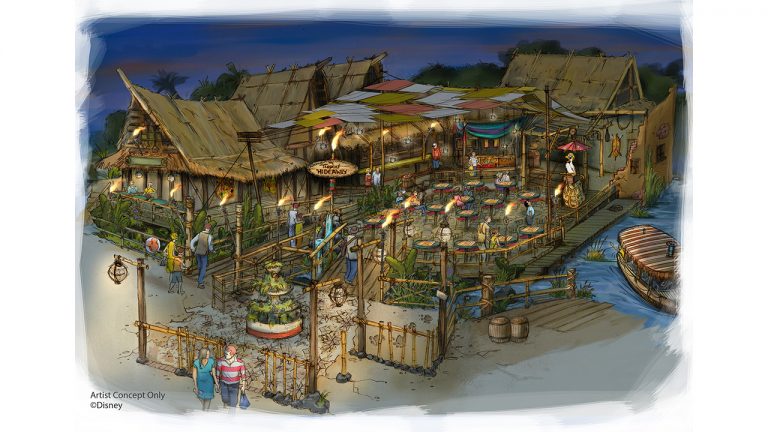 Across the way at Disneyland, we just learned plans for the old Aladdin's Oasis area in Adventureland. This area has been long abandoned and in need of refurbishment! This area will become "The Tropical Hideaway" (fitting since it's adjacent to Walt Disney's Enchanted Tiki Room) and it appears it will be a spot for snacks and entertainment. I'm so excited for this new addition to Adventureland and can't wait to hear more about it!
From the Disney Parks Blog:
This one-of-a-kind destination will be a popular rest stop for Adventureland locals and weary explorers alike. Guests will be able to rub elbows with their favorite skippers in an exotic traders' market, featuring all of the sights, sounds and flavors of the tropics.
There is no opening date announced for The Tropical Hideaway just yet, but I'm hoping it will be before summer.
How do you feel about these new dining experiences planned for The Disneyland Resort?
Photo credit and copyright: Disney