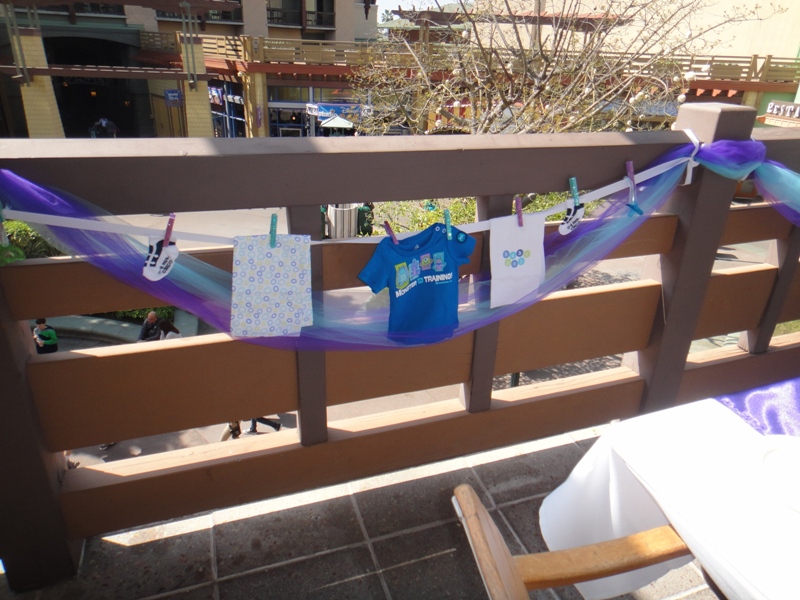 Today, I'm excited to share this really cute and really fun Monster's Inc baby shower for my friend Courtney. But at the same time, I'm embarrassed by how long it took me to post it … this was over two years ago and now Courtney is expecting their second little monster! But this was such a fun day and our friends Wendy and Jenn did such a great job with the decorations and activities, so I want to make sure this party has its moment to shine!
The event took place on the upper patio of Naples, in Downtown Disney Anaheim. Naples is one of our favorite restaurants; in fact, we hosted our wedding welcome dinner there! The Naples staff is wonderful and the food is delicious, plus they are so accommodating with DIY decorating. Wendy did such a good job transforming the patio into a Laugh Floor, with purple and blue tulle and kid's doors drawn on poster board. Other activities included a Monster's Inc storybook "guest book," photobooth props, DIY felt monsters, and drawing quilt squares. This was my favorite kind of baby shower: Lots of yummy food, cupcakes, coloring, and no awkward baby shower games!
Special thanks to my friend Hope for providing these pictures! Congrats (x2) to Courtney and Calvin on your little Prince Liam and soon-to-be Princess Charlotte.