Last month I had the pleasure of attending another Disneyland wedding! I'm so happy Mandy and Russell invited me to share their special day with them and their family. Mandy is a long time reader and actually recognized me at Disneyland one time! She told me that reading my blog really helped her with envisioning and planning their Disneyland wedding, which makes my heart so happy! She said even her mom reads my blog! I was also able to meet Mandy's mom at the wedding, as well as a few of her relatives, and the entire family is so, so sweet.
I experienced a lot of new things at this wedding, which goes to show how every Disneyland wedding is completely unique, even if you're seeing the same venues time and again. Every couple has the opportunity to add their unique story to their wedding day, and Mandy and Russ were no different. I loved how they honored and incorporated the things that were most important to them into their wedding ceremony with prayer, personalized vows, and Disney music. The reception was full of heartfelt toasts, happy tears, good food, and lots of dancing!
The 5:00pm ceremony was held at The Disneyland Hotel's beautiful Rose Court Garden, which was decorated with beautiful white flowers and blue accents. I loved the gorgeous ribbon curtains on the gazebo, and the aisle was lined with DIY paper roses made from book pages, hanging from white shepherds hooks strung with pearls! Mandy and her mom made everything themselves and it looked gorgeous! I thought it was an adorable touch to have the ring bearer carry a blue Disneyland balloon, and Mandy's entrance in Cinderella's Coach was definitely a magical moment.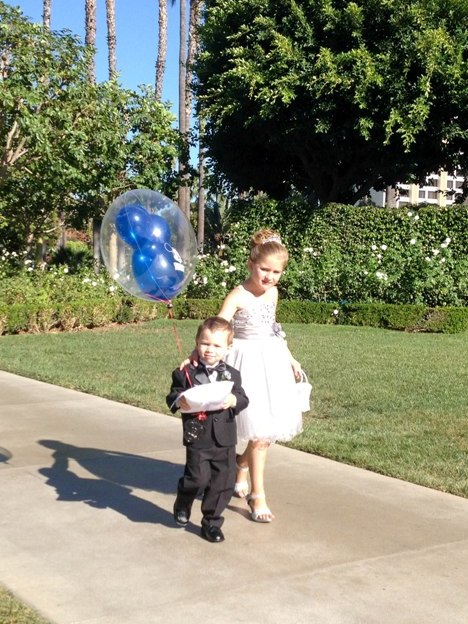 After the ceremony, wedding guests were led to the foyer of the Magic Kingdom Ballroom for pre-reception. This was my first time at a wedding with the pre-reception set up in this area, and to be honest I didn't even know this was an option! I think it is only available if you are having your reception in the Magic Kingdom Ballroom but I'm not totally sure.
The pre-reception offered the well-known cheese platter, which is what we had at our own pre-reception and it's very yummy. The bar also offered a signature drink – strawberry daiquiri – and four wine options that Mandy and Russ actually brought in themselves! Mandy told me her and Russ attended a wine tasting event at BevMo and picked out five types of wine during one of their periodic 5 cent sales, and saved a small fortune on drink costs! During the course of the evening I may have tried *ahem* four of the five wines and I can say they were all winners.
I loved the seating chart, which was actually a map showing where the tables, named after Disney princesses, were located in the room. Great idea! I was at the Snow White table and I loved my escort card / bookmark!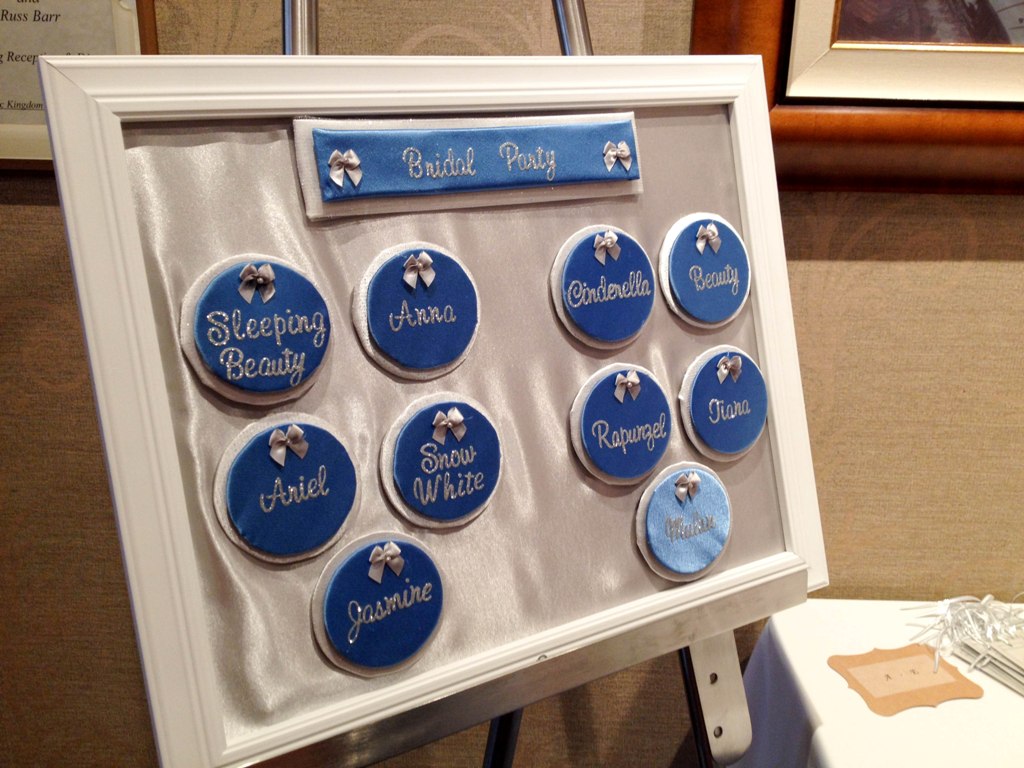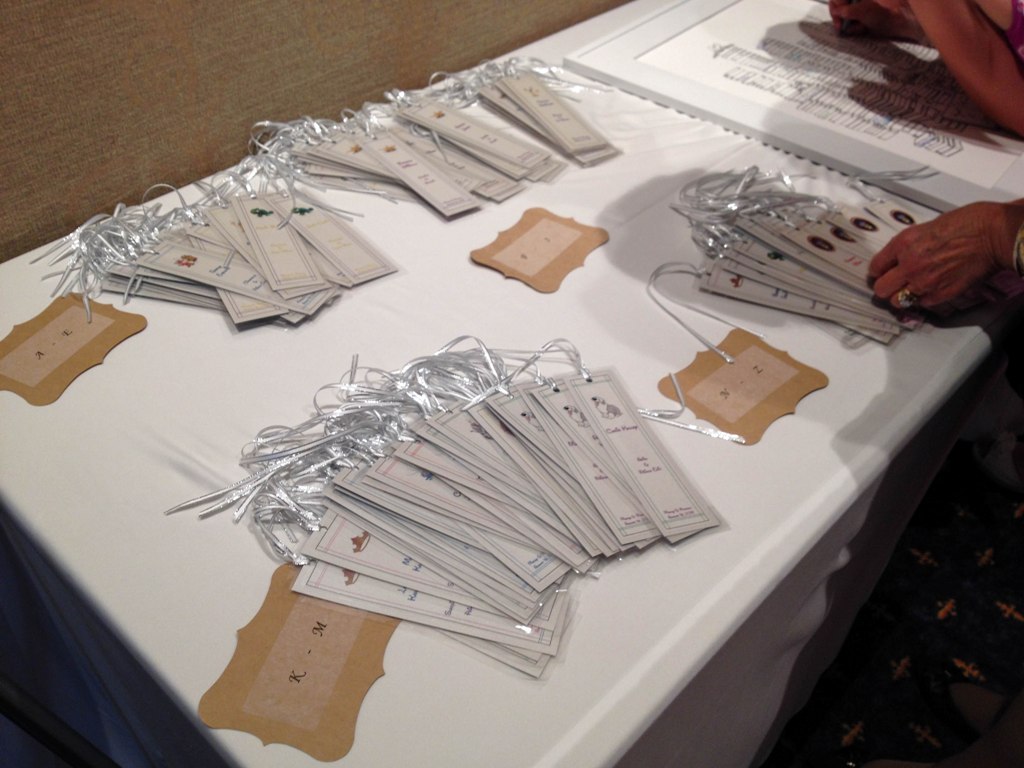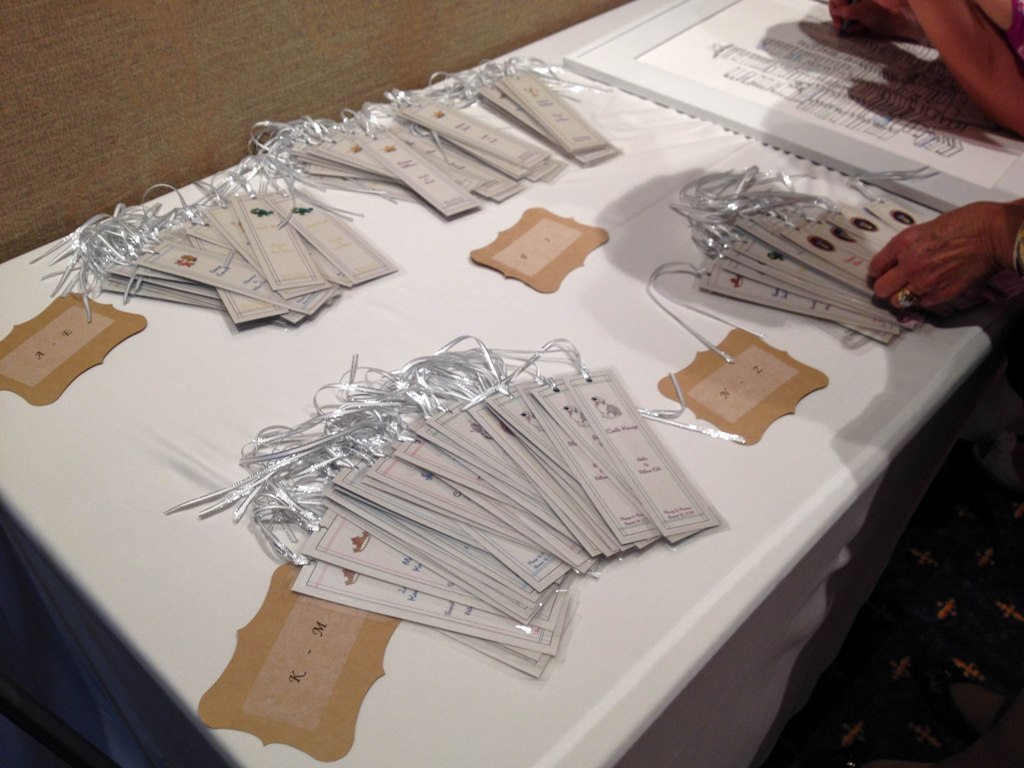 The Magic Kingdom Ballroom was decorated beautifully, with the same blue, white, and silver we saw at the reception and gorgeous blue uplighting provided by DJ Waveform Events.
The centerpieces were short arrangements of white flowers in silver vases, and Mandy brought in her own votive candle holders. Her and Russ actually met with the fire department and received a special permit to have more candles than what is normally allowed at Disneyland weddings (3 candles per table).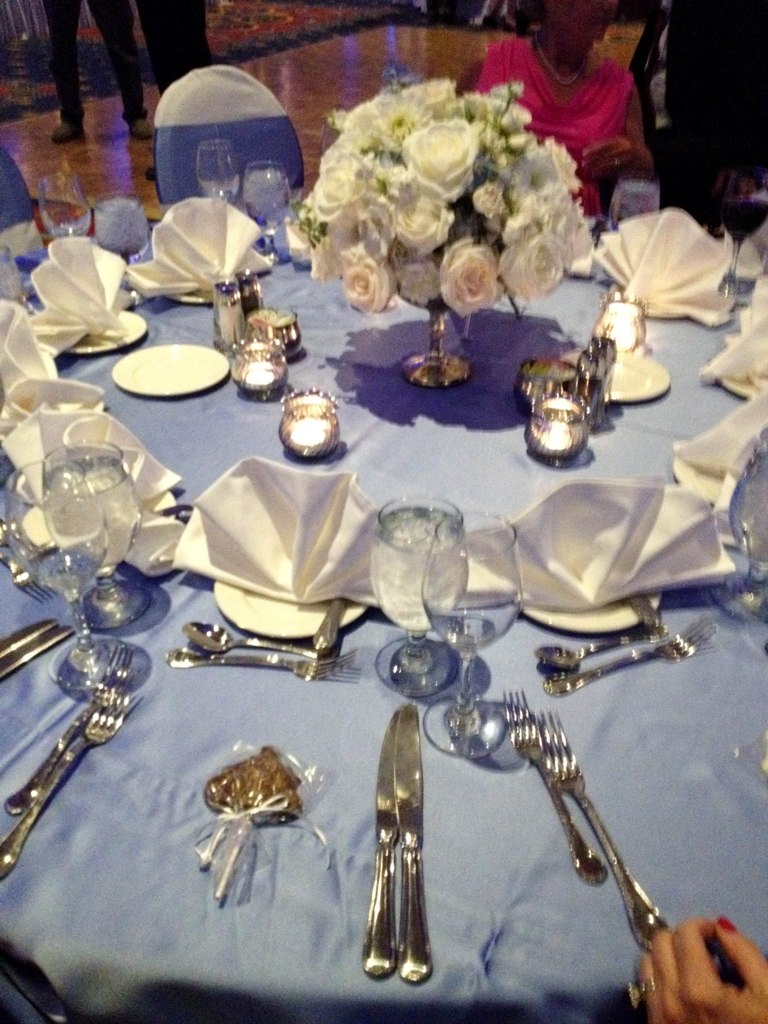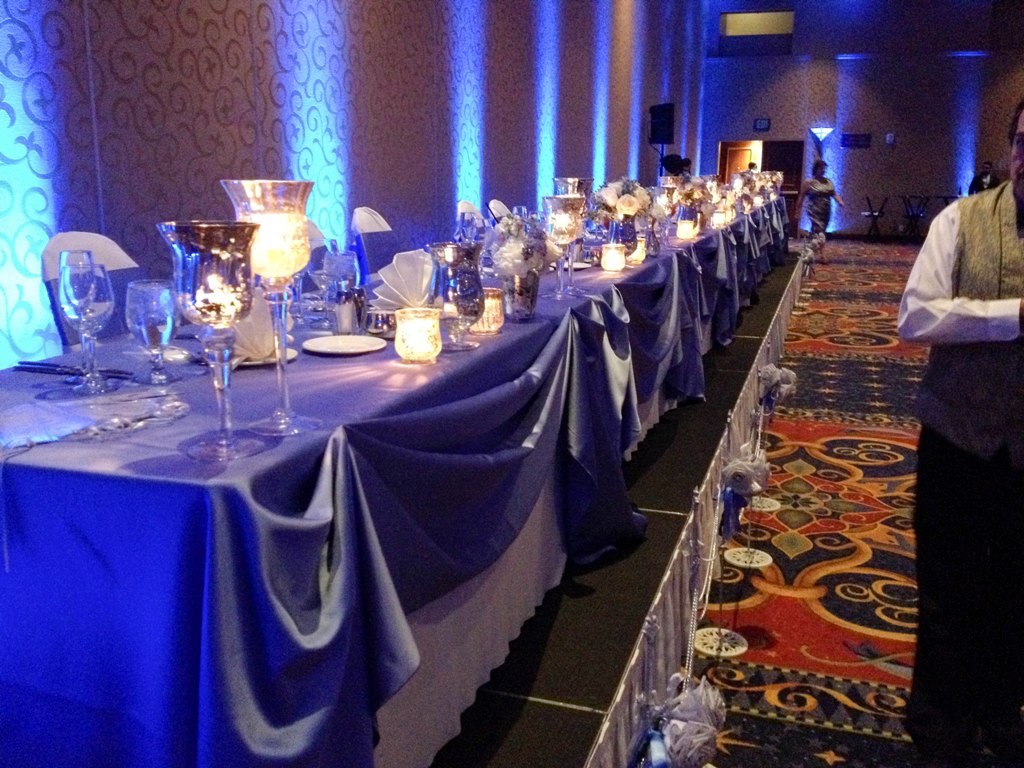 Their stunning cake was actually raised up on a platform to make it stand out in the large room! It looked great; my only complaint was that it was too tall to admire the custom WALL-E and Eve cake topper.
I loved some of the DIY details Mandy and Russell had for their wedding, including an In Memoriam collage (which included some family pets!) and a beautifully decorated card "cage."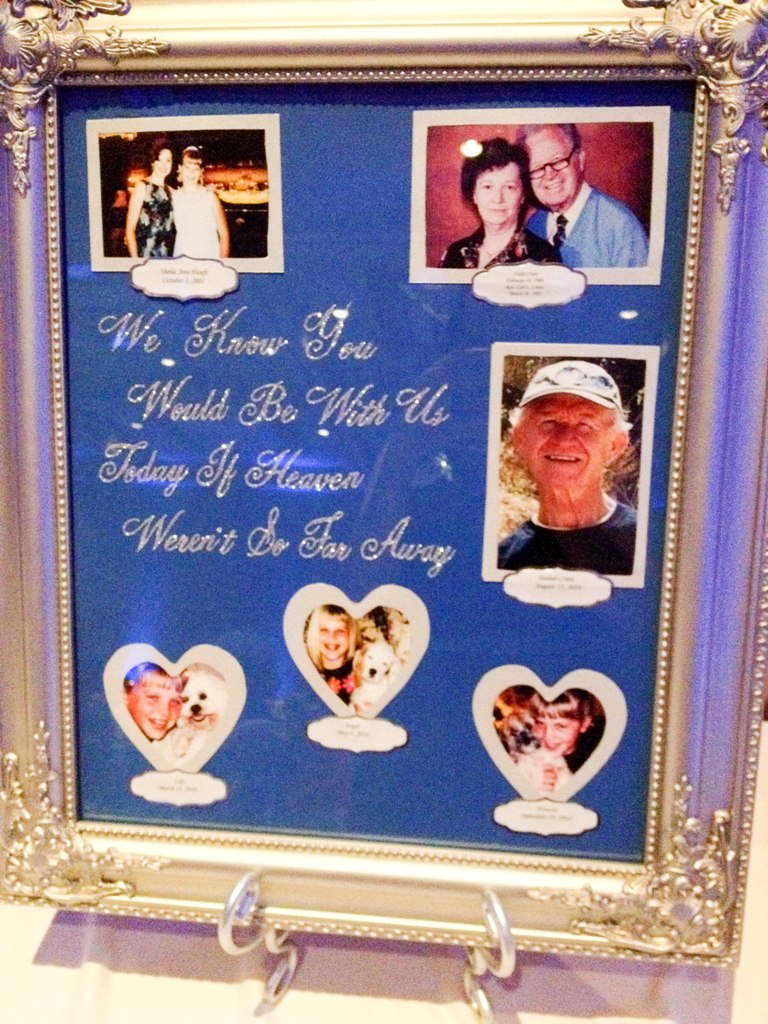 Soon the couple was announced and they shared their first dance. So sweet! Sorry my photos are so bad; I realized halfway to Disneyland that I forgot my DSLR, so I had to use my phone which is awful in low light. Hurry up, iPhone 6!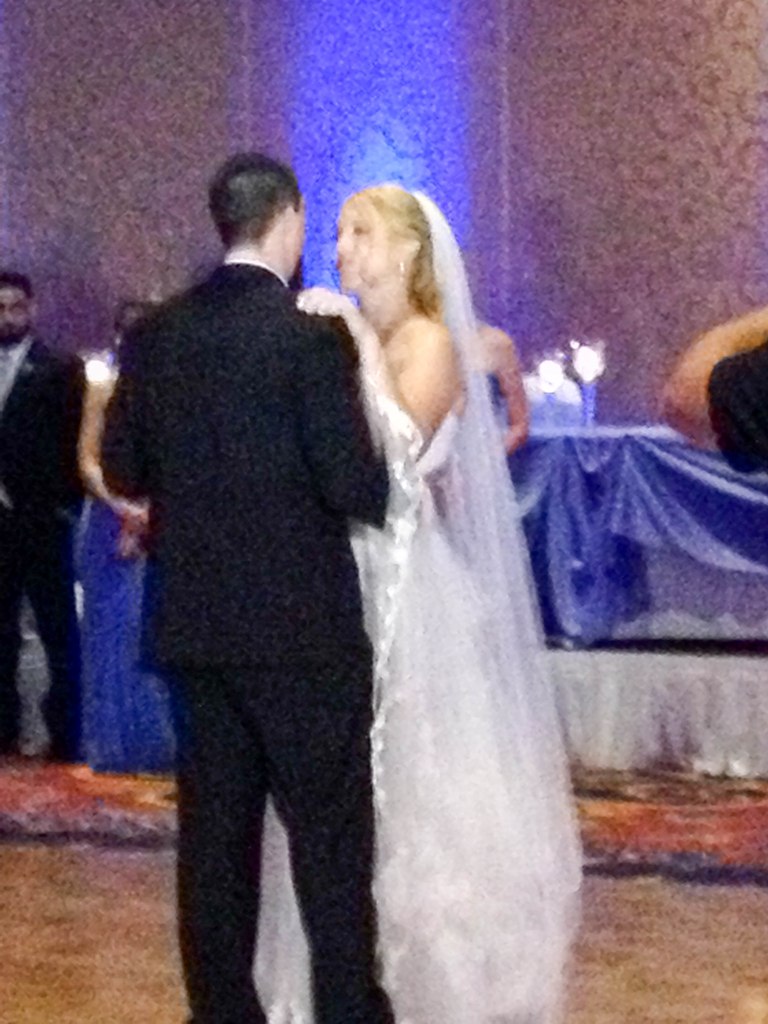 After some sweet toasts, it was time for grub! My favorite part of any wedding, second to cake! Hehe. Mandy and Russell had a buffet and as always it looked amazing.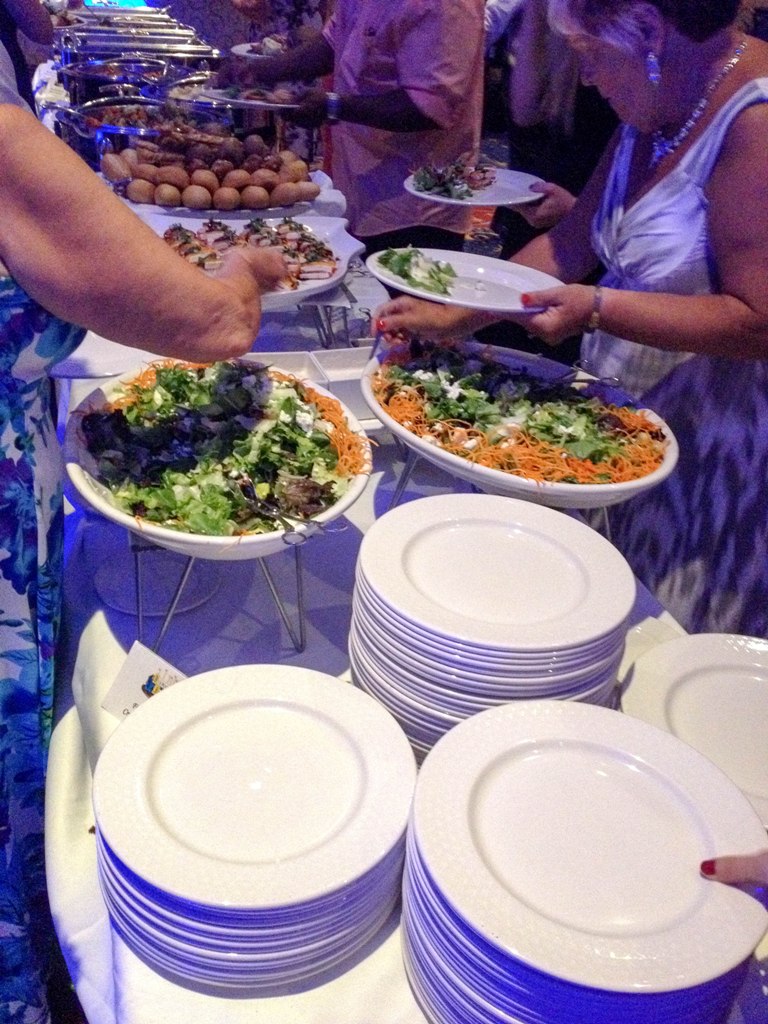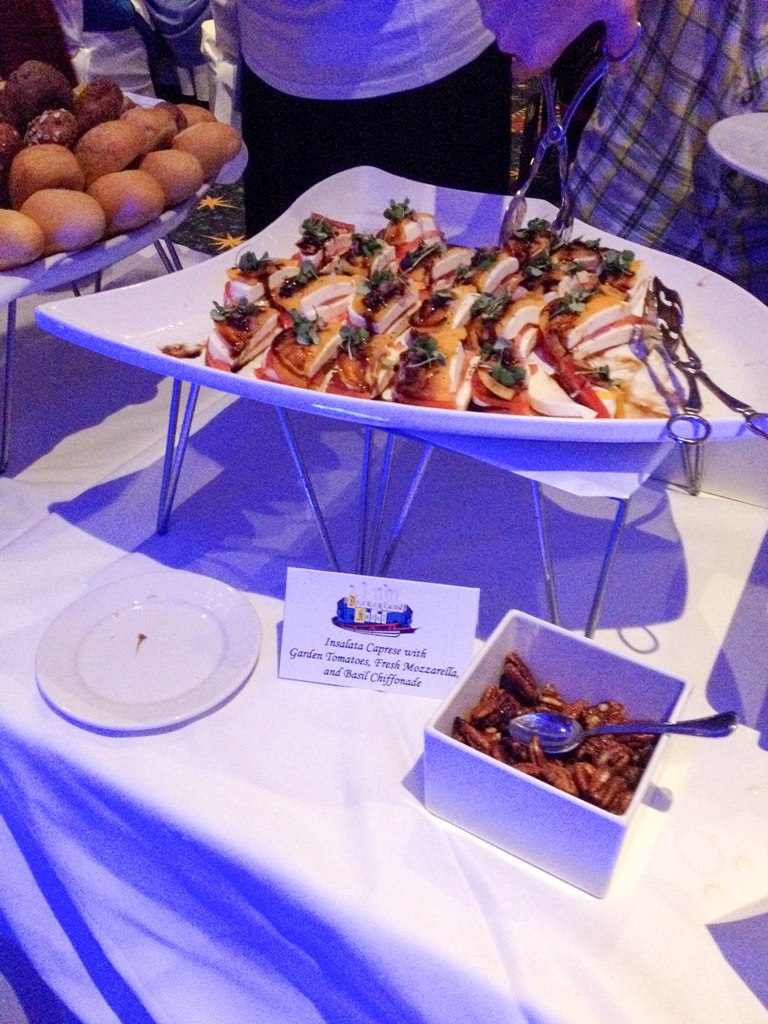 Before the wedding I had asked Mandy about what was going to be included in the buffet because of my corn intolerance. I just wanted to know if there were a couple things I could eat or if I should pack my own dinner! Mandy gave me the list and there were a couple things I knew were safe. Well I was surprised with my very own "corn free" dinner plate the hotel chefs had prepared for me. Now that's some five-star service!! Of course my plate of food was amazing! (The plate above was my friend's plate from the buffet; my special allergy plate is below.)
After dinner, Mandy and Russ cut the cake and there was also an ice cream sundae bar! Aside from our own dessert party, this was the first time I've seen an ice cream sundae bar at a wedding reception. It's great to know Disneyland can offer these cool add-ons!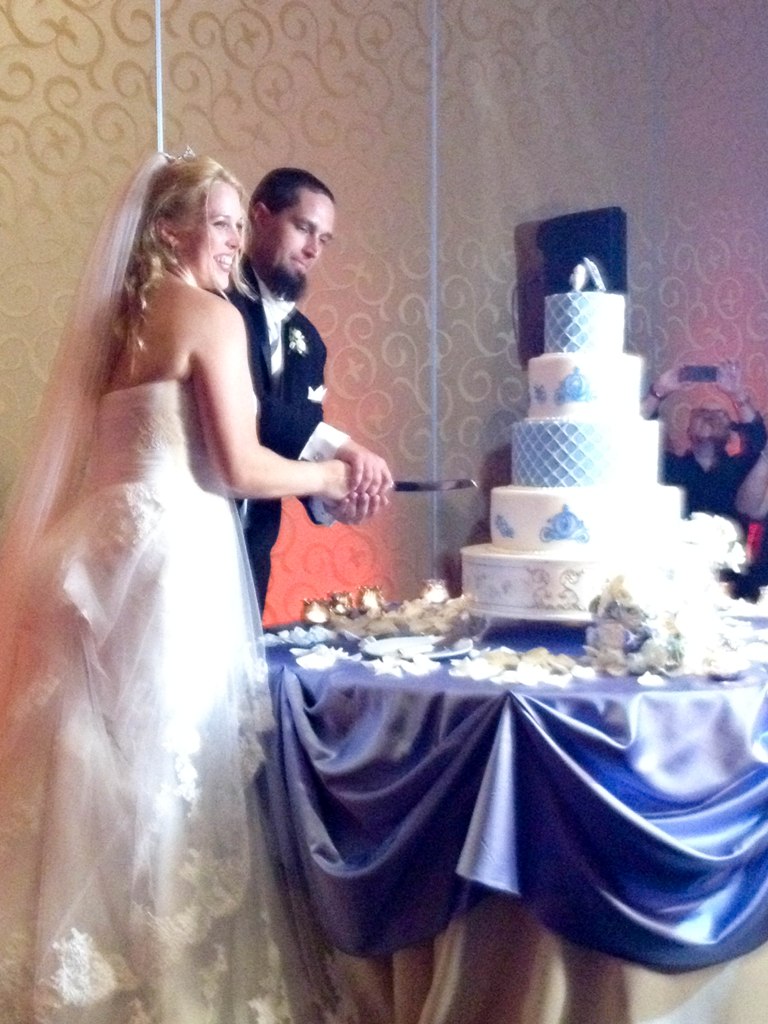 After dancing the night away I had worked up quite an appetite. Good thing Mandy and Russ put out these cake take-home boxes, complete with a napkin and fork! What a great idea!!!! I took a slice of cake home for Mr. BFT who was stuck working that night, and he was quite pleased. (I may have sneaked a couple bites in the car.)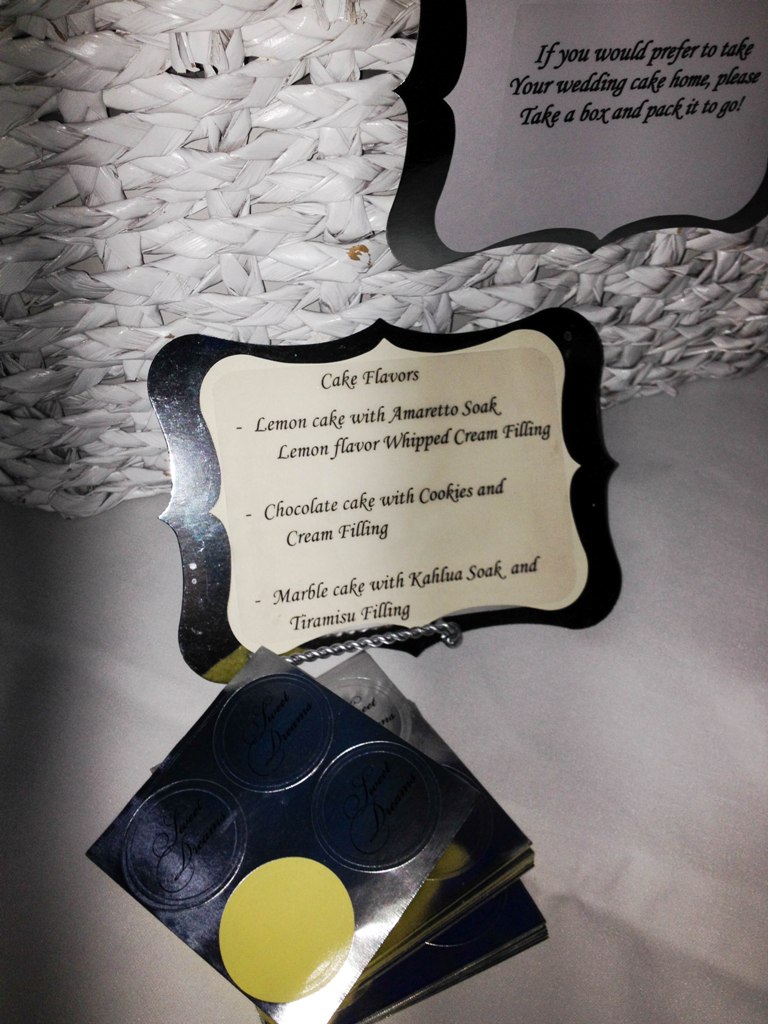 I had a wonderful time celebrating with you, Mandy and Russ! Thanks so much for the invitation. Disneyland weddings are SO much fun!!