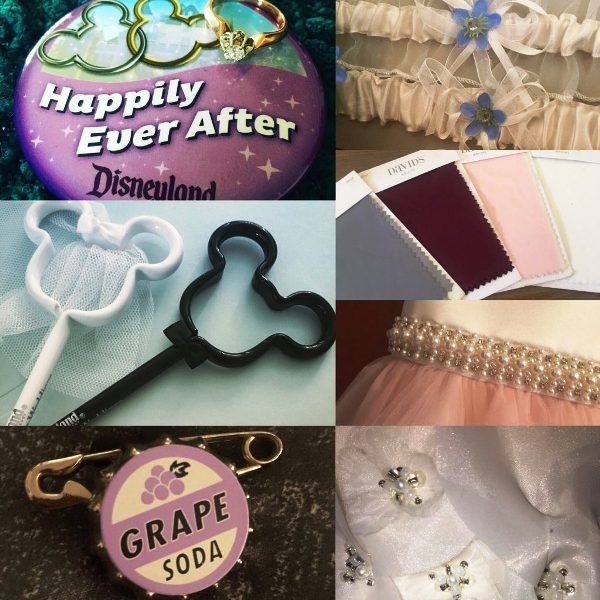 Disney Bride Jamie is planning a Disneyland wedding at the Rose Court Garden and Sleeping Beauty Pavilion for February 2018.
Getting married in the most magical place on earth is a lot of pressure for a couple. As a Disney bride and groom it is so important to have a wedding that feels like the two of you. I absolutely love Disney and the magic it brings. My fiancé and I have a lot of history in Disney but we don't want to loose sight of who we are too.
I felt even more stress since the special that came out on Freeform – Disney's Fairy Tale Weddings TV special – to really woo our guests. Don't get me wrong, this show was spectacular and I am in awe of all the weddings, especially the Disneyland wedding. It's a very small Disney bride world. I share the same Disney wedding planners, vendors, and even planning our big day with the help of Disneyland bride expert Ruby from the show. I am excited for the help of her and many of the Disney brides who are helping our Disney wedding vision come to life.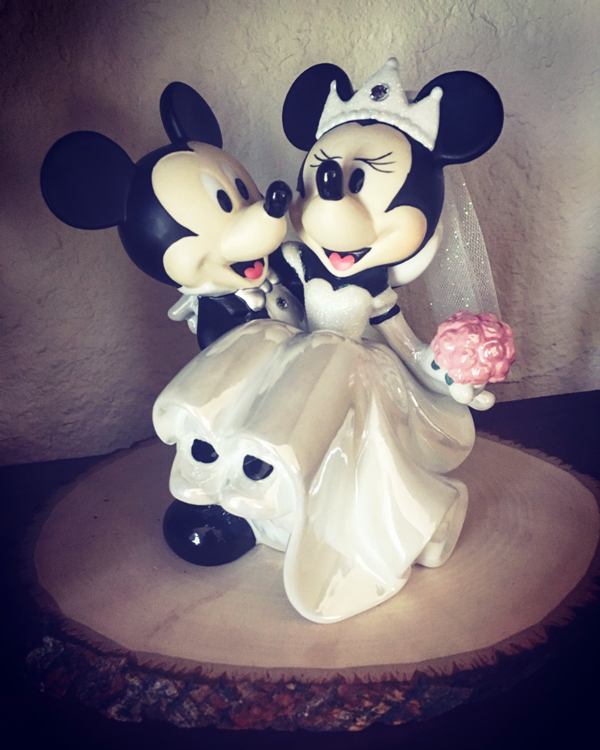 Most guests will expect this to be our topper. It will be displayed somewhere but the Bridezilla Dino couple seems more like us.
To throw a spectacular over-the-top wedding is very much expected by many. When I say I am getting married at Disney, strangers faces light up as they talk about Cinderella's carriage, having the characters arrive to take pictures with the guests, and dancing to Disney movie ballads. (There is nothing wrong with any of this … but it's a lot of money and takes a lot of the focus off the couple.) In our wedding planning, very early on my fiancé and I decided to have our wedding reflect who we are as a couple and add a dash of Disney magic and pixie dust on top of that. When guests come to our wedding I want them to feel they are in Jamie and Ash's fairy tale and not just Disney's fairy tale.
Our fairy tale wedding invites.
Choosing to Make Our Disney Wedding About Us
Even though we are very early into the buying part of our wedding details, I have started setting the mood of our wedding. For me this is the fun part of the wedding planning process. I live for this stuff! As long as I can remember I have wanted to be party planner. I absolutely love the little details that make an event special. After we decided to get married at Disney we had to come up with a date. We knew we liked February, and it saves you money if you pick an off-peak month. I wanted a date that would stick out so we chose a Wednesday in late February. (This also saved money cause it's in the middle of the week and not on a weekend.) When you think of a wedding in February you think Valentine's Day, red and romance. I really wanted our wedding to be romantic but not the rest of the Valentine's elements. We decided on an evening wedding starting at 5pm. I wanted the Southern California sunset colors of red, yellow, and pink as our Rose Court Garden backdrop. I thought of candles, soft lighting, evening dresses, and cool breezes for my Washington guests to enjoy. The colors were one of my favorite elements. We chose a very dark silver or pewter, a dark cranberry or wine color, and a light pink pastel color to off-set with flowers and the flower girl dress. Together the colors are romantic and trending for February weddings.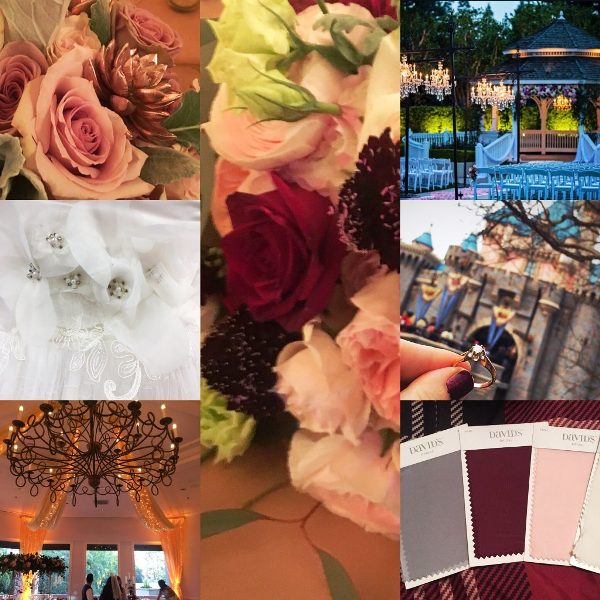 We are choosing rustic romantic pieces that feel whimsical and timeless. They may not be specifically Disney but could tie into or feel like Disney. I am leaning towards silvers, golds, and metallics to compliment our colors. My dress is ivory and a modern ball gown, and makes me feel like my own Disney princess.
After the colors were chosen the little wedding elements that felt like us started coming into effect. I am nowhere close to done but off to a great start. Each element we are choosing, whether a Disney item or not, really means something to us. Together Ash and I are a very fun couple. We love to laugh and are very much in love. Our hope is that our wedding reflects that. Hopefully they will all work and I can tie them all in to make a wonderful wedding celebration that feels like our Disney wedding fairy tale.