Disney Bride Nicole is planning a Walt Disney World wedding at the Wedding Pavilion and American Adventure Rotunda Ballroom for December 2016.
Deciding on which season to get married in Walt Disney World was a little trickier than we had originally anticipated. Back in our home state of New Jersey, choosing a season would have been pretty simple. We love the fall, therefore the fall it is! We ended up deciding on a destination Disney wedding however, and quickly realized there was a lot more to think about in terms of the months and seasons. When it comes to having a WDW wedding in Florida there are many aspects to consider other than which season is traditionally your favorite. The fall in Florida is very different from the fall in New Jersey, as I'm sure you can imagine. In Walt Disney World, certain seasons bring about unique experiences and events. We needed to find the perfect balance of what we loved in our past Disney trips, what would look the most beautiful for our wedding, and finally, what would be the most fun for our guests. We made a list of priorities, which really helped. I encourage all couples to do this if you're struggling with this choice! Ultimately, we chose the holiday season to get married in Disney and we couldn't be more thrilled with our decision! Here's a breakdown of how we reached that conclusion for our wedding.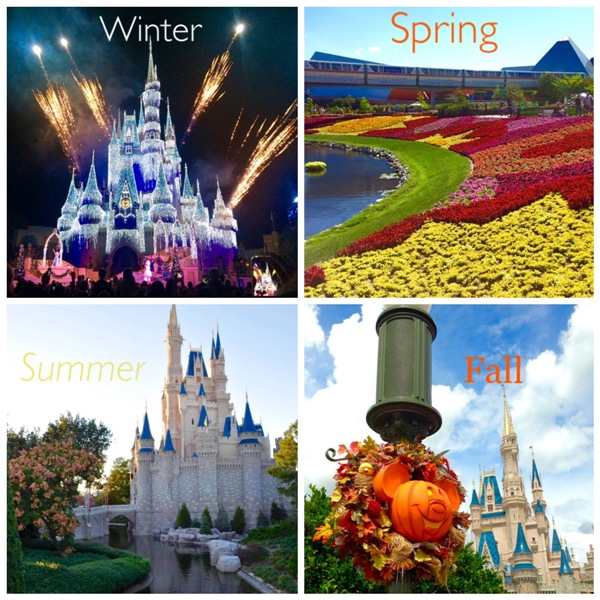 Choosing a Season for your Disney Wedding
First thing on the list; we wanted to limit the possibility of bad weather. Summer was immediately out, even though that season holds a special place in our hearts since it was the first time we traveled to Walt Disney World together. We agreed that June through August is too uncomfortably hot, humid, and crowded. Not to mention pricey, as the summer hits peak season prices.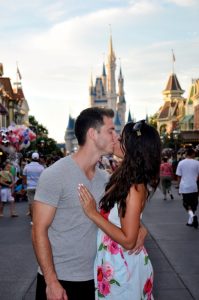 Next on the list, we wanted a beautiful season with lots of fun events for our guests to enjoy and take part in. We briefly considered spring, as we thought of the beauty of the International Flower and Garden Festival in Epcot.
We realized, however, that the time line just wasn't right for us. Since we got engaged at the end of October, we felt that we couldn't plan a destination Disney wedding by the spring of 2016, and we definitely didn't want to wait to get married until the spring of 2017. Besides, we figured if our guests would enjoy anything the most, we knew everyone would be thrilled with Epcot's International Food and Wine Festival!
On to the fall, we thought! Originally our ideal season, and definitely one of our most favorite times to travel to Walt Disney World, it checked off a lot of boxes on our priority list. Even non Disney fans could appreciate the amazing Food and Wine Festival. Everyone on our list would be sure to enjoy it! We LOVE Halloween, so much so that Michael proposed to me on Halloween at midnight last year.
A couple of years prior, we also had the best time at Mickey's Not-So-Scary Halloween Party, and we knew many of our guests would enjoy it, too.
Just when we thought we had it all figured out, our planner reminded us of Florida's hurricane season. The past few years in particular were incredibly rainy and humid during the fall months, which we remembered from personal experience.
Suddenly the risk of having torrential downpours on our guests during Illuminations fireworks in Epcot scared us right out of choosing September or October. While the fall is definitely fun with Mickey's Not-So-Scary Halloween Party and all, we felt we ultimately landed on a more romantic time.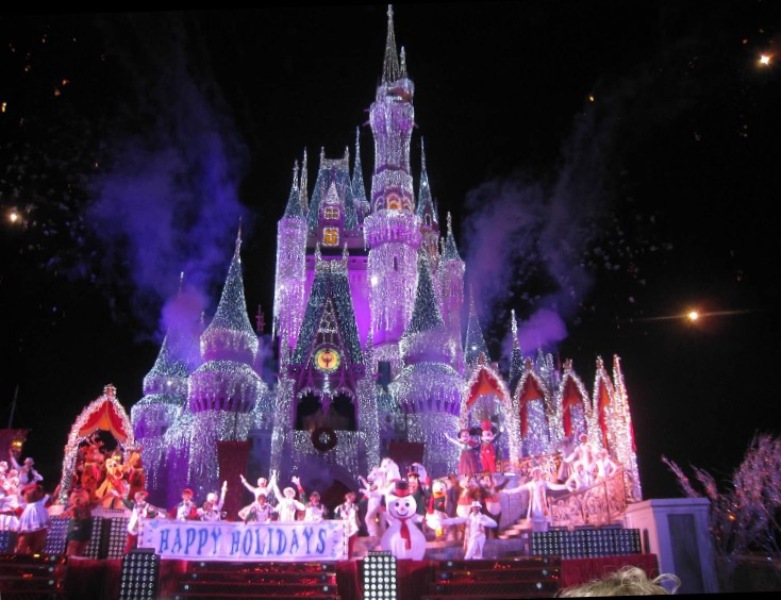 This narrowed it down to the holiday season! Although this is a time we would've never considered back home, we knew the holiday season in Disney had everything we wanted on our list and more!
There would be so much for our guests to enjoy; The Very Merry Christmas Party in the Magic Kingdom, Holidays Around the World in Epcot, and the Candlelight Processional in the World Showcase. We had to be incredibly strategic about planning out wedding date. It couldn't be too close to Christmas, because not only would that limit the family members who could attend, but two weeks before Christmas is considered a peak time, boosting the crowd levels & prices tremendously. It also couldn't be before Thanksgiving, because we wanted to ensure that all the Christmas decorations would be up in every resort and park. Our lovely wedding planner Christy guided us once again. She explained the first week of December in Walt Disney World is a dreamy time where the Thanksgiving crowd is leaving and most children are busy with school, meaning for us and our guests: the crowd level is at its lowest and the parks are breathtaking! Humidity and chance of rain are also at its lowest this time of year in Florida. With every park and hotel having their Christmas decorations up no later than Thanksgiving, we knew this would be a gorgeous time in the parks to be married. We thought of the twinkling dreamy lights dripping off Cinderella's Castle, which make it look as though the castle has been dipped in thousands of sparkling diamonds.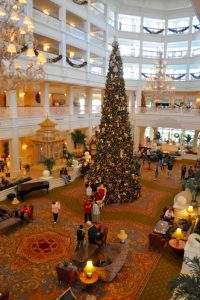 Christmas wreaths and garland are hung throughout the parks this time of year, and Christmas trees tower over buildings. It's a magical romantic time where snow falls on Main Street and Santa Clause rides in the Very Merry Christmas Party parade. We imagined sipping hot chocolate with all of our family and friends in the Magic Kingdom during Disney's Electrical Parade, and what a once in a lifetime experience it would be for our grandmothers, parents, and friends.
We considered our reception venue and the lobby of Disney's Grand Floridian Hotel where we would share our first look before the ceremony. When I think of Christmas in Disney I can't help but think of the life-sized gingerbread house in the Grand Floridian lobby and the 40 foot Christmas tree right in the middle of it all.
I thought of the garland that would be hung all along the American Adventure ballroom and the Christmas lights that would sparkle in The Italy Pavilion while our guests enjoyed Illuminations for our dessert party.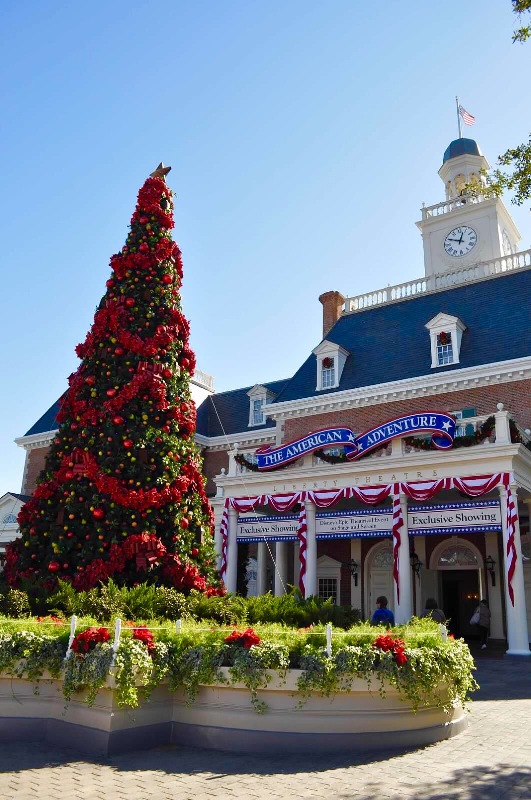 For us it seemed beyond perfect. The holiday season encompassed a vision in our minds of what we wanted our wedding to feel like. There is magic in the air that exists during the holiday season, not just in Disney but all over. Why not get married during the most wonderful time of the year in The Happiest Place on Earth? We are so excited about the month of December becoming another special piece of the puzzle in our fairy tale. We fell in love in the summer. We got engaged on Halloween in the fall. And we would be married in December during the holiday season in Walt Disney World, one of our favorite magical times of the year!
Which season did you choose for your wedding – spring, summer, fall, or winter?
Comments
comments