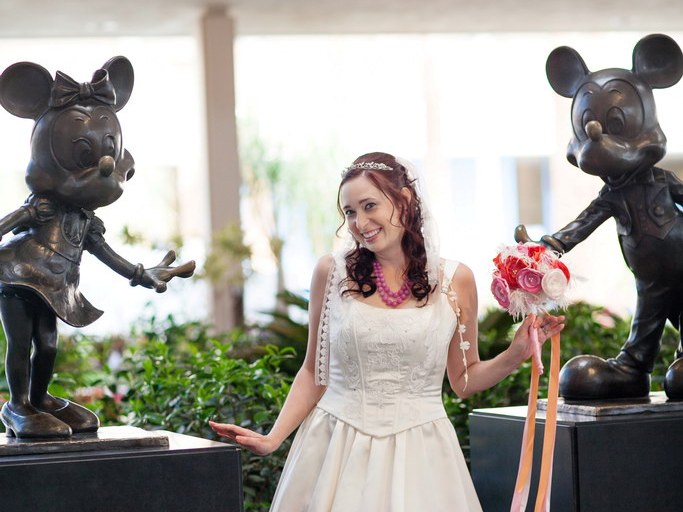 In honor of my guest appearance on the podcast Cartoons to Castles, and the 20th anniversary of Disney's Fairy Tale Weddings & Honeymoon department, I thought I'd write this companion post about the history of Disneyland weddings!
Since I'm a huge Disneyland nerd, and I *love* origin stories, I got a kick out of going back to the beginning to learn how the weddings program started at Disneyland, and how it has evolved over the decades.
The information in this article was collected from interviews, brochures I've collected over the years, and my own questionable memory. The Disneyland Resort has undergone some massive changes in the last 20 years, and so has the Disney weddings offered there.
However, I hope I was able to gather enough information to put together a Disneyland weddings timeline for you! If you have any Disneyland wedding details you would like to share with me, my email is always open! You can contact me via my About Me page.
My Disneyland Wedding Story
First, I want to share my personal connection to Disney's Fairy Tale Weddings (DFTW) at Disneyland.
I first learned you could get married at Disneyland back in 1998 or 1999. I remember riding the Monorail from Tomorrowland to The Disneyland Hotel. Before my friend and I walked out of our car, I saw a bride and groom step out of another car, and I gasped. "WHAT, YOU CAN GET MARRIED HERE?!?" I said to my friend. As we walked into the hotel, we passed them as their photographer took their picture on the Monorail platform.
I was around 19 years old, was not in a relationship and had no plans to marry anytime soon (or maybe ever!) but I just had to learn more about Disneyland weddings.
On a future trip, I convinced my friend to go with me to the Disney's Fairy Tale Weddings offices and pose as my fiancé so I could get more information. He begrudgingly but sweetly agreed, "as long as I don't have to say anything."
Back during this time, The Disneyland Hotel had administration buildings near where the Earl of Sandwich sits today. It was a two story building and at the base of the stairs was a directory. I looked to see if DFTW had an office – they did. And we were able to literally knock on the door and were welcomed inside. I told the Cast Member we were interested in learning more about weddings. She handed me a folder containing a packet of information and chatted with me for a while. After 5 minutes or so, we left the office with what I came for – information about getting married at Disneyland! (Again, no relationship, zero plans for a wedding.)
I loved looking through the brochure, seeing the marketing photos and all the options for weddings. But I was so disheartened by the prices. Dinner was around $30 per person! Back then I worked a full time retail job earning around $7 an hour, or just under $300 a week (before taxes). I would have to work over a week to pay for 10 meals! Insanity! I knew then that my dream of having a Disneyland wedding would likely never come true.
1998 Disneyland wedding dinner options and prices
Jump ahead a few years … in 2010 my now husband proposed! At Disneyland, of course. I had never lost hope of my dream wedding at Disneyland, so I reached out to the Disney weddings department via email (no longer available for walk-in appointments, lol) for their current pricing.
I learned DFTW at Disneyland offered a small wedding package for around 20 guests that would work with our budget and we started to move forward with our plans. However, our families surprised us by offering to contribute financially so we could invite more family members and friends to our wedding.
In May 2012, we had the Disneyland wedding of my dreams! I'm so grateful for my husband and our families who believed in my wedding day vision and helped make this 10+ year dream come true for me.
You can read a full recap of our wedding day here!
How Disneyland Weddings Started
While Disney's Fairy Tale Weddings was officially formed at Walt Disney World in 1991, it didn't make its way to Disneyland until 1993. I had the pleasure of meeting one of the Cast Members tasked with getting the department up and running – Lisa Simpson. Now she's the owner of her own wedding planning company, Lisa Simpson Weddings, but back in 1993 she worked as a Cast Member in the catering department. (Side note – it's EXTREMELY possible I met with Lisa during my reconnaissance mission in 1998/1999!)
Lisa tells me that Disneyland did approximately 50-75 weddings their first year, and it grew from there! At first wedding ceremonies were held at a small garden gazebo located approximately where ESPN Zone building is now.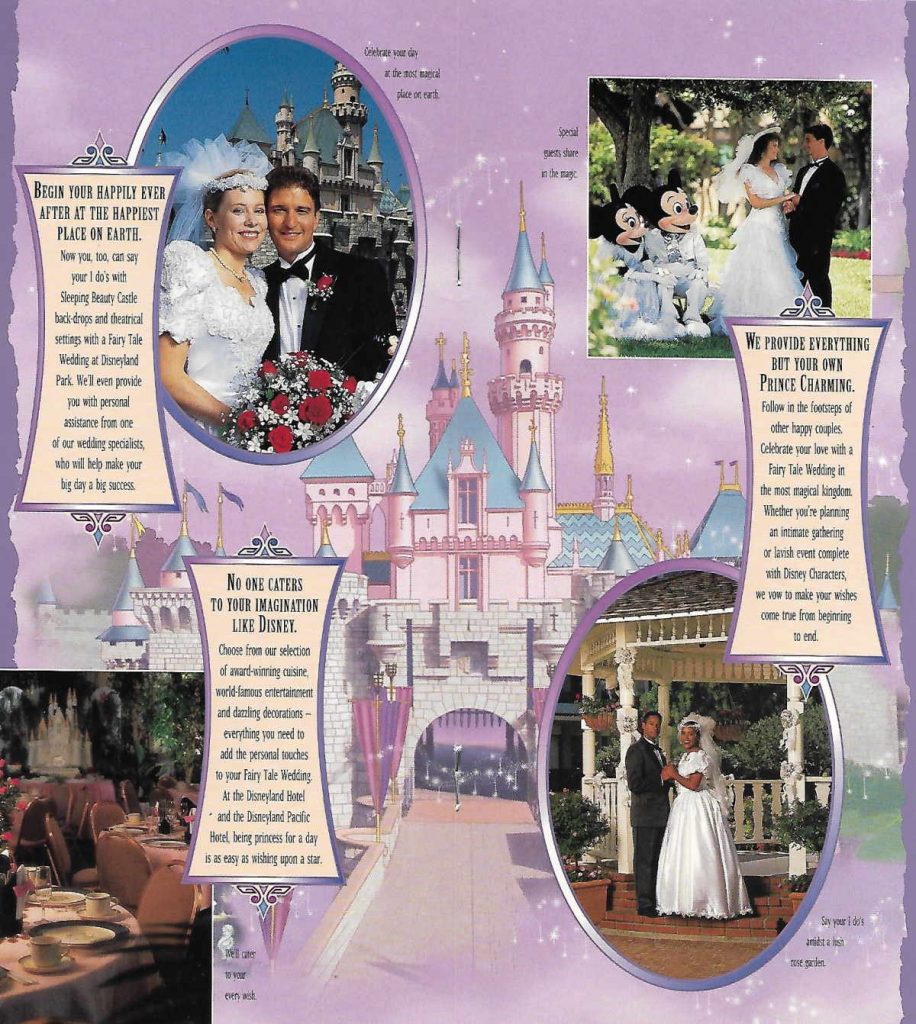 Once weddings became more popular, they expanded ceremony locations to a lawn area approximately where the Rose Court Garden is now, and into the now Disney's Paradise Pier Hotel when Disney acquired that property in 1995.
Also in 1995, DFTW at Disneyland started offering small ceremony packages which allowed couples to get married inside of Disneyland, in front of the castle, during normal operating hours! (Something which is totally unheard of today.) I believe the couple I saw on the monorail did this option.
The package essentially consisted of a small and quick event – the couple and around 10 guests – in a small grassy area between the central hub and what is now Fantasy Faire. Basically say your vows, have some cake, take a couple photos, the end. Lisa tells me this package was not very popular with locals due to the limitations, but was perfect for couples coming in from other countries. Disney fans from Japan made up a high percentage of couples opting for this package.
As the years passed, it seems this package became exclusively available through a Japanese travel company called JTB and was ONLY offered to Japanese citizens, according to this MousePlanet thread from 2004.
I'm not entirely sure when DFTW stopped offering this in-park package but it is no longer available.
In 2001, The Disneyland Resort underwent a massive makeover with the expansion of Disney California Adventure and Downtown Disney, which cut into area previously used for The Disneyland Hotel. While the hotel lost their original gazebo and gardens, they gained the Rose Court Garden, a venue built specifically with weddings in mind! The Rose Court Garden is located on the east end of the property, between the Adventure and Frontier towers. The Rose Court Garden is, understandably, the most popular venue for ceremonies at The Disneyland Resort.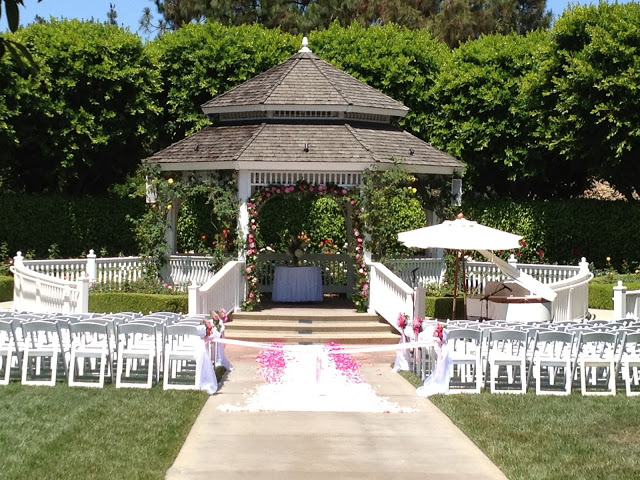 Lisa told me she designed and oversaw the construction of the Rose Court Garden! How exciting to be able to say you designed the area that has brought so much joy to thousands of Disneyland wedding couples!
In 2010 The Disneyland Hotel underwent a massive remodel and during the process they remodeled one of their ballrooms as the Sleeping Beauty Pavilion, also with wedding receptions at top of mind. This beautiful circular room is surrounded by windows that look out over the hotel grounds from the second floor of the Fantasy Tower.
When we were planning our wedding in 2010, the Disneyland Resort offered three types of wedding packages – Escape, Wishes, and Couture.
Escape offered a small ceremony and reception for up to 24 guests plus the couple. This package was great for elopements or for couples on a small budget. In order to keep the costs down, weddings were offered during non-peak times during the week, and DFTW offered just a couple options for food and personal floral.
Wishes weddings were for larger parties (above 25 guests) and were highly customizable.
Couture wedding packages were a limited-time partnership with celebrity planner David Tutera. The packages were essentially Wishes weddings with a enhanced décor "overlay" with a specific theme. The four themes were: Classic Elegance, Enchanted Garden, Simply Chic, and Cocktail Soiree.
In early 2020, Disney's Fairy Tale Weddings at Disneyland did away with packages and moved to a more "a la carte" pricing system, giving couples much more customization with their events.
At present day, The Disneyland Resort offers dozens of ceremony and reception venues at its three resort hotels and in-park options.
The Disney Weddings website has come a long way since the days of my planning, and you can use the website to browse venues and get a rough idea of what your dream wedding would cost. Click here to visit the Disney's Fairy Tale Weddings website.
While Disneyland weddings came to a halt in March 2020 due to the coronavirus pandemic, I'm sure guests and Cast Members alike look forward to the day when Disneyland weddings can resume once again!
***
I hope you enjoyed this history of weddings at The Disneyland Resort. Congrats to Disney on 20 years of the Disney's Fairy Tale Weddings. Here to many more Happily Ever Afters!