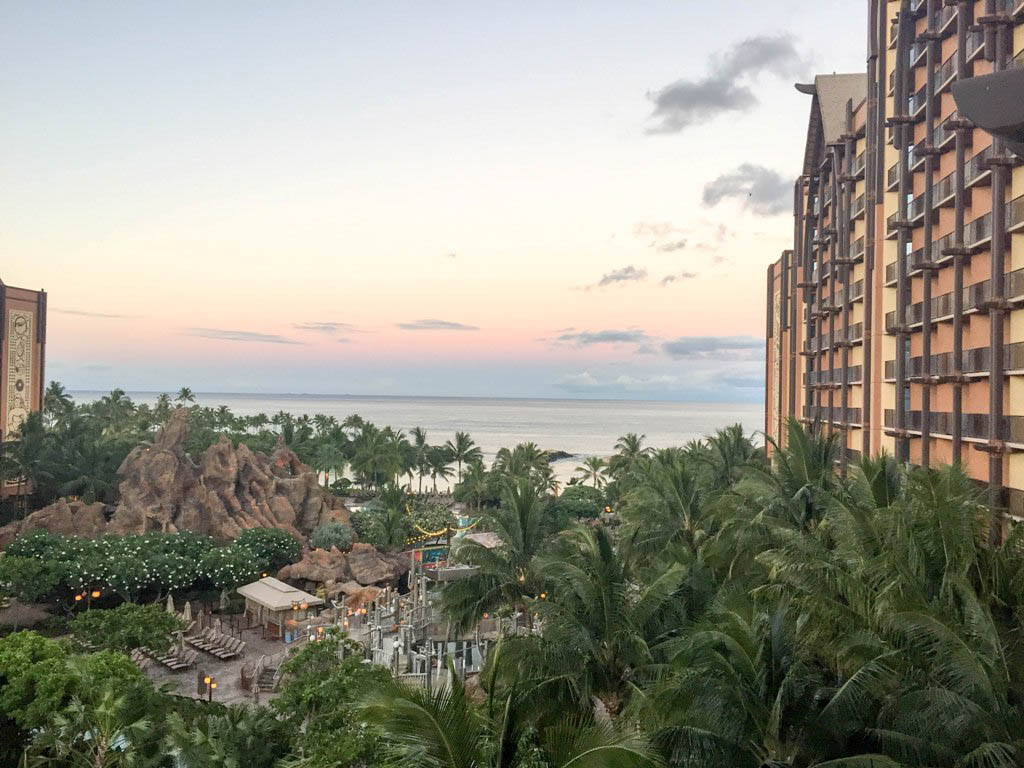 Our third day at Aulani started early again. I woke up at 5:30 AM and went out on the balcony to watch the sunrise. I also did a little bit of yoga out on the balcony which felt really good. At around 6:00 AM we decided to go out for a walk on the path that connects the lagoons. We did a two mile walk and took in the gorgeous scenery. We returned to the resort at around 7:00 AM and noticed people were already staking out the best loungers. You're not supposed to reserve loungers until 8:00 AM, but that clearly wasn't being enforced. So we found a good spot on the deck below Ama Ama with a view of the beach. I waited there while Tim went back to the room to freshen up, and then we switched.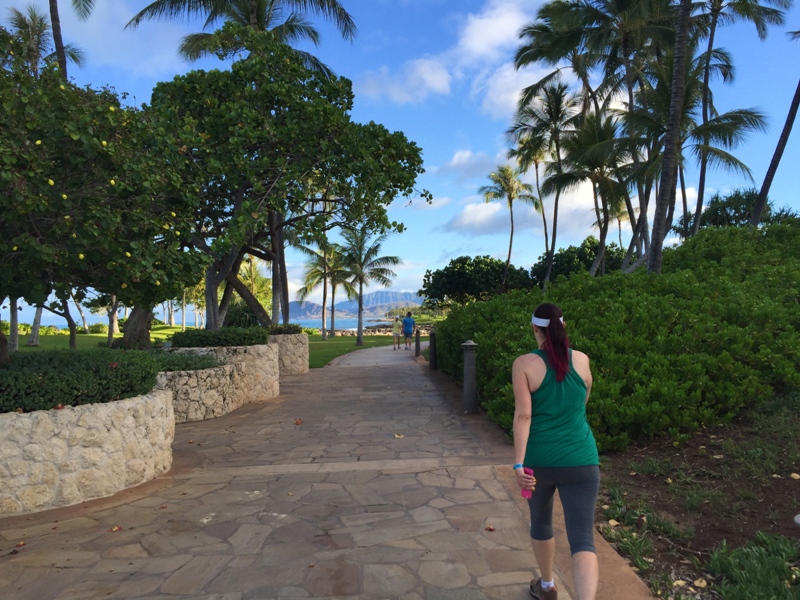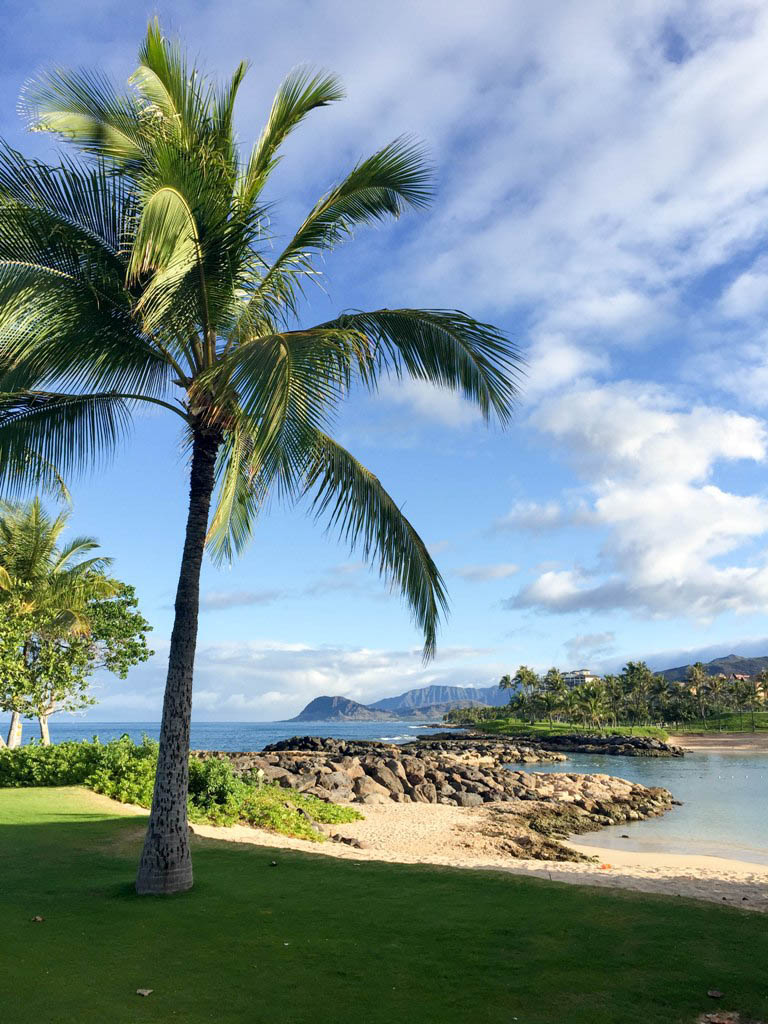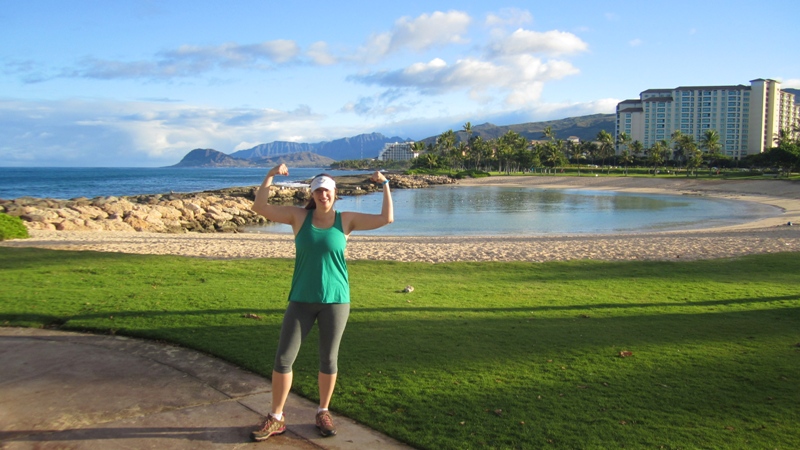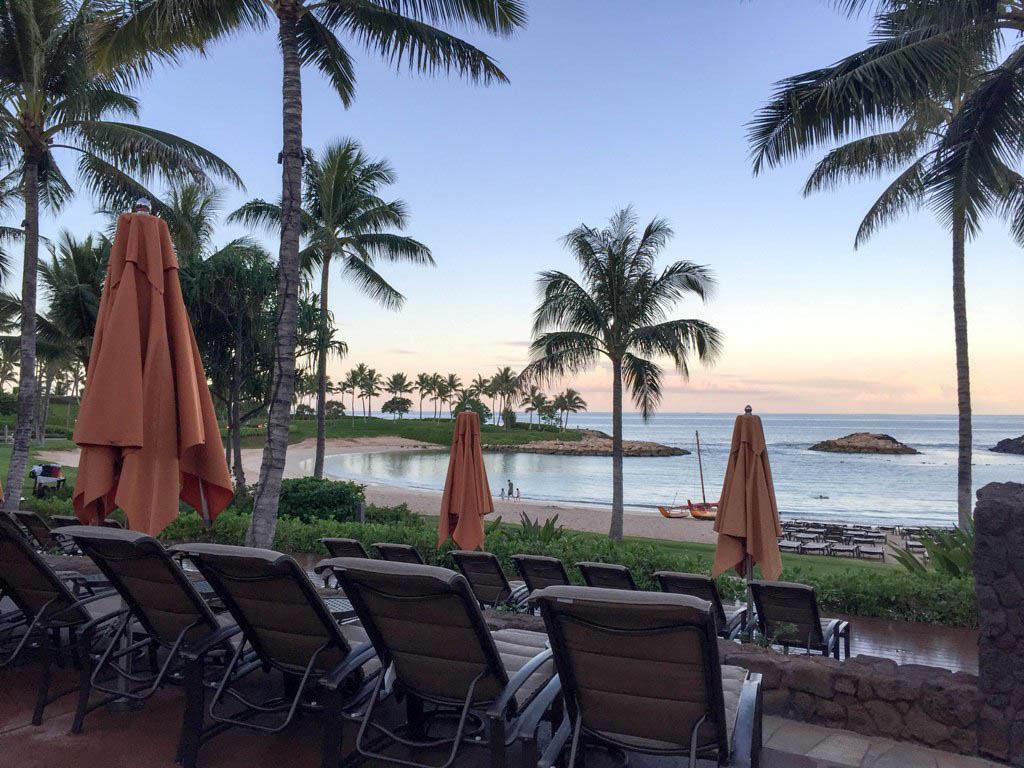 We spent a couple hours in our loungers before we decided to tackle the lazy river, which was super fun. Then back to the loungers for lunch and cocktails (an Off the Hook server comes around) before going for a dip in Rainbow Reef. Rainbow Reef is the man-made lagoon in the middle of Aulani which is home to hundreds of tropical fish. We were warned the water is super cold but we didn't find it to be that bad. It's certainly colder than the ocean and pool water, so be prepared. We spent about 30 minutes snorkeling before we were unofficially pushed out by hoards of startled and screaming children. The Rainbow Reef passes are day passes, so our plan was to come back later in the afternoon before it closed down for the evening. (The underwater pictures are not that great, turns out taking photos underwater is not that easy.)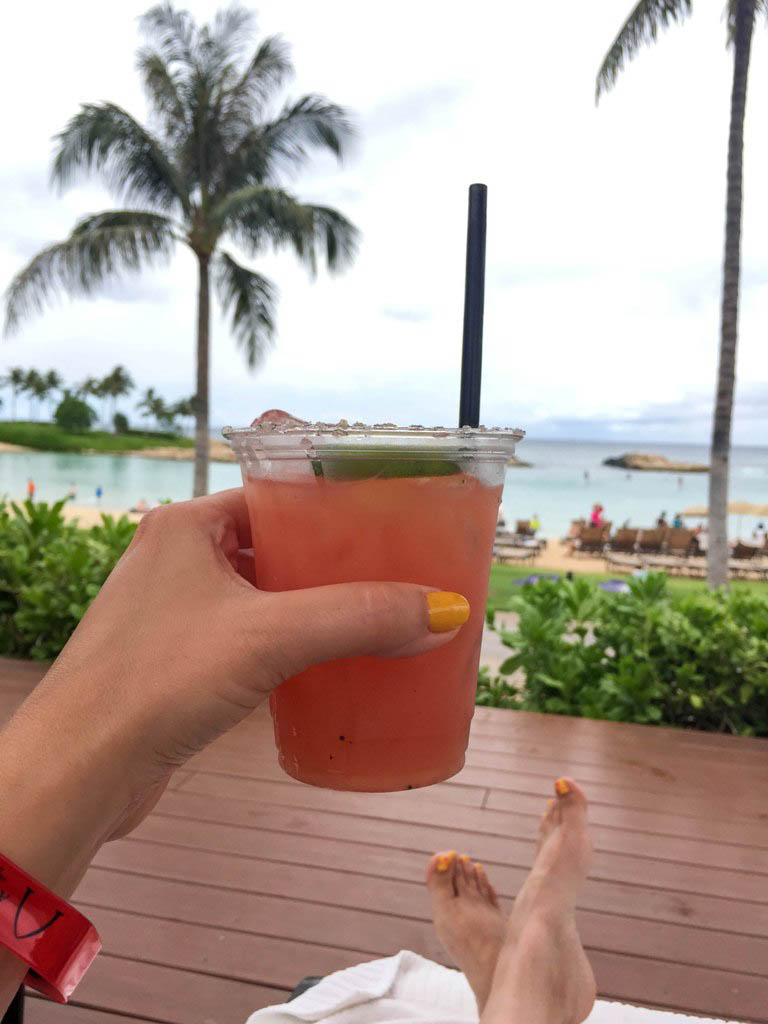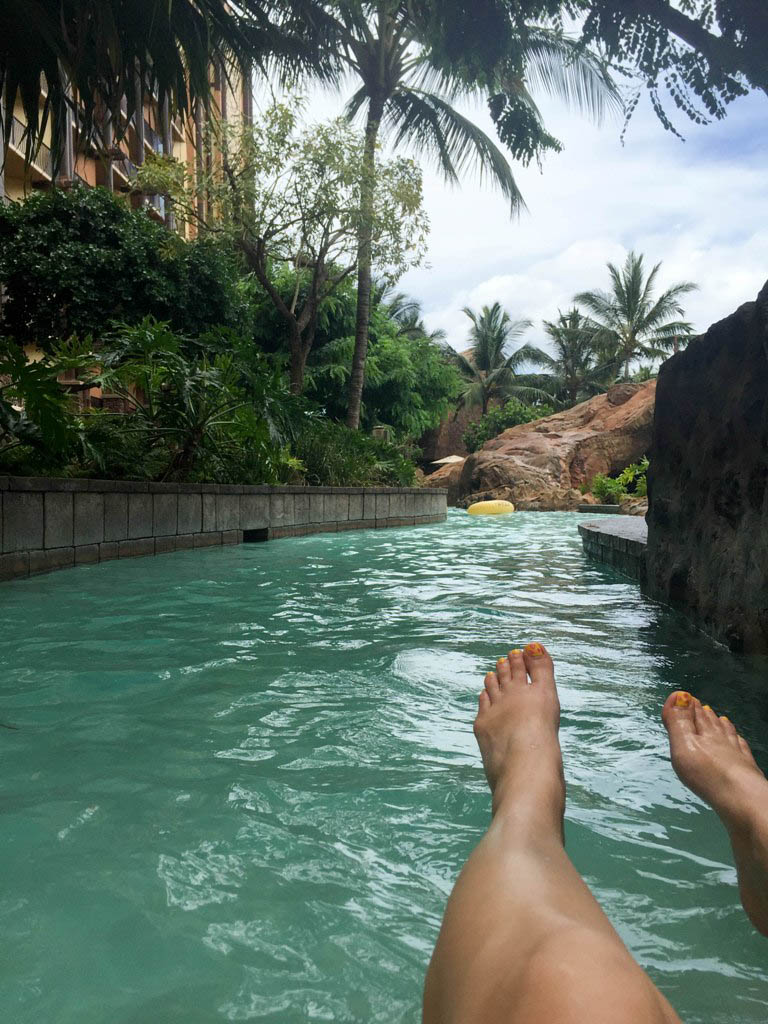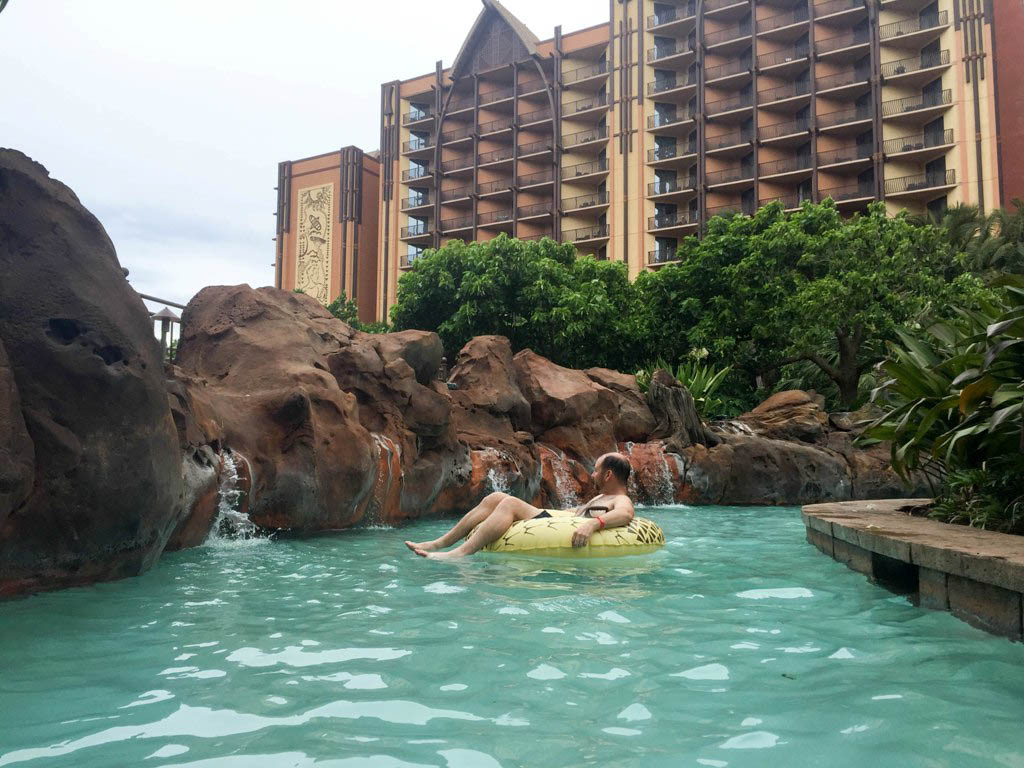 Entering Rainbow Reef.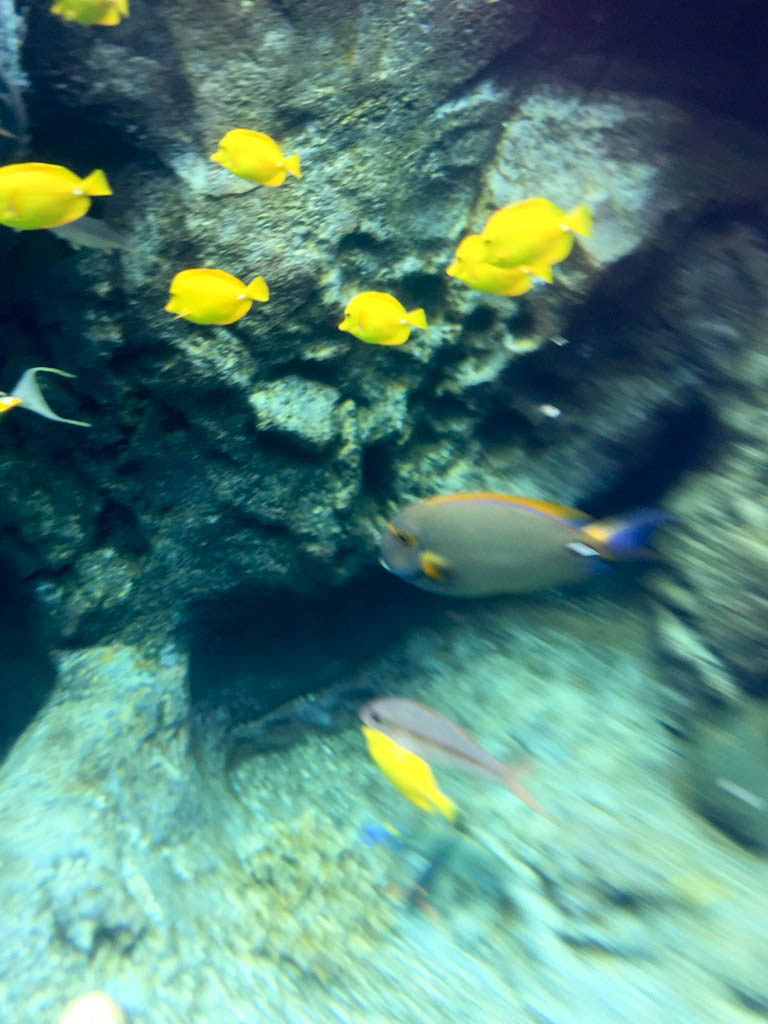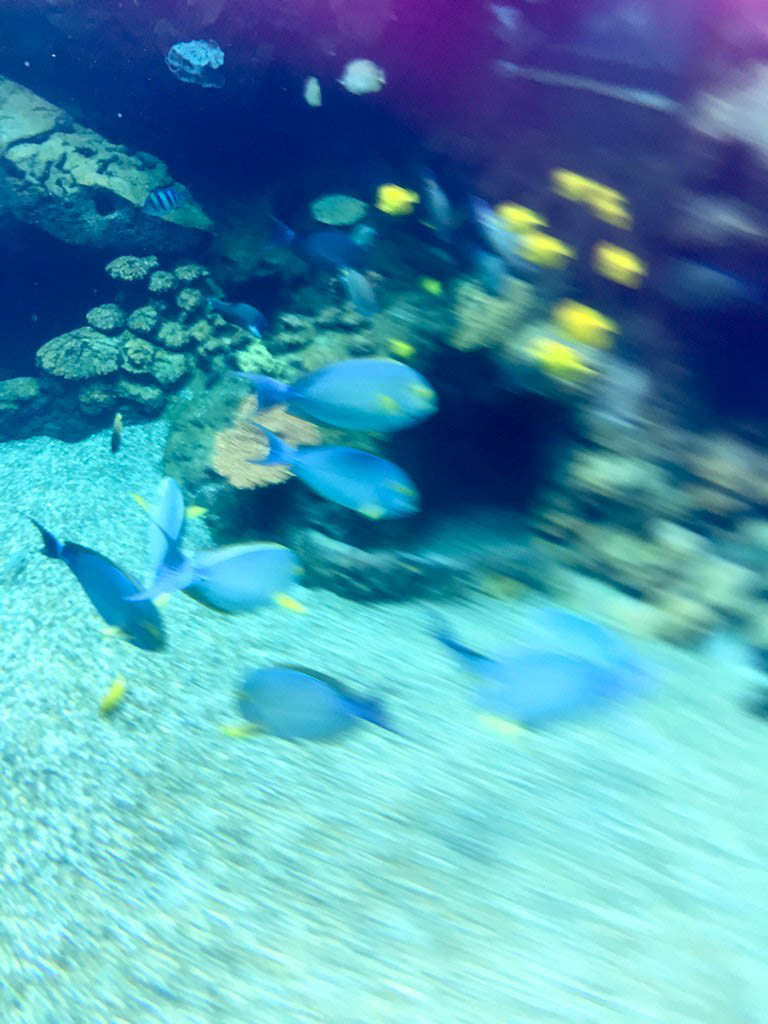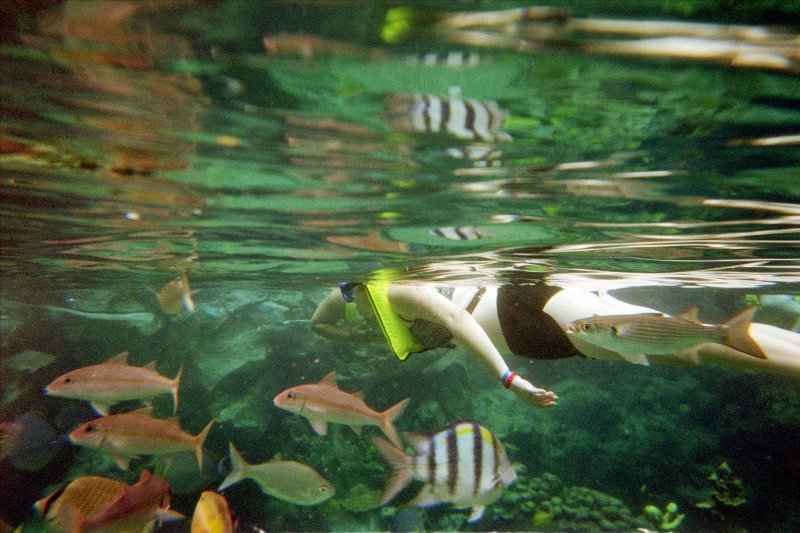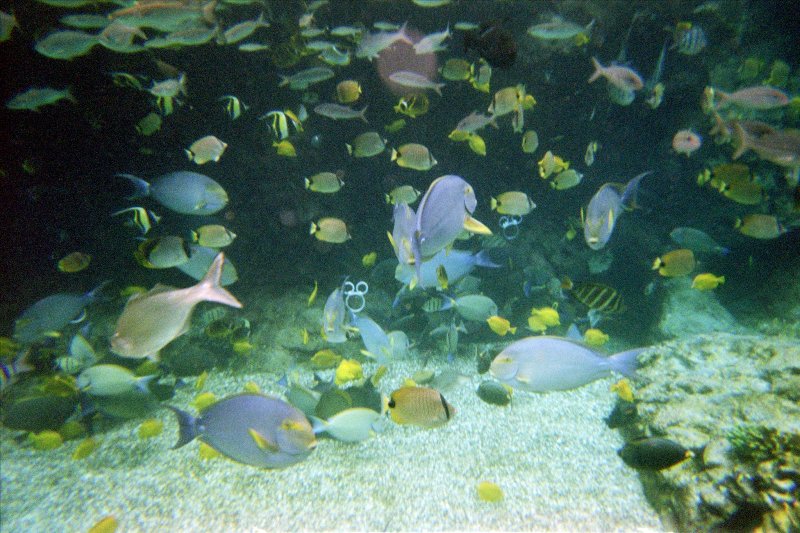 We happened to be there during feeding time.
When we got back to our loungers we noticed an event was being set up right next to us. I was hoping it was for a wedding, and eventually it became clear that – it was! An Aulani wedding happening right in front of me, my lucky day! We ordered a couple more drinks and I anxiously spied on the set up. I kept taking pictures of the progress, and we kept chatting about the possibility of rain (although we assumed Aulani was smart enough to not set up for an outdoor wedding if they felt rain would be a threat). As the afternoon went on it got chillier outside and guests started to abandon their loungers. The wedding didn't start until 6:00 PM and we stuck around long enough to see the bride walk down the aisle before we packed up our things and walked the long way back to our room (since the direct pathway was blocked because of the wedding). By now Rainbow Reef had closed for the day (they close around 5pm) but we felt we still got value from our $20 passes.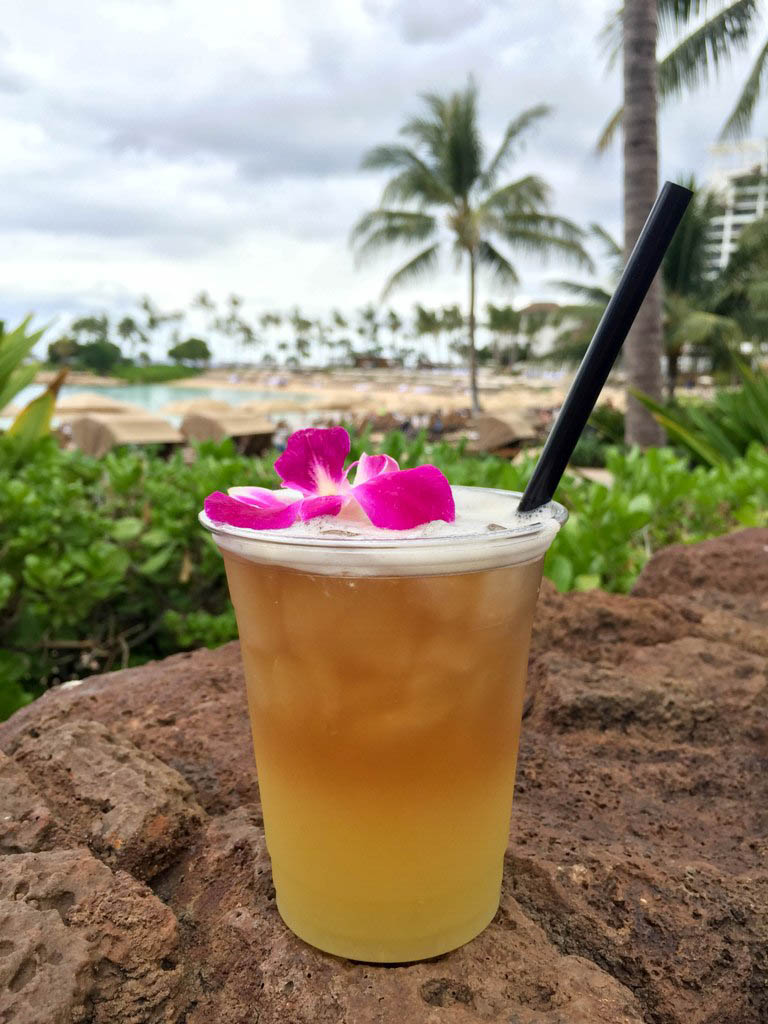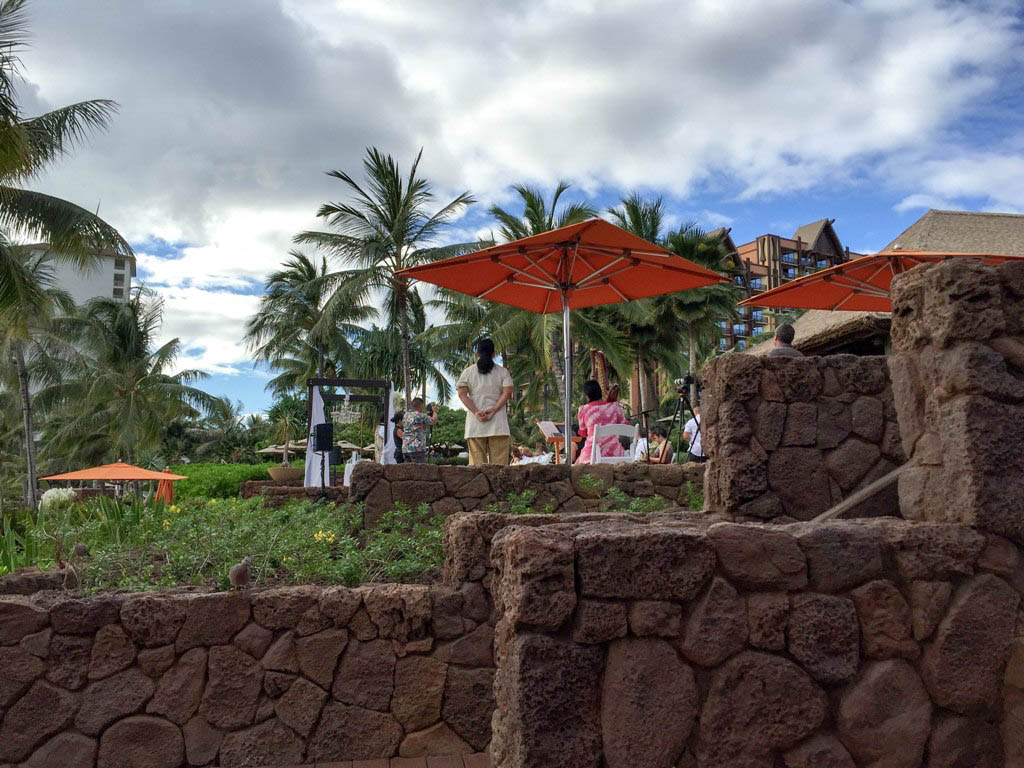 Tonight was the Starlit Hui show, Aulani's version of a luau except there's no food. After cleaning up and changing clothes in the room, we headed down to the Halawai Lawn to scope out the scene. It was about 90 minutes before showtime and we were turned away at the entrance, so we went to the nearby Olelo Room to grab a drink.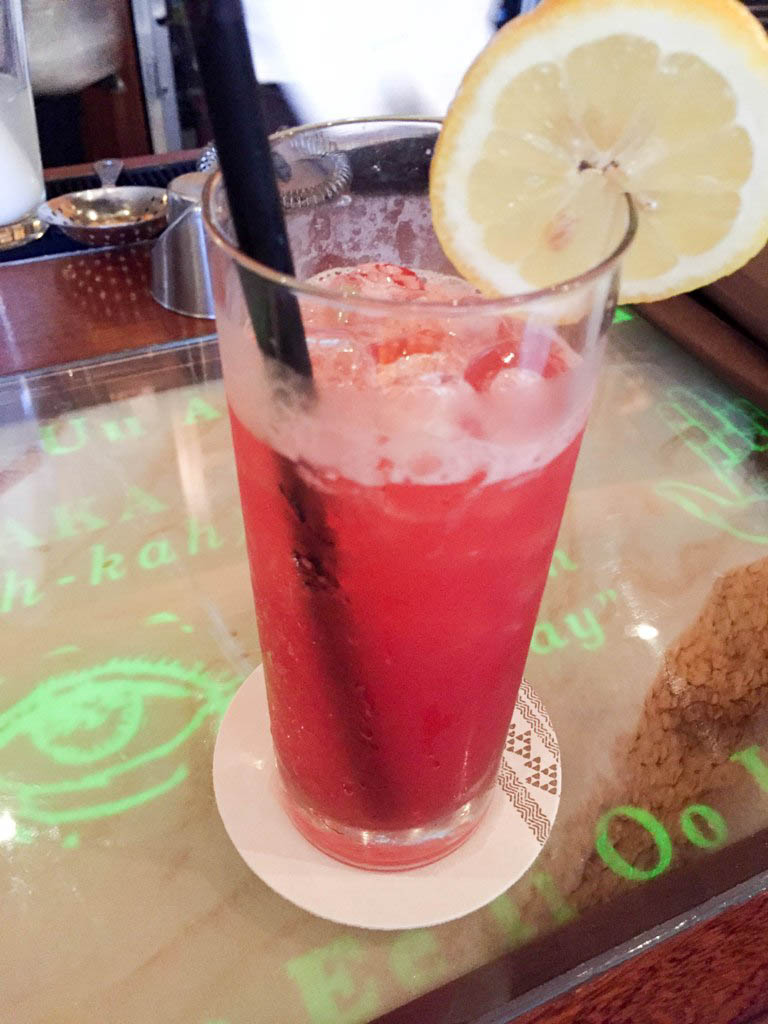 Olelo means "language" and the bar is themed around the Hawaiian language. There are wooden statues all over the wall behind the bar labeled with the Hawaiian translation, and the bartenders and staff there will happily help you learn new words and pronunciations. The bar also lights up with with different words and phonics; it's really cool!
With about 45 minutes to go before the show, we left Olelo Room and went back to the Halawai Lawn access inside the Ewa tower, and this time we were told to line up at the *other* lawn entrance near Ama Ama. We walked around there and discovered a HUGE line. I wish we had known; we could have grabbed our drinks to go and then held our place in line. About 30 minutes before the show they started to move the line through. It was very organized. A Cast Member asked your party size and then you were given a grass mat to sit on, then you were led to a spot. Everything is very rushed, and when I asked to sit along the aisle to take pictures I was brutally rebuffed as the CM quickly put my mat down and left to help the next person. Before I could even think about trying to move my mat myself, the space all around us had filled in with families settling in on their mats. This made me a little grumpy.
Once our space was established and it was evident we were NOT going to be able to move and I had a quick tantrum about it, Tim happily went off to order food from Off the Hook while I stayed at the mat and sulked. My mood got instantly better when Tim returned with an adult beverage and a chicken Cesar wrap just as the show as starting (yes, it took a full 30 minutes to order and get our food, so I recommend getting your food before getting in line for the show).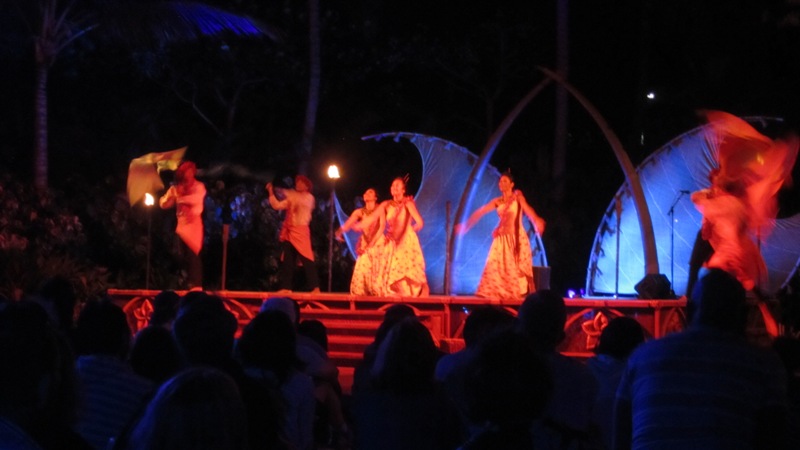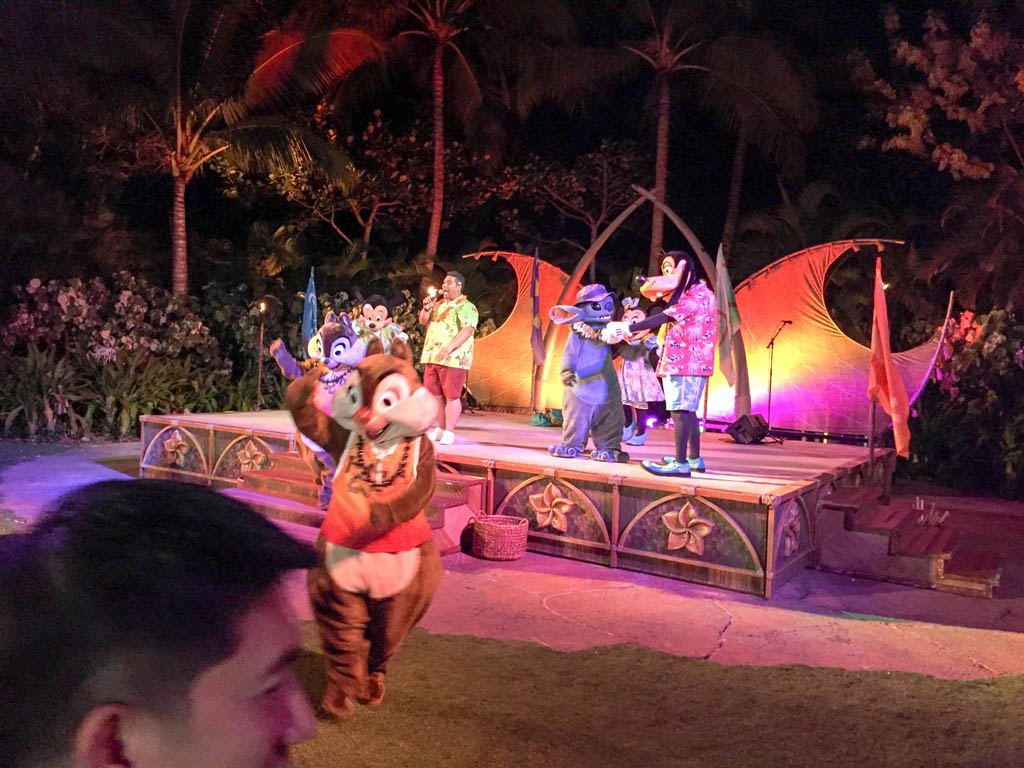 The show was great, the typical singing and dancing you would expect from a luau show combined with Disney's high quality production values. Towards the end the entertainers were joined on stage by a few of our favorite pals – Mickey, Minnie, Donald, Goofy, and Stitch to name just a few. The show was only 30-40 minutes but well worth the effort, especially if you don't plan on going to any other luaus (we didn't).
After the show we headed back to our room for our now evening ritual of sitting on our balcony with a glass of pineapple wine and falling asleep by 9pm.
Coming up in Day 4 we actually – gasp – leave Aulani and explore the rest of Oahu.