This post contains affiliate links.
Food and Wine Festival is back!!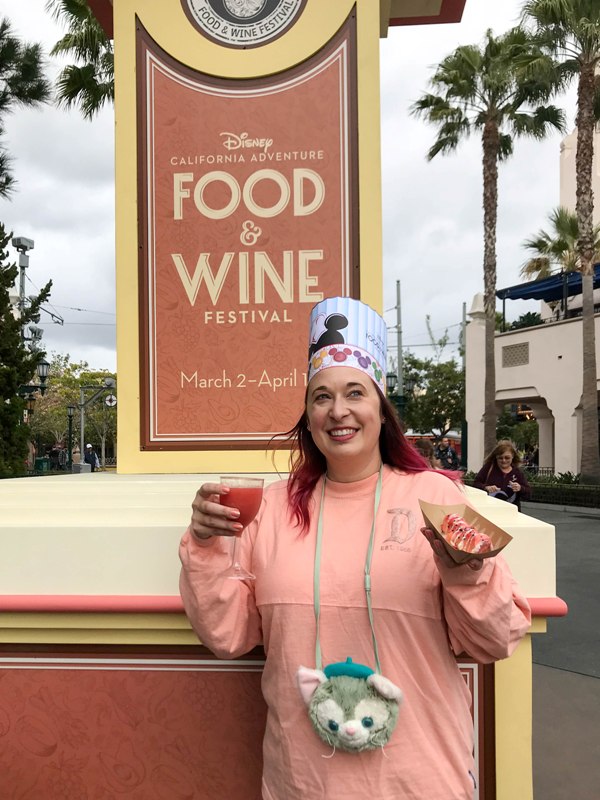 The Disney California Adventure Food & Wine Festival is one of my favorite events of the year. As a huge foodie I look forward to seeing what yummy treats Disney has in store for us and this year did not disappoint. And this year we get an extra week! My only concern is how quickly I can go back so I can try more items.
Guide to the 2018 Disney California Adventure Food and Wine Festival
First of all, if you're just here for my Food & Wine Festival Printable Checklist, you can get yours by clicking right here. For this checklist I've typed up all the menu items from the 14 food and beverage kiosks. You can check off the items as you try them, and there is also space to jot down notes about your favorite items. Be sure to print this before you head out to the Festival!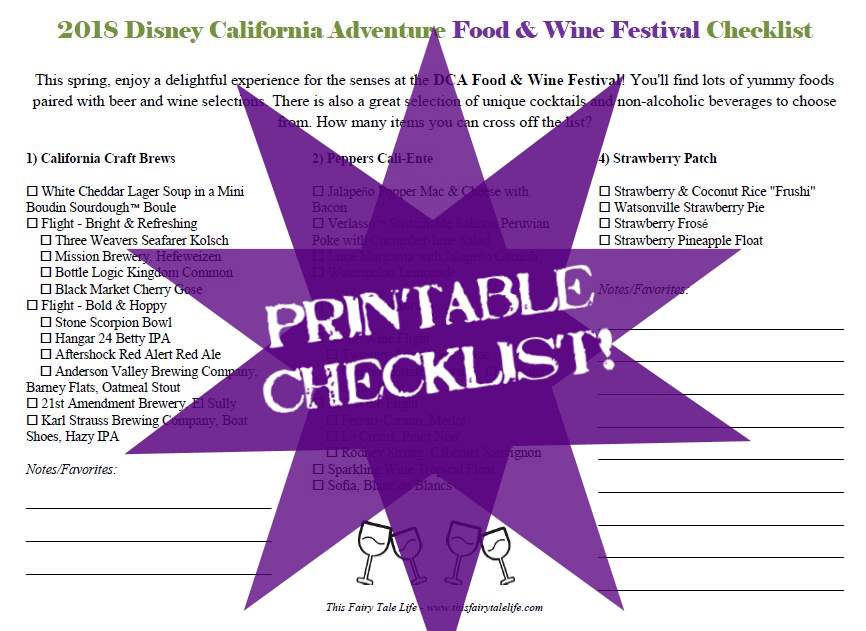 What and When is it?
Disney California Adventure Food and Wine Festival is a celebration of the delicious foods and spirits of California. Guests can purchase samples of a variety of delicious foods, wines, beers, and other drinks. Seminars, demonstrations, and guided tastings are also available, some free and some for an additional price.
The Food and Wine Festival is being offered every day between March 2, 2018 and April 12, 2018. Regular Park admission is required, and food and drink items are an additional cost.
Where to Go
When you approach the front gate of Disney California Adventure, there's nothing to indicate a special event is going on. However, be sure to pick up the Food and Wine Festival schedule after scanning your ticket/pass at the turnstiles.
The entrance to the festival is marked by a huge sign right next to Carthay Circle. Right inside the entrance is an information booth where you can view a large map of the festival locations, as well as pick up a paper map and tasting passport. Most of the food and wine Marketplaces are located along the Performance Corridor (aka the parade route) in between the hub and the Golden Zephyr attraction.
There are 11 Marketplaces here, with 3 or 4 food items and 2 or 3 drink options at each. Adjacent to some of the Marketplaces are semi-covered wooden pergolas with counters where you can stand and eat your food. Utensils and napkins are available from self service dispensers. There are also several tables with chairs and cocktail tables set up along the corridor. In between Marketplaces you'll also find kiosks selling official event merchandise, as well as some third-party products.
To order, approach the registers next to the Marketplace, place and pay for your order, then take your receipt to the window of the Marketplace. Your food and drink items will be prepared quickly, and you'll be given a cardboard tray if needed/requested. You can take your food to the nearby wooden counters or a nearby table. Don't forget to grab napkins and utensils!
Keep walking into Paradise Gardens and you'll find the Festival Beer Garden.
The Paradise Garden Grill also received a menu makeover for the festival.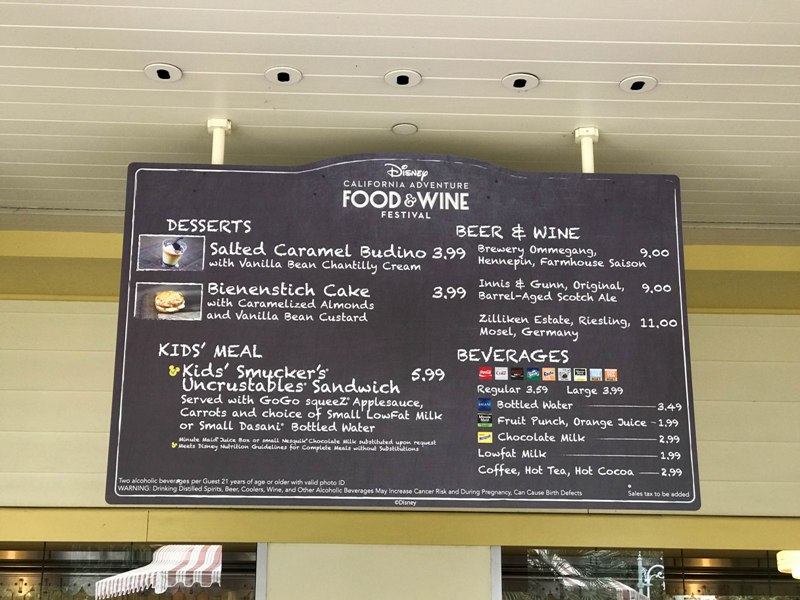 This year the seminars are taking place along Paradise Pier, with a stage set up in the World of Color viewing area.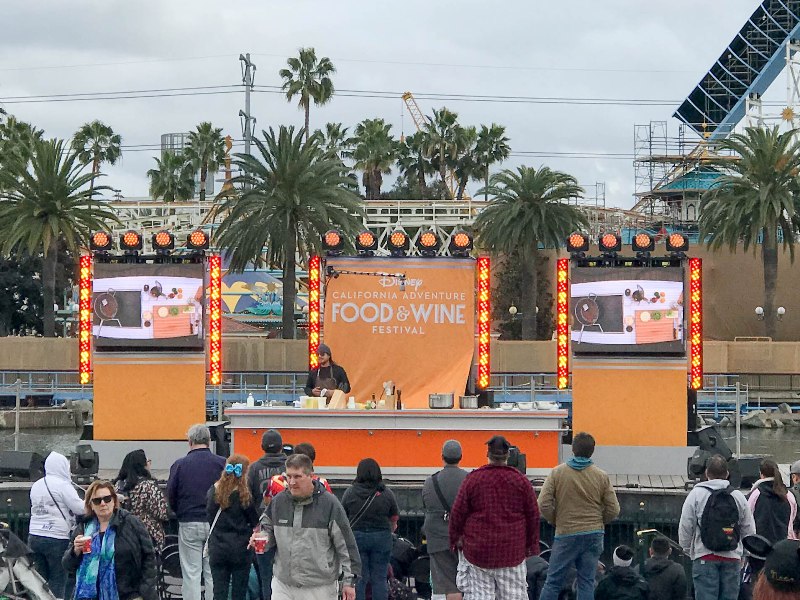 I was also excited to see the Sonoma Tasting Terrace has undergone an extensive makeover adding additional seating and a new entrance along the corridor.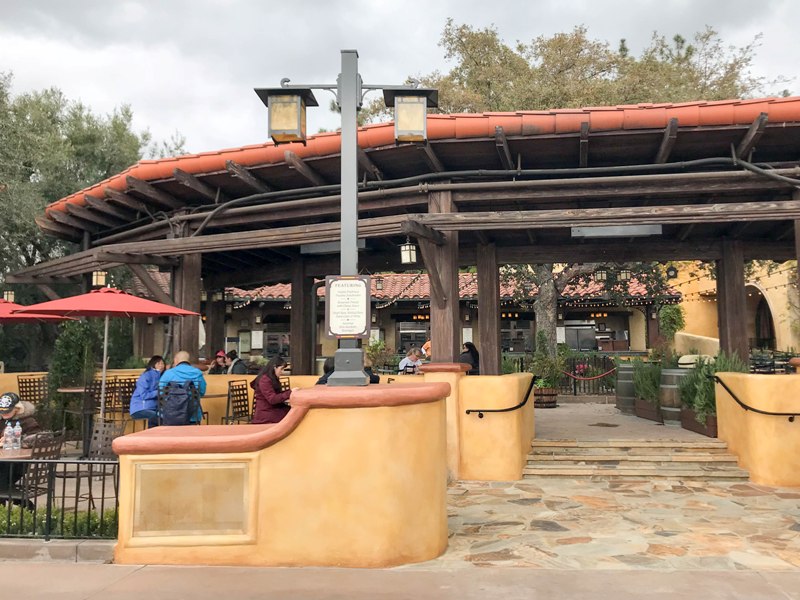 Your food journey continues in the Hollywood Land Backlot area. Here you'll find three Marketplaces: including LA Style, Nuts About Cheese, and The Brewhouse where you can get a variety of beers and ciders.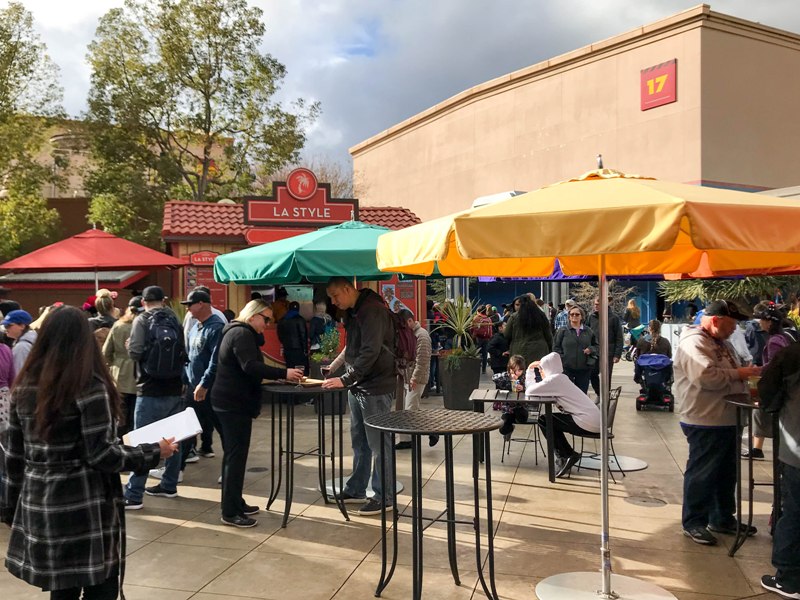 This year the Junior Chef activities are located on the stage at the Hollywood Land Backlot.
You will also find a merchandise kiosk where you can buy Food and Wine Festival branded items such as T-shirts, kitchen towels, and wine glasses. You can also get the special AP lanyard here. Each tab on the lanyard can be redeemed for one food item at any of the kiosks. The lanyard is $45 for eight tabs, making each tab worth $5.50. Food prices range between $4 to $8, so if you use the tabs on the right items this is certainly a good deal for Annual Passholders. You can also pick up an AP lanyard at Kingswell Camera shop towards the front of the Park.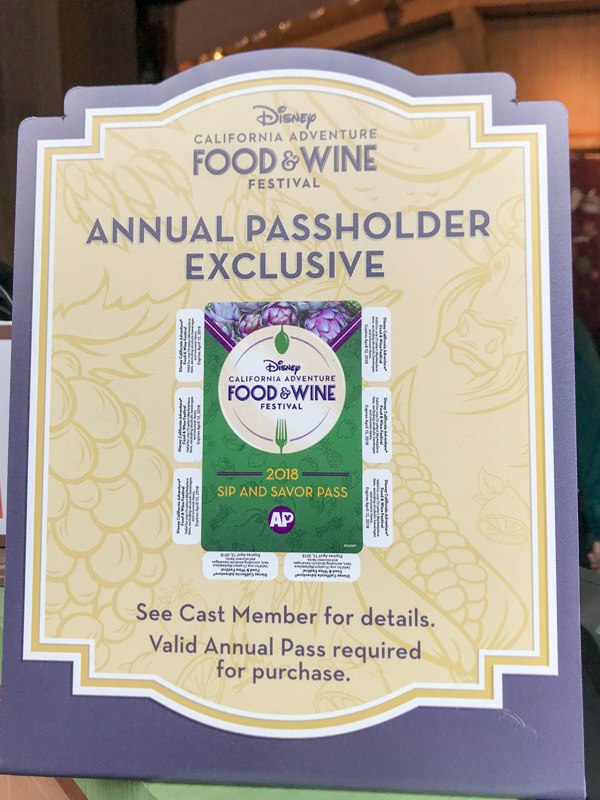 The AP Corner is a literal corner this year … located next to Stage 17 (which is currently being used for the meet and greet for Black Panther, so there is nothing for food and wine festival at Stage 17 this year). The AP Corner includes a photo op and an exclusive pin. Unfortunately there is no space to sit and rest, or charge our phones. This is a bit of a bummer.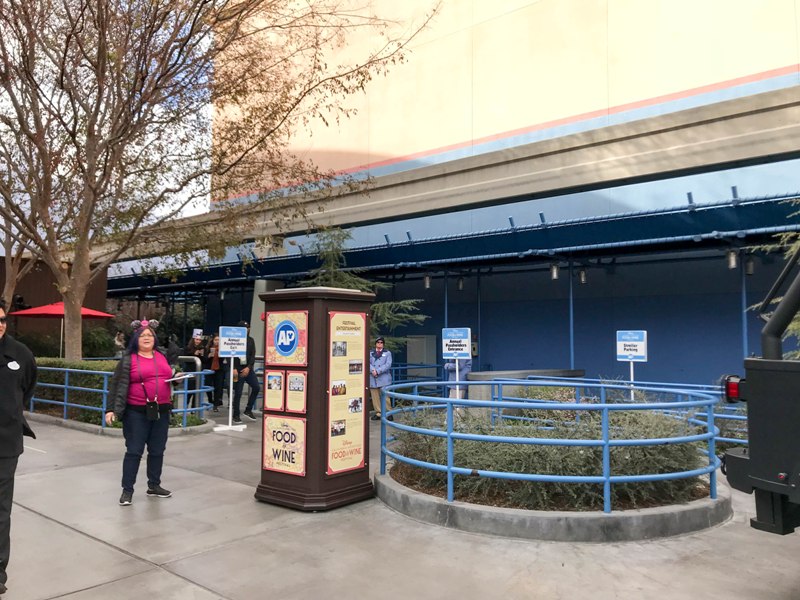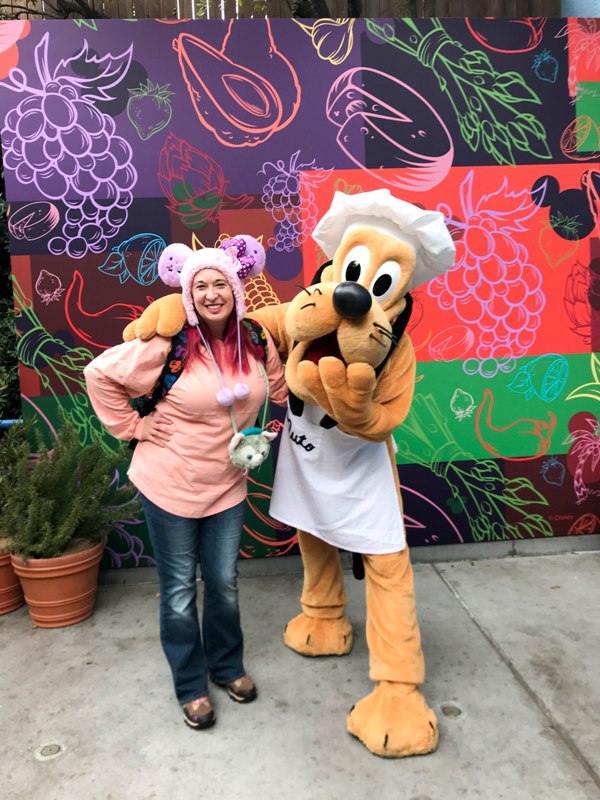 What to Do:
Aside from sampling food, wine, and beer, you can participate in instructor led tastings are located at the Pacific Wharf area, which is a new food & wine festival spot. You can make reservations for these tastings online here.
You can also watch seminars, including celebrity chefs located at the Hyperion Theater, or attend a Winemaker or Brewmaster dinner. Please visit the official Disneyland website for full details/schedule of what's available during Food and Wine Festival.
What to Eat
Obviously you should eat everything! Here's what I've tried so far.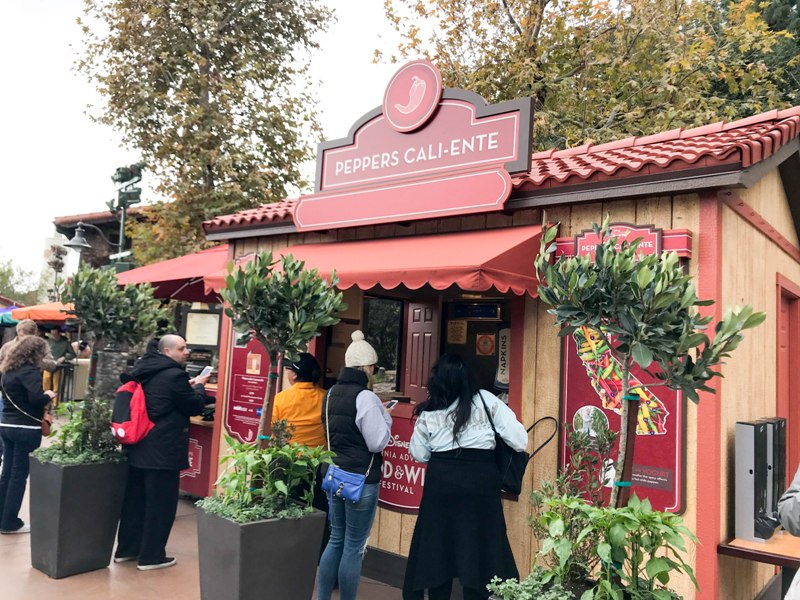 Peppers Cali-ente – A new booth this year; however everything was spicy and spicy isn't my thing. But if you like jalepenos, go here.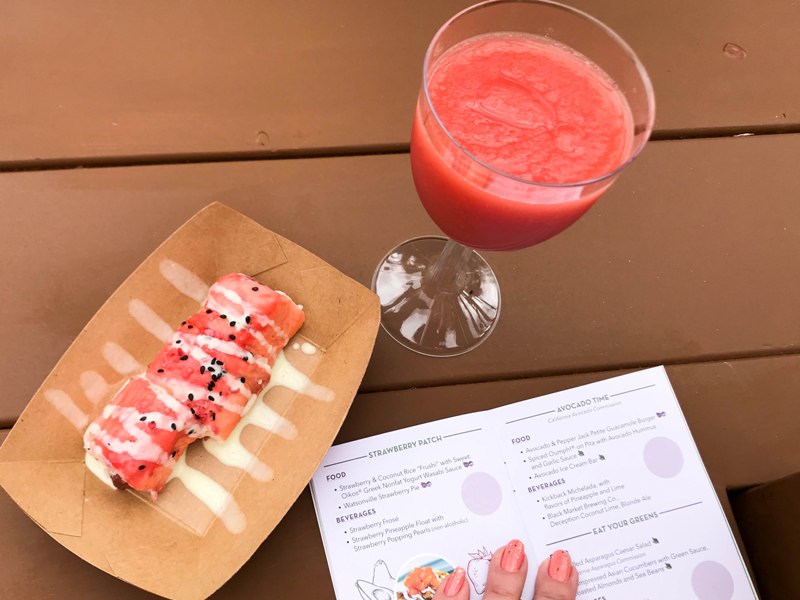 Strawberry Patch – Another new booth, this is where you get what I predict will be this year's most popular item, the Strawberry Frose. I also tried the Strawberry & Coconut Rice "Frushi" and it was great but very sweet. Consider it a dessert item. I now understand the hype from Epcot's festival.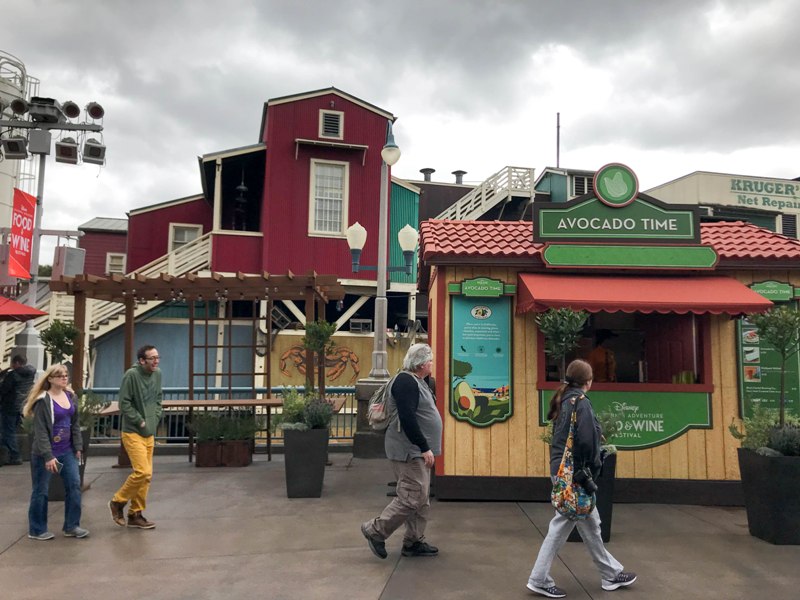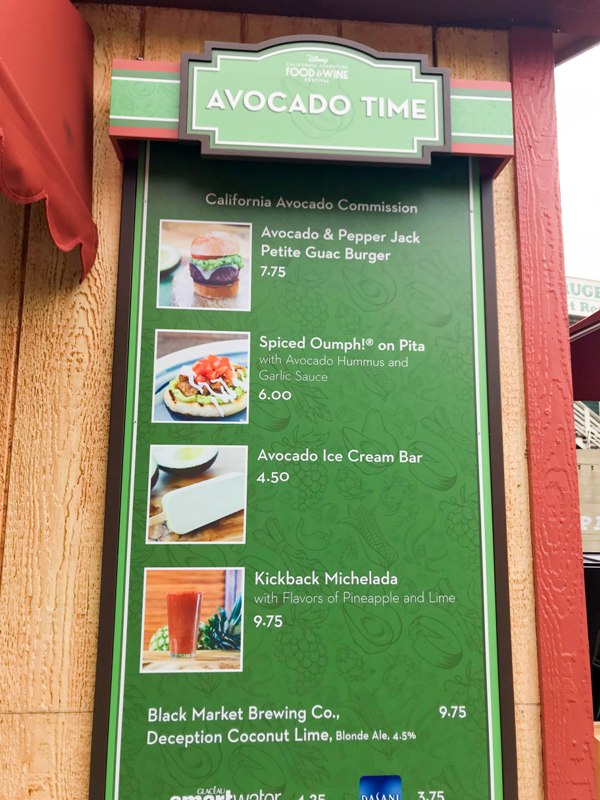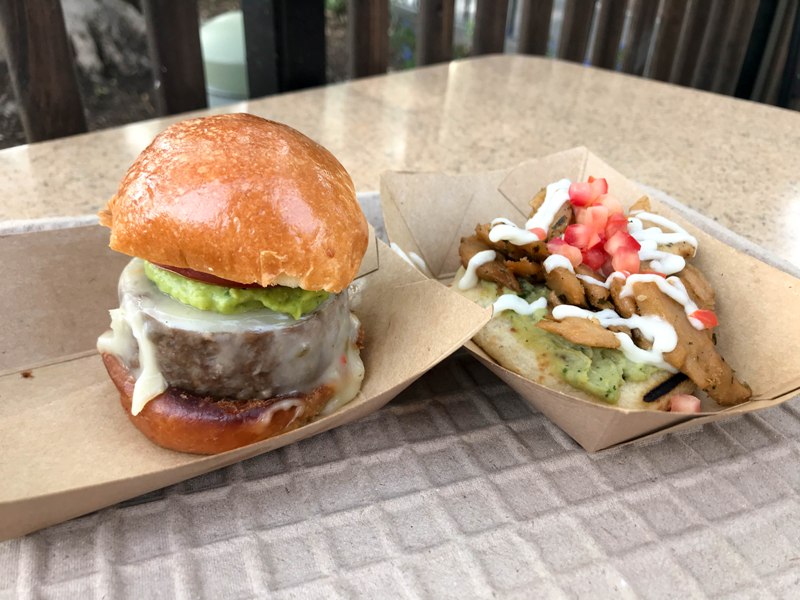 Avocado Time – I tried a couple things here. The Avocado & PepperJack Petite Guacamole Burger was delightful. I also tried the Oumph!® on Pita with Avocado Hummus and Garlic Sauce. The Oumph!® is a soy-based meat substitute. It had the consistency of chicken and it was REALLY good. I enjoyed this meal better than the burger. Sadly the avocado ice cream bar has been consistently sold out but I hope I can try it before the festival ends!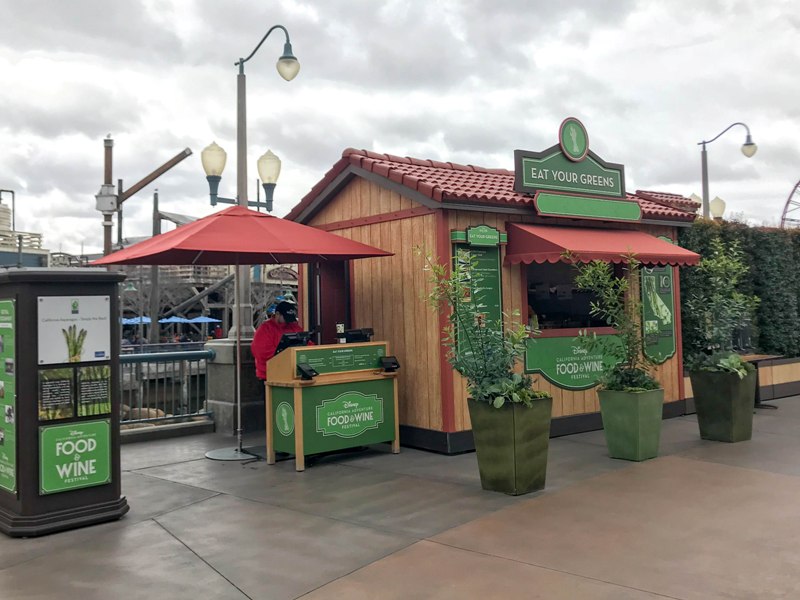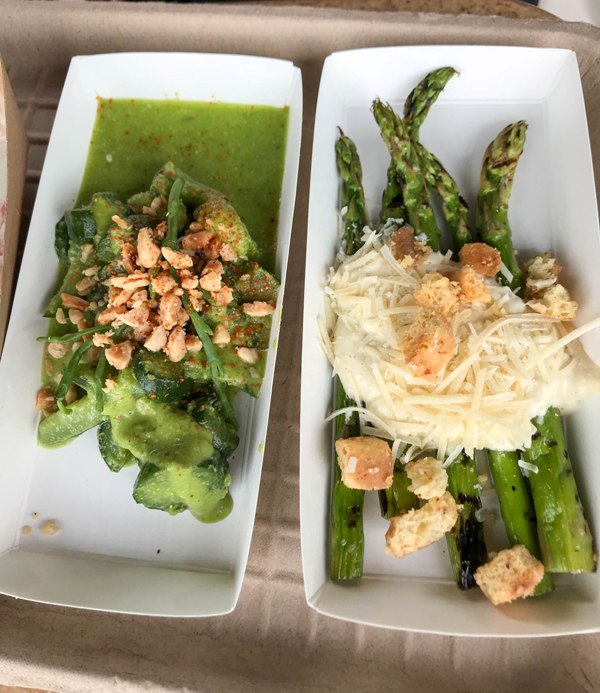 Eat Your Greens – Finally, a much needed "healthy" marketplace! We tried almost everything here. Loved the Grilled Asparagus Caesar Salad, even though I felt there was a bit too much dressing. The Compressed Asian Cucumbers with Green Sauce, Toasted Almonds, and Sea Beans were also very good. We also tried the Beet Kombucha Sangria and enjoyed it. It *does* taste like beet juice, which I happen to like. Add sparkling wine and I'm all in.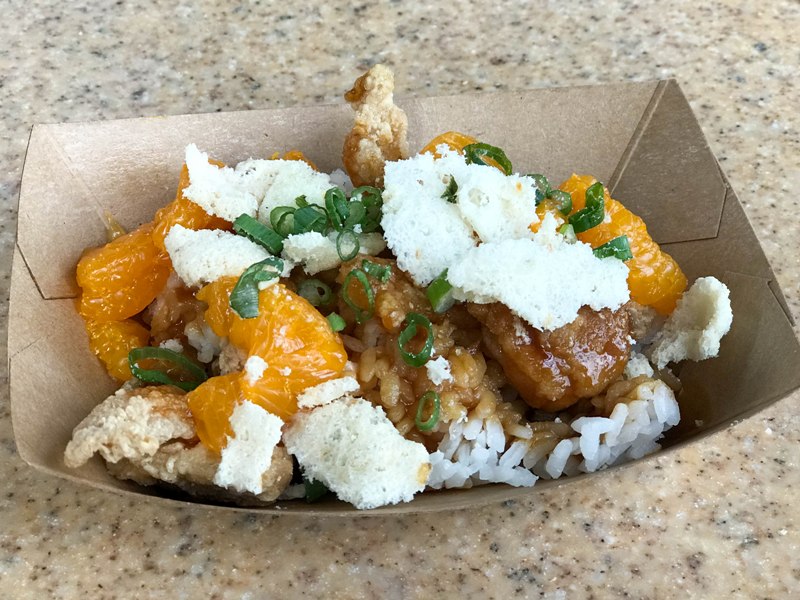 Citrus Grove – Tried the Crispy Orange Chicken & Rice here and was not impressed. The chicken was very chewy and tasted more like chicken skin than hunks of meat. The Meyer Lemon Macaron and the Meyer Lemon Ginger Mule are repeats from last year and I remember enjoying them.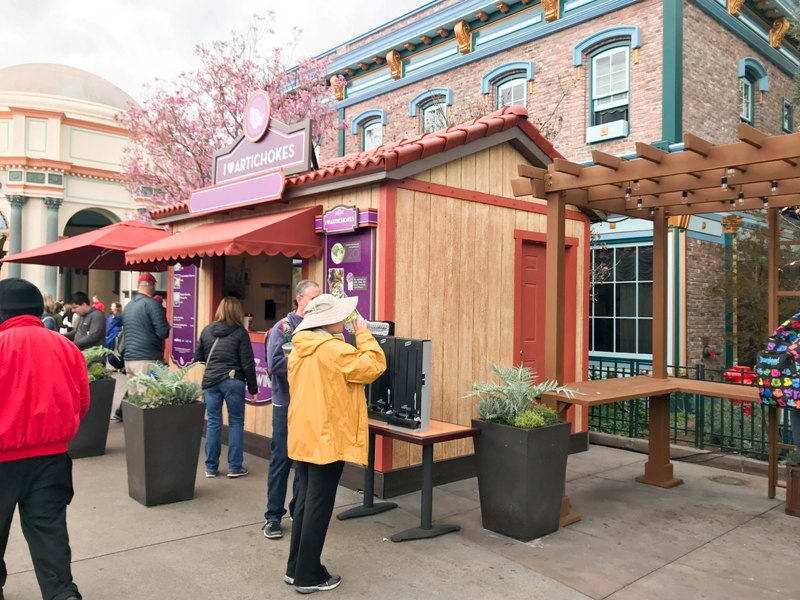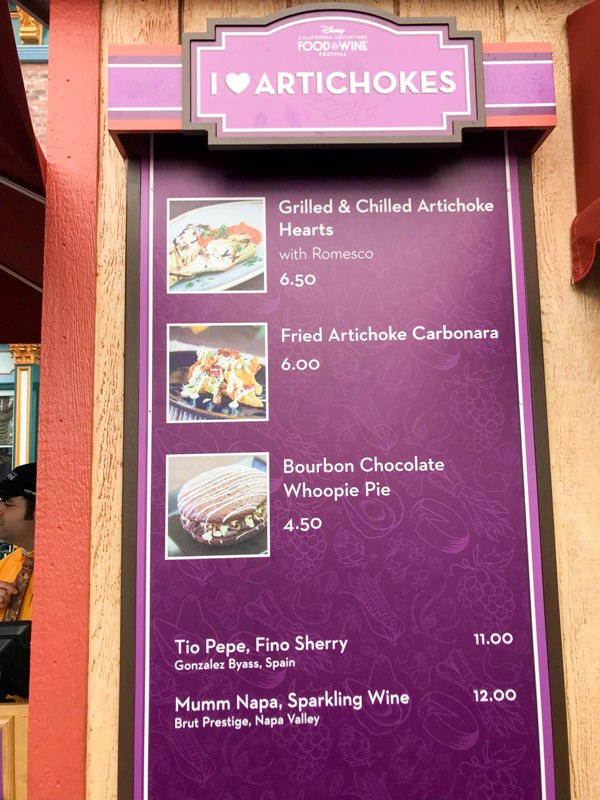 I <3 artichokes - a repeat booth from last year, i remember had the fried artichoke carbonara and didn't care for it. dessert this year is bourbon chocolate whoopie pie (no clue what has to do with artichokes); was one of my favorite items festival year.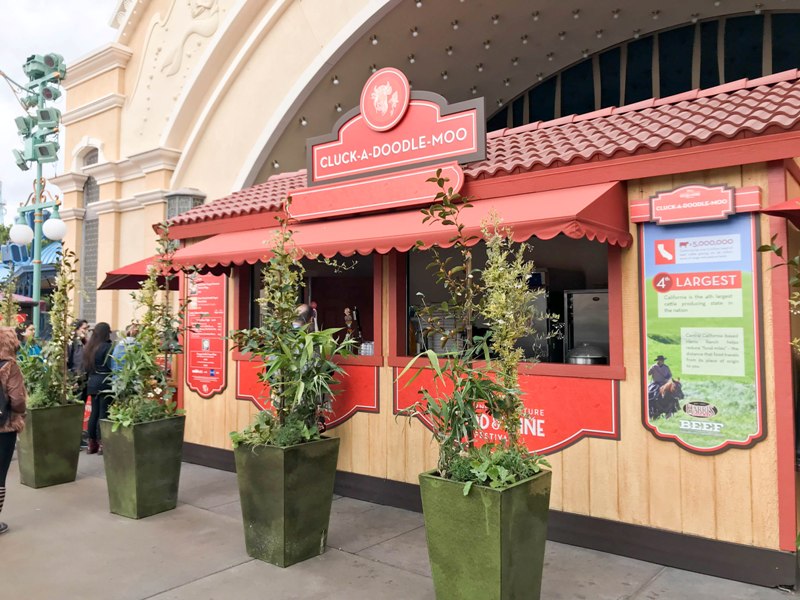 Cluck-A-Doodle-Moo – New chicken and beef items this year include the Grilled Harris Ranch Beef Tenderloin Slider with Chimichurri Sauce (good, meat was a bit fatty) and the Salt & Beer Vinegar Parmesan Chicken Wings (seemed to always be sold out). This marketplace also has a selection of beers and another flight option.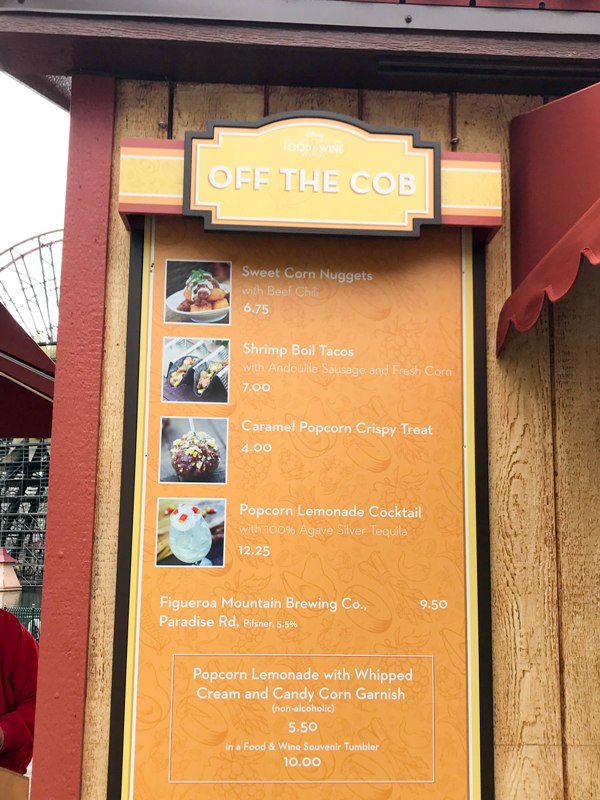 Off the Cob – Well needless-to-say I stayed away from this booth. But they offer Sweet Corn Nuggets with Beef Chili (my husband tried them and gives it two thumbs up) and Shrimp Boil Tacos with Andouille Sausage and Fresh Corn. I do wish I could try the Caramel Popcorn Crispy Treat; someone try it and let me know how amazing it is!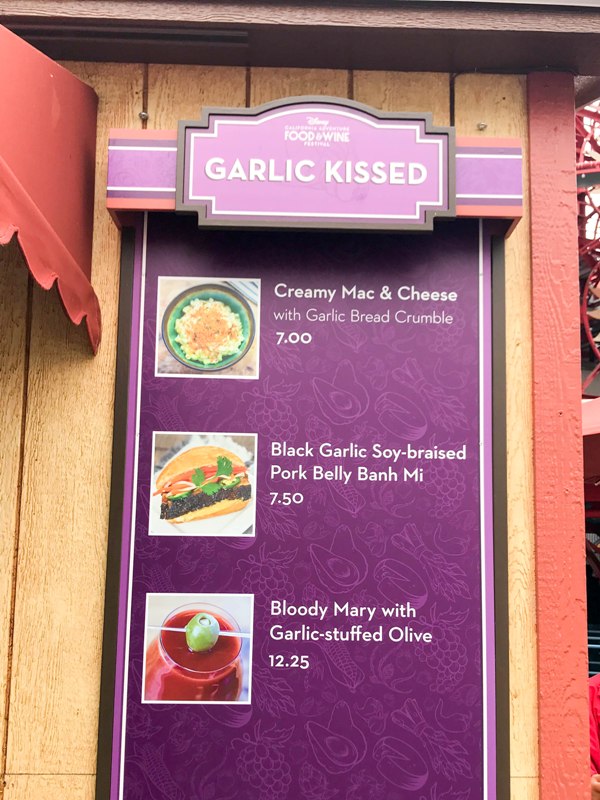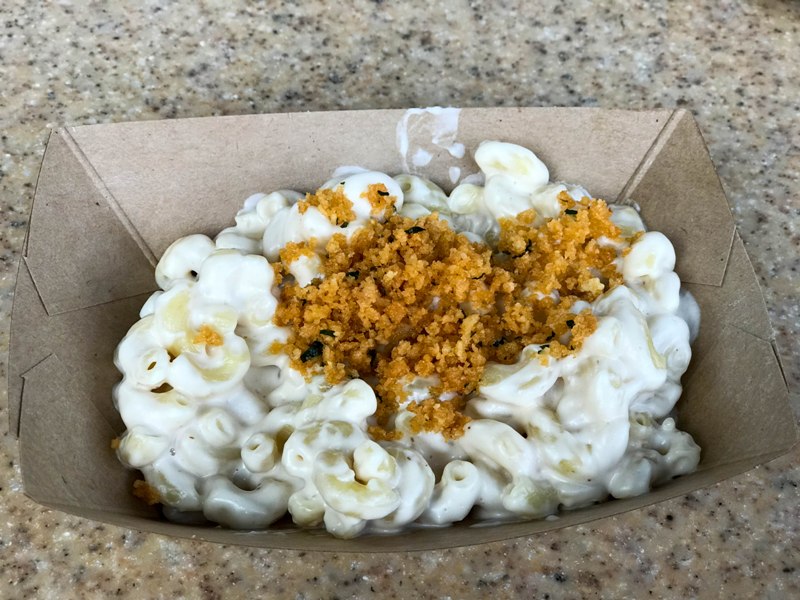 Garlic Kissed – Expect long line for this one, as the Creamy Mac & Cheese with Garlic Bread Crumble is sure to be a popular item. It was good, but not nearly as good as last year's French Onion Mac & Cheese, which I miss so so so so much and think about weekly (I wish I were joking). I also tried the Black Garlic Soy-Braised Pork Belly Banh Mi and enjoyed it.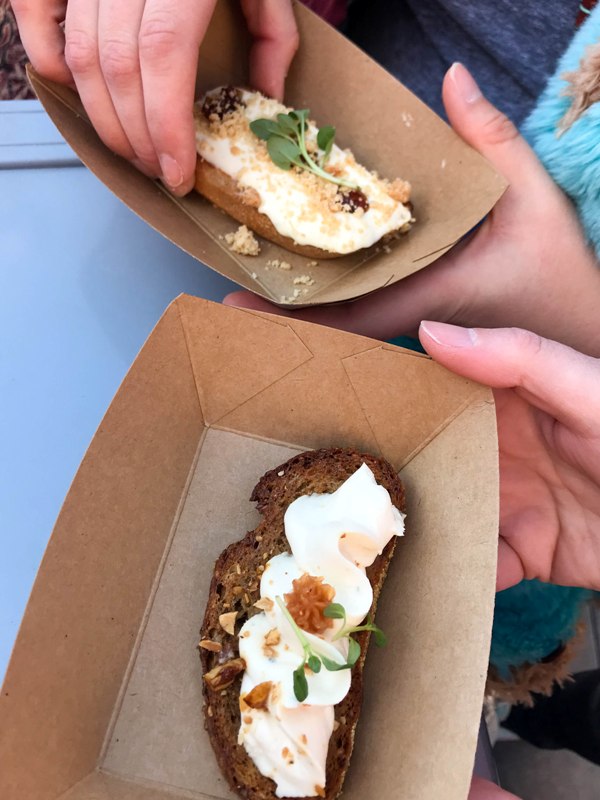 Nuts About Cheese – The cheese and toasts are tasty but small. The mimosa flight was delish – more on that below.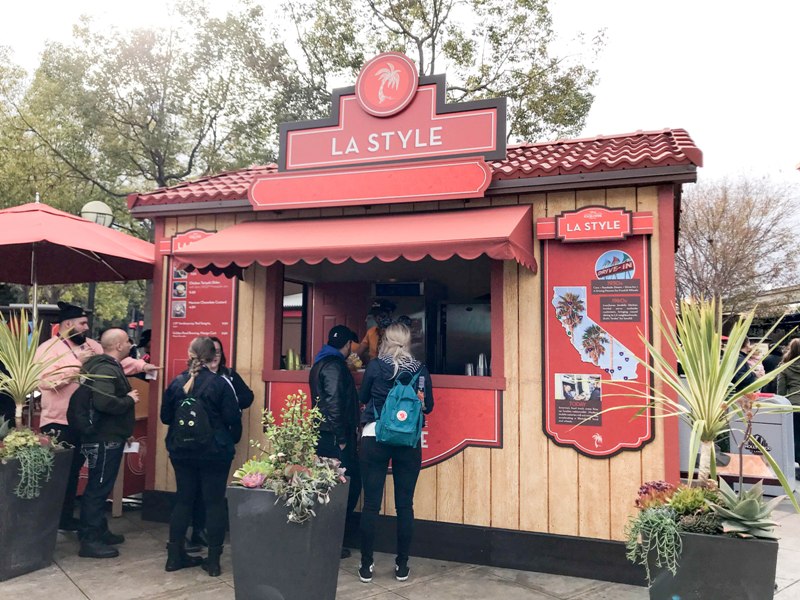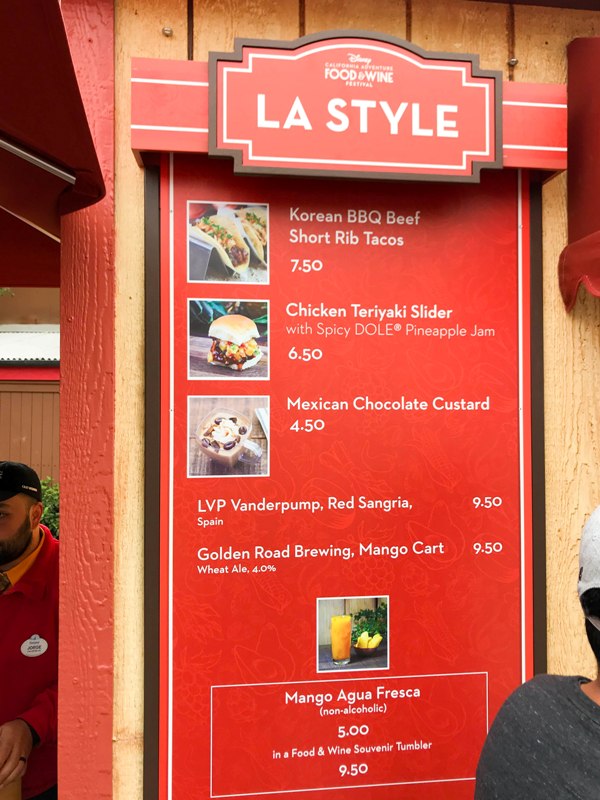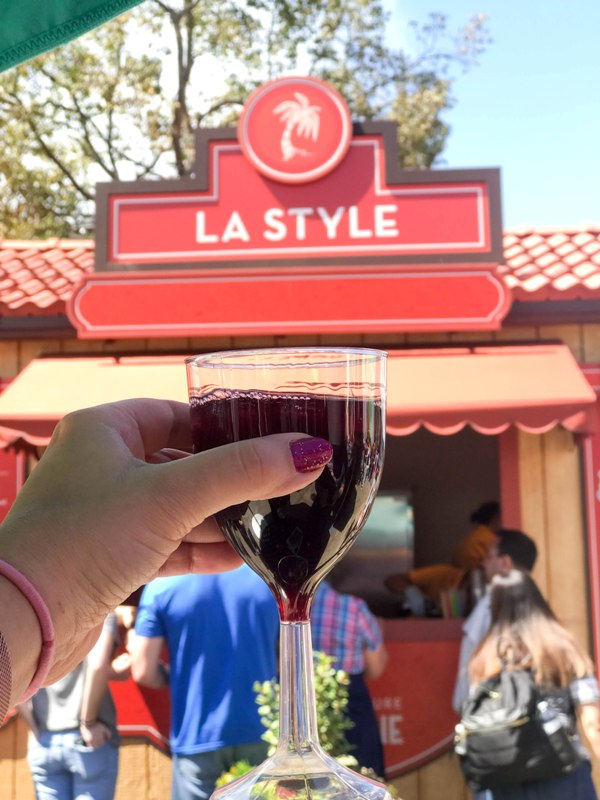 LA Style – Items here were mostly repeats from last year so I didn't try them again. My notes from last year mention the Chicken Teriyaki Slider with pineapple jam was a little dry and the jam a little bland. The Korean Short Rib tacos were much better, although I had to simply eat the beef with a fork since I can't eat the corn tortillas. New this year is the Mexican Chocolate Custard, which was really good. It basically just tastes like chocolate pudding. The sangria was delicious as well.
Paradise Garden Grill – If you want a full meal, this is the place to be. You can get Beer-Battered Cod with Steak Fries, Beer-Braised Pork Tacos with Pickled Apple Slaw, or Sausage Trio Platter with Red Cabbage and Potato Salad. Two desserts are also available and a couple beers.
Be sure to pick up a Tasting Passport which you can get stamped as you go from marketplace to marketplace. They are free and should be available to get at any marketplace or the information booth. The Tasting Passport also has a listing of Gluten-Free, kid friendly, vegetarian, and vegan items.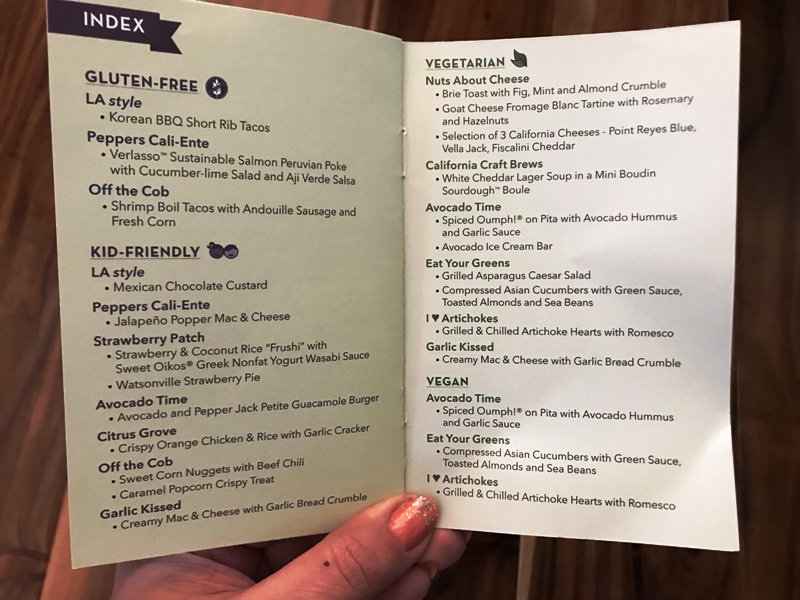 What to Drink
I don't drink beer (I have a barley intolerance) so I can't comment on any of the beers. But I did try the other drink flights.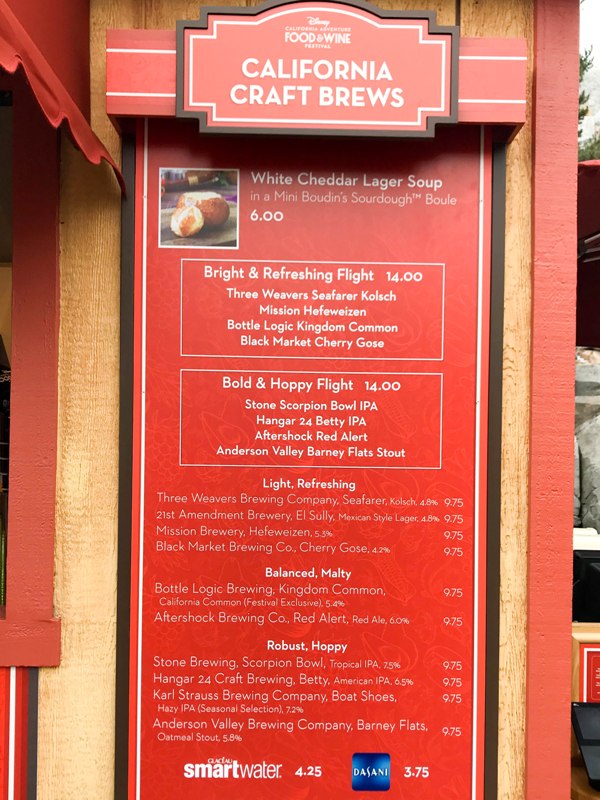 California Craft Brews – This year the beer marketplace is at the very front of the festival, which is great because this provides an adequate space for a queue. There are 10 beers listed, as well as two flights: Bright & Refreshing Flight or Bold & Hoppy Flight. Both flights are $14, and glasses are all $9.75.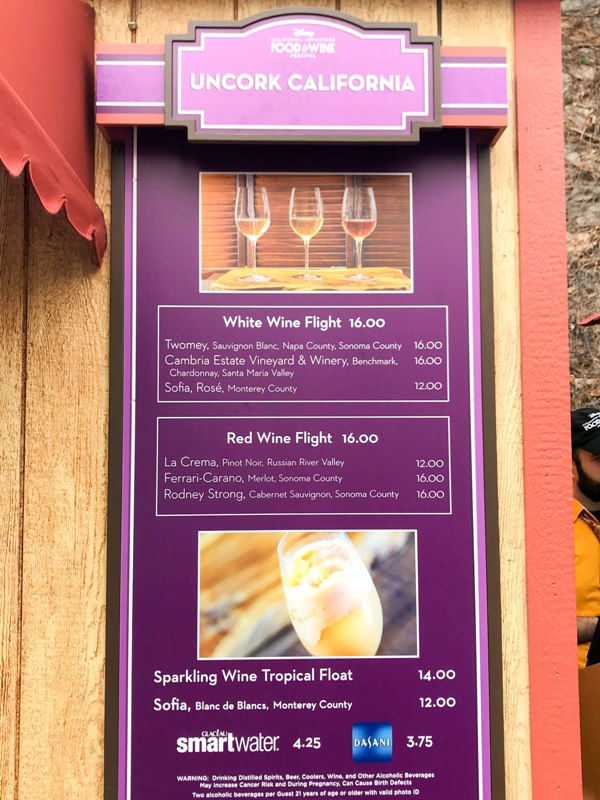 Uncork California – This year's white wine flight seems similar to last year. The $16 flight includes a Sauvignon Blanc, a Chardonnay, and a Rosé. All three tasted great but I would have loved to have had some options that seemed a little more adventurous. (With individual glasses ranging between $12 – $16, the flight seems like a decent value.)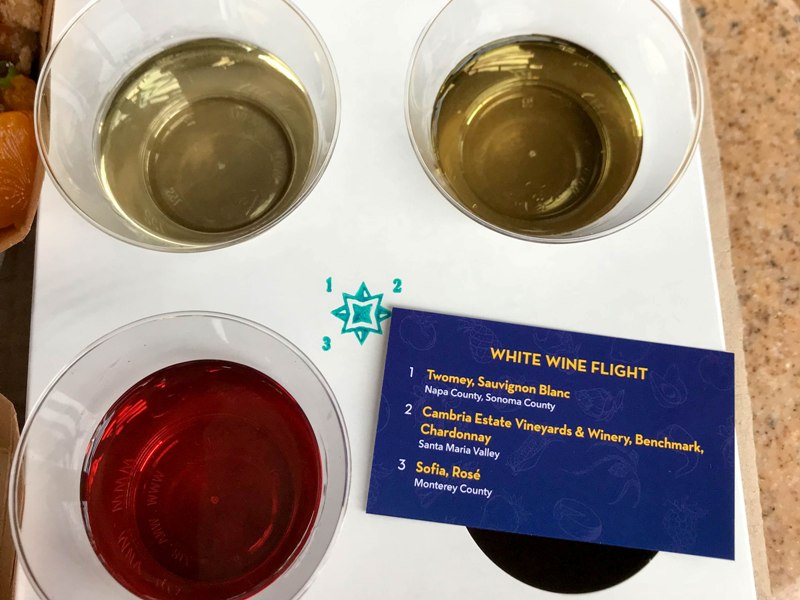 The red flight includes a pinot noir, a merlot, and a cabernet sauvignon. The red flight is also $16 (down from $20 last year).
Aside from the two flights and the full glass versions, there is a Sofia blanc de blancs available for $12 and also a Sparkling Wine Tropical Float for $14 which was delicious. Although the tiny pineapple bits kept getting stuck in my straw. So it either needs less pineapple bits or a bigger straw.
The Brewhouse – Located in the Hollywood Land Backlot, you can get a variety of beers here, including one apple cider.
Nuts About Cheese – Also located in the Hollywood Land Backlot, this food marketplace has a nice selection of wines and the aforementioned mimosa flight.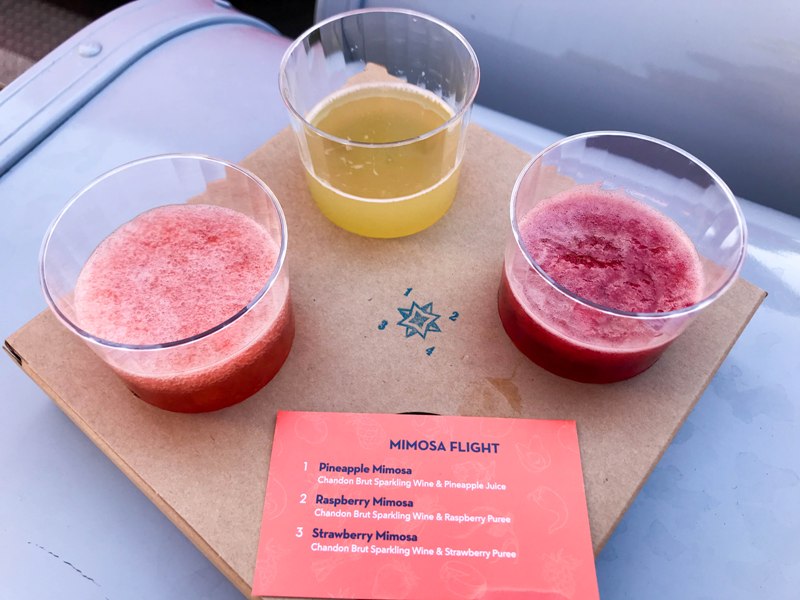 Festival Beer Garden – I count 10 beers on the menu and one flight for $14.
***
I'm really excited about this year's festival! I love the new additions, the expanded kiosks, and the unique food options. I'm planning to visit a lot and try as much as I can! When you go, don't forget to print out your free checklist, bring a hat in case you have to stand in the sun while snacking, and drink plenty of water!