There are lots of cool events at Walt Disney World throughout the year, but I think if I had to pick an ideal time to go, it would be during EPCOT's International Flower and Garden Festival. Not only are the garden and topiary displays super fun, but these food pictures my friend Venessa shared with me from her recent trip were the proverbial and literal icing on the cake. Scroll through and try to resist licking the screen. I dare you!
Berry Tea Cocktail — Twinings Cold Brewed Mixed Berry Tea with Florida Cane Vodka and Plant City Strawberry, Flavored with Raspberry and Açaí Syrup from Buttercup Cottage.
Field Greens with Plant City Strawberries, Toasted Almonds, and Farmstead Stilton at Buttercup Cottage.
Pork and Apple Sausage Roll with House-Made Piccalilli from the Buttercup Cottage.
Freshly Baked Potato and Cheddar Cheese Biscuit with Smoked Salmon Tartare from the Buttercup Cottage.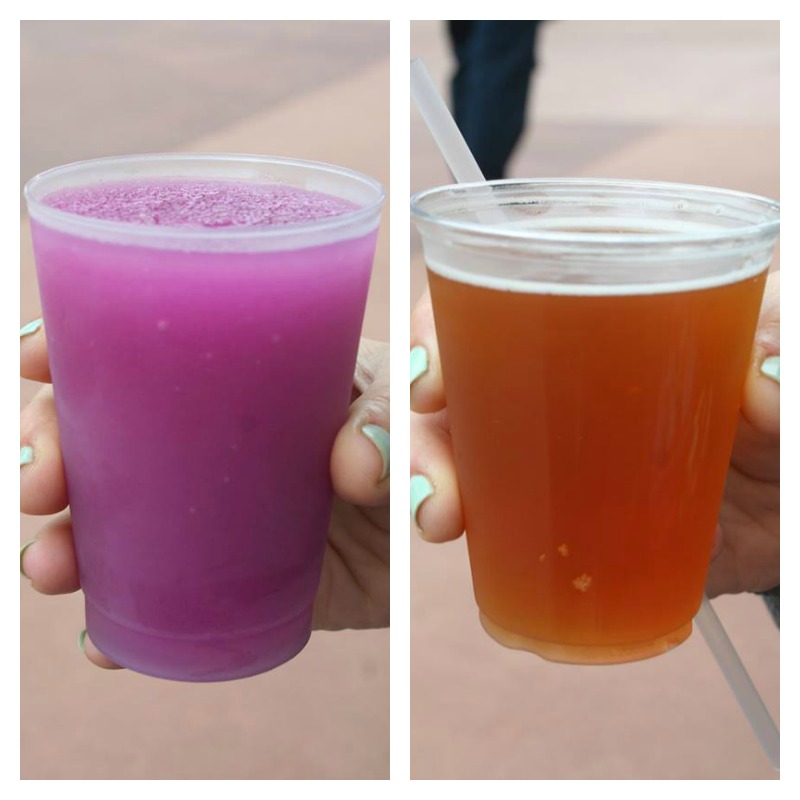 Frozen desert violet lemonade featuring Simply Lemonade (nonalcoholic) from the Pineapple Promenade.
Tropical Mango Pale Ale, St. John Brewers (U.S. Virgin Islands) from The Pineapple Promenade.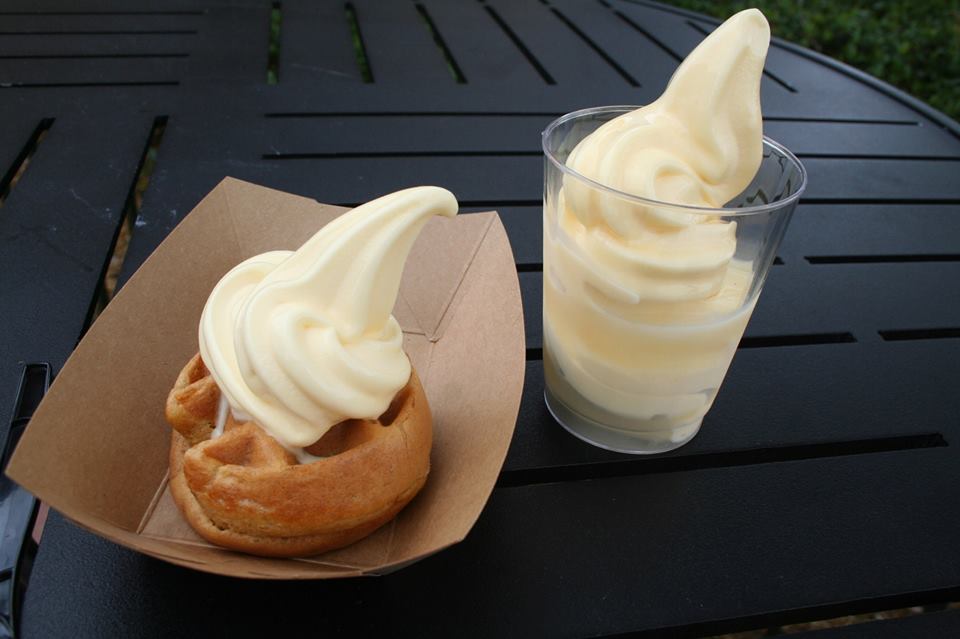 Dole Whip with Parrot Bay Coconut Rum and Sweet Potato Cinnamon Waffle with Dole Whip from the Pineapple Promenade.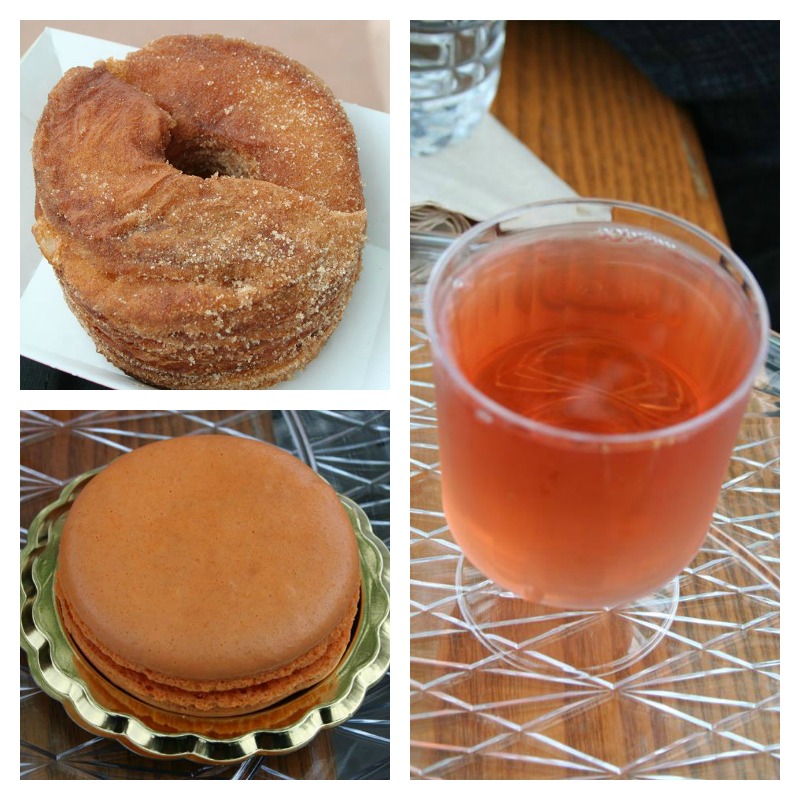 "Croissant Doughnut" at Epcot's Refreshment Port.
Rosé Pamplemousse Cocktail – Rosé Wine Mixed with Natural Grapefruit Syrup from Fleur de Lys.
Macaron à la Fleur d' Oranger – Orange Blossom Macaron with White Chocolate Ganache from Fleur de Lys.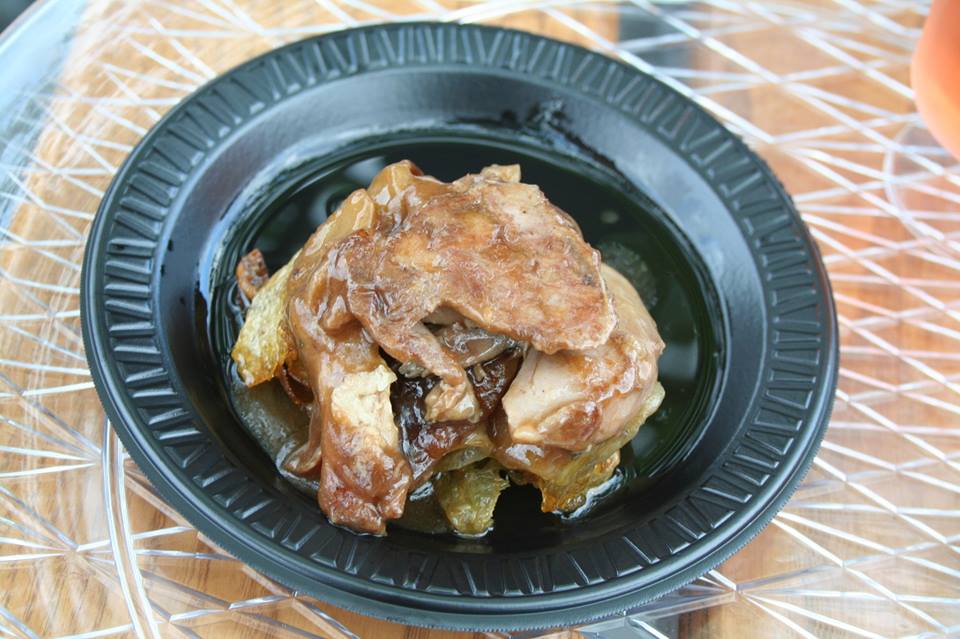 Confit de Canard, Pommes de Terre Sarladaise – Pulled Duck Confit with Garlic and Parsley Potatoes from Fleur de Lys.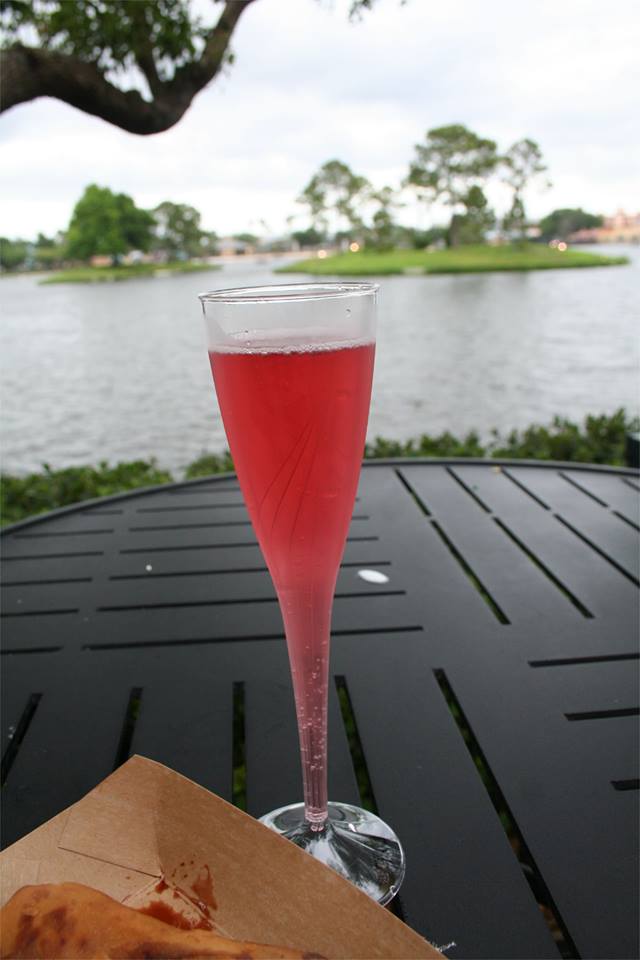 Desert Rose — Sparkling Wine with Pomegranate Liqueur from Taste of Marrakesh.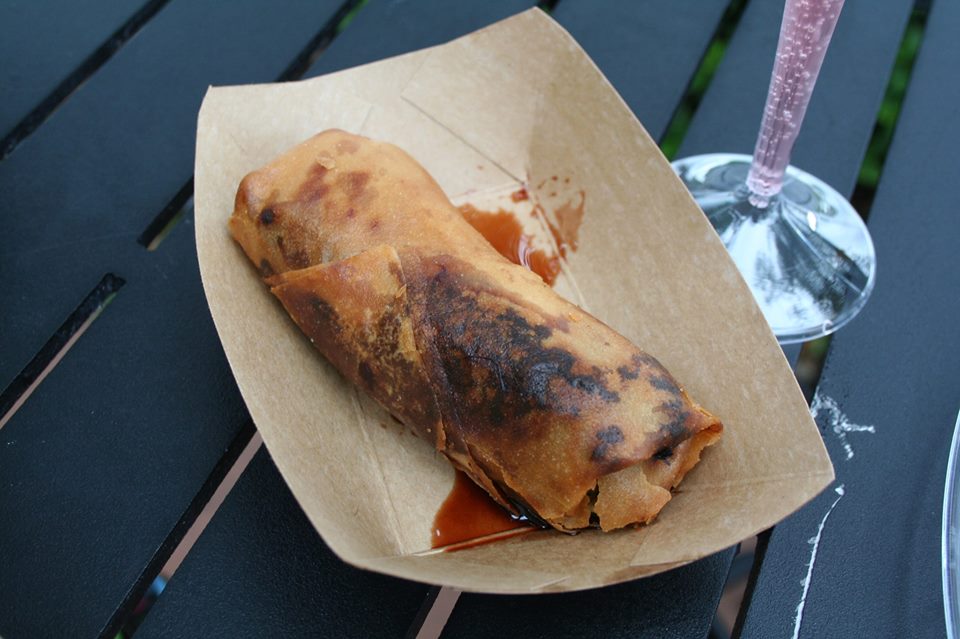 Lamb brewat roll with prunes and sesame from Taste of Marrakesh.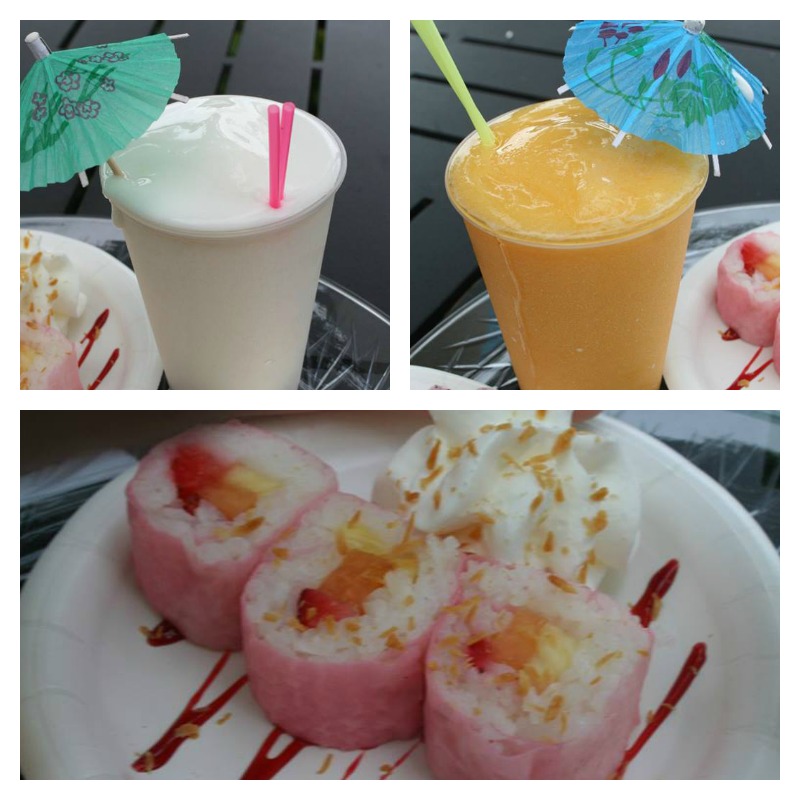 Pineapple Paradise with Yuzu Slushie – Frozen blend of sweet sake, pineapple juice and crème, flavored with a hint of Yuzu citrus juice from Hanami
Orange Mango Slushie – Frozen blend of Nigori sake, mango and orange juice from Hanami.
Frushi – Fresh pineapple, strawberries and melon, rolled with coconut rice, topped with raspberry sauce, sprinkled with toasted coconut and served with whipped cream on the side from Hanami.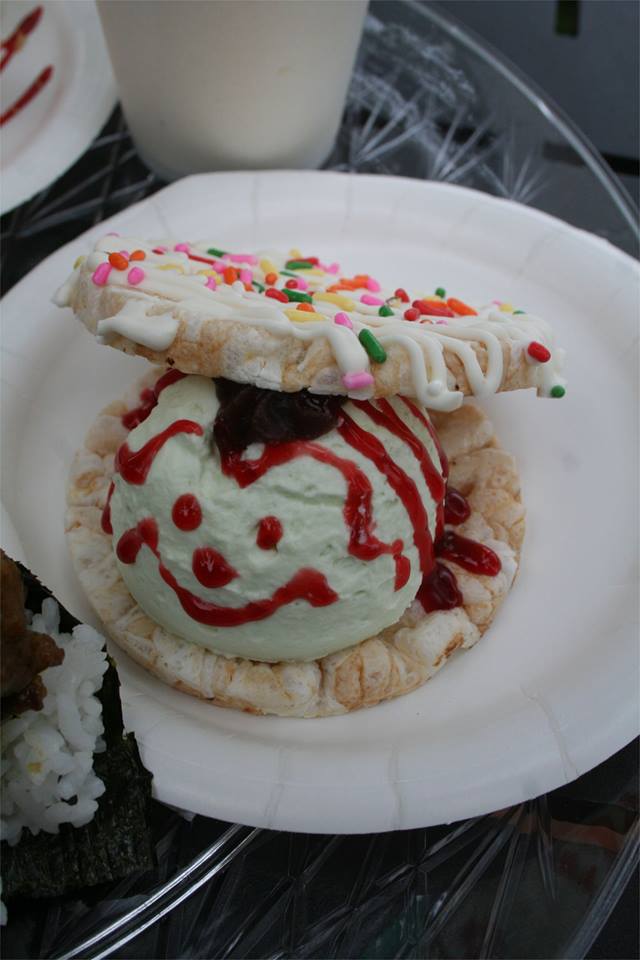 Japanese puffed rice cakes with green tea whipped cream and azuki from Hanami.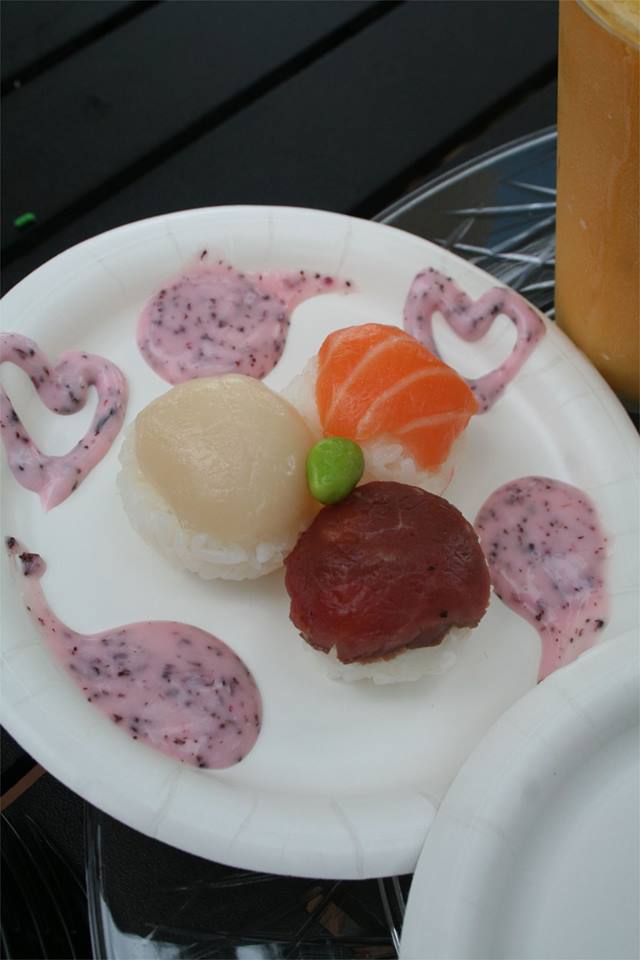 Hanami sushi – A flavorful combination of salmon, scallop and beef-topped rice balls served atop a shiso violet sauce.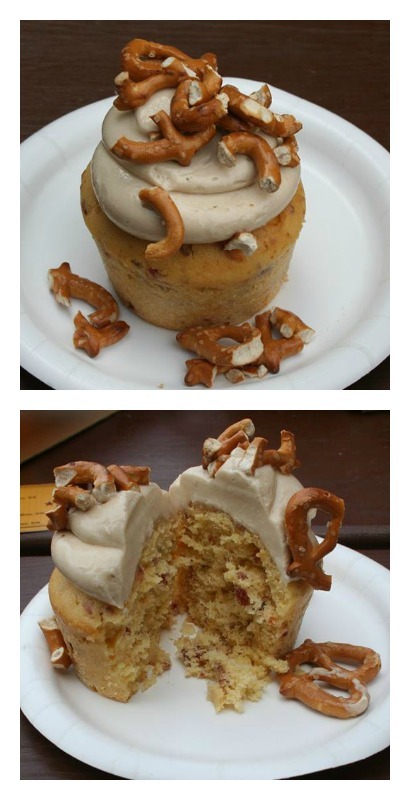 "Piggylicous" bacon cupcake with maple frosting and pretzel crunch featuring Nueske's® Applewood Smoked Bacon from The Smoke House.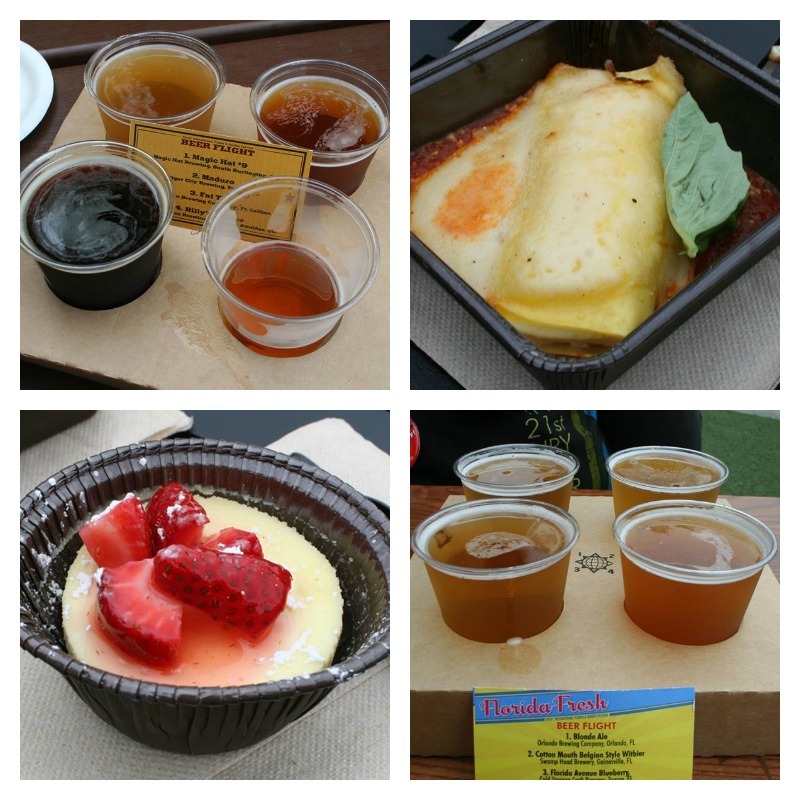 Beer Flight – Magic Hat #9, Maduro, Fat Tire and Billy's Chilies from The Smokehouse: Barbecues and Brews.
Three cheese manicotti – Egg pasta stuffed with ricotta, mozzarella, parmesan, tomato sauce and béchamel from the Primavera Kitchen.
Torta di ricotta – Lemon cheesecake with limoncello-marinated strawberries from Primavera Kitchen.
Beer Flight – Blonde Ale, Cotton Mouth Belgian Style Witbier, Feast of Flowers Farmhouse Ale and Florida Avenue Blueberry
Watermelon salad with pickled onions, BW Farm baby arugula, feta cheese and balsamic reduction from Florida Fresh.
Candied Strawberries.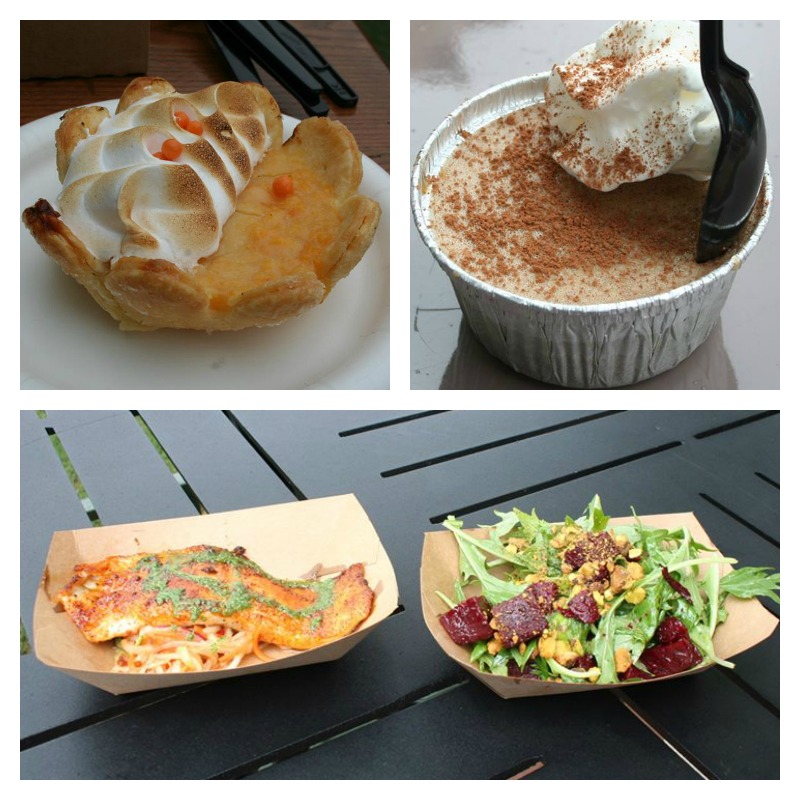 Florida kumquat pie from Florida Fresh.
Abuelita Choco flan from Mexico.
Ghost pepper-dusted tilapia with crisp winter melon slaw and mint oil featuring The Original Sauce Man's Kick It Up Rub and pickled beet salad with goat cheese cream, mizuna and pistachios.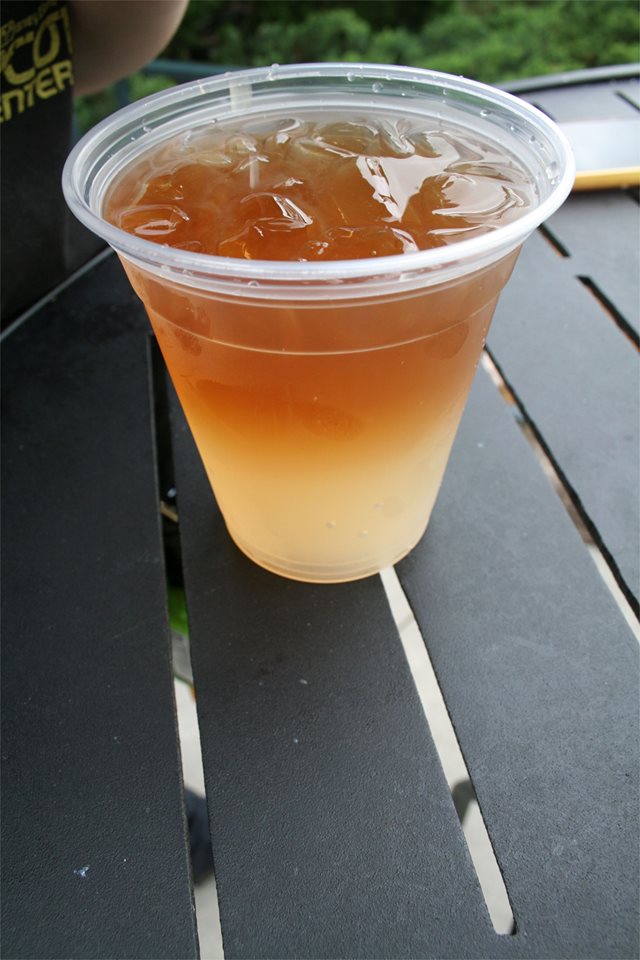 South Sea Storm – Guava juice with light and dark rum – China.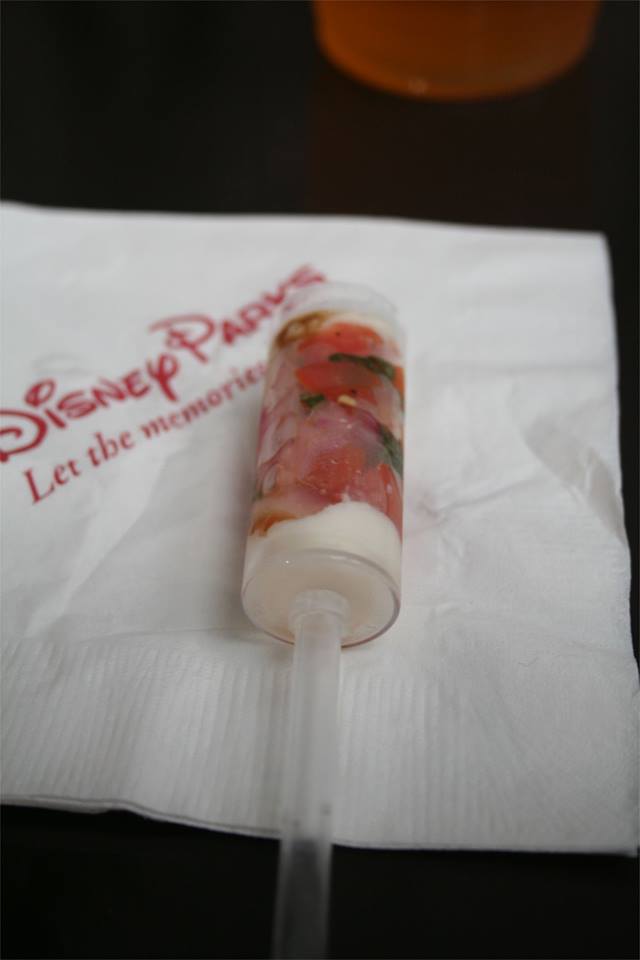 Caprese Push-Pop — Tomato, Mozzarella, and Balsamic Intermissions Cafe at The Wonders of Life Pavilion.
Thanks again to Venessa for letting me share these yummy pictures here!