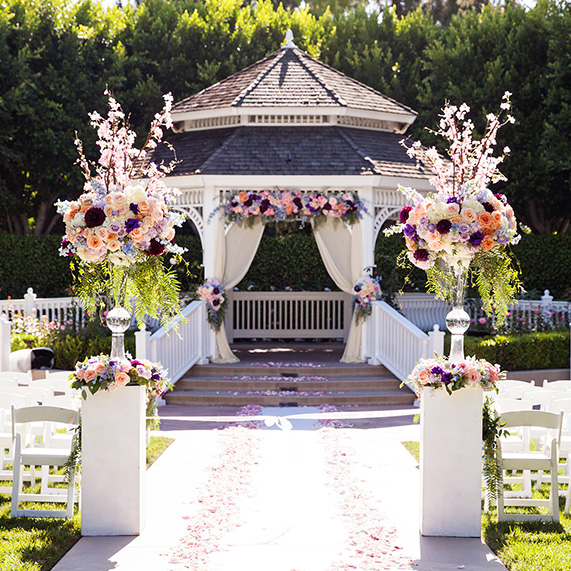 Photo from Disney Weddings website
Disney Bride Alexis is planning a Disneyland wedding at the Rose Court Garden and Sleeping Beauty Pavilion for October 2017.
Florals. The one aspect of our wedding that confused me the most. I do not know a whole lot about flowers so I was completely clueless as to what I wanted and how much. All I knew is we did not want to spend more than $2,500 on flowers and I wanted them to be shades of purple, ivory, and have some greens incorporated. Disney Floral and Decor made the whole process easy; they showed me what kind of flowers were in season in October (our wedding month), what colors were available, and all of the different arrangement options we had as far as centerpieces, ceremony flowers, and bouquets.
A couple of months back, Garrett and I attended the Disneyland Wedding Open house and were blown away by some of the centerpieces we saw! Some were huge and in long vases, while others stretched out across a whole table. We were definitely overwhelmed, and when we had our meeting with our Disney Floral and Decor coordinator we discovered those arrangements were way out of our price range. But we did not let that discourage us! We are still getting everything we wanted and it is all within our budget! Here is how our planning appointment went, and what arrangements we ultimately chose and why.
We are having our ceremony at the Rose Court Garden at The Disneyland Hotel. It is beautiful as-is but during some parts of the year there might not be a lot of roses surrounding the garden. Our Disneyland Floral coordinator let us know they could add roses or flowers to the bushes if we desired. Crazy, right?!? That was just one of the many magical things that can be added to your special day.
The next thing we talked to her about was if we wanted an aisle runner. They have both solid color ones and some that are inspired by different princess movies. We did not want an aisle runner so our coordinator suggested purple and ivory rose petals scattered across the walkway. I loved that idea! Next step was arrangements they can add to the gazebo, and the possibilities were endless! We ended up choosing a medium-sized flower cluster to be hung in the center of the gazebo. We saw pictures of this option and looked simple, pretty, and just what we wanted! And did you know you have the option of using the flower clusters from the gazebo to decorate your sweetheart table or your head table at the reception? Neither did I! Not only is it cost effective, but it is a great way to show off the beautiful arrangements that you chose for the ceremony again. Now that all of that was selected, we move on to flowers and decor for the reception.
Since Garrett and I are having a Star Wars themed wedding, we had this plan of each reception table representing a different Star Wars character. This was also how our guests were going to be able to find their seats. I told our coordinator that I really wanted to make terrariums to use them as centerpieces for the tables, but we wanted small floral arrangements on the tables as well. I made two terrarium samples to show her to see if she could work with them and she loved them! She suggested that we incorporate two smaller arrangements of white and purple ranunculus flowers, lisianthus, and greens in julep cups on each side of the terrarium. We cannot wait to see the outcome!
After she got a feel for what kind of flowers we wanted she suggested a few bridal bouquet options. I told her I wanted a more textured flower look with some greens incorporated, so she painted a picture of a bouquet made with anemones, ranunculus, roses, garden roses, lisianthus and dark purple hydrangeas and of course, Mickey rhinestones hidden throughout!
I honestly thought I was going to feel overwhelmed during the whole floral decision process but it was surprisingly very painless! Disney Floral and Decor makes everything very easy and we are getting exactly what we were hoping and staying within out budget. I can't wait to see everything come together!