I received a complimentary media pass for this event. All opinions are my own. This post contains affiliate links.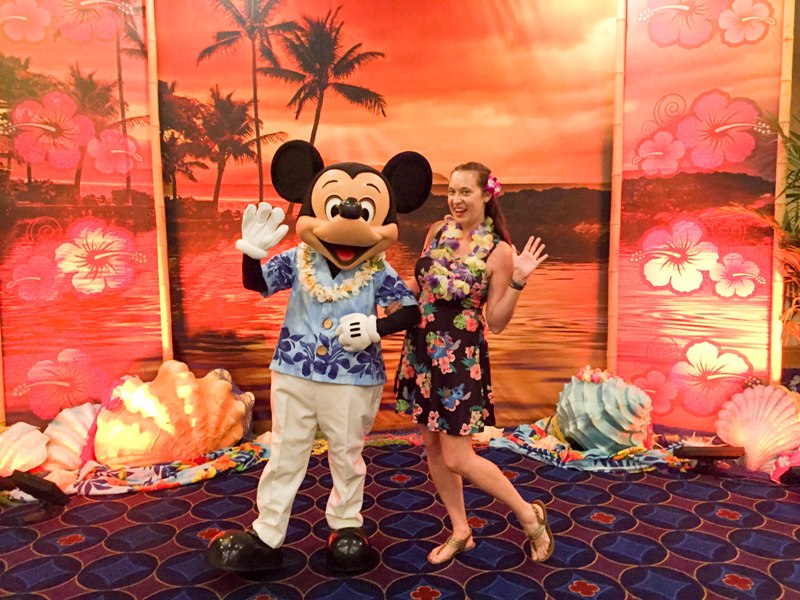 The evening before the 2015 CHOC Walk in the Park, I was invited to attend the first annual CHOC Ambassador's Luau at The Disneyland Hotel! Seeing as how this was the first event, I wasn't sure what to expect. It ended up offering way more than I could have imagined!
When I arrived at the Grand Ballroom foyer, I was greeted by hula dancers and given a shell necklace. What a welcome!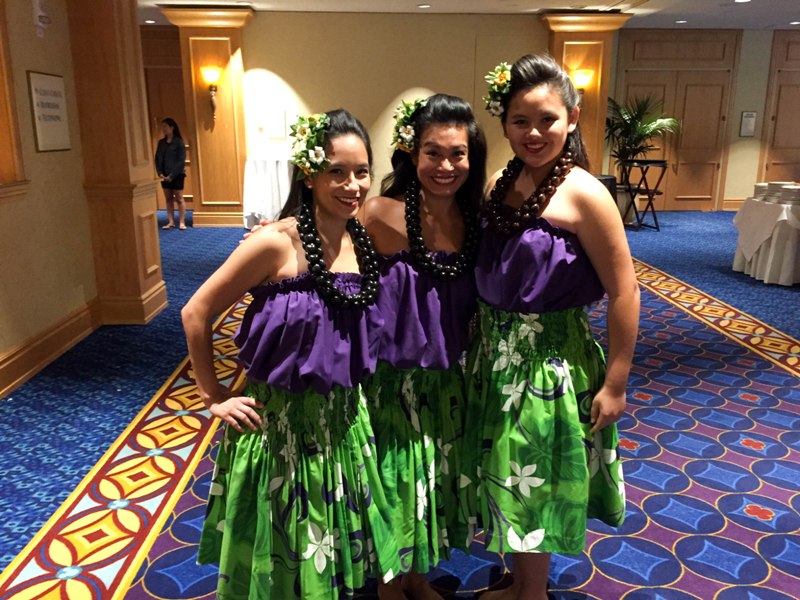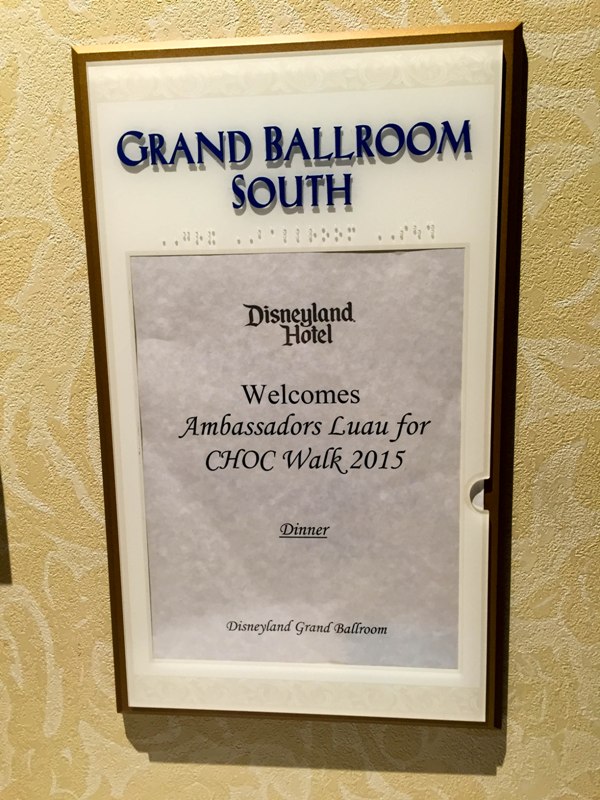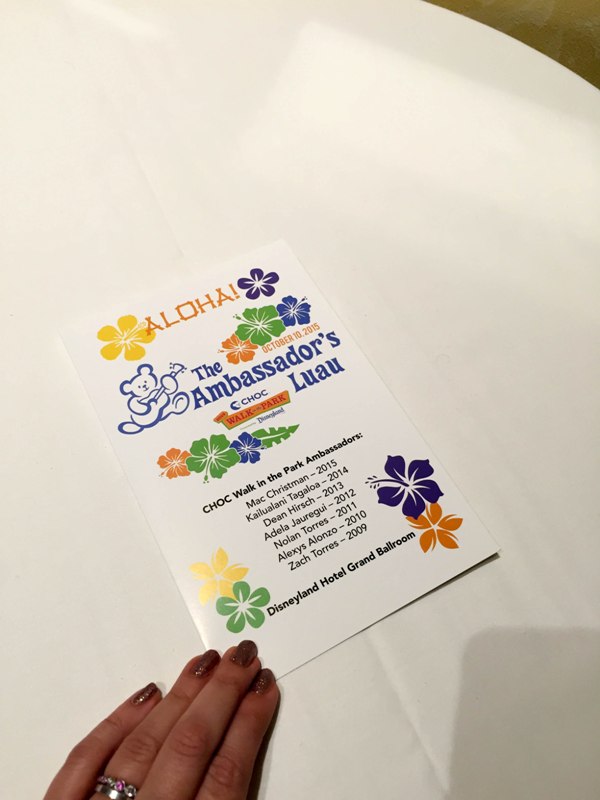 The first hour of the event (the "pre-reception" if you will) took place in the foyer. There were platters of cheese and vegetables, punch for the kids, a cash beer and wine bar, live music, a silent auction, a hula demonstration, flowers for your hair, a balloon animal artist, face painting, and photo opportunities with Tropical Goofy or Donald! VIP attendees got to enter the event a little early and enjoyed a hosted bar, shorter lines for the activities, first dibs at the silent auction, and pictures with Tropical Mickey and Minnie.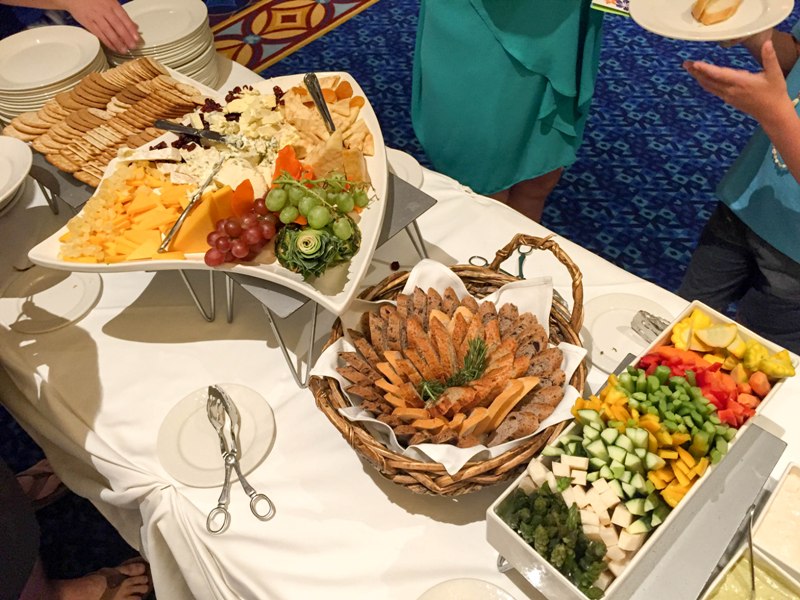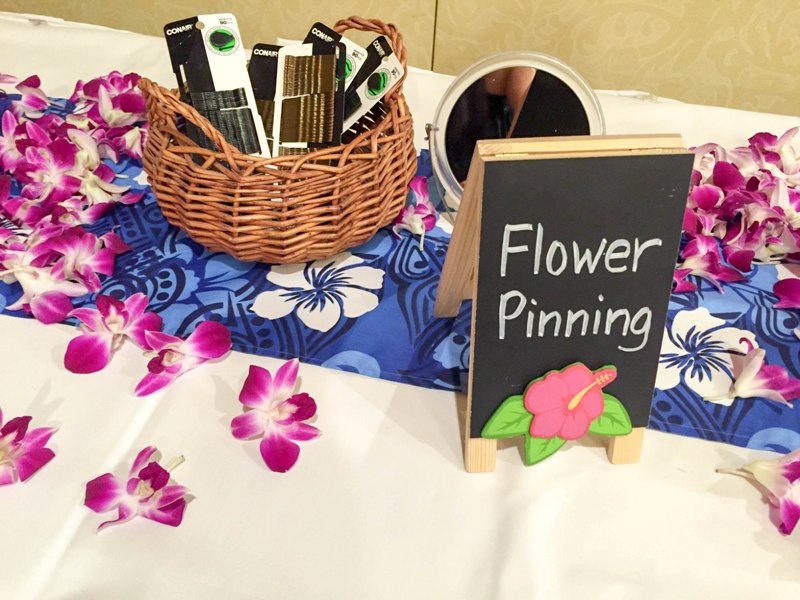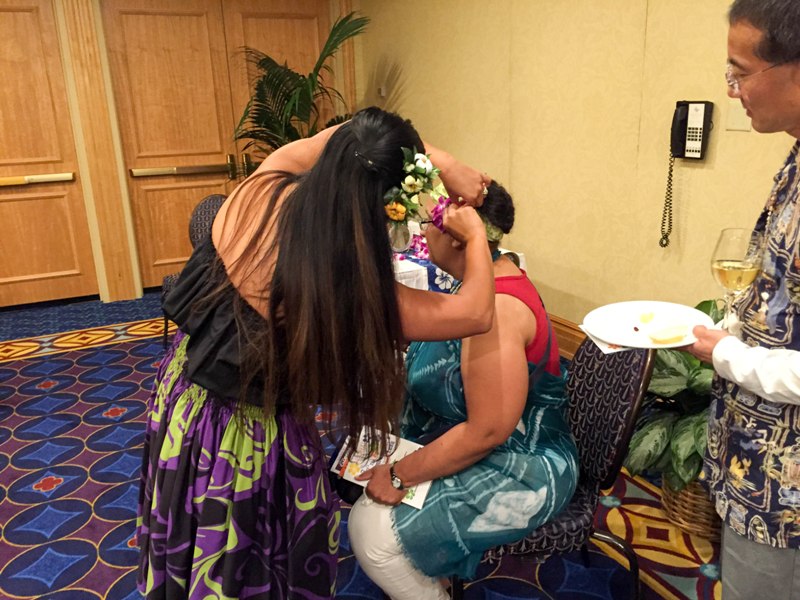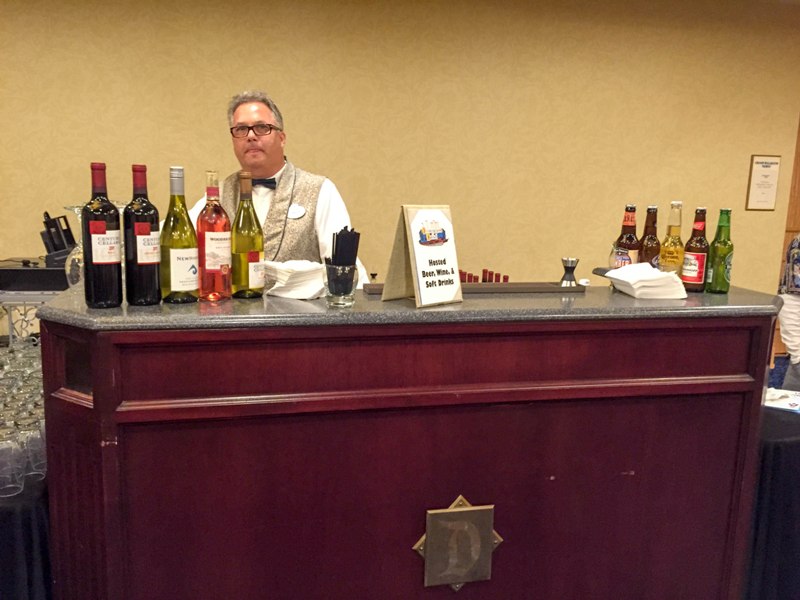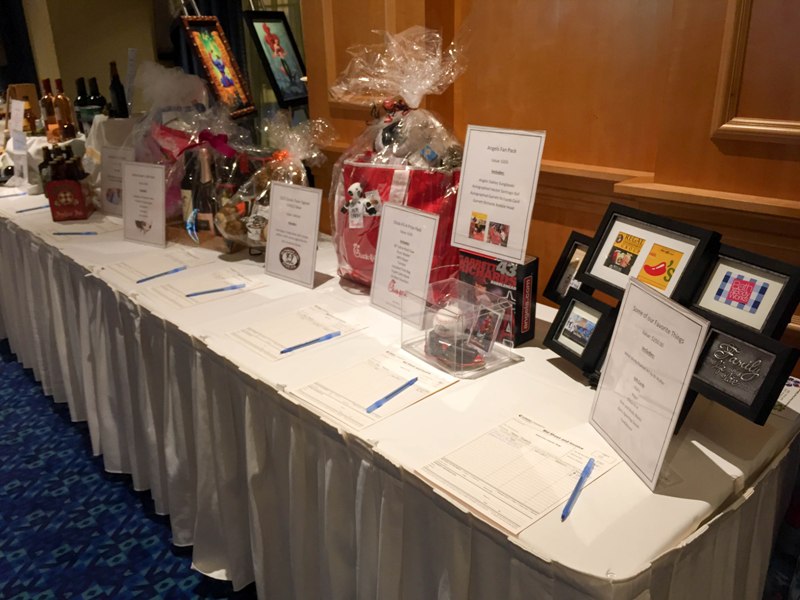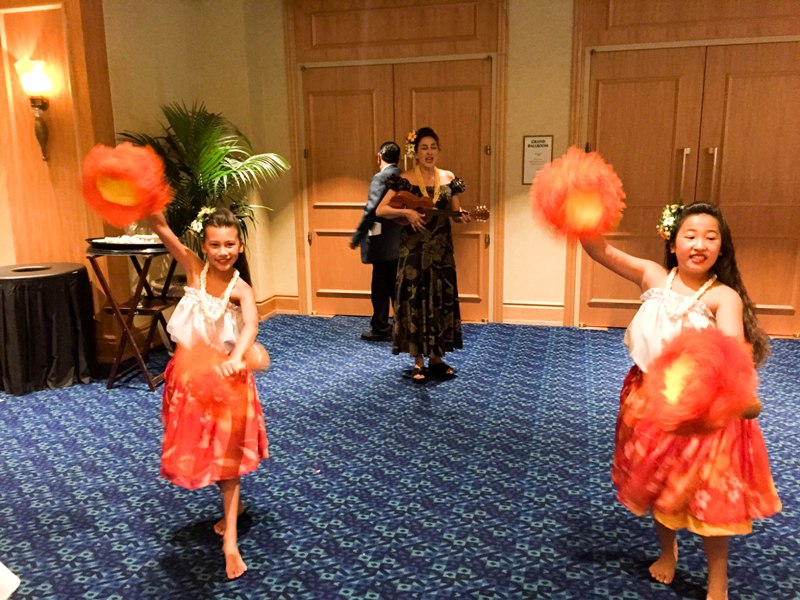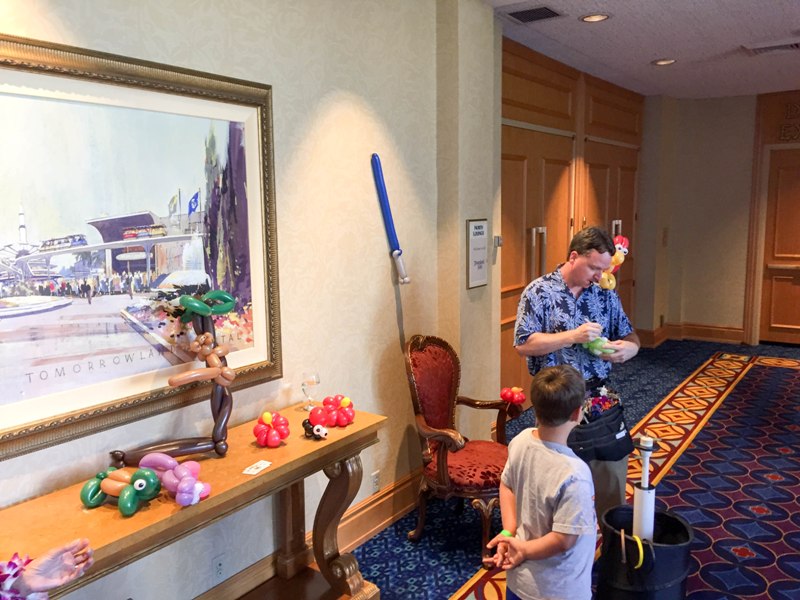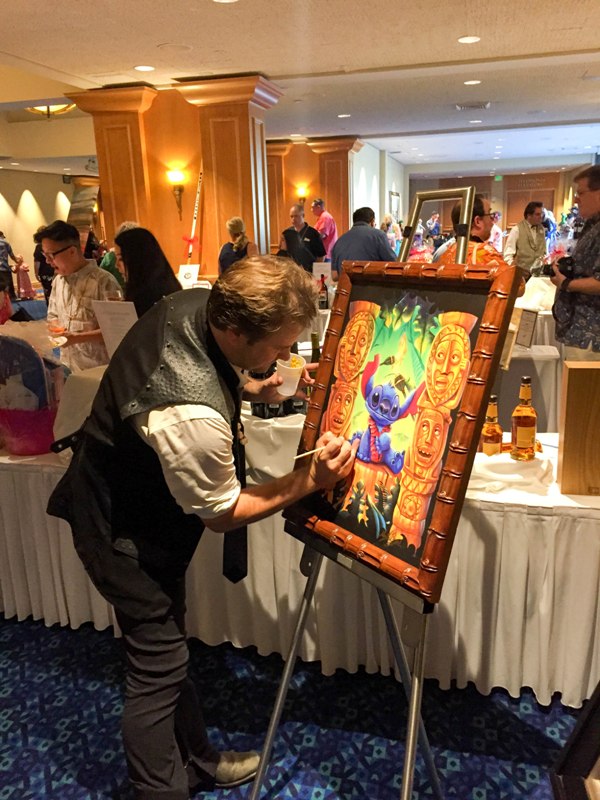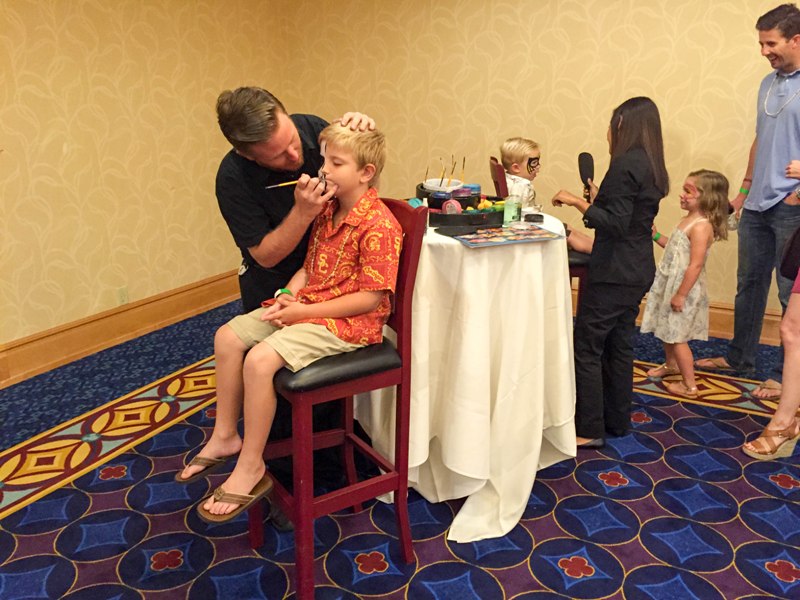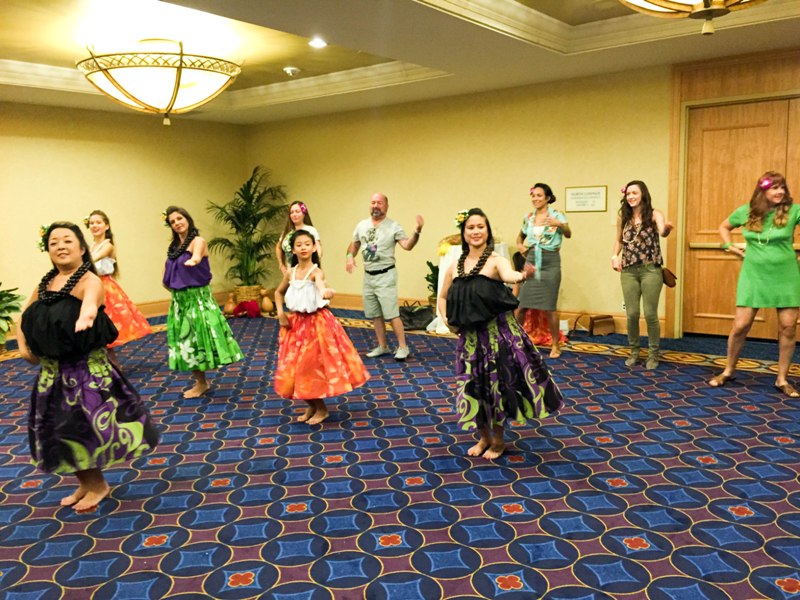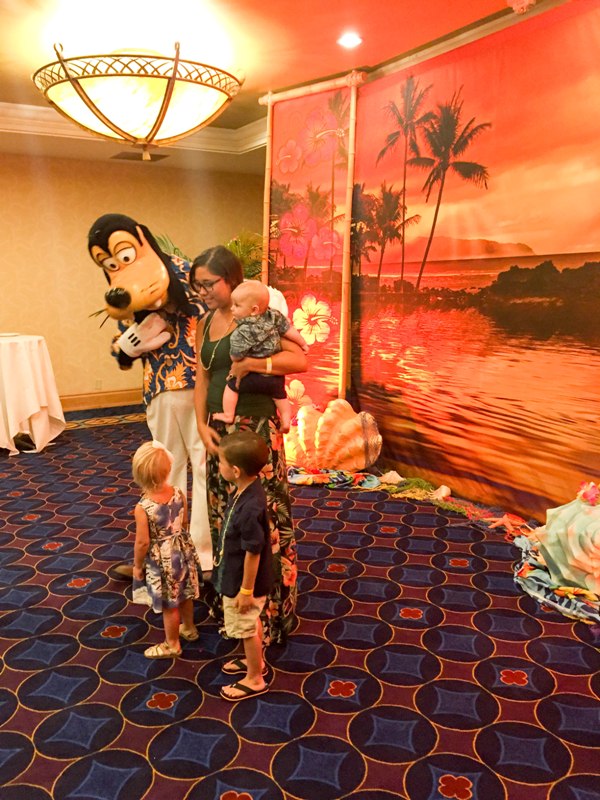 Dinner was announced with drummers and a conch blower. Nobody could say they missed the dinner call!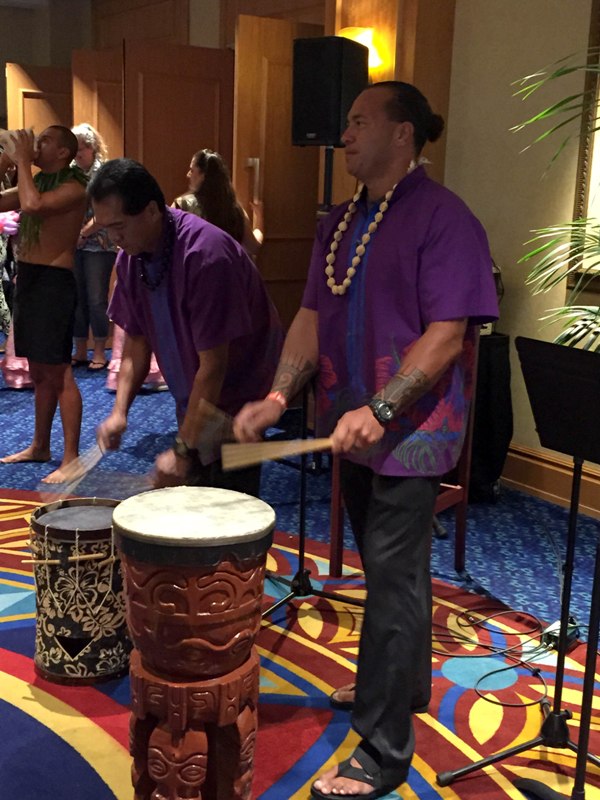 This was my first time sitting down for an event in the Grand Ballroom. It made it easy to picture how it could be set up for a wedding. The room is just so stunning. I especially love the starry lights on the stage backdrop. For this event, the stage was actually used for performances, but for weddings they usually put the head table up on the stage.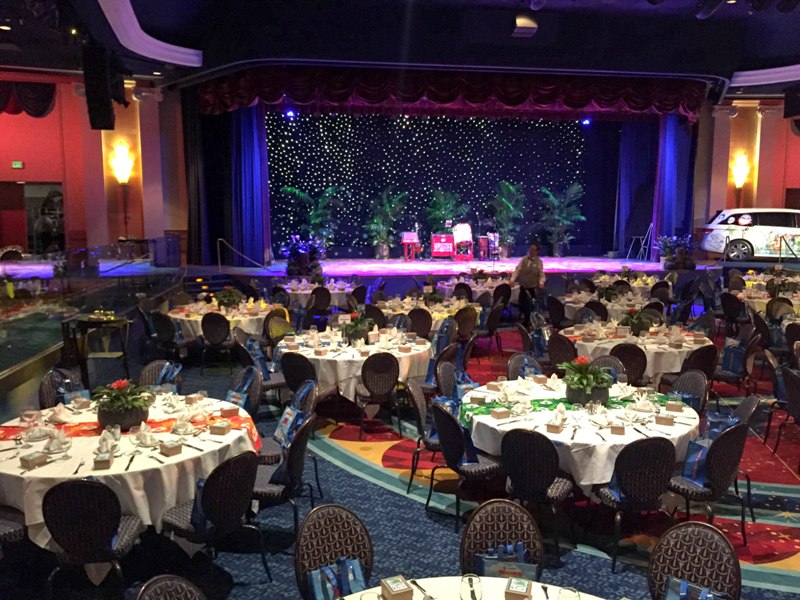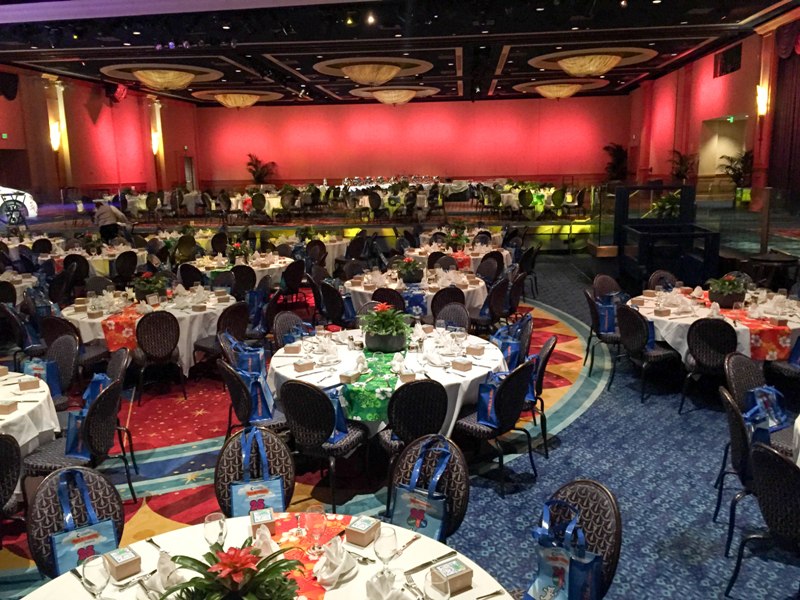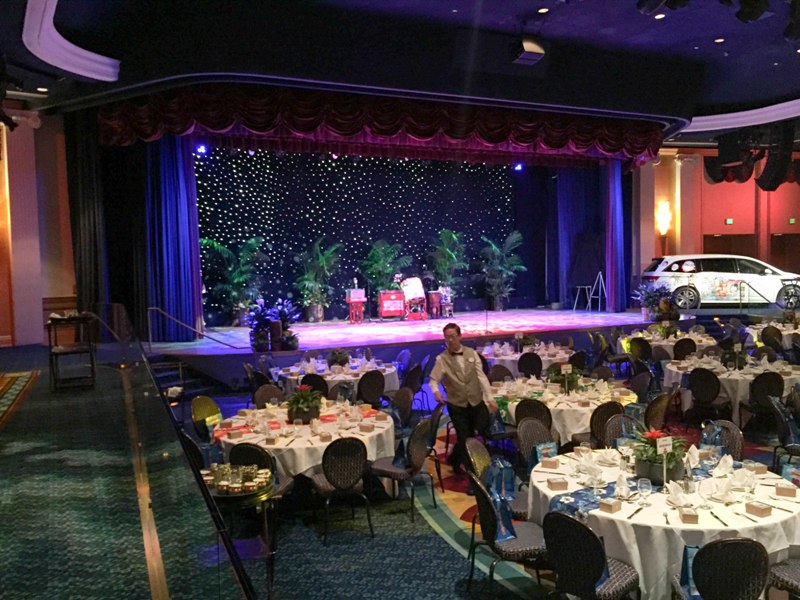 The floral and decor team (not Disney floral) did a great job with these succulent centerpieces, colorful Hawaiian print table runners, and tropical plants and tiki arrangements. We also had goodie bags and treats waiting for us at our seats. Inside the boxes were intricately decorated chocolate dipped Oreos.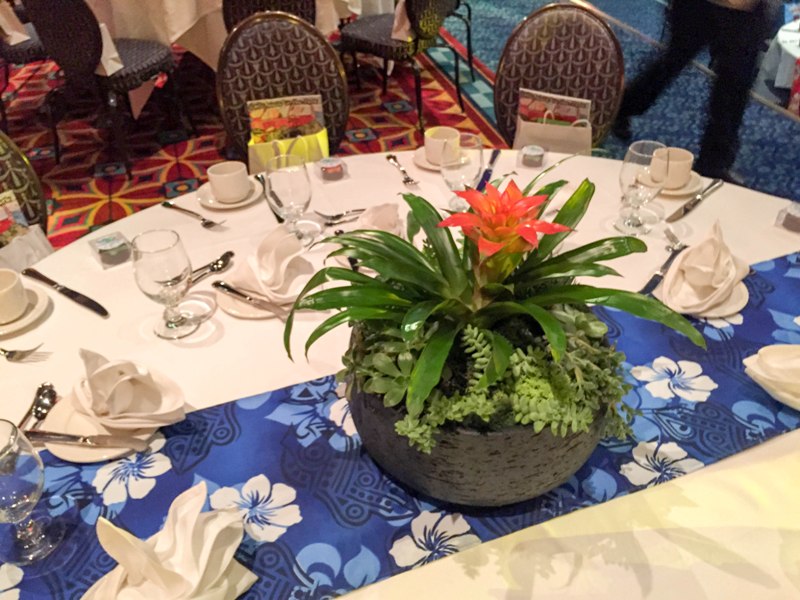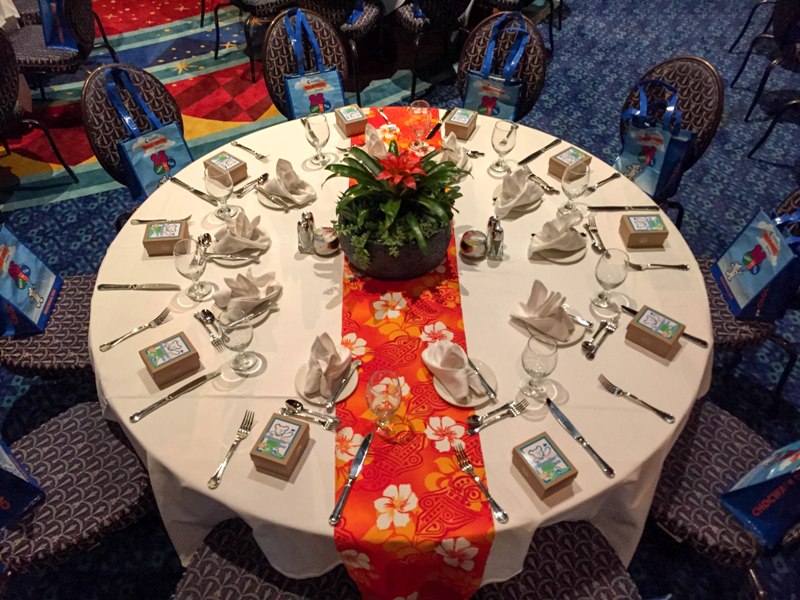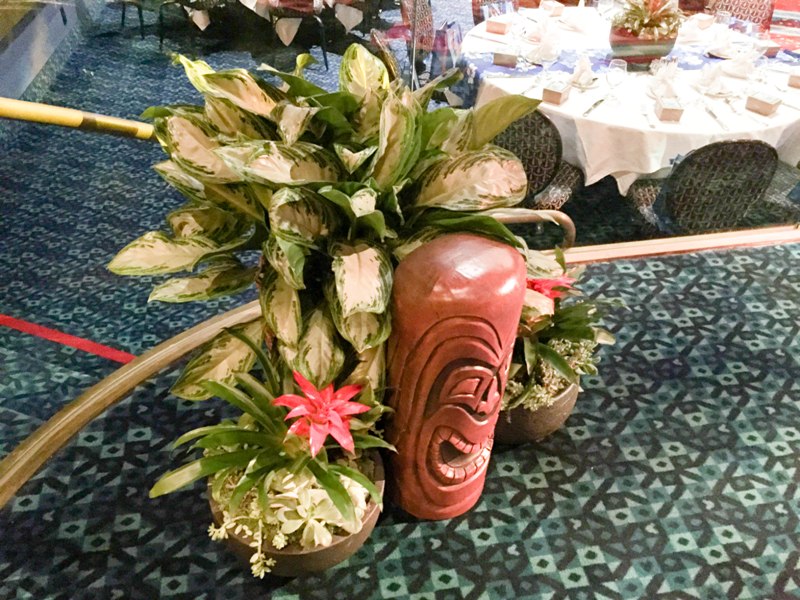 Our meal was a buffet. I assumed it would be the standard wedding selections, but, nope! It was a completely customized menu! And everything I tried was amazing – nothing short of what I've come to expect from Disney. The Polynesian inspired menu included:
Mixed Greens Salad
Grilled Pineapple Skewer with Coconut Yogurt
Vegetable Skewers with Mango Relish
Grilled Chicken with Soy Mirin Sauce
Teriyaki Beef
Curry Chicken Lumpia
Kalua Pig Nachos
The dessert buffet included:
Macadamia Nut Tart
Haupia with Passion-Mango Compote
Coconut and Pineapple Cheesecake
Organic Chocolate Lava Cake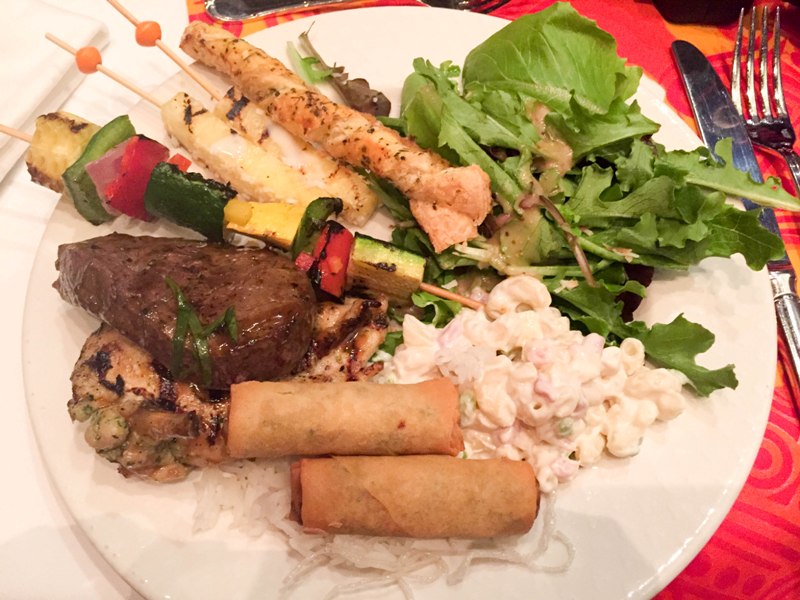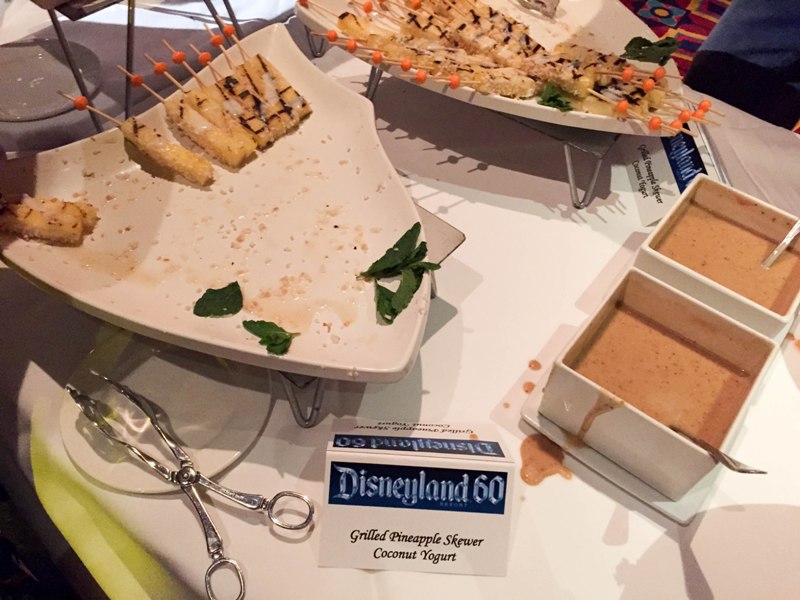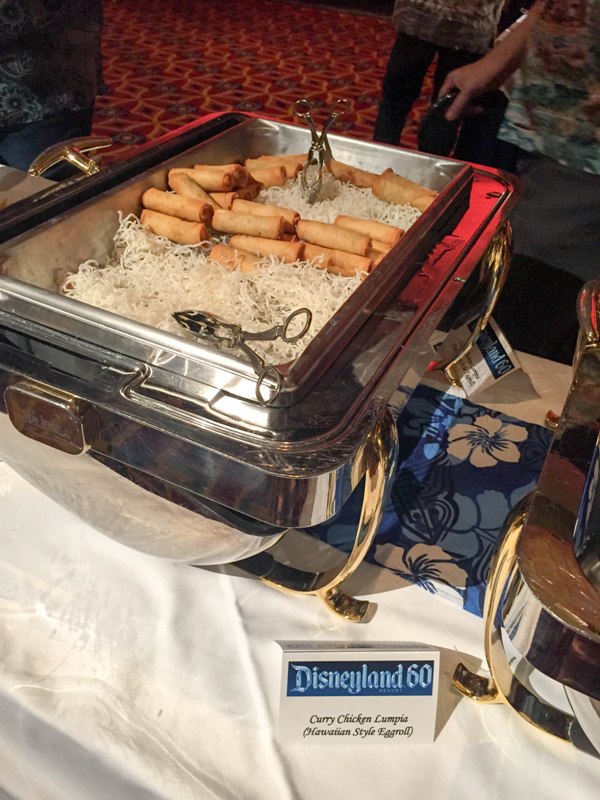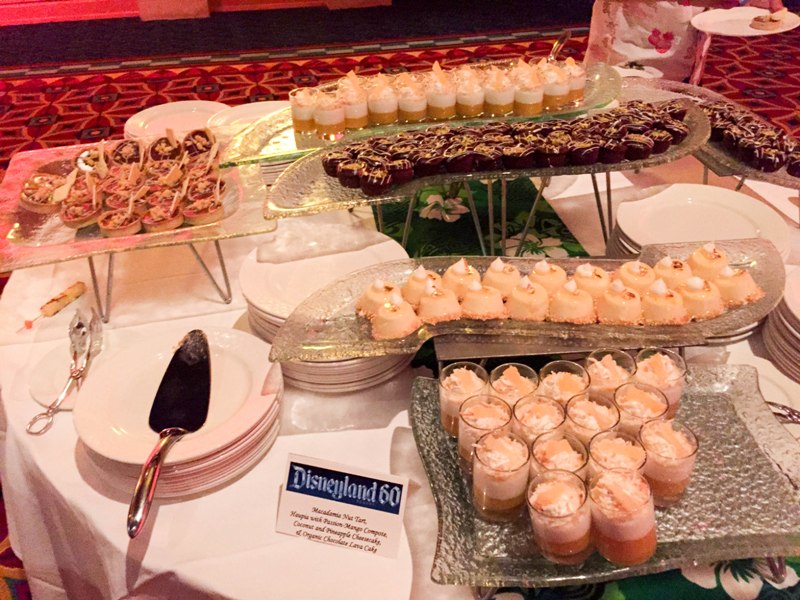 During dinner we were treated to traditional Polynesian dance performances. The kids in the audience were invited to come up onstage to perform the Hawaiian dance they were taught earlier.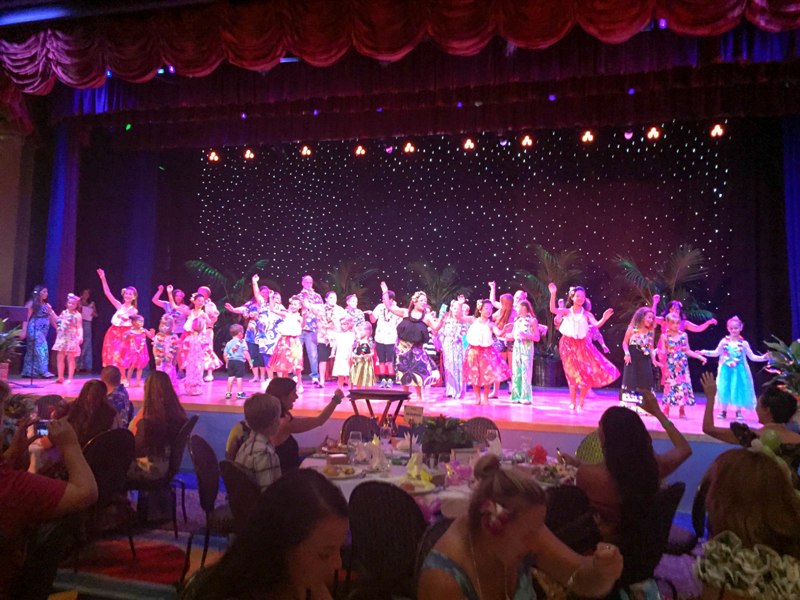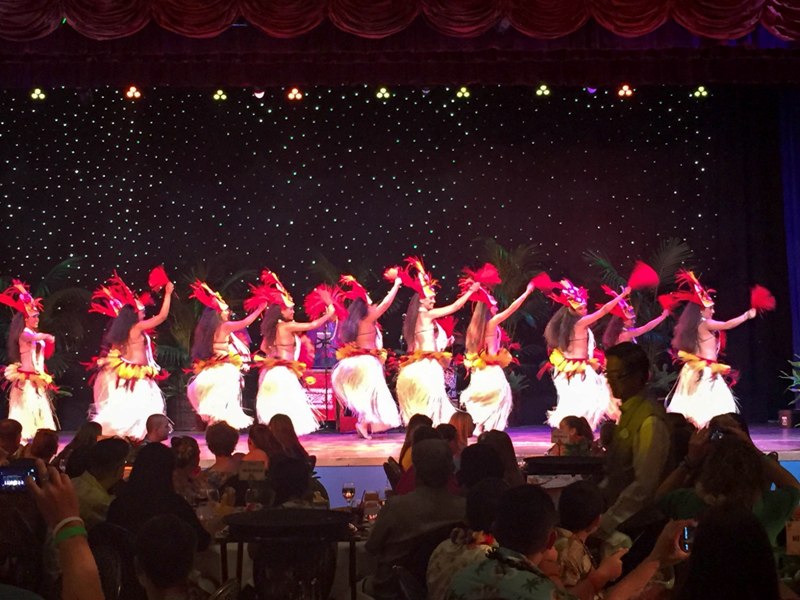 After dinner, artist Jimmy Mulligan did some quick performance art, creating an image after my own heart – a glittery Mickey!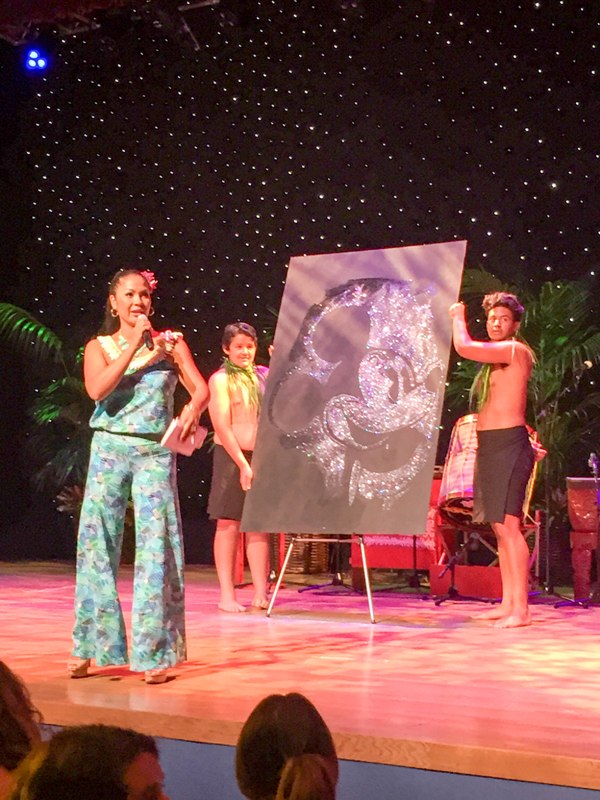 He also auctioned off some semi-custom art pieces, with all proceeds going to CHOC. Jimmy is a very cool dude.
After we were treated to more dancing and yummy treats.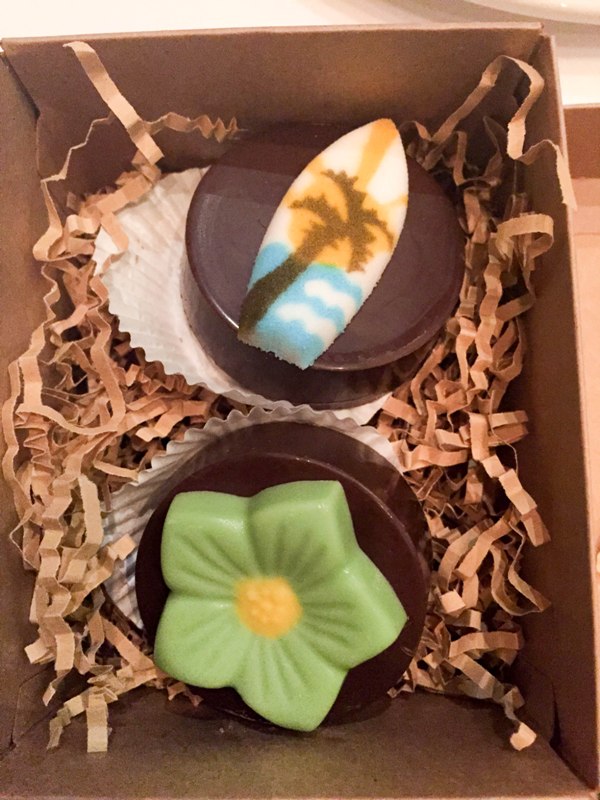 I had a great time at the CHOC Ambassador's Luau; I think it's a great addition to CHOC Weekend and entertaining for both adults and kids. "Mahalo" to CHOC for inviting me to experience it!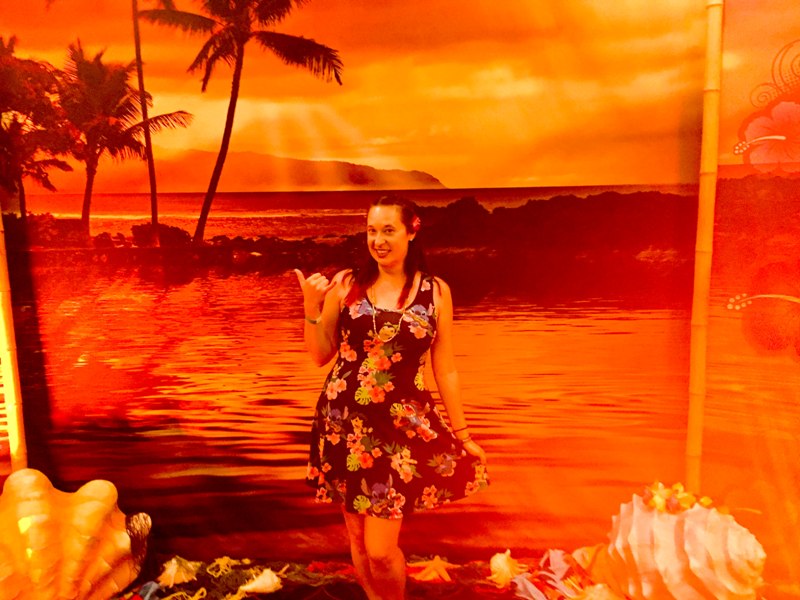 What I wore: Lilo and Stitch dress from Hot Topic.