This article contains affiliate links.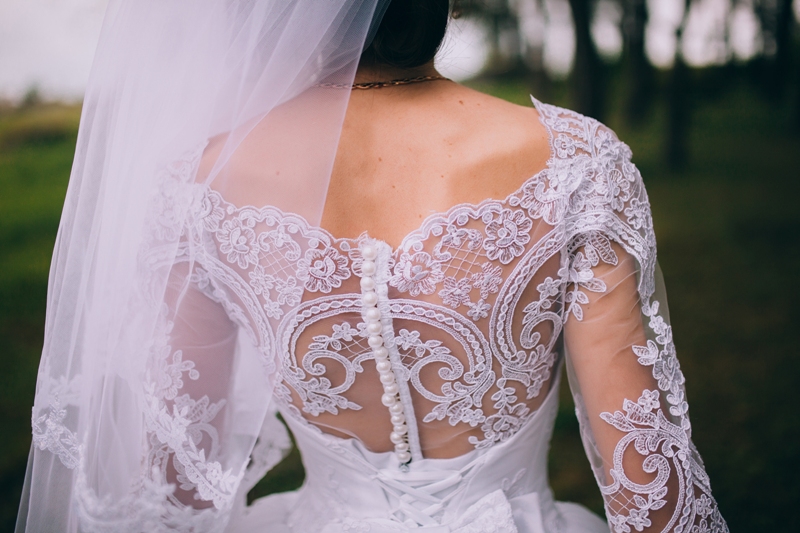 Disney Bride Bianca is planning a Disneyland wedding at Disney's Grand Californian Hotel for 2019.
Wedding dress shopping can be incredibly easy for some. I envy those people. My dress shopping experience lead me all over Northern California. I was starting to think I'd never find my perfect dress — the one that makes you feel beautiful, sexy, and powerful all at once. I was ready to "settle" until I found my perfect dress in an unlikely way!
My search started in a cute boutique in Santa Cruz that predominantly catered to prom attire, but also had some wedding dresses. Although I didn't find "the one" here, I will say that looking for dresses at stores that aren't wedding-centric is a great option if you want a different color dress and are on a strict budget. I found a dress that I thought was okay but the price was a steal at under $300. I decided to keep looking.
I tried the standard wedding gown shops but nothing felt like "me." I also really didn't have much help when it came to styles and shapes that were suitable for my body type. I tried on lots of pretty dresses, but not pretty on me. One very helpful attendant did finally give me advice on what would be most flattering and from then on I tried fit and flare gowns that gave me a nice shape. I didn't end up buying a dress from that store but when you get a great attendant at a fitting, take their advice! Don't be afraid to try on a few of their suggestions and even if you don't make a purchase, take a few notes on what styles look good on you, what colors are flattering, and your measurements. If you have shoes and underpinnings, bring those to your appointments.
After looking at many standard wedding boutiques I ended up at a high end consignment store dedicated only to wedding gowns. They had a limited selection of dresses in my size, but I did find a beautiful lace gown that I was excited to try on.
Once I was laced up and a sash was added, I just knew that dress was special. I'm really not superstitious about wedding dresses and I didn't mind that someone else had worn this incredible gown before me (I even saw a picture of the previous owner in the dress and it was so elegant). I had to walk away because I still had some other gowns in mind I wanted to try first.
A few weeks later at a different boutique you could've knocked me over with a feather when I found the same dress! I had been going back and forth about the consignment store dress and it felt like a sign that I picked the same dress out of hundreds on the rack. In the end, I put a down payment on that dress and never looked back. It was perfect.
Aside from traditional boutiques and consignment shops, there are so many great places to find dresses a lot of brides overlook. Online retailers like Unique Vintage, ModCloth, Pin Up Girl Clothing, and Dolly Couture offer beautiful and affordable options for brides and bridesmaids alike! I've even seen bridal party worthy dresses on Forever 21's website. Online shops are really upping their game and are usually open to returns if the dress isn't custom made or altered. Rent the Runway is also a good option for bridesmaid dresses from top brands that are affordable and your ladies won't be stuck with a dress they might not want to wear again.
If you've got time to spare you can always shop around at vintage, thrift, and charity shops. You might not find a wedding gown, but you might find a great dress for a shower or rehearsal dinner. I highly suggest visiting thrift shops in more affluent areas and doing a little digging. If nothing else, you might find some things to help with your DIY projects.
Other places to browse might include Craigslist, EBay, Etsy, and the Facebook Marketplace or Groups. It might be a long shot, but if you're online a lot it couldn't hurt to take a glimpse at what the web has to offer!
Remember, at the end of the day, it doesn't matter where your dress comes from or the price tag, what matters is how you feel in it.