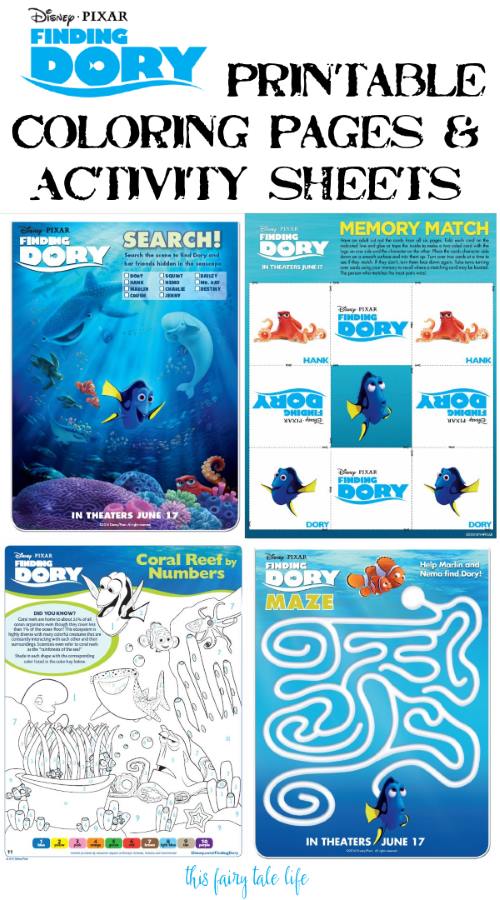 After what seems like the loooooooongest waaaaaaaaait eeeeeeeeeeverrrrrrrrrrrrrrrrrr (that was whale speak), Finding Dory opens in theaters TODAY! I'm so excited to go see it this weekend.
Disney•Pixar's "Finding Dory" reunites everyone's favorite forgetful blue tang, Dory, with her friends Nemo and Marlin on a search for answers about her past. What can she remember? Who are her parents? And where did she learn to speak Whale? Directed by Andrew Stanton ("Finding Nemo," "WALL•E") and produced by Lindsey Collins (co-producer "WALL•E"), the film features the voices of Ellen DeGeneres, Albert Brooks, Ed O'Neill, Kaitlin Olson, Ty Burrell, Eugene Levy and Diane Keaton. "Finding Dory" swims into theaters June 17, 2016.
Watch the trailer here:

Disney has released some awesome printable Finding Dory coloring pages and activities for you to print out at home. Aside from coloring pages (which are my favorite), there is a multi-page activity packet with lots of fun facts about ocean life, perfect for homeschoolers! There is also a fun maze, memory game, and you can make your own Finding Dory mobile. I especially want to point out the "Selecting the Right Pet Fish" guide, since the Dory fish (blue tang) is actually a complicated fish to care for. I'm happy Disney•Pixar is discouraging people from getting these fish as impulse buys!
Finding Dory Coloring Pages and Printable Activities
To save these printable PDFs to your computer, click on the links below and the PDF will open in a new tab or window. Right click on the PDF and select "Save" or "Print."
Finding Dory Activity Packet
Finding Dory Educator's Guide
Finding Dory Coloring Pages
Finding Dory Connect the Dots
Finding Dory Kelp Family Tree
Finding Dory Maze
Finding Dory Memory Game
Finding Dory Mobile
Finding Dory Pet Fish
Finding Dory Search the Scene
Finding Dory Weekly Calendar (great for adults, too!)
Like Finding Dory on Facebook, https://www.facebook.com/PixarFindingDory, and follow Disney•Pixar on Twitter, https://twitter.com/DisneyPixar, and Instagram, https://instagram.com/DisneyPixar.