Back in October I was lucky enough to be invited as a guest to Real Bride Contributor Sandra's Disneyland wedding! I'm always thrilled to be asked to attend a Disneyland wedding, but this one was extra special since I had been following Sandra's wedding planning along with the rest of you. I knew how much thought and preparation went into their special day and it was amazing to be a part of it!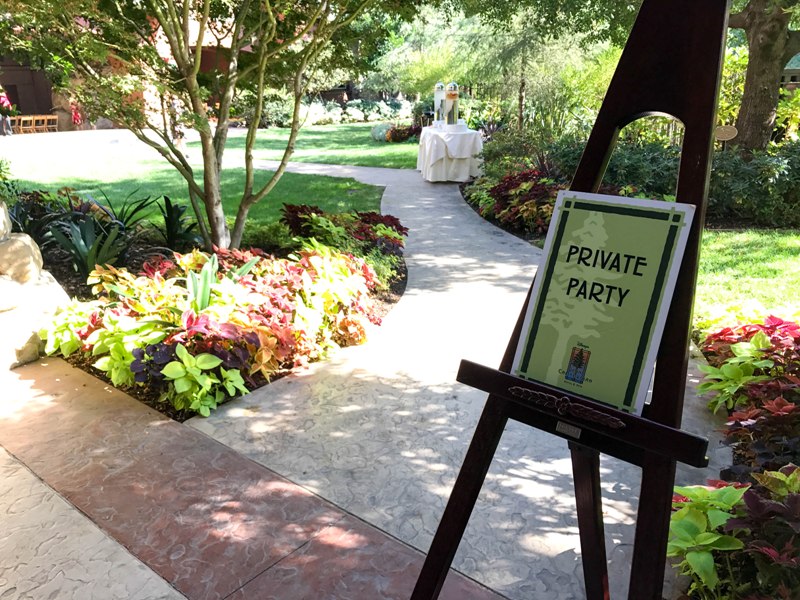 Sandra and James had an Escape wedding, with their ceremony at the Disney's Grand Californian Hotel Wedding Garden and reception in Brisa Courtyard. I love Escape weddings because they are so intimate and (somewhat) casual. With a small guest count, most everyone knows each other and it's easy for the wedded couple to mingle with guests.
The set-up for the Wedding Garden was moved onto the patio, as the lawn was wet from rain the day before. This brought us closer to the fireplace which was actually perfect for Sandra's fall themed wedding. Her friends and family set up beautiful DIY aisle decorations, and Sandra's and James and their children participated in a sand ceremony, symbolizing their new family coming together. Reverend Carolyn was the officiant (an officiant of Disney's choosing is included with the Escape package) and she did a wonderful job, as always!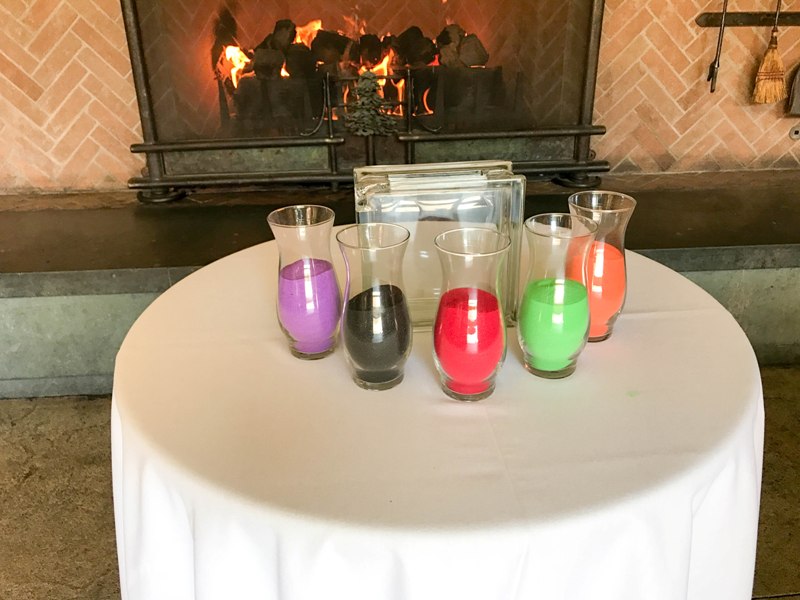 The kiss! Check out little man in the background – TOO CUTE!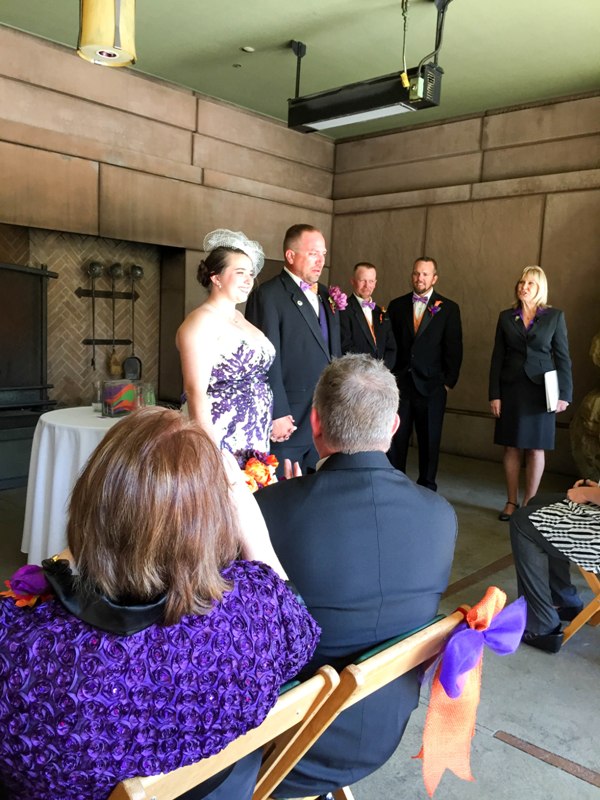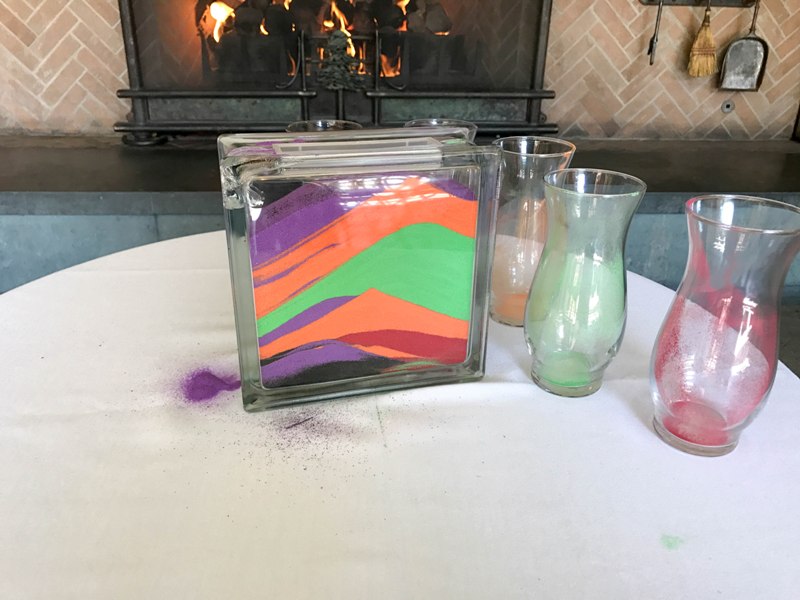 The reception took place at the Brisa Courtyard, one of my favorite event spaces! it's so fun to have the monorail flying overhead. The reception was set up with three round tables and a sweetheart table. A buffet was set up on one side of the courtyard, and the cake was displayed on a table near the sweetheart table. They used the standard chairs and linens, which blend in seamlessly with this outdoor venue.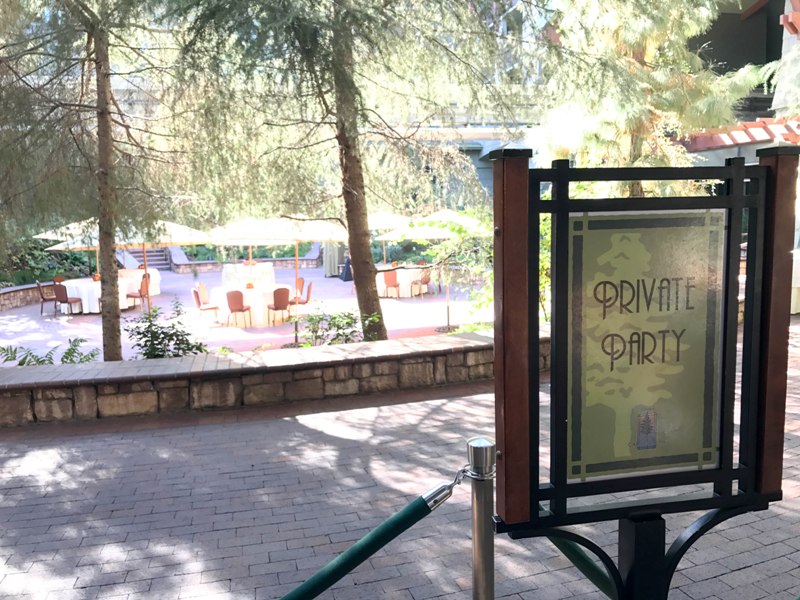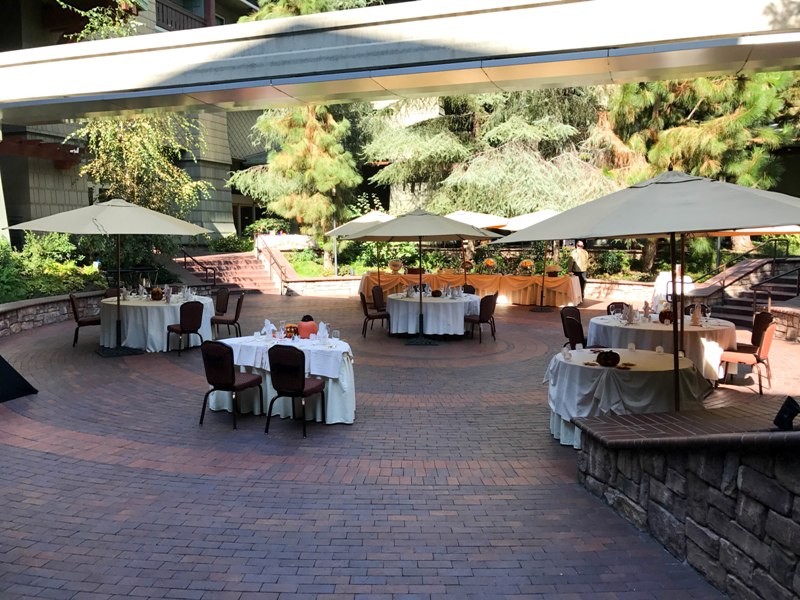 Sandra did such a good job with all her DIY items! The aisle decor was re-purposed for the Welcome table, where we signed a guest book poster that featured one of their Disneyland engagement pictures.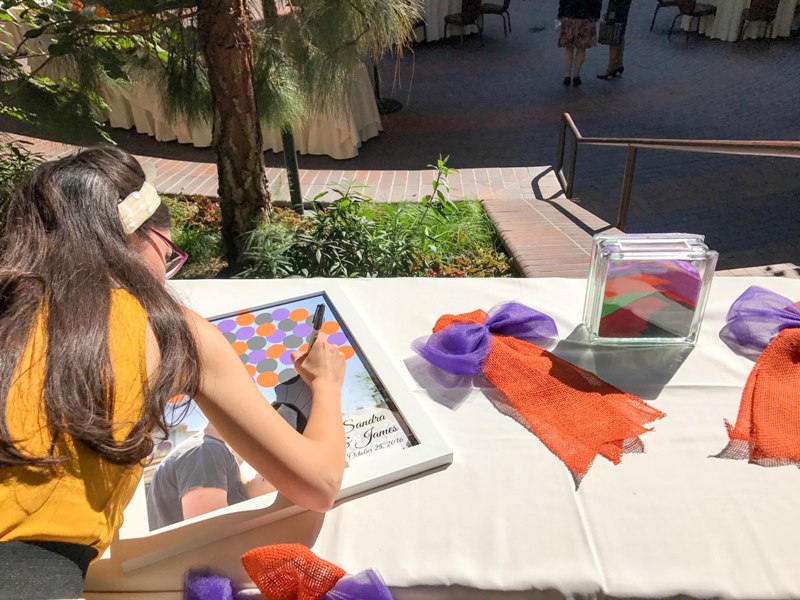 The pretty (faux) pumpkin centerpieces were perfect for their October wedding, and also can be brought home and re-purposed as Halloween decor every year!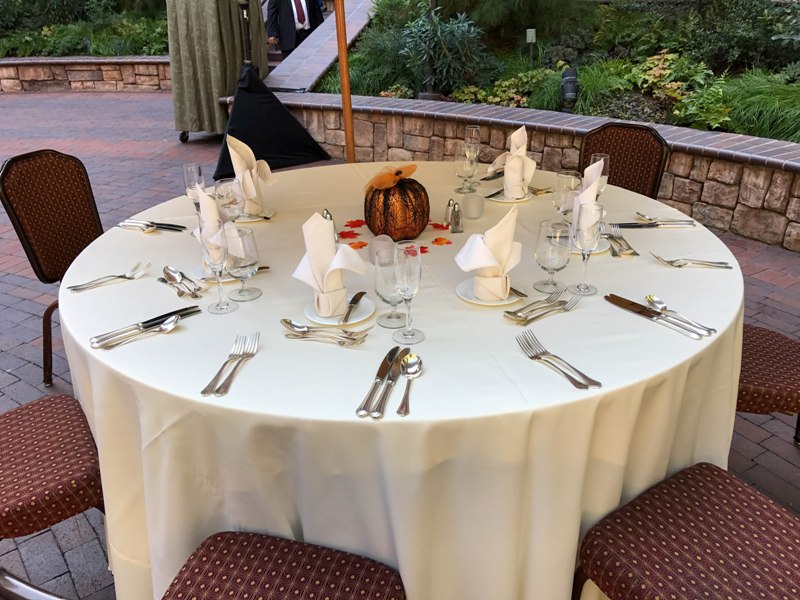 Sandra even made her bouquet!
Once the wedding party and family were done taking photos, Sandra and James made their grand entrance and had their first dance. The Maid of Honor and Best Man made their toasts, too. (The pretty bridesmaid skirts were also DIY!) And then it was time to eat!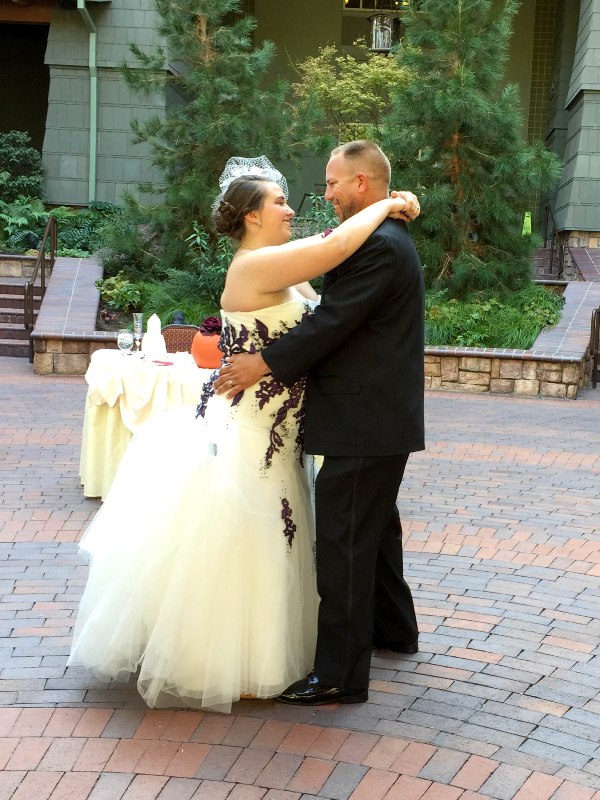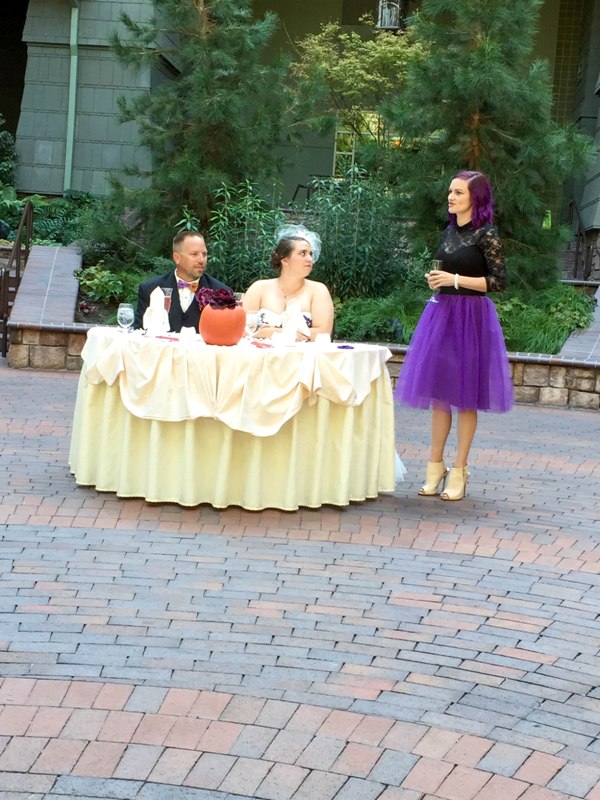 Typically Escape receptions offer a plated meal, but only buffets are available for outside venues. I think the buffet is the better deal for guests, because you can choose what you want! Sandra and James chose the Roasted Meyer Lemon Chicken, with mashed potatoes, mixed vegetables, Cesar salad, and creme brulee for dessert. They also had Plum Tomato Basil Soup, a new offering for me, and it was delicious! An attendant was on hand to serve the soup.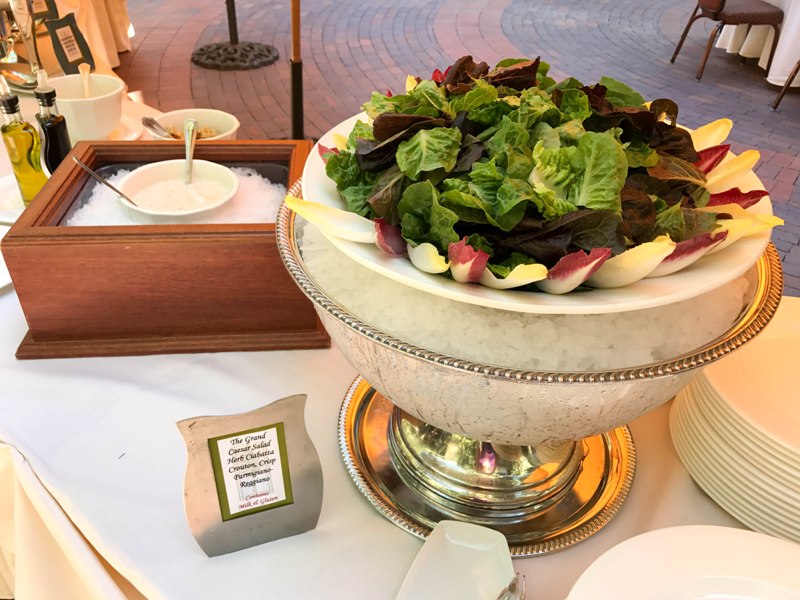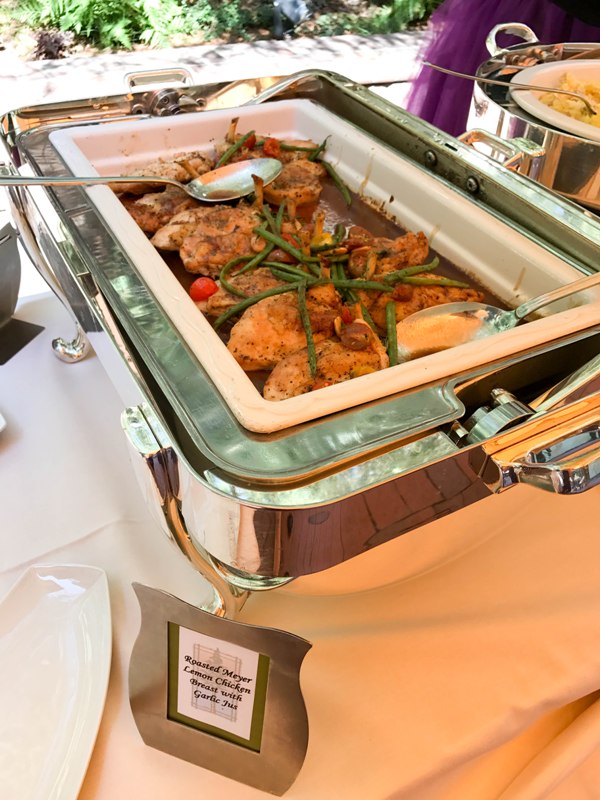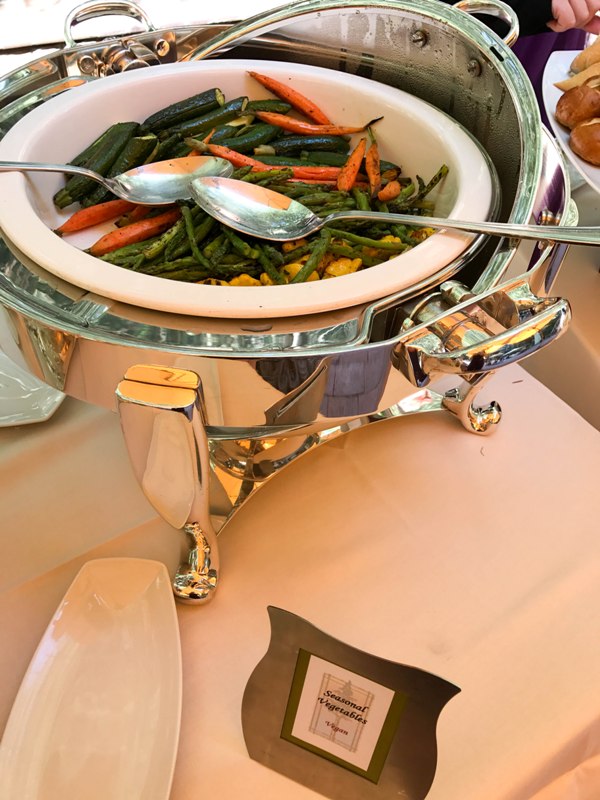 The cake was decorated beautifully to match the fall theme! At the final hour, Disney offered to make the cute pumpkin cake topper, which is my favorite part! The flavor was another new one for me – raspberry cake with vanilla and raspberry filling. Pink cake! We also had pink cake at our wedding, but it was pink velvet. It's fun to know they can make another pink cake!
The couple had music playing through their iPod and the kids had a blast dancing. In case anyone is wondering what the iPod hook up looks like, I finally remembered to take a picture!
For favors, the couple put together these cute S'mores kits, which were perfect for a fall wedding! Their young son was the one who came around and passed them out … and then immediately asked everyone if they were going to eat theirs. It was one of the cutest things I've ever experienced at a wedding, haha!
Congrats to Sandra and James; thank you so much for inviting me to be a part of your big day! I had so much fun, and wish you the best on your Happily Ever After!