Disney Brides whose weddings have already happened, I have a question for you … How many of you, at some point, threw your arms up in frustration and exclaimed, "I wish we could just elope!" (Just FYI – I'm raising my hand real high here.)
Ultimately we loved our wedding and had a great time, but … goodness … there's something to be said about eloping and just doing things your own way without anyone else's input.
That's exactly what Rachael and Derek did with their elopement at Walt Disney World. The Escape package was the perfect start to their celebration, plus a dessert party in Epcot and a private photo shoot at Magic Kingdom meant they had everything they wanted for their fairy tale elopement. Get this … they even invited Cast Members to celebrate with them! What a sweet idea!
Rachel and Derek, congrats on your one year anniversary and thanks for sharing your wedding details with us. You can read more about Rachael and Derek's wedding on the official Disney Weddings blog.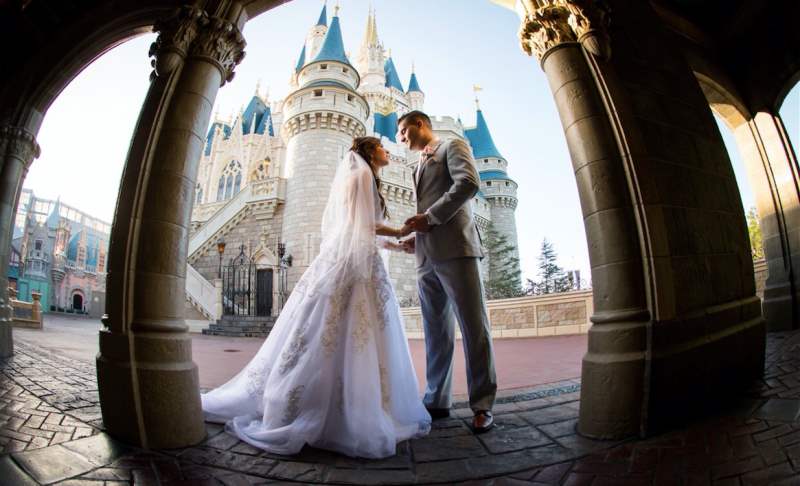 Rachael and Derek's Fairy Tale Elopement at Walt Disney World
Disney Bride: Rachel, 30, Grand Rapids, MI
Disney Groom: Derek, 30, Grand Rapids, MI
Wedding date: 5/15/2017
Ceremony Venue: Disney's Wedding Pavilion, Disney's Grand Floridian Hotel, Walt Disney World, FL
Reception Venue: Disney's Grand Floridian Hotel, Walt Disney World, FL
Dessert Party Venue: Epcot, Walt Disney World, FL
Total budget: around $15,000
Guest count: 2 (elopement)
Photography: Disney Fine Art Photography (Ali)

Why did you choose a Disney wedding?
Rachael has been traveling to Disney for most of her life with her family. When she met Derek she found out he had never been. She wanted him to experience the magic and they went on their first trip together. Derek fell in love with Disney and they visited there multiple times over the next few years. When thinking of places to get married locally, nothing clicked until Walt Disney World was brought up. Rachael and Derek both knew this would be the best and most magical place to have the wedding, so it was an easy decision.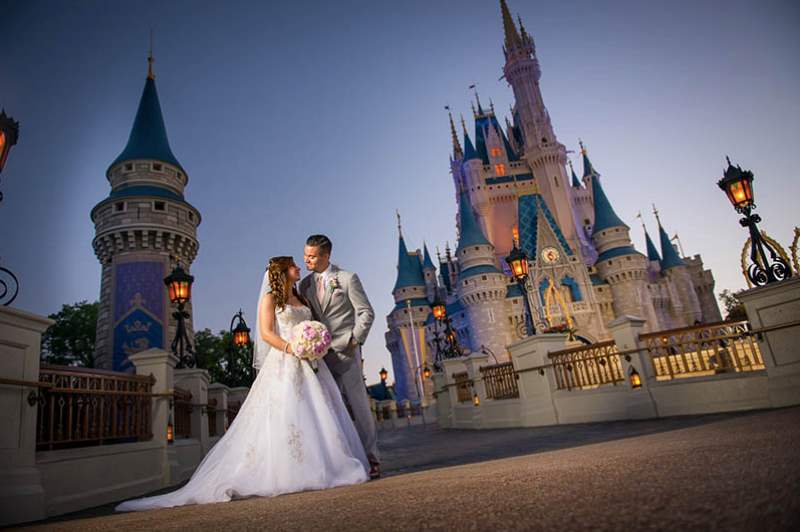 How did your family/friends react to your Disney wedding?
We eloped, so not many family members knew. We wanted to have our wedding how we wanted to: without drama or any stress and this was the best way for us. We also wanted to have the wedding of our dreams, so we went all out in true Disney style so it was all just for us two to enjoy!
What was your theme?
Romantic and traditional elegance with a touch of Disney details.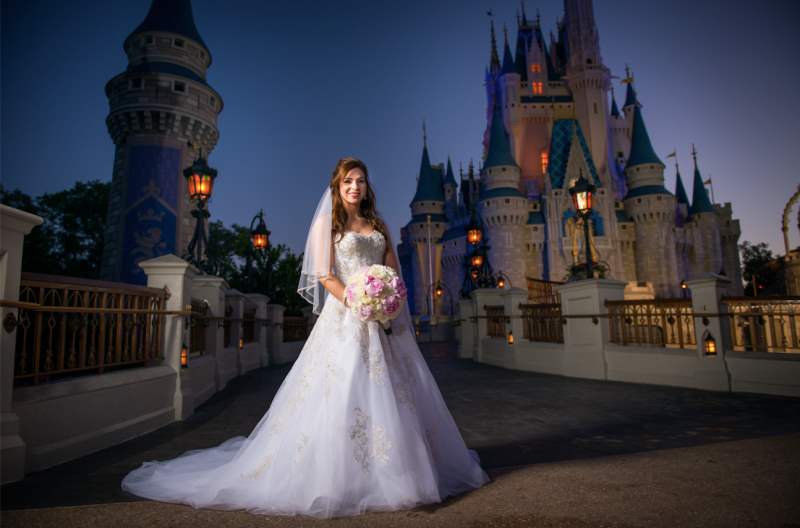 What was your biggest challenge in planning your Disney wedding?
Making sure all of the appointments were in sync on our wedding day. Since we were coming from out of state we had to double check the steamer, hair and makeup, and tux rental were all in place. This was the only time it was tough, not being there in person to oversee everything.
Tell us about your ceremony. Did you include any Disney touches?
Our Disney touches were all about the details. As a gift, Rachael surprised Derek with Mickey Ear cuff links to wear with his suit. Rachael's wedding dress had pearls in the shape of Mickey Ears and both the bouquet and boutonniere had pearl Mickey Ears hidden in them. Our wedding cake was a meaningful thing to us so we had it custom made and had the bakery add hidden Mickeys as well, with a Minnie and Mickey cake topper that we provided. Rachael also had her shoes custom made since we were having a portrait session at Cinderella's Castle (Cinderella is her favorite princess). We brought bride and groom Mickey ears to wear for our portrait session in front of the castle. We definitely had a lot of hidden Mickeys at our wedding!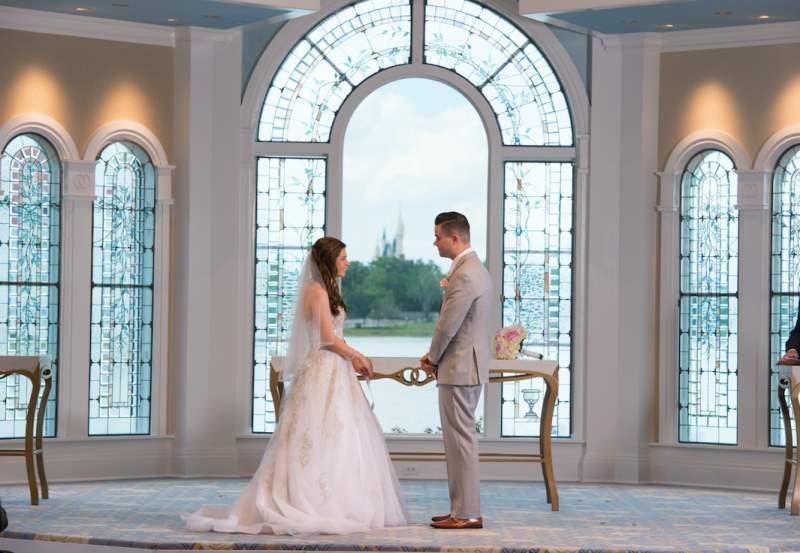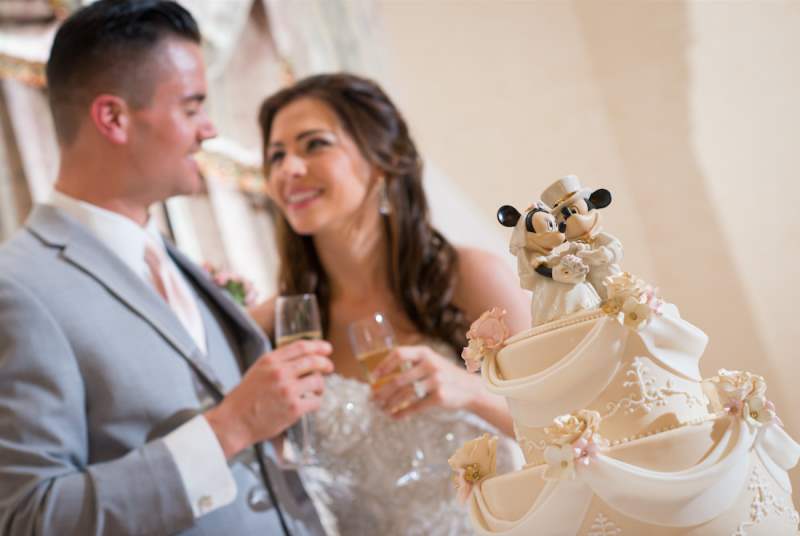 Describe your reception. Was it completely traditional or did you do anything unique?
We wanted a traditional reception; romantic and elegant. The way our banquet room was set up was perfect. They had lights and flowing curtains. To top it off, our custom cake matched beautifully. It was better than we ever imagined. We followed with a private Dessert Party at Epcot to watch Illuminations. This was unique because it was just for us two. We actually invited our limo driver and he was able to join in the fun! We loved the Dessert Party as it was a great way to end our perfect day.
What did you splurge on? Where did you save money?
We wanted to go all out since this was a once in a lifetime opportunity, so we splurged on Cinderella's Coach, our Epcot Illuminations Dessert Party, and the Two-Park Portrait Sessions. We saved money on the smaller items that we knew we would only be using once. Sites such as eBay, Etsy, and Amazon had a lot of great finds. Rachael found her hair accessories, clutch, and a lot of Disney themed items on those sites!
What was your favorite moment of the day?
We invited Cast Members to witness our wedding! We met them during the first few days of our trip and invited them to our ceremony and reception. We had a group of ten show up and had the best time sharing our special day with them!
We also had the privilege and honor of meeting Richard, the greeter at the Grand Floridian Resort throughout our stay. He promised Rachael he would escort her to Cinderella's Coach and help see her off. This moment was so magical and special to spend with Richard. Both of these were our favorite moments as we gained a new Disney family!
What would you change if you had to do it all over again?
Nothing! We still talk about how it was the perfect day and there was not one thing we would change! We were able to savor every second since it was just us two. We loved having the quality time to take in all the moments that were happening and have it focused on us. We knew this was the best decision we ever made!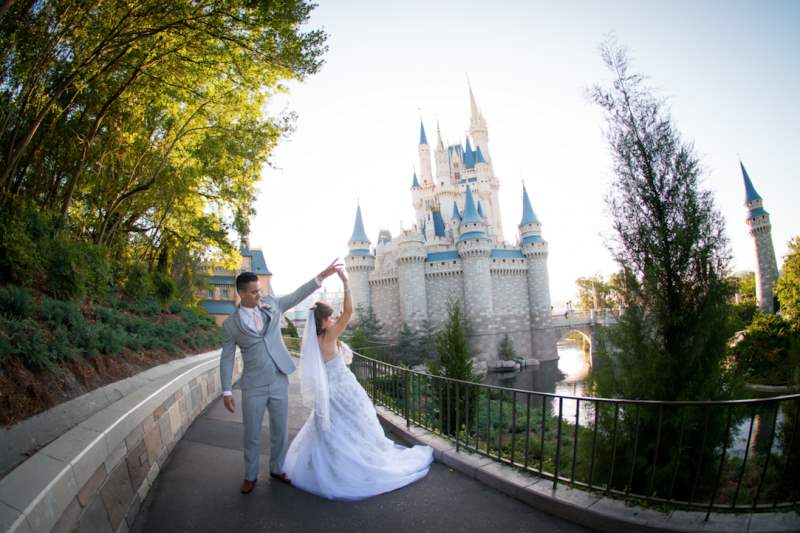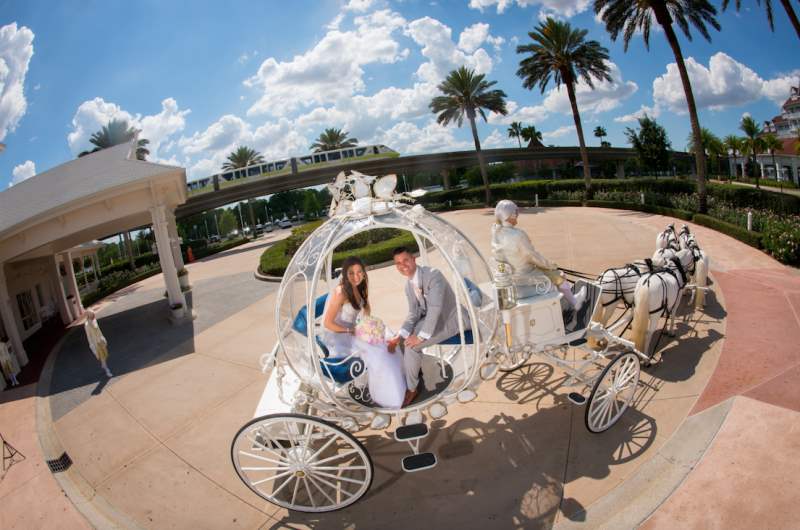 What advice would you give to couples that have just started planning their Disney wedding?
If you are traveling from out of state, keep lists and track everything that you will be bringing with you. We had multiple lists and phone numbers that we made into a binder and brought with us so we would have all the information at our fingertips. Start packing early! Also, read and go over your wedding itinerary with your wedding planner and spouse to make sure everything is included. It can be easy to overlook something, so remember to read the fine print.
If you are traveling with your dress, make sure you talk with your airline once you arrive at your gate and let them know you have a wedding dress. They kindly let us board the plane first and the flight attendants put the dress in their locked closet so it would not have to be in the overhead compartments. You do not want to let it out of your sight!
Any other details you want to share?
We kept telling ourselves if our wedding is in Disney's hands then we have nothing to worry about! They take care of everything plus more for you on your special day. We did not have one stress or thought about missing anything. Disney covers all worries for you. Remember to enjoy your fairy tale and take in every special moment. After all, it is YOUR happily ever after!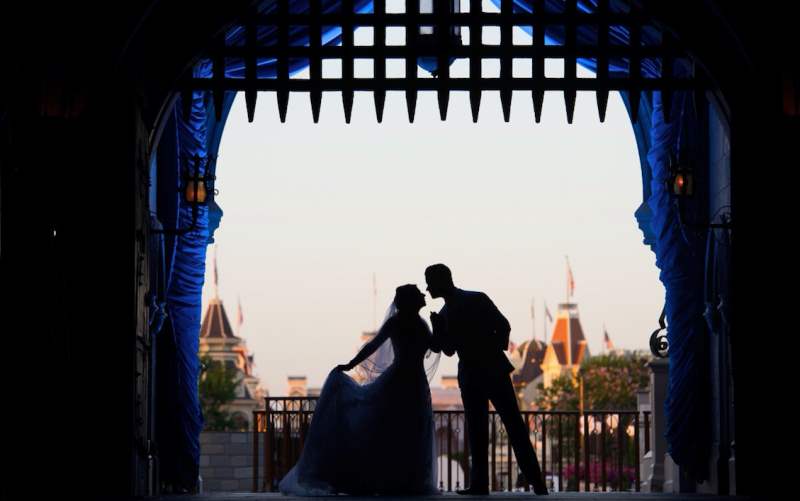 Budget breakdown (prices are always subject to change)
Venue: $6,000.00 (Escape Package) // $524.45 (Dessert Party at Epcot)
Food/Drink: $175.00 (Wedding cake upgrade)
Floral: $125.00 (Bouquet refresh for Portrait Session)
Officiant: $175.00
Ceremony Music: Violinist and Organist (included)
Reception Music: Violinist (included)
Other Entertainment: $2,950.00 (Cinderella's Coach)
Photography: $2,425.00 (2-Park Portrait Session)
Bride's/Groom's attire: $250.00 tuxedo rental from Men's Warehouse / $2,500.00 Alfred Angelo wedding dress & veil / $265.00 custom wedding shoes by Wicked Addiction / $220.00 steamer rental
Hair/Makeup: $370.00
Vendor List
Wedding coordinator: Samantha J. Lyscas
Photography: Disney Fine Art Photography, Ali Nasser
Officiant: Ron Rosenzweig
Hair/Makeup: The Ivy Trellis at The Grand Floridian Resort
Steamer rental: Carolyn Allen's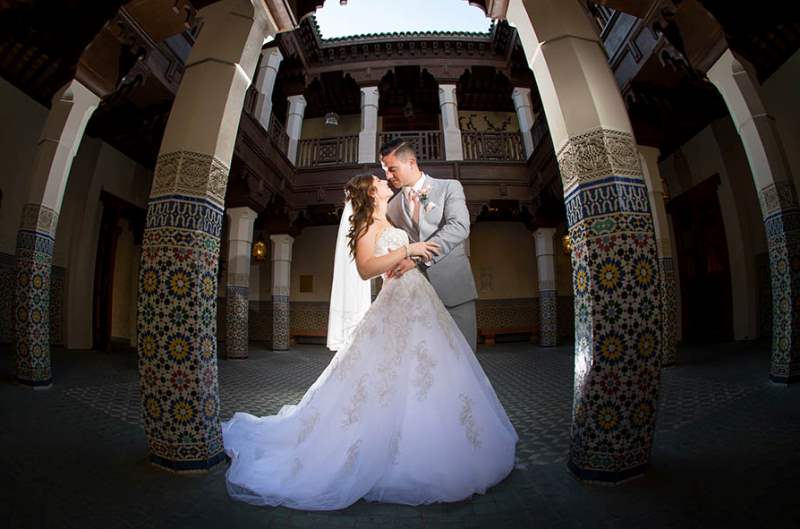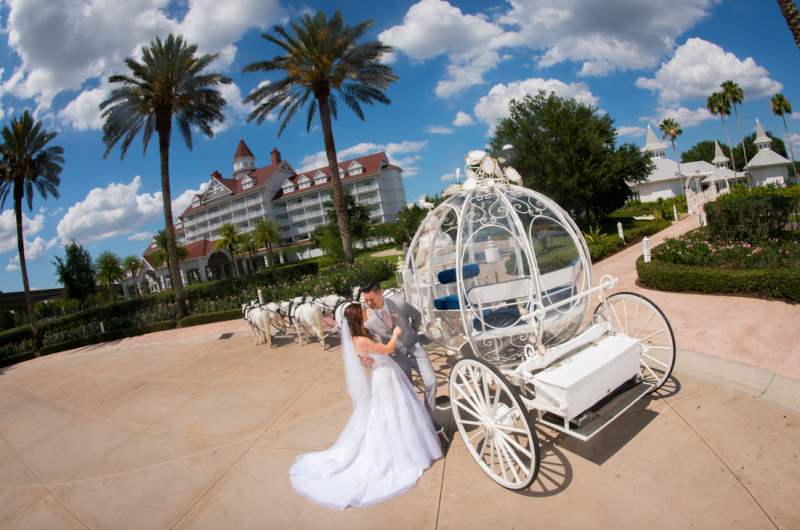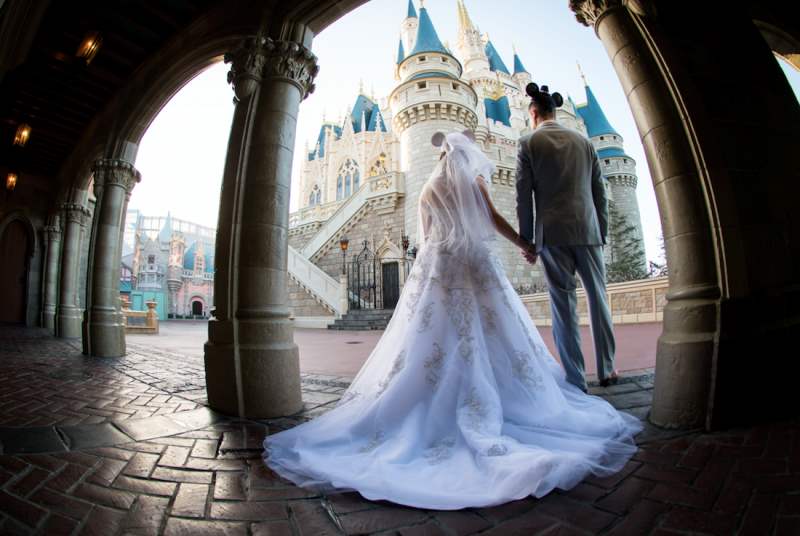 Shop Disney Wedding products:
(Advertisement)