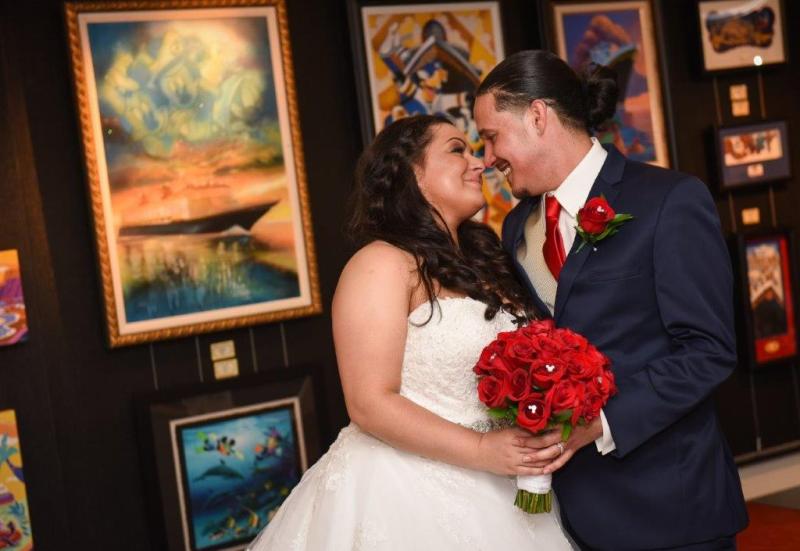 I absolutely love Disney Cruise Weddings and I certainly don't see enough of them. So when Ashley submitted her wedding to share with you all, I did a little happy dance in my office chair!
Ashley and Simon had a sweet and simple wedding ceremony and reception onboard the Disney Dream cruise ship, sailing out of Florida. It looks like their wedding day was full of love and celebration and happiness – what more could you want? Oh, a built-in honeymoon, too? Fabulous!
And they followed up their wedding with a Magic Kingdom portrait shoot. Be still my heart! They pulled off their subtle Beauty and the Beast theme perfectly, from the Alfred Angelo Belle gown (RIP) to an abundance of red roses, to even matching their ceremony location to their theme. They even got a few pictures at the Beast's Castle in Magic Kingdom. This couple thought of everything!
Thanks so much to Ashley and Simon for sharing their Disney Cruise wedding details with us. Congratulations on the most perfect day!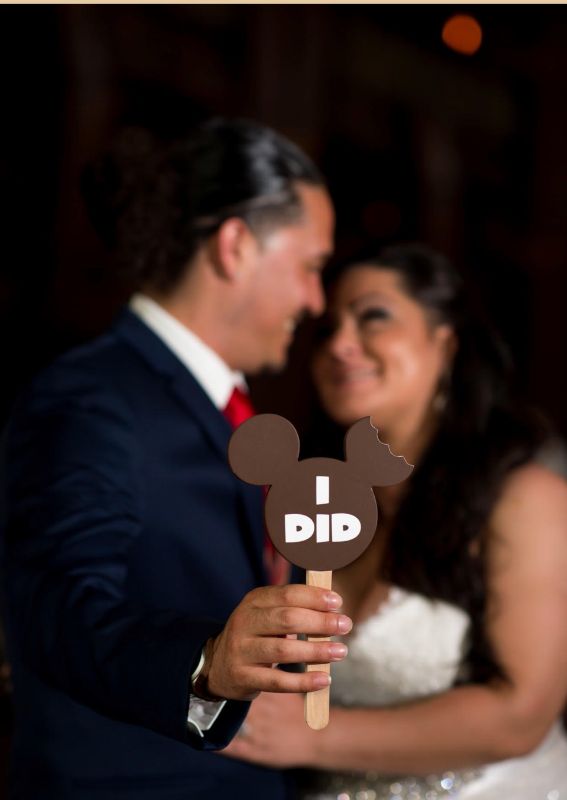 Ashley and Simon's Enchanting Disney Dream Cruise Wedding
Disney Bride: Ashley, 35, Seattle, WA
Disney Groom: Simon, 30, Tacoma, WA
Wedding date: 2/13/2018
Venue: Disney Cruise Line, Disney Dream Atrium and Outlook
Total budget: $25,000 including honeymoon
Guest count: 16
Photography (cruise): Disney Cruise Line
Photography (Magic Kingdom): Disney Fine Art Photography
Why did you choose a Disney wedding?
I have always loved Disney! My family would take trips to Walt Disney World every other year as a large (15-20 person) group. Growing up I collected all the classic Disney movies on VHS. Needless to say I am so grateful to be able to look back on some really amazing Disney memories that include all my loved ones. After Simon and I had been dating about 2 years we were blessed with taking a trip to Disneyland with my sister's family and some friends. Simon and I had the time of our lives and knew if we could swing it we wanted a Disney wedding when the time came. Simon is definitely a kid at heart, so he was all in!
How did your family/friends react to your Disney wedding?
My side of the family wasn't surprised one bit. Simon's family probably secretly thought it was childish or silly but never expressed that to us. For the most part everyone was supportive. We knew when we chose a destination wedding that it would be small and not everyone would choose to join us and we were okay with that.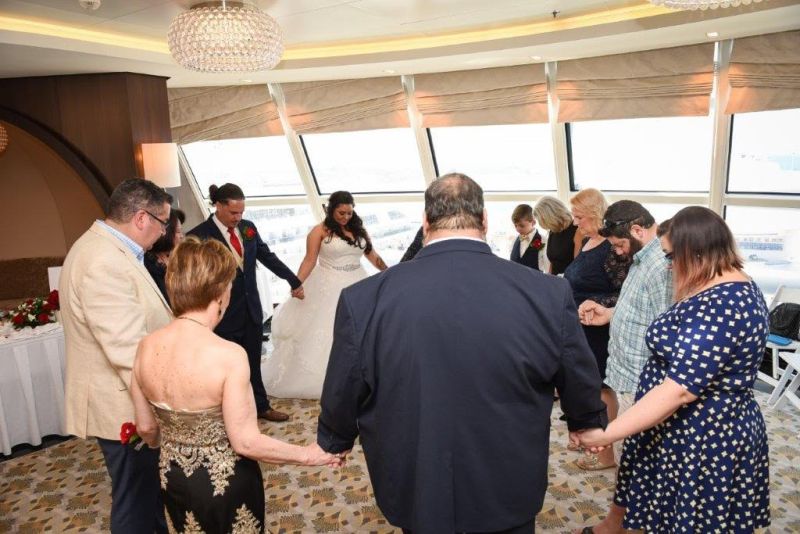 What was your theme?
Our theme was Beauty and the Beast. It's both mine and Simon's favorite Disney movie of all time. In fact Simon proposed to me at the premier showing in our hometown. It was so romantic and everyone in the theater cheered and clapped. Our colors were navy, gold and red and we incorporated subtle details in our invitations, my garter, and our champagne glasses. We left it at that so we could keep the wedding a bit more traditional.
What was your biggest challenge in planning your Disney wedding?
We choose to get married on the Disney Dream so we could get married in the atrium where the gold and blue matched our theme. We made the mistake of planning through a cruise planner and not Disney directly. Our cruise planner had told us to book immediately as Disney only does one ceremony onboard per sailing. About 63 days from sailing I had asked my Fairy Tale wedding coordinator what time our ceremony would be held for a guest that wanted to book excursions. Only to find out that another couple had booked prior to us and had priority over our place and time of ceremony. I was devastated that we might not get the atrium. Stephanie and Faith with Disney were real fairy godmothers. They did everything they could to make our requests come to life. They even offered to have our ceremony in a private area (not the atrium) on an at sea day. This is something that normally would never be offered as the ship is far too busy. In the end the other couple chose a ceremony time that the atrium is not offered and it all worked out beautifully.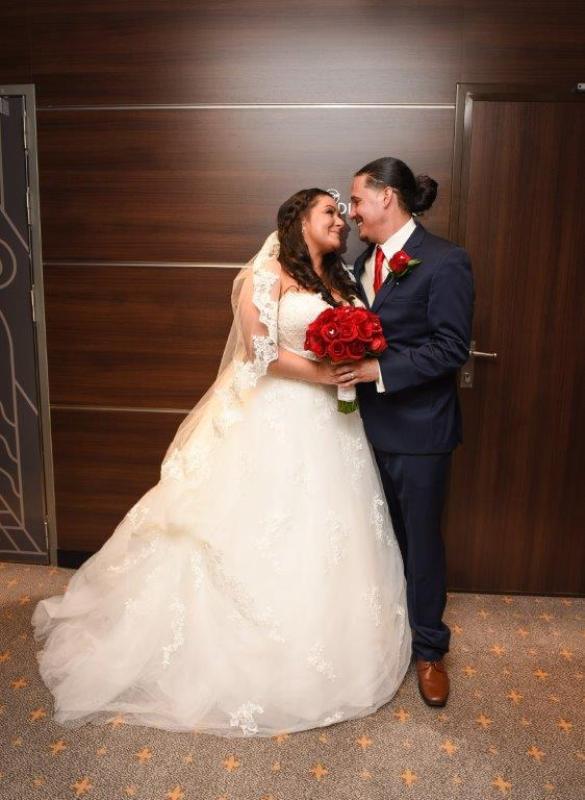 Tell us about your ceremony. Did you include any Disney touches?
We had our civil ceremony with just Simon and I in the outlook area of the ship as we had to be legally married prior to embarkation. It was a lovely area that overlooked the ocean and a very special moment just us two. We then personally knocked on all of our guests staterooms to give them Mickey and Minnie ears and a hand written card. Disney left lovely invitations on everyone's fish extender for where to meet for the formal ceremony the next day. Our formal ceremony took place on Nassau day in the atrium at noon. We placed Mickey key bottle openers on each chair as favors. The cruise director married us and it was more than I could have imagined. He was so attentive and really incorporated our vows back into the the ceremony. You could tell he was really present.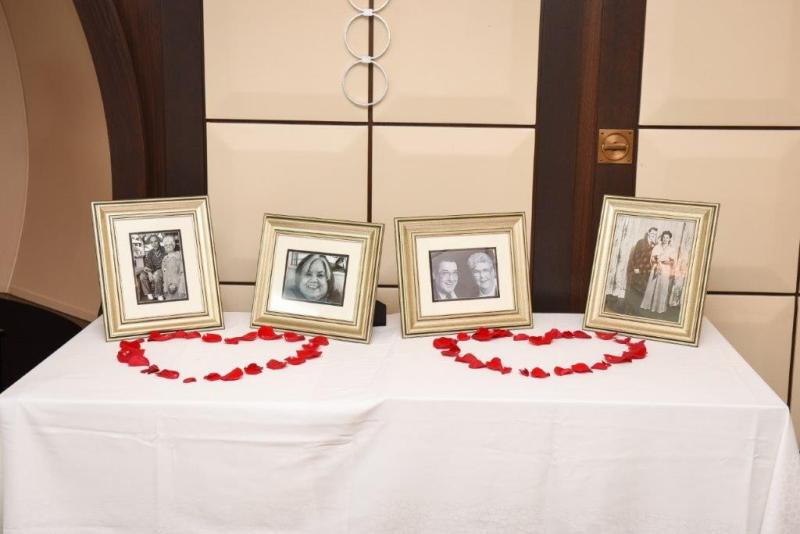 Describe your reception. Was it completely traditional or did you do anything unique?
Our reception was about an hour and took place in the Outlook lounge were we were legally married the day prior. It was beautiful. Our families were able to mingle and dance. All of our music was Disney from the cake cutting to the parents dance. My sister, my Mouse of Honor as I call her, surprised us with an appearance by Mickey Mouse. It was such a special moment that I will never forget, being able to dance and take photos with Mickey in our bridal attire. Overall it was everything I could have ever dreamed or imagined.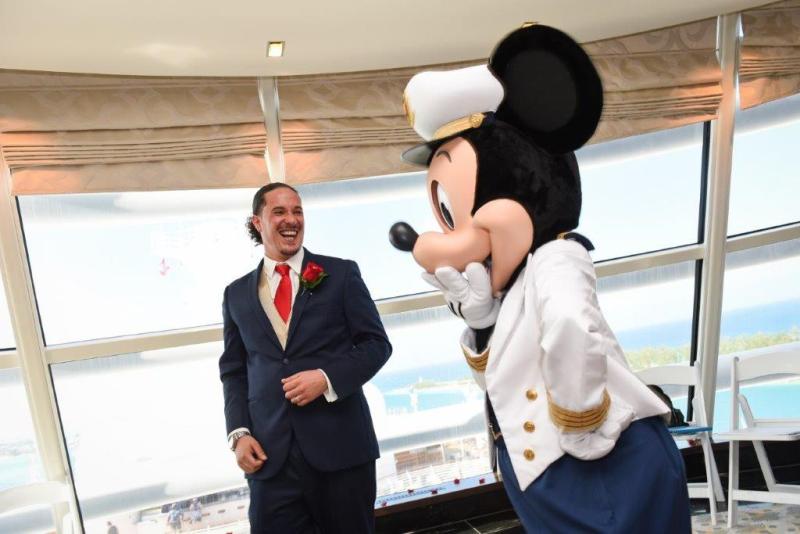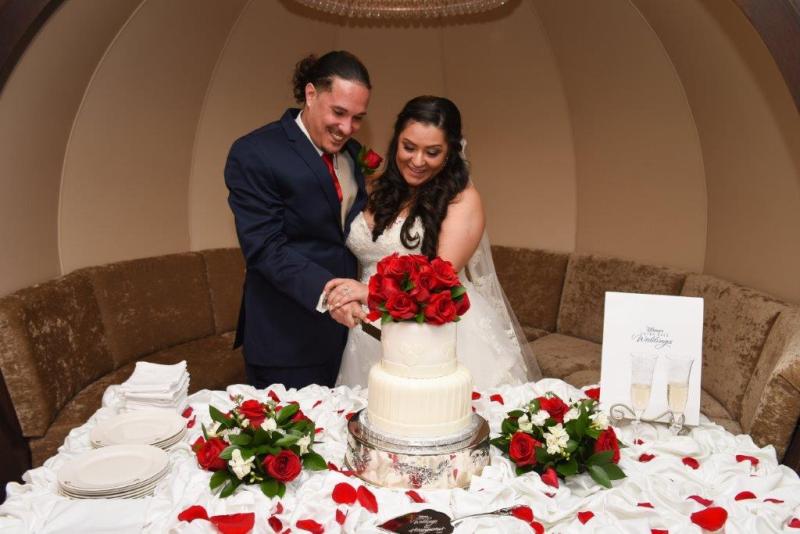 What did you splurge on? Where did you save money?
We splurged on a verandah stateroom. It was important to us that we could relax on our balcony and take it all in. Simon and I also splurged on last minute treatments in the spa the morning of our formal ceremony and we are happy we did. We did upgrade our cake to have floral on top and upgraded flavors. Our most important splurge was on our Magic Kingdom portrait session. I highly recommend brides take advantage of it. It was so special to be able to get back in my wedding gown a few days later and I felt like royalty every second. It was absolutely a once in a lifetime opportunity to be able to be in Magic Kingdom in with no one else around dressed like a real princess. It was a fairy tale come true and beyond worth every penny if you ask me.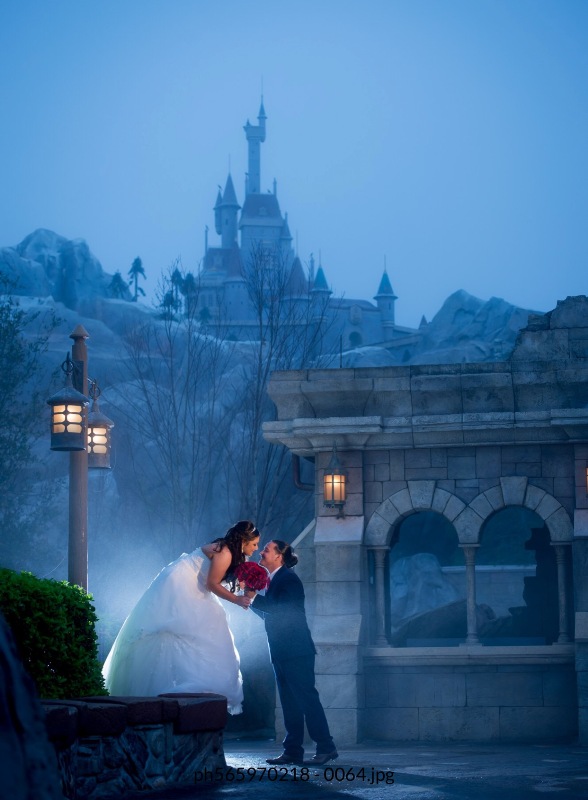 What was your favorite moment of the day?
Walking down the aisle with my father and seeing Simon standing there looking as handsome as ever with the biggest smile on his face and a tear in his eye was with out a doubt the best moment of it all. Getting to finally marry my Prince Charming, it was all worth it.
Mickey at our reception comes in second. 🙂
What would you change if you had to do it all over again?
I would have paid for a photographer to come on board with us. I was a little disappointed in the quality of my wedding photos. Other than that, absolutely nothing! Sure there were hiccups but nothing show stopping. This was my moment that every girl dreams of and I did it the way I wanted it to be.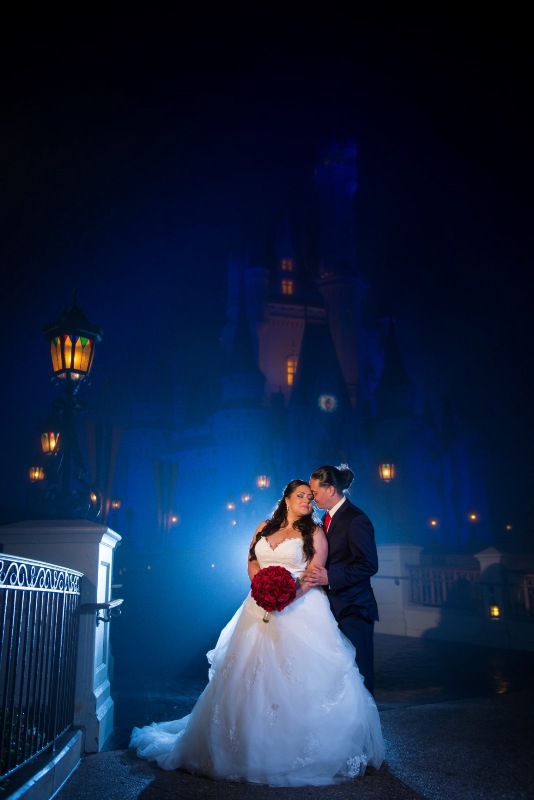 What advice would you give to couples that have just started planning their Disney Cruise wedding?
Work with Disney directly and not through a travel agency, cruise planner, or even your maid of honor. If you want to ensure your special day is everything you have been dreaming it would be make sure you make the majority of the plans yourself. Also, spurge on what's important to you, no matter what that might be.
Also, be prepared for the heat and humidity if you get married in Florida. My mom, sister, and myself didn't think how the Florida humidity would affect our hair and boy did it ever. We all ended up having keratin smoothing treatments on the cruise prior to the wedding. Otherwise our hair would have been a frizzy mess!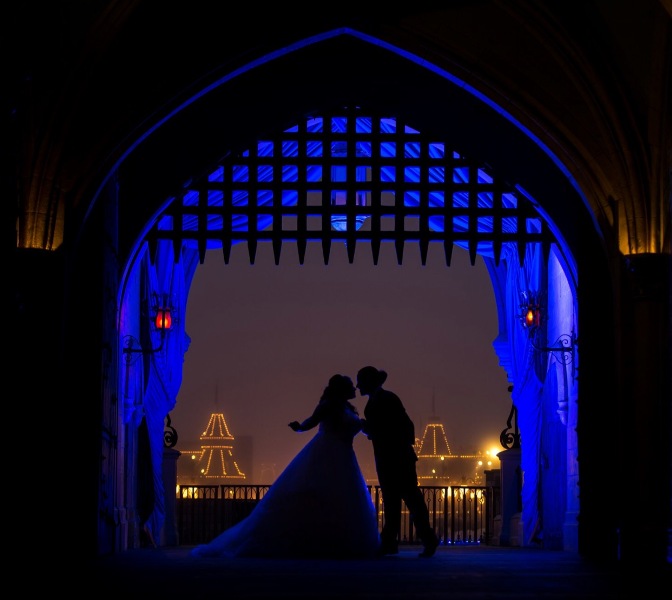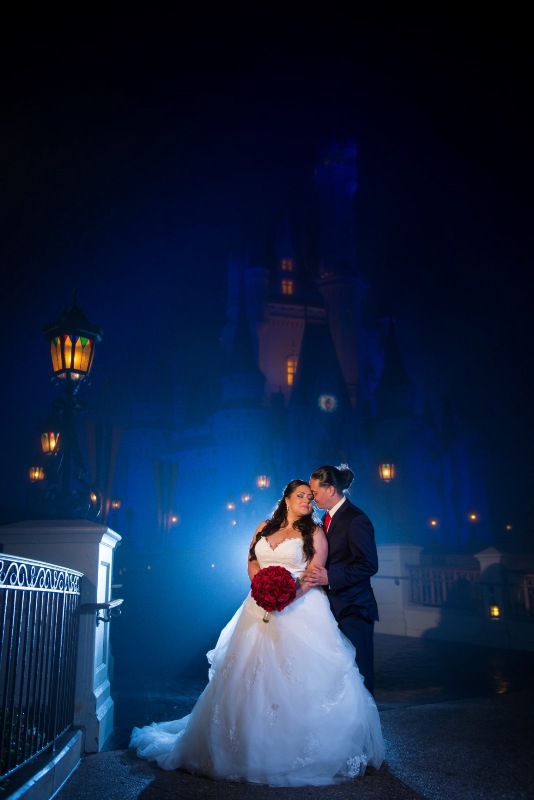 Affiliate links present below
Wedding Vendors and Details
Venue: Disney Cruise Line, the Disney Dream
Photography (cruise): Disney Cruise Line
Photography (Magic Kingdom): Disney Fine Art Photography
Food/Drink: Disney
Floral: Disney
Officiant: Cruise Director
Ceremony Music: Processional – Some Day My Prince Will Come, Recessional – Happily Ever After
Reception Music: Cake Cutting – Can You Feel the Love Tonight; First Dance – Beauty and the Beast; Parents Dance – You'll Be in My Heart
Favors: Mickey key bottle openers (similiar) and Mickey/Minnie ears
Bride's Attire: Alfred Angelo Belle gown
Groom's Attire: Menguin rental suit
Hair/Makeup (cruise):Disney Cruise Spa done by Belle (how ironic is that)
Hair/Makeup (Magic Kingdom): Amanda at Bella Con Stile Makeup