This post contains affiliate links.
Today is the last day of November so it seems like a good day to FINALLY get around to posting my fall flower crown Mickey ears tutorial. Even though I know everyone has already moved onto Christmas. At this rate I'll post my Christmas ears tutorial sometime in mid-January. Sigh … I really need more hours in the day … or a clone of myself.
Anyway …
This was my first attempt at a flower crown (even though I already posted my Halloween flower crown ears; I made these fall ones first) and they turned out … huge. I mean, really huge. Tall. Big. I asked you guys on Instagram if they were TOO BIG and you told me they were fine! So, I'm trusting that you weren't lying to me, Instagram. Because I wore them around Disneyland a couple different days this fall and hopefully I looked cute and not weird.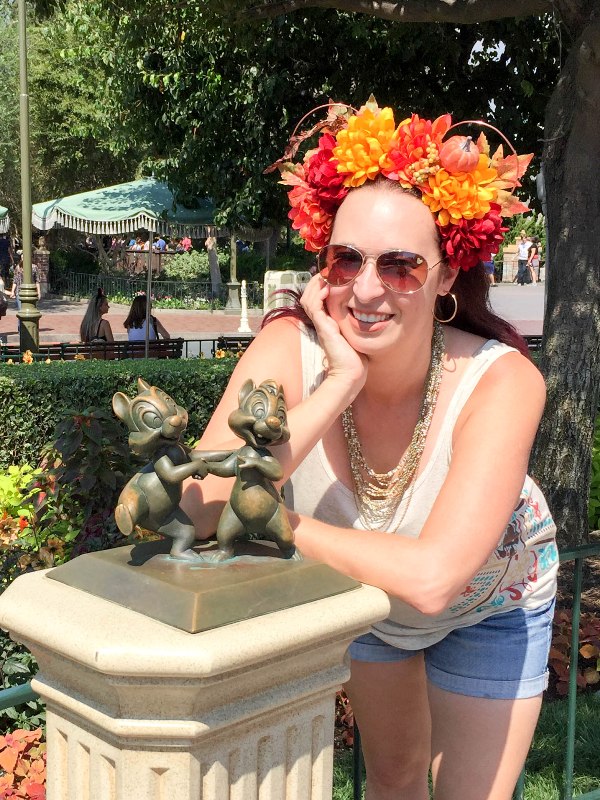 These wire ears are a little more intensive than my usual foam ears, but the results are super cute so it's worth the extra time. If these flowers seem too big for you, just search your local craft store for smaller flowers in your favorite fall colors.
DIY Fall Flower Crown Mickey Ears
Supplies
Copper floral wire (12 gauge)
White headband
Hot glue gun
Assorted silk flowers (I also used pieces from a bouquet of various fall foliage)
Black masking tape (3/4 inch)
Needle nose pliers/wire cutter combo
Steps
Step 1 – The first step is to shape your wire ears. I wanted to make my ears a little bigger than the traditional ears and I found a pickle jar was the perfect size. Look around your home and get creative as to what you can use as a size guide! Wrap the wire around the pickle jar until you have a complete circle, and trim the wire with about 4 inches sticking out on both sides. Do this twice for your two ears.
Step 2 – Place your wire ears using a pair of official Mickey ears as your guide. Once you have the right placement, use the pliers to wrap the wire around the headband. Once the wire is wrapped around once, trim the wire at the back of the headband (not underneath, or else it will poke at your head). Use a piece of black tape to secure the wire in place and cover the cut edge of the wire. Repeat on the other side of the ear. Then repeat for the second ear.
(Note – I attached the wire ears differently for my Halloween ears and found THAT method to be much easier … so check that out link and follow that method, if you wish.)
Step 3 – Now that the base of your ears are in place, you can start placing flowers. I chose some large mums in different colors. Remove the flower from the stem. Start in the center of the headband, and one by one, use hot glue to attach the back of the flower to the headband. I actually use a TON of glue for this, because the flowers are big and heavy. I added some glue and let it dry, then added MORE glue, until the entire back of the flower is encased in glue. I was able to fit five flowers on the crown, and I alternated colors. It's a slow process, but you want to make sure you do it right so the flowers don't fall off while you're having fun at Disney.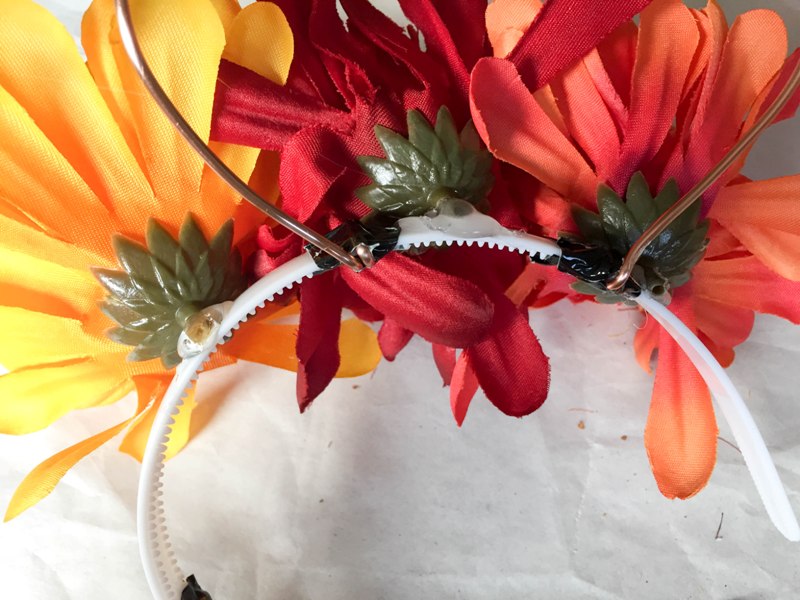 Step 4 – You could stop here, but I added on some fall "extras" like a feather, tiny pumpkin, and some leaves. There's no right or wrong here, just keep arranging and gluing until you're happy with the results. Let the glue dry at least 15 minutes before handling the ears again.
I hope you love these fall flower crown ears!