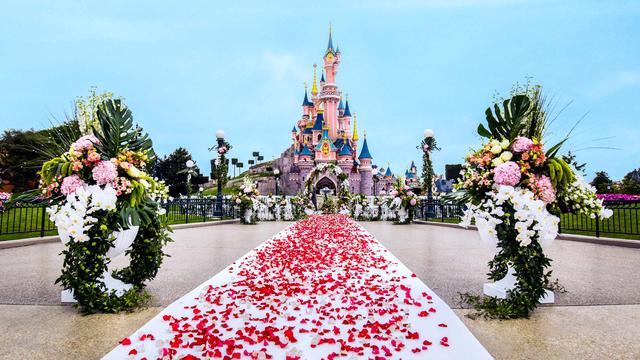 Great news for anyone who is dreaming of a European destination wedding or opulent fantasy vow renewal … Disneyland Paris is now offering wedding and events packages!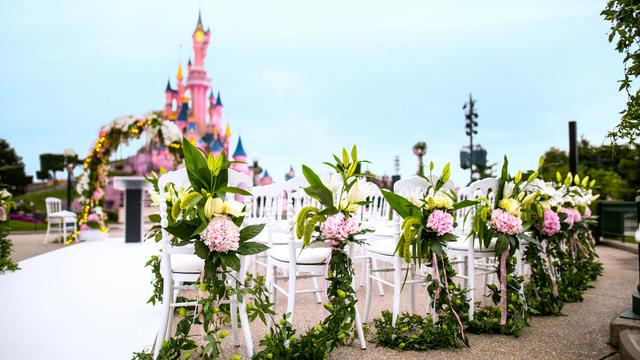 France is the country of romance and Paris is the city of light, and many of us have frequently wondered why Disneyland Paris was not offering weddings. This year they are introducing three wedding packages which would be perfect for a destination wedding or vow renewal. I'm sure this is also welcome news for our European friends who might not want to travel across the pond for their Disney wedding.
Disneyland Paris is not yet showing up as an option on DisneyWeddings.com yet, and information on the Disneyland Paris website is limited. What is provided are short descriptions of their three packages and some basic information about event "enhancement" options. What we don't know is what these packages entail … how many guests, what kind of meal, is photography/officiant/floral included, the day of the week or the time of day, etc.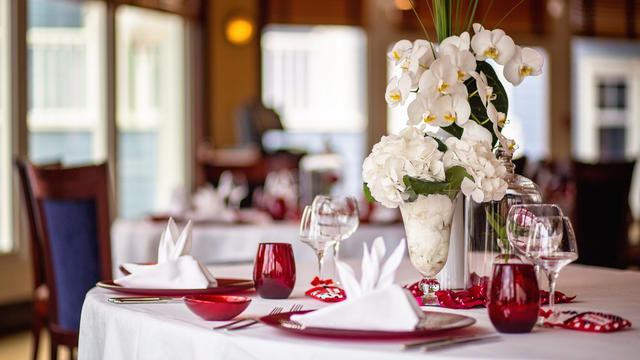 From the Disneyland Paris website:
Romantic Wedding Collections
Choose among our inspiring venues to create a celebration that resembles you!
Disney's Newport Bay Club® – Embark on a wish come true!
If you've dreamt of a ceremony complete with an air of adventure, consider your wish granted. On the shores of the 1920's-inspired Newport Bay Club, this celebration promises to sweep you away with beautiful nautical settings, an abundance of gastronomic and festive delights, each one infused with legendary Disney storytelling magic. It's our vow to wow you on the most romantic day of your life.
from 32 000 € (approx $34,000 USD)
Disneyland® Hotel – Say 'I do' to the most romantic day of your life
In this magical place, the enchantment begins long before you say 'I do'. From Disney-licous dining served on spectacular Disney-themed tables, to the fairytale settings of Disneyland Hotel, romance blooms to life amid the splendor of a Victorian-inspired backdrop. What a perfect way to start your new life together! Because a Romantic Wedding experience celebrates the most precious of romantic encounters. Yours.
from 44 000 € (approx $46,600 USD)
Castle Courtyard – The ultimate happily-ever-after celebration
Every once in a while, love gives us a fairy tale. And the most eternal fairy tale wedding of all is a Royal Wedding. Imagine your ceremony right next to Sleeping Beauty Castle, surrounded by extraordinary magic. Imagine yourself here, at a one-of-a-kind wedding your heart has always dreamt about.
from 55 000 € (approx $58,000 USD)
Unique Enhancements
Add even more magic to your unforgettable day. Some of the Unique Enhancements available include:
Appearances by Disney Characters®
Private performances by spectacular Disney entertainment®
Live musical performances
Professional audio and video equipment
Customized decorations
And so much more!
Please note that the above Unique Enhancements are subject to additional charges. In addition, all collections details are for reference only and are subject to change'
Keep in mind the legal requirements to get married in France are very complicated and restricting (you must be a resident of France for at least 30 days before completing a marriage application), so many US couples who get married in France often get legally married in the US before their wedding.
One thing that jumps out at me is the pricing is not much different between a hotel wedding and a castle wedding. I'm hoping we will soon see images of lovely weddings from Disneyland Paris! I think I have a new Vow Renewal goal.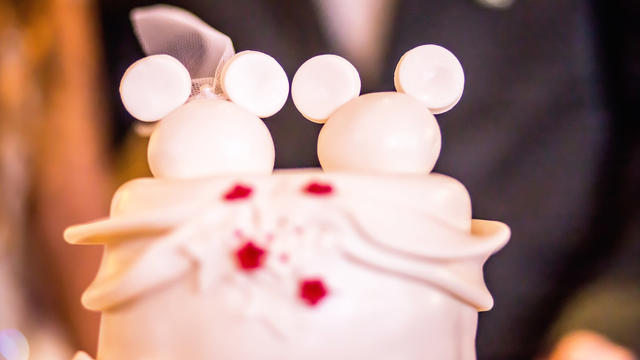 All images copyright Disney.