So you're recently engaged. Congratulations! Such an exciting and happy time, which comes with lots of decision making. One of the biggest decisions you will need to make as a couple is WHERE to get married. And if you've found this blog, then you're probably considering, or maybe have your heart set on, a Disney wedding.
Disney weddings are great, and I'm not just saying that because I had one. But I'm really glad we chose Disneyland as our venue. It had been a dream of mine to get married there for several years and luckily my now husband was on board. Our families just took a small amount of convincing, but ultimately they understood it was our decision and they supported our choice! But I've spoken with enough "Disney couples" over the last few years to know it's not always that easy. Some parents, families, and friends need some additional convincing to realizing having a Disney wedding is the best idea ever. So if you need a little help, this list is for you. Feel free to email it to your most skeptic friends and relatives, and I'm sure they will see your point of view in no time!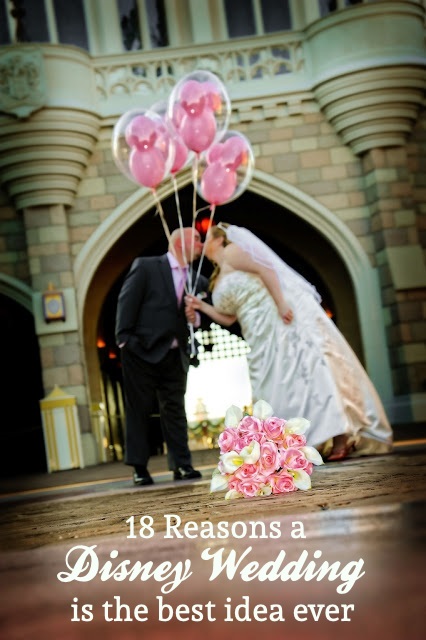 1. Disney is for all ages. It's a common misconception that Disney theme parks are just for kids. Disney offers entertainment for the whole family! When Mickey and Minnie were introduced at our wedding reception, the adults cheered louder than the kids, I swear.
2. You can have any kind of service at Disney – religious, secular, military, etc. The Disney Fairy Tale Weddings (DFTW for short) team can help you with any type of ceremony you need.
3. If you need to get married in a church, you can still have your reception at Disney!
4. Your wedding is also a vacation. Tell guests they get a two-fer!
5. Disney offers all-inclusive wedding planning. If you don't want to, you don't need to search for any other vendors, except for photography/videography. You can arrange for food, floral, decor, and music, all through DFTW.
6. Disney service is top-notch. Disney is known for its 5-star service, and their weddings are no different.
7. Disney can accommodate a wedding celebration of any size. I've seen small weddings with just the couple and a witness, all the way up to guest counts of over 200!
8. You can save money by having your wedding and honeymoon at one location. A Disney wedding comes with a built-in honeymoon, especially at Disney's Aulani in Hawaii!
9. Weather is pretty great in Florida, California, and Hawaii. And on cruise ships. Even in winter!
10. Show them pictures of your favorite venue. Every venue is beautiful, from the Wedding Pavilion at Walt Disney World, to the Rose Court Garden at The Disneyland Resort, and numerous other options.
11. Disney food is the best food.
12. Disney cake is the best cake. Even more important than food!
13. The variety of on- and off-property hotels means there's an affordable option for all guests. A room block will help bring the costs down, too.
14. A Disney wedding is the only way you can take pictures inside a Disney theme park in your wedding gown/suit, with the special add-on "morning castle photo shoot."
15. A Disney wedding is also the only way you can have THE REAL Mickey and Minnie at your wedding reception!
16. The Disney Honeymoon Registry is a great way to allow your guests to contribute to your trip funds in lieu of a gift.
17. At a Disney wedding, it's perfectly acceptable to walk down the aisle to "Once Upon a Dream," "Someday My Prince Will Come," or "Part of Your World," or whatever your favorite Disney song may be!
18. Disney specializes in fairy tales. C'mon, these are the people who brought Cinderella, Belle, and Ariel to life! There's no where better to make you feel like a true princess on your wedding day. I know from experience!
Image credits:
Mickey Pomander by Studio 222 Photography from Wendy and Greg's Sea Breeze Point Wedding
Pink Mickey Balloons by Mikkel Paige from Lisa and Rob's Disney Cruise Wedding