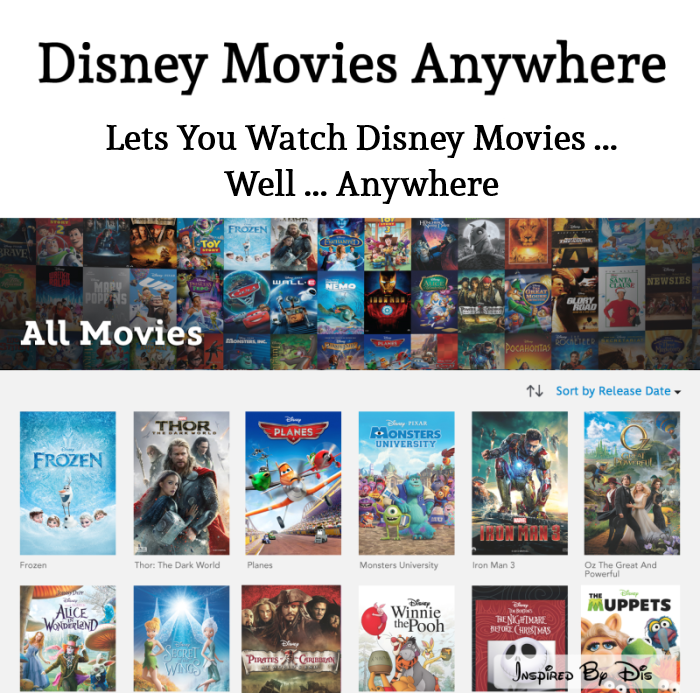 Very cool news if you're a big Disney fan (and why are you even here if you're not?)! Now you can go to Disney Movies Anywhere and watch Disney movies, well, anywhere, on any device. If you're an Apple fanatic, you can also download a free app for your iPhone, iPad, or iPod Touch (iOS 7 required) which will allow you to manage your Disney digital library.
All about Disney Movies Anywhere

Disney Movies Anywhere makes it easy to manage all your Disney movie digital files, buy and watch new Disney movies, and discover Disney movies you perhaps have *gasp* never seen (over 400 titles in the digital library and growing). Disney Movies Anywhere will also have exclusive content just for members, including these featurettes from Frozen and Thor The Dark World. These are just clips; sign up for Disney Movies Anywhere to see the entire features.
"The Making of the Making of Frozen"

"The Battle of Vanaheim"
When you sign up for Disney Movies Anywhere and link your account to iTunes, your previously purchased digital copies of Disney movies will automatically show up in your account. And, for the first time, you can now earn Disney Movie Rewards points for your future digital purchases through Disney Movies Anywhere.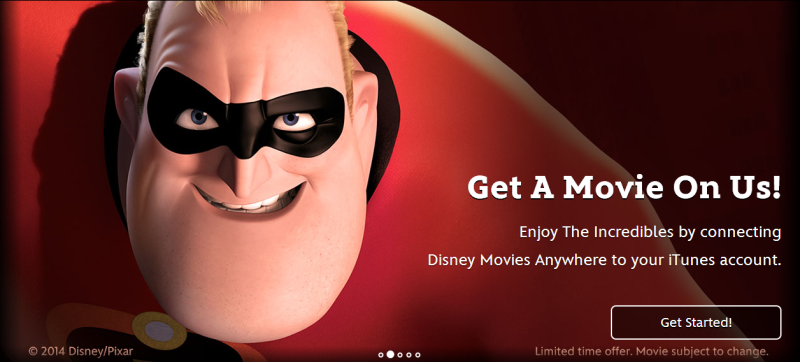 And, for a limited time, you can download a FREE digital copy of "The Incredibles" just for linking your Disney Movies Anywhere account with iTunes.
Keep reading for step-by-step instructions on how to get your free movie.
And … do you love "Frozen?" The full feature length film is available via Disney Movies Anywhere and iTunes to buy, download, and watch TODAY for $19.99!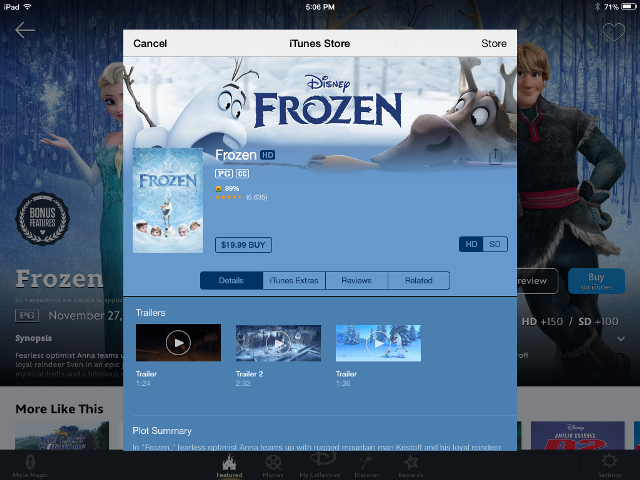 "Disney Movies Anywhere is an adaptable digital ecosystem designed to help consumers consolidate their Disney movie collections and enjoy them for years to come," said Jamie Voris, Chief Technology Officer, The Walt Disney Studios. Disney has always been an innovator, exploring new and creative ways to utilize new technology. It sounds like Disney Movies Anywhere is going to be a great catalogue system, as long as you're an Apple user. Hopefully Disney Movies Anywhere will expand to other platforms soon.
This service is going to be perfect for me, because I love to watch movies on my iPad, especially when I'm traveling, and syncing and uploading everything via my PC is a huge pain in the rear.
***
I had a little trouble getting my free copy of "The Incredibles" so I thought I'd document the process here for others to benefit. Since iTunes doesn't play well with my PC, I used my iPad to sign up for Disney Movies Anywhere and connect to my iTunes account.
1. Go to the App Store and search for Disney Movies Anywhere. (For me it was listed under "Best New Apps" on the main page.) Install to your device.
2. Log in to your Disney account. If you don't have one, you'll need to create one!
3. Once logged in you'll see a screen that reads, "Let's Connect!" Click on the yellow button for "Connect Account."
4. Your iTunes will open. This is where I spent a lot of time being confused. I didn't see anything about Disney in my iTunes. Ultimately I discovered you need to …
5. Close both your iTunes and Disney Anywhere apps. Don't just click out of them, but close them completely.
6. Open the Disney Anywhere app again. It should default to a screen that reads "Start Your Collection" and shows a thumbnail picture of "The Incredibles." Click the button that reads "Connect Accounts." You'll see a screen that basically warns you that you're about to connect your accounts. Yes, thanks. Click "Connect Accounts" again.
7. Log into iTunes.
8. Once logged in, the app will direct you back to the Disney Anywhere app.
9. When you go back to the Disney Anywhere app, you should see The Incredibles" already in your "Movies" library, along with any other digital copies of Disney movies you already own (I already owned "UP."
10. If you want to download "The Incredibles" to your device (so you can watch it without being connected to the internet), click the little arrow icon on the bottom right of the image. It will start saving immediately!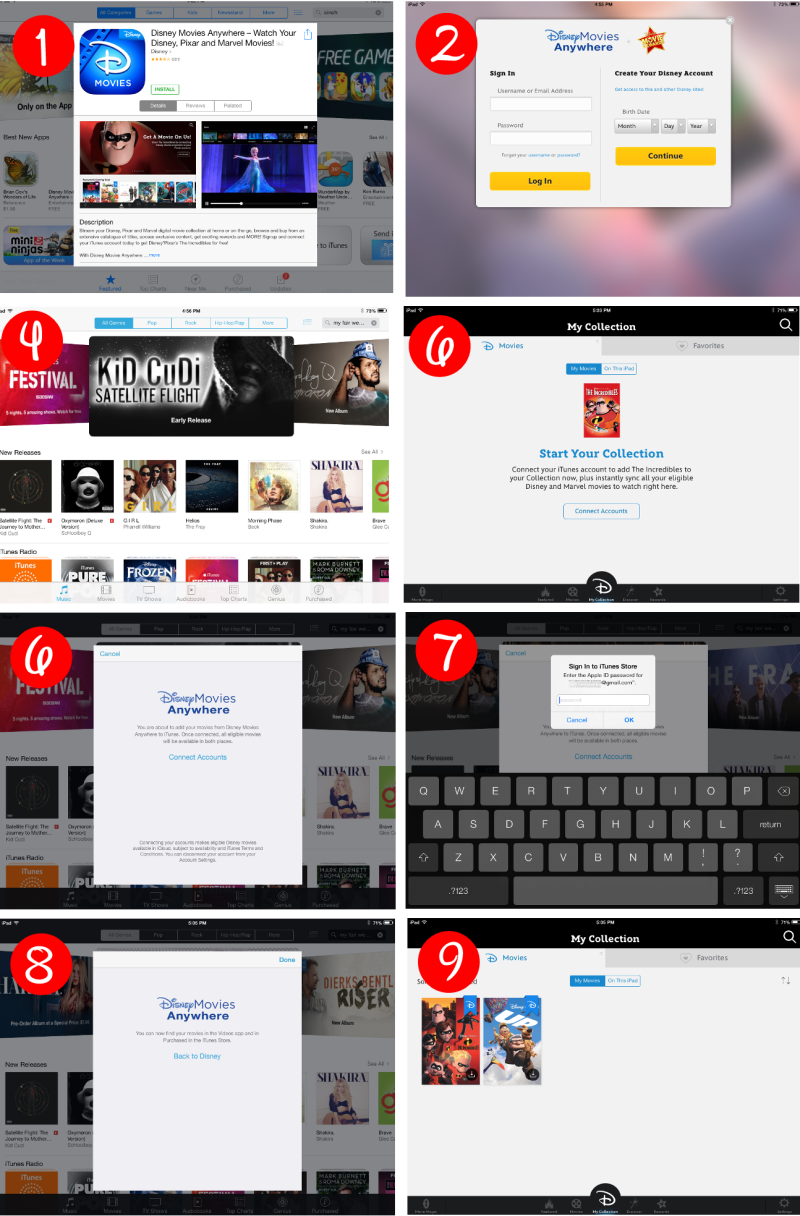 I hope this helps others. Remember the free copy of "The Incredibles" is available for just a limited time, with no specified ending date, and may change at any time. So hurry and download ASAP!
What will be the first Disney movie you watch on Disney Movies Anywhere?