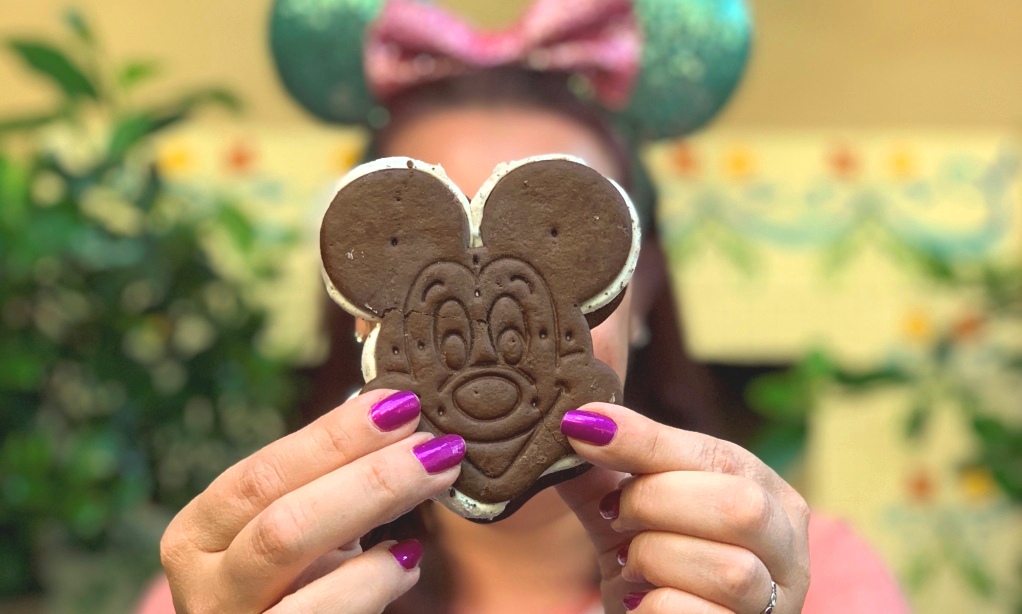 Some people love the attractions, some people love the shows, and some people are just there for the FOOD! Yes, dining at Disneyland is a sport, and I love the game!!
Whether you're planning your first trip to Disneyland or you're a regular, I hope these tips for dining at Disneyland help make your visit that much more magical!
Eating at Disneyland – The Basics
Reservations for Some Disneyland Restaurants are a Must
If you have your heart set on eating at a popular Disneyland restaurant such as Carnation Cafe or Blue Bayou, you're going to want to make reservations in advance. Dining reservations for Disneyland Resort open 60 days in advance (the time varies but it's usually very early in the morning), and the earlier you can grab a reservation, the better off you are! You can make dining reservations via the Disneyland website or the Disneyland mobile app.
If your visit is approaching quickly, I recommend checking the Disneyland app 24-48 hours before your visit, as sometime people will cancel reservations they don't need.
Finally, if you have your heart set on dining at a certain restaurant and haven't been able to snag a reservation, there's no harm in visiting the restaurant in person and asking about availability! Sometimes, if you're lucky, there may be a spot for you.
There's no Dining Plan at Disneyland
If you're used to visiting Walt Disney World and utilizing their dining plan, you may be disappointed to learn there's no such plan at Disneyland. So yes, you must pay individually for every meal and snack you want, but the good news is you can eat what you want, when you want!
There are Two Types of Restaurants at Disneyland
As you're planning your meals, pay attention to the *type* of restaurant you want to visit. There are two types of dining locations at Disneyland Resort: "Sit Down" and "Quick Serve." A "sit down" restaurant is where you are sat at a table and a server takes your order and brings out your food. A "quick serve" restaurant is where you order your meal at a counter and your food is provided quickly, kinda like fast food. Typically "quick serve" is a quicker option (hence the name), and generally cheaper. For a "sit down" restaurant, you also want to factor in the cost of a tip for your server.
Yes, There Are Healthy Options
Technically Dole Whip does contain fruit and is therefore "healthy," but if you really want to make sure you get your 5 servings of fruit and veggies a day, it's totally possible! There are fruit stands brimming with apples, bananas, carrots, grapes, and mango slices located on Main Street USA, Adventureland, and Fantasyland. Over in Disney California Adventure, you'll find their fruit stand on Buena Vista Street by the lockers.
If you're seeking a healthier meal option, my go-to place is Bengal Barbecue. They have delicious beef, chicken, or vegetable skewers that are the perfect antidote to typical theme park food. (Bonus tip: Be sure to mobile order your meal via the Disneyland app and skip the line!)
Disney is Great About Food Allergies and Special Diets
I know from experience that having some food allergies can be a real pain!! Luckily, Disney makes it easy to spot foods that work for special diets. Nearly every dining menu will have items that are "gluten friendly" and "plant based." Guests can also go to City Hall near the entrance to Disneyland Park for special allergy lists.
If your allergies are a little tricky, you should know that you can ask to speak with the chef at any sit-down restaurant and they will do their best to accommodate you!
Finally, it may be helpful to know that you can bring your own snacks into Disneyland. Small coolers are allowed; however, be aware you cannot bring ice through security.
I hope these quick Disneyland dining tips help you out for your next visit! Have a magical (and delicious) time!
***
Thank with Google
I have a fun announcement! I'm excited to share I've been selected to be one of Google's paid early testers for their Thank with Google pilot program!
Thank with Google is a new experimental feature that allows readers to purchase a virtual sticker to show appreciation for my content.
There are a variety of stickers to choose from, starting as low as $1. There's even a free option (I love the vibes!!)! These virtual stickers help me pay the expenses involved with keeping this website running.
You can find the Thank with Google button in multiple places on my website. So if I helped you with planning your travel adventures do me a favor and test it out! Just tap the Thank with Google button and choose your sticker. I would love to hear from you … it would make my day! Thank you so much!